With the rise of the internet and fashion blogging, today, many of us are more inspired by what we see posted on our favorite blogs than what's splashed across the pages of fashion magazines. We are inspired by real girls, with real bodies, who look like us, and who create looks we can all emulate.
In this series, we've been interviewing some of our favorite fashion bloggers and finding inspiration in their styles. In case you missed them, see our past interviews with Maria of Lulu Letty, Elizabeth of Delightfully Tacky, Georgina of Cupcake's Clothes, Tieka of Selective Potential and Rebecca of The Clothes Horse.
Today we're meeting another CF favorite, Keiko Lynn, of KeikoLynn.com.
About Keiko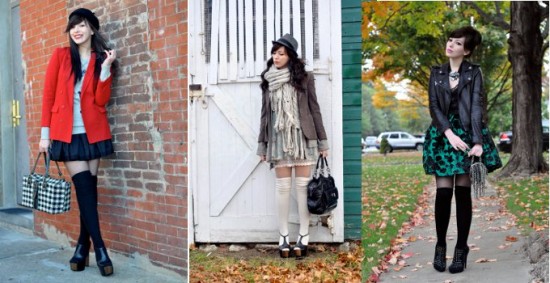 Keiko Lynn is a designer who lives in Brooklyn, New York. Her eponymous blog is a wonderful mix of style inspiration and fabulous makeup tutorials. Her penchant for fashion and beauty means her looks are always perfectly coordinated, right down to her hair and makeup. Since she lives in New York City, Keiko's outfits reflect all four seasons and she always looks fabulous, even in winter, thanks to her unique wardrobe and serious layering skills.
Our Interview with Keiko
1. Tell us a little bit about yourself (who you are/what you do/where you're from etc.)
I'm Keiko Lynn; I have a very humble, handmade clothing line (Postlapsaria) and I'm a style blogger. I currently live in Brooklyn, New York, but I was raised in South Florida.
2. How would you define your style?
I tend to wear what I like, regardless of whether it suits my usual aesthetic. That being said, I gravitate toward overtly feminine or romantic details. I like extremes: muted palette or bold color, soft and flowy or super structured. I also like to throw my motorcycle jacket over an ultra-girlie dress and call it a day. That's my go-to, when I don't have time to think about my outfit.
3. How did you find your personal sense of style?
Organically. It's nothing that was ingrained in me; it has been an evolution of sorts. It's all about gathering inspiration, collecting and experimenting.
4. What inspired you to start a style blog? What motivates you?
Since I work on my clothing line from home, I used to wear pajamas on a somewhat daily basis and it got me into a total rut. I have always blogged but a few years ago, I decided to discipline myself by photographing my outfits – to ensure I would actually get dressed. It worked, and then it became much more than that. For me, my blog is a relief. It's my hobby.
5. Did you go to college? What was your college experience like?
I went to UCF in Orlando, where I studied Musical Theatre. Obviously, that didn't work out – midway, I decided I didn't want to be in theatre anymore. I ended up leaving during my third year to pursue fashion. I don't regret my decision, but I wish I knew (straight out of high school) that I wanted a career in fashion, so that I could have gotten a formal education at a proper school. By the time I realized that, I was already in debt and well into my career, so I just kept going.
6. Where do you like to shop?
I love shopping online, because I hate trying things on. I'm addicted to Gilt.com, and I like to price compare on different sites before I buy anything. I'm a huge bargain hunter. As for brick and mortar stores, I mostly shop for vintage or frequent H&M. I am a big lover of H&M!
7. What advice do you have for being stylish on a college budget?
Think of your budget as a small hurdle – it might make being stylish more complicated, but it is completely possible. You just have to be more creative, and devote a little more time to it. Shop online and google discount codes to get a better deal, and always hit the sales racks. You can also shop and sell your old clothes to stores like Beacon's Closet, Buffalo Exchange, Crossroads, Plato's, Dechoes – there are a myriad of stores out there. I often take bags of clothes to Beacon's and get either cash or store credit in return. I'm also a big advocate of clothing swaps: get a group of friends together, have them each bring a handful of items from their closet that they no longer want, and swap!
8. Who/what inspires you?
My peers always inspire me, as well as street style sites and old photographs.
9. What are a few pieces you couldn't live without?
My '50s cotton day dresses (they save me during the summer), the leather jacket I mentioned, and basically my entire vintage collection. Those pieces are special to me, because I know I won't see anyone wearing the same thing!
10. What advice do you have for new bloggers or those who are considering starting a blog?
Blogging takes a lot of time, so you have to love it. Try to have continuity in your posting schedule, interact with your readers, utilize social networking platforms (such as twitter, facebook, lookbook and others) and focus on your content. Also, join IFB (heartifb.com)!
11. We've featured your makeup tutorials a few times in our Hautelinks – so let's talk makeup! What are your favorite tools, products and color combinations?
I'm a huge lover of MAC cosmetics, but I also love Make Up For Ever, Julie Hewett, Clinique, Urban Decay, Laura Mercier and more. My favorite brush is my cheapest one – it's a $6 bent eyeliner brush from Sonia Kashuk (sold at Target) and I use it every day to apply my MAC fluidline. Laura Mercier makes the best tinted moisturizer, and Tarte has beautiful cheek stains. If I want a little glow, I reach for Make Up For Ever's Uplight or MAC Mineralize Skinfinish. Julie Hewett's Cheekies are my favorite multi-use product, and my go-to lipsticks for long nights (with minimal touch-ups) are MAC's pro longwear lipcremes and their matte lipsticks. I adore a good smokey eye with a little bit of color mixed in, but I usually go for a classic cat eye and bold lips, these days.
12. How do you remix your clothes to help them feel new and exciting?
I like to play around with different color and texture combos, and I love to experiment with layering. It's important to remix your clothes – if you aren't wearing something more than once, it probably shouldn't be in your closet anymore!
13. What are your favorite pieces in your wardrobe right this second?
A beautiful '50s cocktail dress with intricate details in the bodice, my leather jacket (I can't help it – it's a classic), a sequin skirt that I reconstructed from a dress, and my scalloped shorts.
How to dress Like Keiko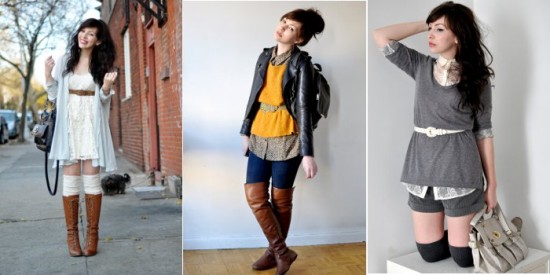 Want to get a piece of Keiko's multi-layered look? Here are some tips to emulate her polished, put-together sense of style.
1. Layer, layer, layer.
This girl is a master at making even the simplest outfit look amazing with interesting layering techniques. Even when she's just wearing jeans (pictured above), she adds lots of layers up top to keep the look fresh.
2. Accessorize like a pro.
Keiko always adds a great bag and a fabulous pair of shoes to every ensemble – she knows they can make or break your outfit. I also love how she throws on knee-socks and belts to really complete a look.
3. Choose neutrals and pale colors.
Keiko wears lots of light blues, nudes, greys and whites – they've pretty much become her signature! Keeping a wardrobe of simple colors that work well together means you can always put something new together. But have a few colorful pieces, too – you can use them, like Keiko does, to add a splash of color to a basic look.
4. Mix textures.
Keiko loves to mix textures – she'll wear girly lace with knit sweaters, or cotton blazers with tulle. Mixing textures like this is a great way to avoid looking bulky and overdone when layering, especially in the warmer months.
5. Complete the look with your hair and makeup.
Keiko's look always comes finished with great hair and makeup, which really pulls any ensemble together. She has some amazing makeup tutorials on her blog – they're must-reads if you like her style. Her smokey-eye tutorials (here, here, here, and here) are some of our favorites!
Outfit Inspired by Keiko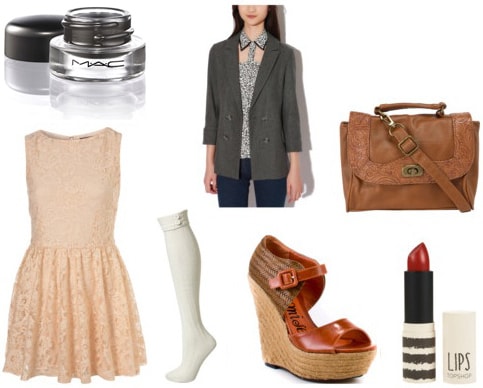 lace dress/grey blazer/wedges/satchel/knee socks/red lipstick/eyeliner
For a look inspired by Keiko, I began by choosing a neutral color palette, to ensure that each piece could be worn multiple ways. The lace dress would be perfect for summer with a denim jacket, or for a night out with heels and a leather jacket. The grey blazer is a wardrobe staple (you could wear it to your internship too!) and the wedges are perfect for that '70s summer vibe. I finished the look with two of Keiko's favorite cosmetics; a red lipstick and MAC fluidline eyeliner.
Tell us what you think!
Do you like Keiko's style as much as we do? Are you a fan of her blog? Do you always finish your ensembles with "done" hair and makeup? Let us know iwth a comment!
Also, leave a comment and tell us which other fashion bloggers you'd like to see featured next! We want to feature the people you're most interested in, so it's up to you guys to give us some suggestions for bloggers you'd like to see interviewed. There are thousands of blogs out there so we want to hear your favorites!