As a fashion addict and blogger, there are so many websites that I read on a regular basis. In the ever-changing world of fashion, blogs provide everything from a way to keep up with the latest trends and designer looks to fashion inspiration from around the world. I'm constantly checking my RSS Reader for the latest updates from hundreds of amazing fashion blogs.
To be fair, there are thousands of top-notch fashion blogs out there, and to list them all would take me decades. That said, I've decided to share the 20 that I read most frequently right now.
Here are 20 must-bookmark fashion blogs, listed in alphabetical order – hopefully you'll love them as much as I do!
1. Bleach Black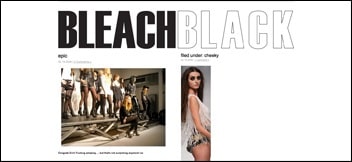 Bleach Black is a new fashion blog that provides me with a never-ending source of inspiration. Kristin and Valerie are constantly updating their columns with their latest vintage finds, daily outfits, DIY tips, and favorite runway looks. It's such a fun blog that will undoubtedly give you tons of new fashion ideas.
2. FabSugar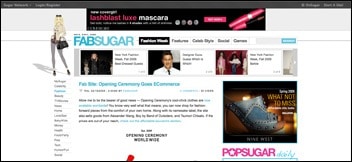 FabSugar is a nice mainstream fashion blog that covers everything from celebrity style to runway trends. While I usually prefer to read independent fashion blogs, it's fun to read a few of the big corporation ones like FabSugar for a different perspective. Since they have a team of people writing for them, the blog is constantly updated with news and commentary and caters to everyone from the casual fashion fan to the seasoned style addict.
3. Face Hunter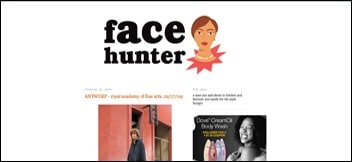 Face Hunter is an amazing London-based street style blog featuring lots of well-dressed guys and ladies. With zillions of pictures & practically no text, Face Hunter is a love letter to style, pure and simple.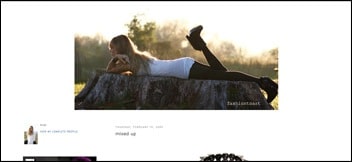 Rumi Neely runs the extremely popular Fashion Toast, a blog documenting all of her daily looks and sources of inspiration. The blog has taken off over the past year, and is now one of the top fashion blogs in existence. Rumi is incredibly gorgeous and always shows off her unique fashion sense in her daily outfits. She also has a passion for sky-high heels, which makes me love her even more!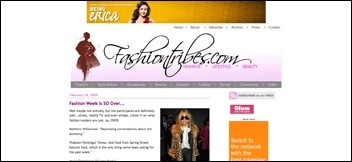 FashionTribes is one of the oldest and most well-known fashion blogs out there, and one of the first that inspired me to start a blog of my own. Written by Lesley Scott, a seasoned fashion expert, FashionTribes covers everything from the latest fashion trends and celebrity style to beauty tips, handbags, and lifestyle topics. It's truly the quintessential fashion and lifestyle blog.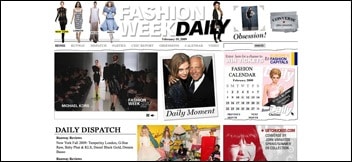 Fashion Week Daily is THE must-read fashion website for anyone who needs to know the latest style news 24/7. The site features runway reviews, information on the hottest fashion parties, a useful fashion calendar, and photos of everyone who's anyone in fashion. Makes sense – after all, their motto is "If it's happening, we know it first."
7. Fashionista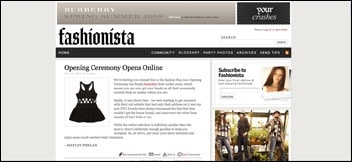 Fashionista is another amazing 24/7 source for the latest in fashion industry news, gossip, and trivia straight from New York City. Fashionista was created by Gawker founder Elizabeth Spiers, and is written in a unique, smart style that you don't find on many fashion blogs. Look for handwritten blog entries on index cards, fashion designer "blind items", and NYC sample sale alerts signed "you didn't hear it from us."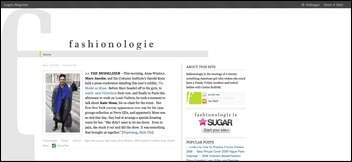 According to the blog's description, Fashionologie is "the musings of a twenty-something American girl who wishes she could have a Freaky Friday incident and switch bodies with Carine Roitfeld." In reality, it's a lot more than that. With the latest news about models, designers, and the fashion industry, Fashionologie is one big mash up of all the latest industry happenings, including links to other fashion news websites.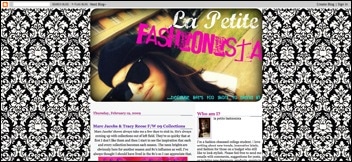 Written by Lauren, a college student in Florida, La Petite Fashionista is a must-read for those of us who love runway looks but have to get by on a college budget. It's one part high fashion website and one part budget fashion bible with a large pinch of personal blog thrown in for good measure. Even better, Lauren is one of the nicest people I've met online and her creative take on blogging allows her bubbly personality to shine through.
10. Lookbook.nu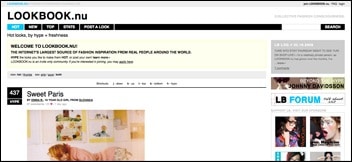 Okay, this one's not exactly a blog, but it's so fabulous that I had to put it on the list. Lookbook.nu is an incredible street style website featuring a Digg-style voting system that allows readers to choose the hottest looks. Whenever you feel like you have nothing to wear, click over to Lookbook.nu and you'll immediately find the cure.
One of the first fashion blogs ever, Manolo's Shoe Blog is truly unlike any other. I mean really, how many fashion blogs do you know that are written in 3rd person? With its minimalist layout, Manolo's Shoe Blog may look unassuming, but it's insanely popular and widely read across the globe. For the shoe lover, Manolo's blog is a must-see.
12. Miss Couturable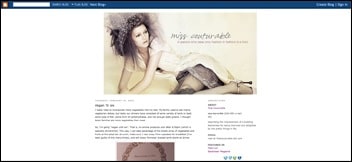 Another one of my absolute favorite blogs, Miss Couturable is written by Noel, a fashion-obsessed high school student who has already interned at Seventeen and knows more about fashion than most twice her age. Her blog is incredibly unique and well written, made even more amazing by the fact that she's only 18 years old! Oh, and Alexander Wang went to her high school. How cool is that?
13. Nitro:Licious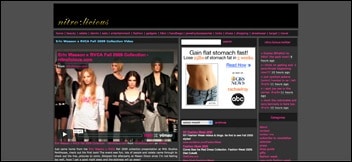 Nitro:licious is your number one source for all the latest news on H&M, designer collections for Target, must-have sneakers, and so much more. It's a mix of high fashion, bargain shopping, and street style written by New York City's own Wendy L., who goes by retrogurl on the site. If you need the latest breaking news on must-have products, I can guarantee that this is one blog you'll want to return to again and again.
14. Painfully Hip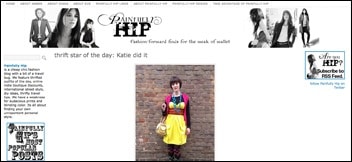 Think of Painfully Hip as the typical fashion blog's hip, worldly, indie sister. She appreciates designer fashion but is much more interested in thrift store finds, style across the globe, and DIY projects. Painfully Hip is written from a perspective that's truly unlike that of any other fashion blog, and that's what makes it a must-bookmark.
15. Shoewawa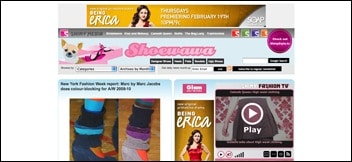 If Carrie Bradshaw had to pick a favorite fashion blog, you can bet it'd be Shoewawa. Constantly updated with high-resolution photos of the latest Louboutins, Choos, Manolos, and more, Shoewawa is like porn for the shoe addict. Required reading if footwear is your thing.
16. Style Bubble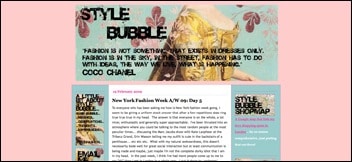 Susie Bubble's blog Style Bubble is so iconic. After all, it's by far the most popular fashion blog out there today. And it's popular for a reason – Susie has a one-of-a-kind fashion sense that she documents daily on her website. While some of the outfits she puts together would never look good on anyone else, Susie's blend of confidence and style means she can pull anything off with ease.
17. Teen Fashionista
Teen Fashionista is one of the first fashion blogs I ever read, and it's as amazing now as it was then. Casey Lewis is first and foremost an excellent writer. Second, she's a knowledgeable fashion addict who has been writing about style since she was 13 years old. Third, she's a unique personality with a sense of style that's a cross between J. Crew and Marc Jacobs with a dash of small town girl thrown into the mix.
18. The Bag Snob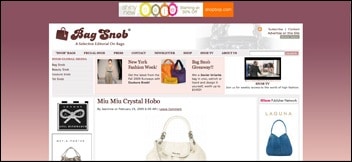 If you're handbag obsessed, The Bag Snob is one blog you NEED to subscribe to. From Louis Vuitton and Prada to Marni and Miu Miu, all the hottest handbags of the moment are all reviewed and critiqued here. Not sure if that Balenciaga City bag is the right one for you? Wondering how to tell a quality handbag from a dud? Simply want to see photos of amazing purses? It's all here.
19. The Sartorialist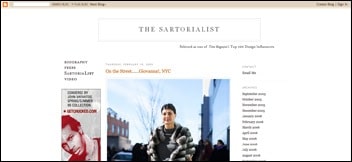 What would a list of fashion blogs be without The Sartorialist? Perhaps the most well-known fashion blog out there, Scott Schuman's website features street-style photos of the best-dressed people from around the globe. There's not much more to say than that – if you haven't seen The Sartorialist yet, you don't know what you're missing.
WhoWhatWear is the ultimate celebrity style website. If you've ever wondered what brand of handbag Rachel Bilson was carrying last week, or which designer is Taylor Momsen's favorite, WhoWhatWear has the answers. No matter what I'm working on when a WhoWhatWear email shows up in my inbox, you can bet I drop it in favor of reading their latest magazine-style article.
What do you think?
So there you have it.. my top 20 fashion blogs of the moment. Of course, there are tons more amazing fashion blogs out there as well that I didn't have room for. So now I want to hear your favorites!
What do you think of my choices? What would you add to this list? What are your favorite fashion blogs? Leave a comment and let me know.