Kanye West ditched fashion week this year and decided on a new, innovative way to show the world his new line… his wife!
Kim Kardashian West showcased Yeezy Season 6 in casual paparazzi shots of her running errands through California. Now, other celebs and Instagram models are getting in on the fun to promote the line!
Since we aren't all lucky enough to get a package from Kimye full of the new launches, below are some Yeezy Season 6 looks for less. Now you can show off on the gram too!
Related reading: What to Wear with Yeezys: How to Style Every Pair
Yeezy Season 6 Look 1:
The Yeezy brand is known for its comfy, casual appeal that somehow always looks high-fashion. Though it's a high-end line, it's surprisingly easy to recreate with less expensive pieces.
Monochromatic earthy tones are key to recreating any look from this line, particularly this outfit seen on Kim. Pair the oversized hoodie with leggings and a more fitted or cropped top to keep your shape without looking frumpy. For a more casual look, trade in the booties for a pair of sneakers.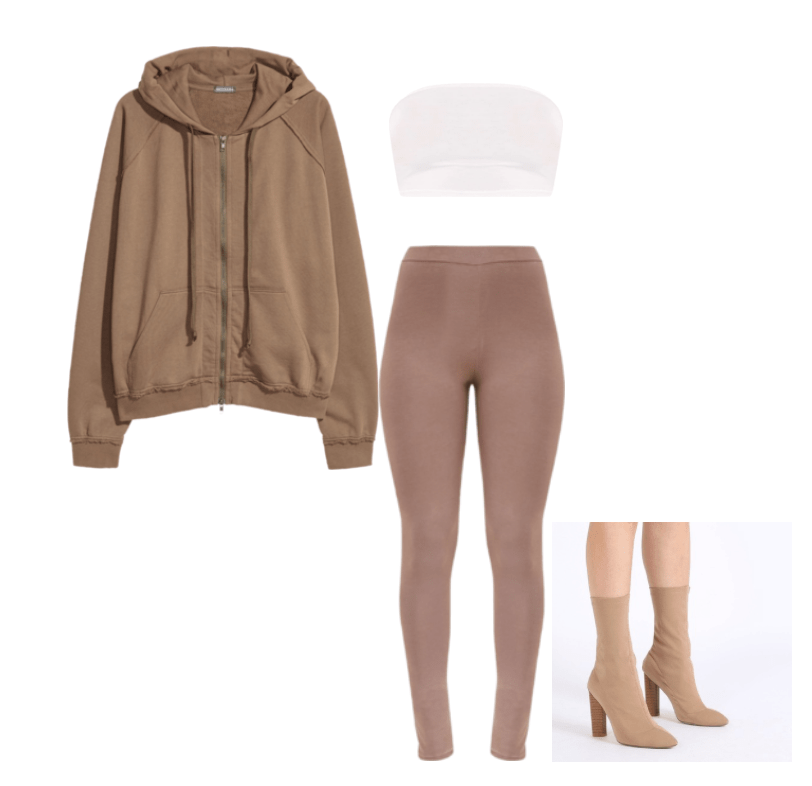 Products: Jacket – H&M, Bandeau – MissGuided, Leggings – Pretty Little Thing, Booties- Public Desire
Yeezy Season 6 Look 2:
It's been all about fitted pants in recent seasons, but flared and wide leg pants are back! The key to styling wide leg pants like the ones Kim is rocking is to keep your pieces fitted up top.
Here, I found some flare leg pants and paired them with a simple gray bra top, Yeezy-esque strappy heels, and layered necklaces. To make the outfit perfect for cooler weather, throw on an oversized denim jacket.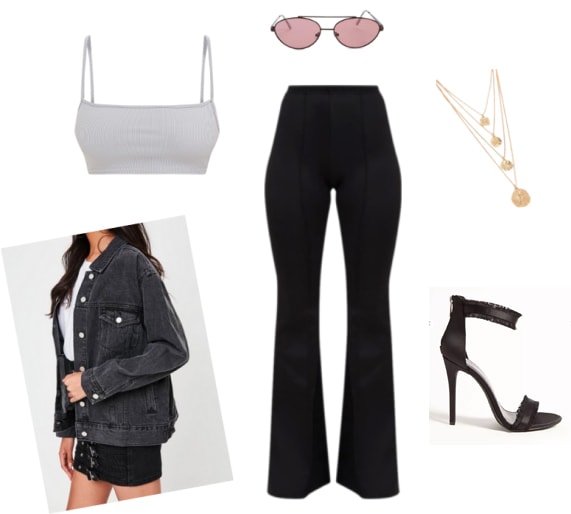 Products: Top – Pretty Little Thing, Pants – Pretty Little Thing, Jacket – MissGuided, Heels – Forever 21, Sunglasses – Forever 21, Necklace – ALDO
Yeezy Season 6 Look 3:
https://www.instagram.com/p/Bemlg1xnKyA
First of all, can we talk about how iconic it is to see Paris Hilton dressed as Kim K for this Yeezy promo?!
One big trend in the Season 6 release are the muted blue tones. Featuring everything from blue toned greys, to navy, and denim, blue is a huge part of Yeezy Season 6. Muted blues are the perfect way to incorporate a little color in your wardrobe if you are tired of the basic neutrals but not into bold colors.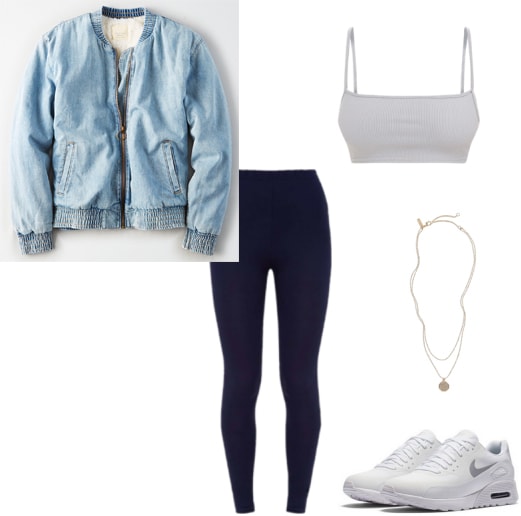 Products: Jacket – American Eagle, Top – Pretty Little Thing, Leggings – Pretty Little Thing, Necklace – Nordstrom, Shoes – Nike
Yeezy Season 6 Look 4:
This outfit is perfect for a class to night out transition. Pair the joggers and bodysuit with sneakers during the day, and transform the look with a statement bootie at night.
Any trend that allows me to wear sweats all day is a trend that should stay!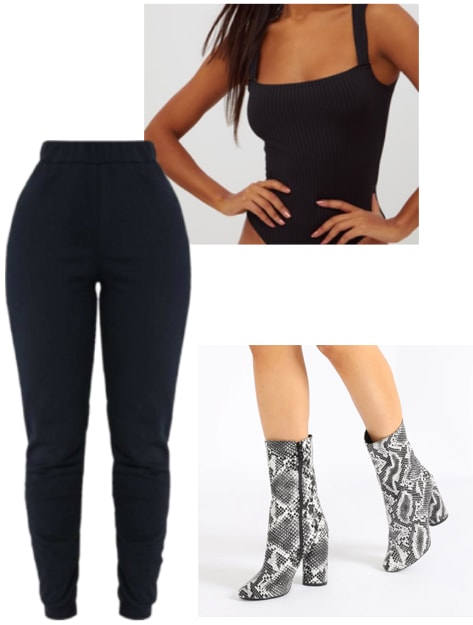 Products: Bodysuit – Pretty Little Thing, Joggers – Pretty Little Thing, Booties – Public Desire
Which look was your fave?
Will you be recreating any of these looks? What do you think of Kanye's new marketing strategy? Comment below which trends you want to see next!