We teamed up with Kayla Buell from LostGenYGirl, a millennial career and lifestyle blog, for this post. She came up with the spring activities; we came up with the outfits. We hope you enjoy! Check out Part 1 here.
Whether you're on Spring Break right now and busy sightseeing (you can do that while on staycation too!) or currently slammed with midterms/projects/reports, take some time to enjoy the newfound warmth and chill. Here are more great spring activities and delightful outfits!
Take an outdoor yoga class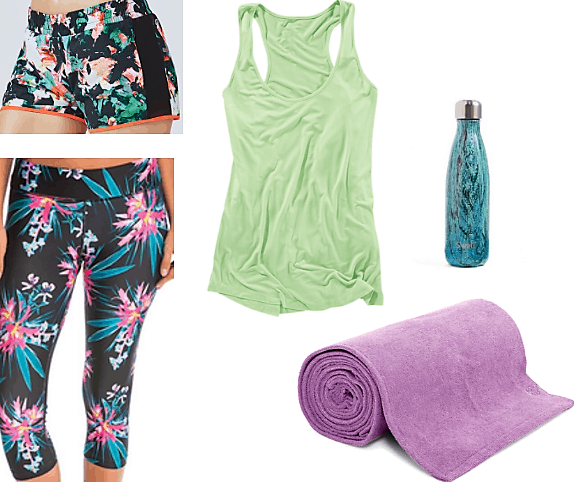 Products: Tank – Wahine/Title Nine, Floral Activewear Shorts – Fabletics, Floral Activewear Capris – PL Movement by Pink Lotus/Amazon, Water Bottle – S'well/Nordstrom, Yoga Mat – Gaiam/Nordstrom Rack
Protips:
Beware of weird tan lines: avoid wearing strappy tops
Don't bring your favorite/most expensive yoga mat: grass stains stick
Otherwise, bliss out and work out in a fun, nature-inspired get-up. Tropical florals can push you through your yoga session in reward of a tropical smoothie afterward. Coconut and pineapple smoothie, anybody? Remember: Namaste + Hydration.
Read books outside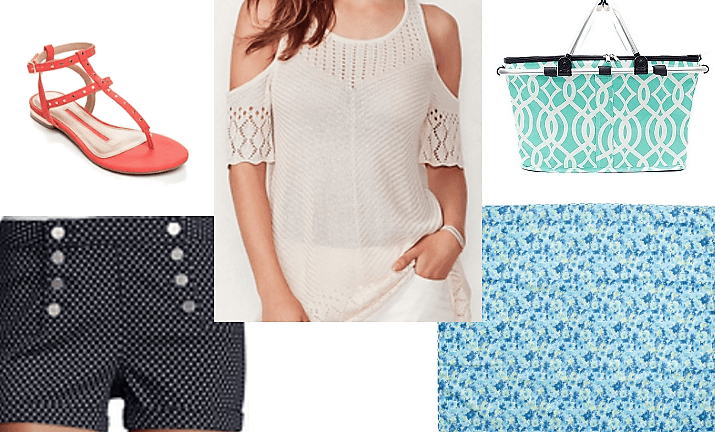 Products: Eyelet Cold-Shoulder Top – LC Lauren Conrad/Kohl's, Polka Dotted Sailor Shorts – Almost Famous/JCPenney, Coral Studded Sandals – New Directions/Belk, Insulated Bag – GiftsHappenHere/Etsy, Picnic Blanket – Isaac Mizrahi/T.J. Maxx
We've all seen those college pamphlets with the idyllic scene of a student underneath a tree reading peacefully. Now you can follow your dreams and be that student.
Grab a picnic blanket and an insulated bag full of snacks and head to the tree with the nicest canopy of leaves. Get swept away in your book adventure while wearing polka dotted sailor shorts. If you plan to read until daylight is gone, a thin eyelet cold-shoulder sweater is perfect for temperature changes. Studded sandals are a trendy addition to the outfit. Coral just also happens to be a color that complements turquoise.
Plan a pretty outdoor brunch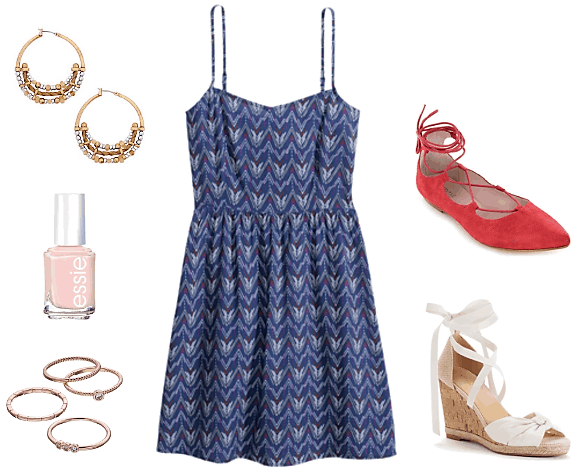 Products: Blue Sundress – H&M, Orange Lace-Up Flats – Summit, White Lace-Up Espadrille Wedges – Apt. 9/Kohl's, Ornamental Hoop Earrings – LUCKY/Lord & Taylor, Pink Nail Polish – essie (Vanity Fairest)/Target, Stackable Rings – LC Lauren Conrad/Kohl's
Be a calm and collected hostess with a blue sundress to remind you to stay cool. Beaded hoop earrings showcase your smile as you greet your guests. A fresh manicure and stackable rings accessorize your busy hands that are shaking hands, pouring drinks, and serving food. Glide across your venue with the grace of a ballerina while wearing lace-up espadrille wedges. For all of you energetic hostesses out there, lace-up flats might be more your speed.
Jump in the pool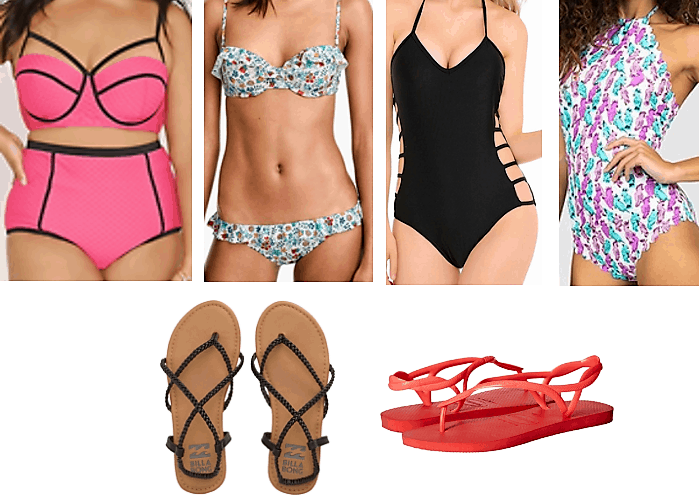 Products: Neon Bikini – Forever 21, Liberty Floral Ruffle Bikini – J.Crew, Black Cut-Out One-Piece Swimsuit – V28/Amazon, Colorful Halter One-Piece Swimsuit – Sugar Coast by Lolli/Target, Black Strappy Sandals – Billabong, Coral Sandals – Havaianas/Zappos
Pool time is one of the best times to try out a look you wouldn't normally do. Neon and colorblocking? Go for it. Liberty florals and ruffles? No problem. It's not as twee in bikini form. Skeptical of athleisure? A black one-piece swimsuit with cutouts mimics athleisure's sleek minimalism. Love crazy prints but have outgrown them on your normal clothes? Ta-da! A crazy swimsuit print is par for the course at the pool. Pair your playful swimsuit with simple crossover black sandals or classic Havaianas.
Your thoughts?
What spring activity are you most looking forward to? What's your favorite outfit? Sound off in the comments!