We teamed up with Kayla Buell from LostGenYGirl, a millennial career and lifestyle blog, for this post. She came up with the spring activities; we came up with the outfits. We hope you enjoy!
Spring has finally poked her head out and it's time for have-fun-and-get-stuff-done season. Let's talk about what to wear to a variety of spring activities, from spring cleaning to a picnic.
Go for a bike ride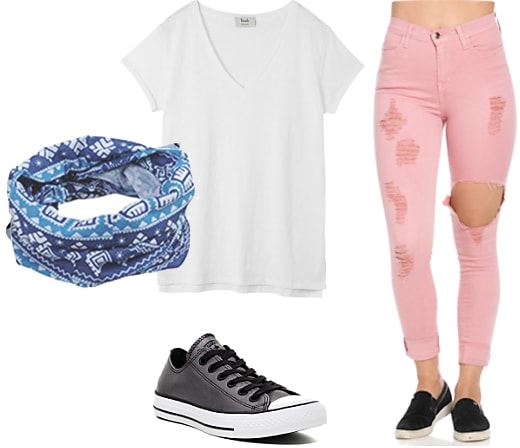 Products: White T-Shirt – Hush, Pink Jeans – SOHO Girl, Black Sneakers – Converse, Headband/Bandana – Amazon
Hop on your bike and explore campus without the pressure of getting to class on time. Pink jeans add some "springiness" to your outfit while a loose white t-shirt helps keep you cool and ventilated. Balance out the light colors with comfortable black sneakers. Keep your hair out of your face with a playful bandana specifically designed for bike riding.
Enjoy a picnic outside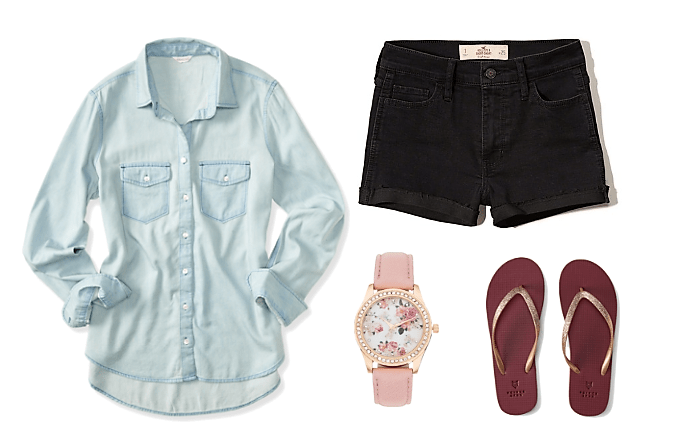 Products: Chambray Button-Down – Aeropostale, Black Denim Shorts – Hollister, Floral Watch – Kohl's, Gold Sandals – Aeropostale
Kick off your gold sandals and flop onto that picnic blanket. Look at those fluffy clouds. If you want to roll down a hill with friends, we got you. Black denim shorts hide grass stains, while a chambray button-down is durable and lightweight. Florals are groundbreaking in Spring so wear a floral watch as an ode to Miranda Priestly.
Shop at a local farmer's market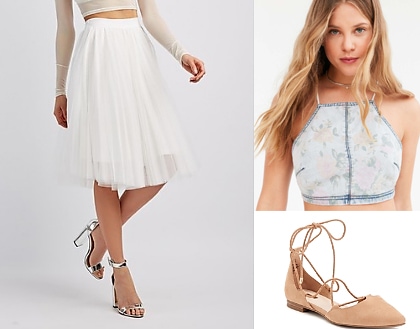 Products: Floral Crop Top – Urban Outfitters, White Skirt – Charlotte Russe, Nude Flats – Kohl's
You can feel breezy, beautiful, and like you're in a movie with a flowy white skirt. Wear a light blue chambray and floral crop top to remind yourself to pick up some fresh flowers for your place. Nude lace-up flats are easy to walk in and round out this classy outfit.
Spring clean your closet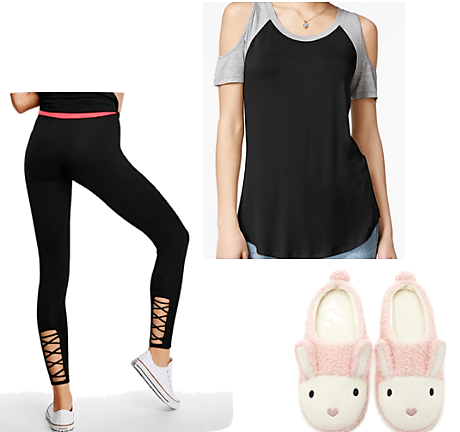 Products: Baseball T – Macy's, Leggings – Victoria's Secret, Bunny Slippers – Forever 21
Clean out your closet while wearing a riff on the classic Baseball T (it also doubles as a nod to Spring Training). Continue the cut out theme with your leggings. Bunnies are an essential Spring motif. Your adorable bunny slippers can keep you company as you sort out your donate, sell, and keep piles.
Your thoughts?
What is your favorite spring activity? Which outfit is your fave? Let us know!