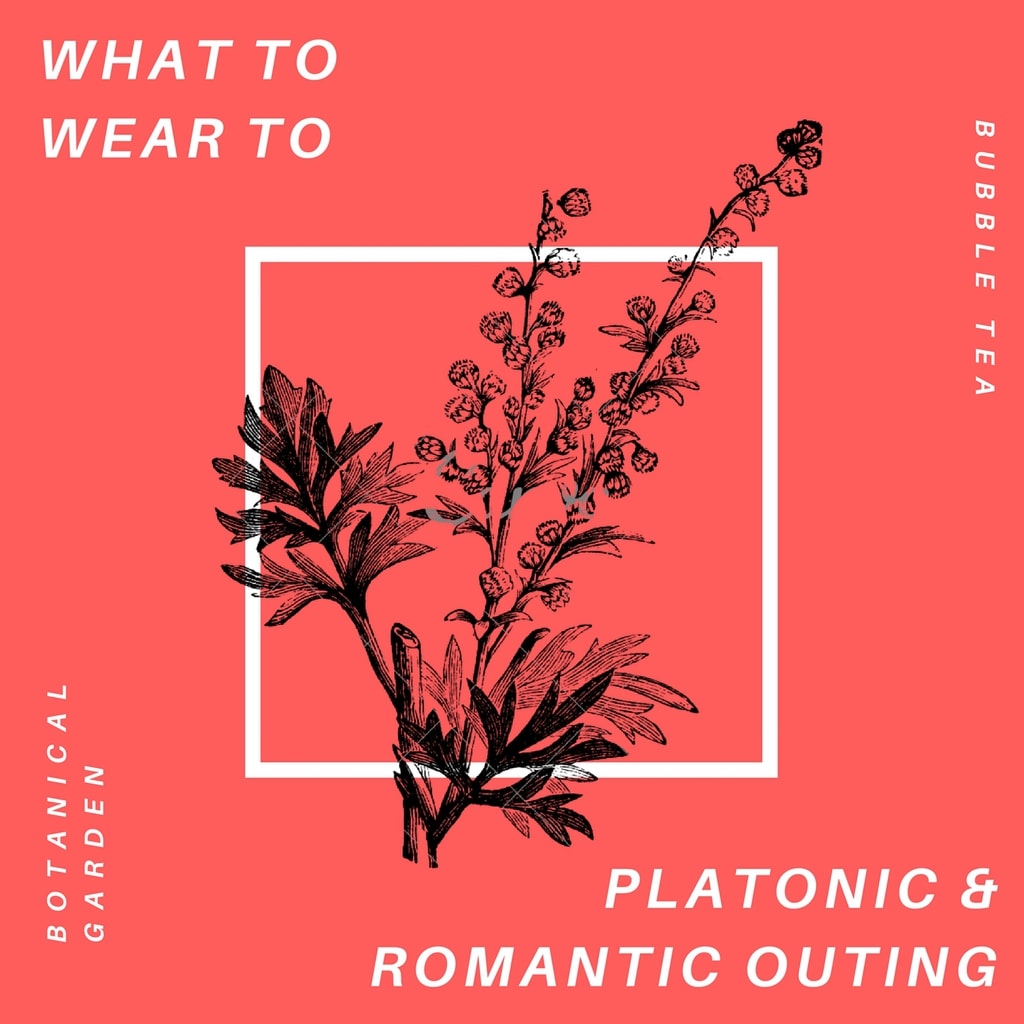 Welcome to a new series that will help shake up your platonic/romantic date ideas! It's so easy to get trapped in the cycle of movie-dinner or Netflix-drink dates. The main reason why these two get so much replay from college students/20-somethings is because they're cheap. This series will introduce fun inexpensive outing ideas that stray a bit from the college student date norm.
This series will also strive to maintain 4 rules that relate to a real college student's budget and lifestyle:
Cost of the outing: around $30/person
Cost of the clothes: around $70, excluding accessories (jewelry/bags/shoes/makeup) since those can be swapped out according to your style/budget
Diversity of body sizes and styles
Diversity of fashion-lifestyle preferences: always 1 outfit using shorts/pants & 1 outfit using skirts/dresses
Botanical Garden + Bubble Tea Cost Breakdown
~$10 Transporation
~$0 Botanical Garden (look for free days/passes!)
~$5 Bubble Tea Drink
If you have a botanical garden in the city, your university most likely has the hookup for the popular tourist attraction. Check if your library has a free pass and if the botanical garden has free/steeply discounted days.
How do you get there? Bus, shuttle, taxi, ride-sharing apps all work. I priced the transportation a bit high because some universities are really far away from the city's botanical garden. Plus, gas costs rack up for commuter students.
Bubble tea, also known as boba, has become a food trend in the past years with shops popping up everywhere. The flavored-tea-with-tapioca-balls combination is especially popular with the college crowd so you could probably find a shop near campus – or even on-campus. Shops generally sell the drink in the $3-8 range for a medium cup. Some shops even let you play card/board games in-store!
Botanical Garden Inspired Outfit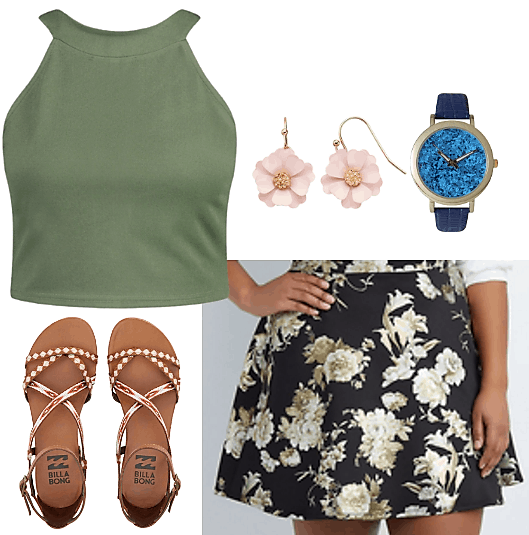 Products: Green Crop Top – Boohoo (Size U.S. 12-20), Black Floral Skirt – Charlotte Russe (Size U.S. 1X-4X), Studded Sandals – Billabong (Size U.S. 6-10), Cherry Blossom Earrings – LC Lauren Conrad/Kohl's, Blue Watch – Olivia Pratt/JCPenney
Cost of Clothes (Crop Top + Skirt) = ~$30 as of April 13, 2017
Match the botanical garden with a green crop top and classic floral skirt. Offset the graphic print on the skirt with equally bold but more romantic cherry blossom earrings. Spring is the season for love, after all! Romantic and platonic love alike.
Botanical gardens usually have water features and statues everywhere. A blue watch and shiny studded sandals nicely mesh with the picture-perfect scenery.
Bubble Tea Inspired Outfit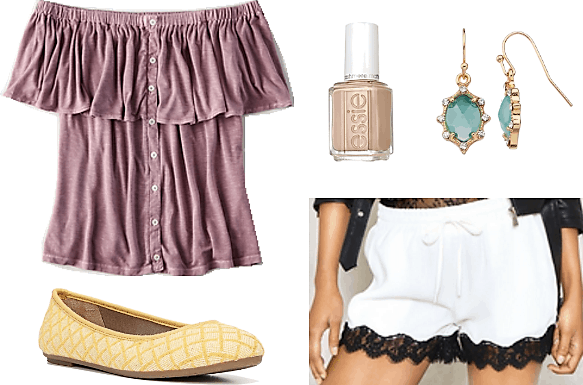 Products: Lavender Off-Shoulder Top – American Eagle (XXS-XXL), White Scalloped Shorts with Black Lace Trim – Nasty Gal (S-XL), Yellow Flats – LifeStride/Kohl's (Size U.S. 5-11), Drop Earrings – LC Lauren Conrad/Kohl's, Nude Nail Polish – Essie (All Eyes on Nudes)
Cost of Clothes (Off-Shoulder Top + Scalloped Shorts) = ~$55 as of April 13, 2017
Channel the most popular bubble tea flavors with this playful outfit. Your lavender top and taro bubble tea, which is mildly sweet, can match on Instagram. White shorts bring a perennial flavor favorite to mind (AKA coconut). Thoughts of coconut usually come with thoughts of pineapple. Throw people a wink while wearing your inside joke patterned yellow flats.
Nude is the color of lychee, a fan-favorite bubble tea flavor that tastes like a grape/strawberry/watermelon hybrid. Blue-green earrings act as a reminder to try out honeydew bubble tea. And, of course, we can't forget about the tapioca balls. Give a shoutout to the chewy, squishy tapioca pearls with a black lace trim on your shorts.
Your thoughts?
What are you looking forward to most about this series? Do you have a body size/fashion style that you wish College Fashion would cover more? Do you think the budget cap for the outing and outfit is reasonable for college students? What is an outing you think everybody should go on?
Which outfit is your favorite? What's your favorite bubble tea flavor? Let us know!