At this time a week ago, New York Fashion Week was in full swing. Outlandish clothing was hitting the runway, glamorous parties were being attended by the most A-list of celebrities, and I was living vicariously through it all through the Insta-stories of some former Bachelorettes.
With today being the last day of NYFW (sob!), I've been reflecting on the past week. It's hard to pick my favorite part of NYFW (especially since I've never attended in person), but based on the photos I've seen, NYFW street style is rocking my world. As far as I can tell, there are basically no rules. I love it.
There's no good reason that this carefree, photograph-ready approach to fashion shouldn't be worn in everyday life, so I've broken down New York Fashion Week's street style into its three most prominent style aesthetics.
The "I Woke Up Like This"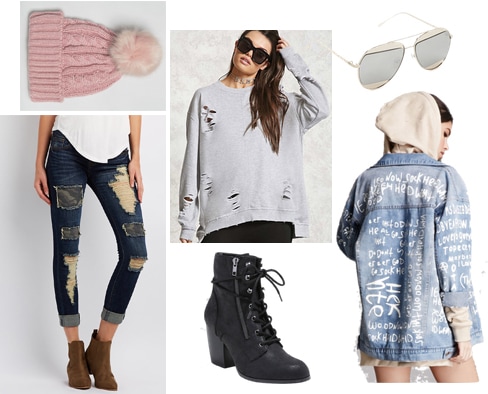 Products: Beanie – ASOS, Jeans – Charlotte Russe, Sweatshirt – Forever 21, Boots – Hot Topic, Sunglasses – Forever 21, Jacket – Forever 21
Also known as the "model off-duty", this look appears forcefully casual and effortless in a way that you know can only be achieved with hours of preparation. Use grunge-inspired pieces like a distressed sweatshirt and even more distressed jeans, and replace your standard sneakers or combat boots with heeled booties to turn your look from casual to chic.
I've noticed that the key to a good street style look is to have one piece that is unexpected and makes a statement, so try a denim jacket with weird graphics, prints, or patches (like this one) to elevate your look. Finally, accessorize with a beanie and sunglasses for that perfect cool-girl slouch. Don't forget to walk around with your hands in your pockets and a disinterested facial expression.
The Ultra-Fancy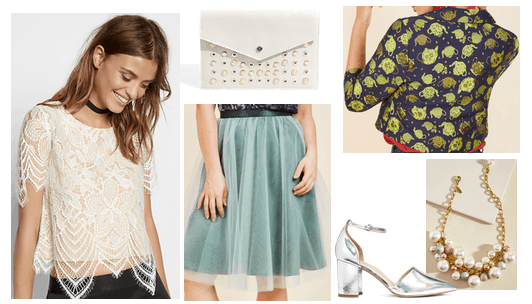 Products: Top – Express, Purse – Danielle Nicole, Skirt – Modcloth, Blazer – Modcloth, Heels – H&M, Necklace – Modcloth
If I was going to NYFW, this is the look I would go for – I'm a sucker for all things classically feminine. For the "ultra-fancy" aesthetic, wear everything you own that's sleek, sweet, and super-girly at once. Basically, the goal is to make yourself look like a modern-day princess.
Normally, a lace top, tulle skirt, pearl statement necklace, and silver heels that Cinderella would love might be too much all together, but this is NYFW and there are no rules. For that statement-making jacket I mentioned earlier, drape a blazer with an interesting print like this teacup-patterned one over your shoulders. Finally, carry a tiny studded clutch with no room inside to actually carry more than your phone, and you're all set to smile demurely at everyone snapping your picture.
The Risk-Taker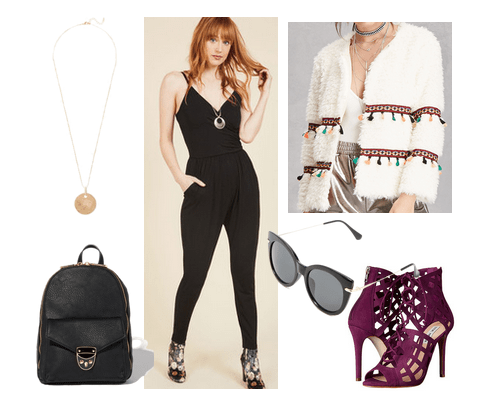 Products: Necklace – Charming Charlie, Backpack – Charming Charlie, Jumpsuit – Modcloth, Jacket – Forever 21, Sunglasses – Forever 21, Heels – 6PM
This was the best representation of the "risk-taker" that I could find, and I still don't think it's doing it justice. However, it's not necessarily feasible to dress like you're from the Capitol in normal life, so this is a good adaptation.
To be a risk-taker, all you have to do is wear pieces from your closet that normally scare you a little, preferably all at once. For example, I'm always scared to rock a jumpsuit because I always feel like I look dumb. Well, now is the time to leave the comfort zone! Wear that jumpsuit with the most fashion-forward coat you can find, like this white fur one with colorful tassels, then slip on some sky-high heels in a non-neutral color (love these plum ones!).
Accessorize with the always-necessary sunglasses, a long gold necklace, and a chic backpack slung carelessly over one shoulder, then strut confidently and smirk at everyone who's not dressed as well as you.
What do you think?
What's your favorite part about fashion week? Which street style is your favorite? Let me know in the comments!