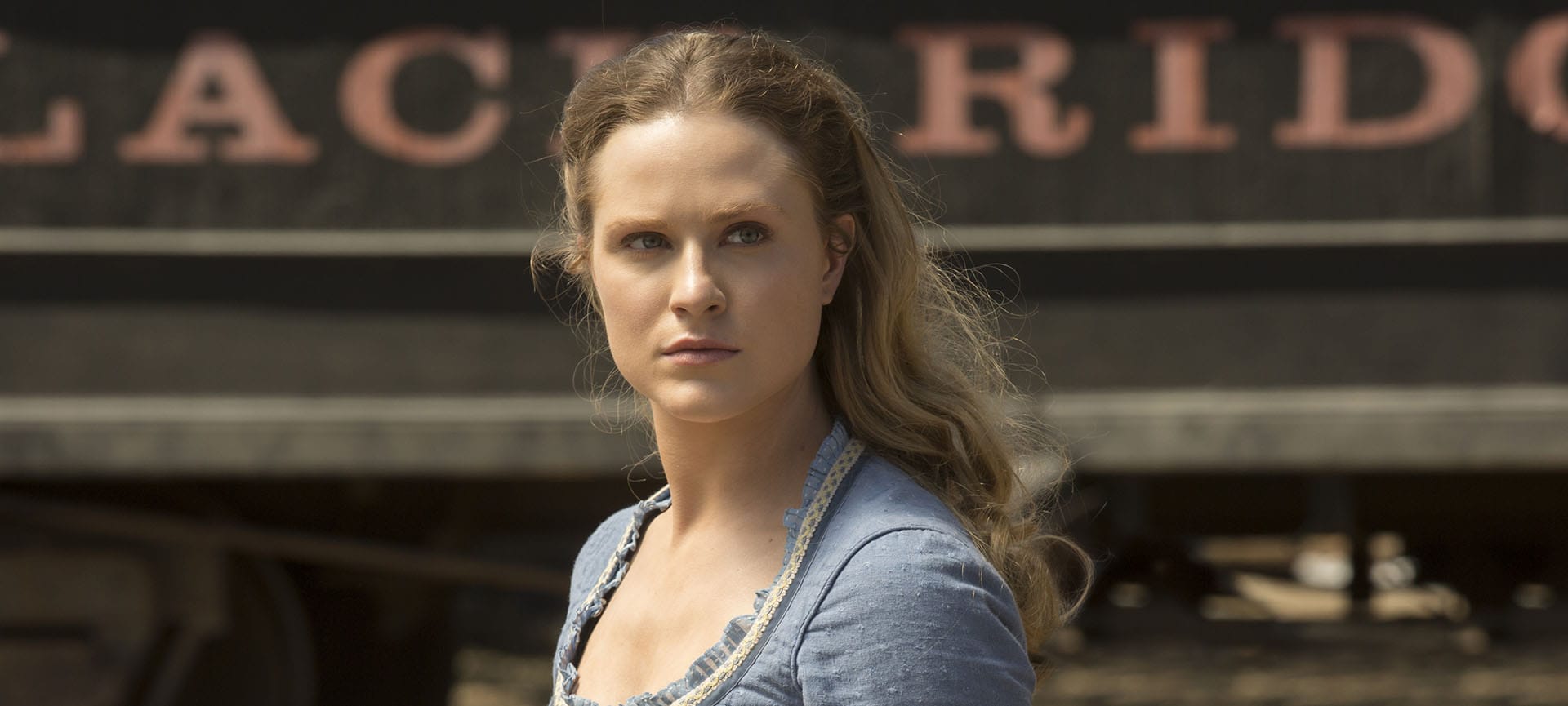 After more than a year, the wait is over – Season 2 of HBO's critically acclaimed series Westworld is airing in just 8 days. In order to prepare for ten more episodes of grunge piano covers, existential soul-searching, and edge-of-your-seat plot twists, this article will revisit the major players of Season 1. (So, warning, there will be mild spoilers.)
For those of you not in the know, Westworld is about a futuristic theme park of the same name. In this park, visitors are transported into a faithful recreation of the Wild West – from the frontier town of Sweetwater, out to sprawling prairies and staggering canyons. Visitors are free to act however they like – because instead of human actors, the park is populated by super-realistic robotic "hosts," who behave realistically in repetitive loops, except that they cannot harm a living creature. Things start to change when a new software update is launched, causing the hosts to act out in dangerous and unpredictable ways.
Have you ever questioned the nature of your reality? If so, Westworld is the show for you.
Today we're taking some fashion inspiration from Westworld in honor of the Season 2 premiere. Here are some Westworld outfits, with modern, fashion-approved takes on the cast's classic Western wear:
There's a Path for Everyone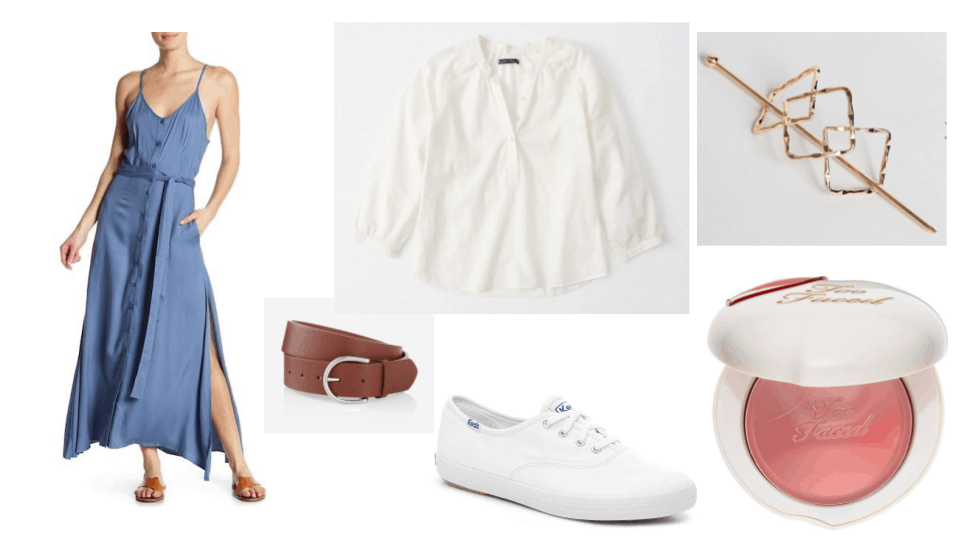 Products: Dress – Nordstrom Rack, Shirt – Abercrombie, Hair Pin – ASOS, Belt – Express, Sneakers – DSW, Blush – JCPenney
The main character of Westworld is Dolores Abernathy, a host who lives as a rancher's daughter. Dolores loves painting and the cowboy Teddy, but leaves her loop when her parents are murdered by a gang of bank robbers. She then begins to explore more of the park, as well as her own abilities.
In this look, a blue maxi dress and a brown belt mimic Dolores's dress. A white shirt and white sneakers provide warmth and practicality (which you might need if you want to carry out a heist with a strange man). Pull your hair back with a clip reminiscent of the maze through which Dolores travels, and add some peachy-pink blush for a girlish look that can take you from an art class, to a date, and even on an unexpected day trip.
Black Hat or White?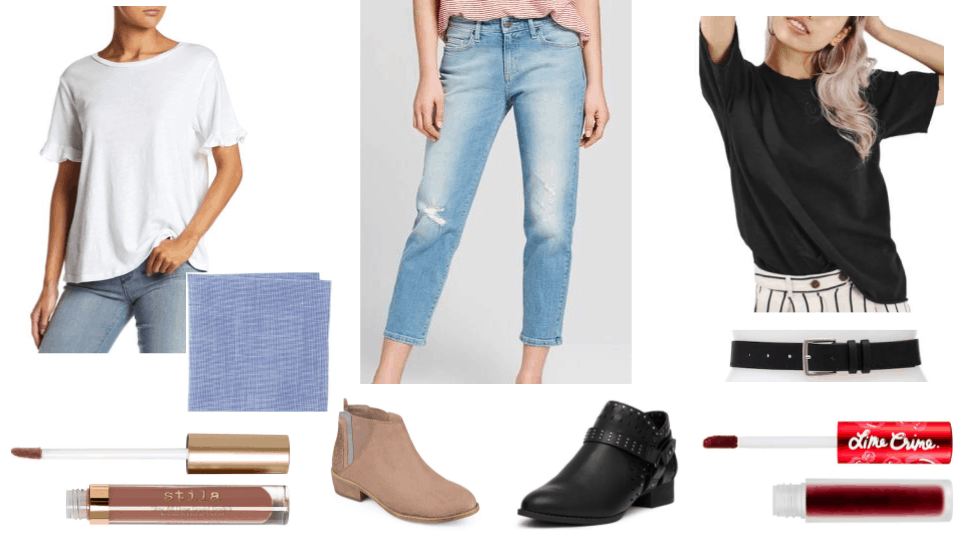 Products: White Tee – Nordstrom Rack, Scarf – Nordstrom Rack, Stila Lipstick – Revolve, Brown Boots – DSW, Jeans – Target, Black Tee – Nordstrom, Belt – Nordstrom Rack, Black Boots – Nordstrom Rack, Lime Crime Lipstick – Revolve
When arriving at Westworld, visitors have a choice – they can take a white hat, symbolizing that they want to be a law-abiding citizen, or they can take a black hat and act on their wildest desires. Dolores goes on a journey with white-hatted William and black-hatted Logan, who have very different ideas about what they want to accomplish while in the park.
This look is a twofer, showing that the difference between good and evil is all about small choices. A pair of boyfriend jeans creates an air of comfort and rustic flair; this cropped pair is the perfect length to showcase a great pair of shoes. Emulate our hero with a ruffled white tee, a blue scarf, taupe lipstick, and a pair of tan Chelsea boots; or dress like our villain with a distressed black tee, a wide textured belt, vampy red lipstick, and a pair of studded boots. Good or bad, these outfits will give you all the confidence you need to survive a trip to Westworld.
It Doesn't Look Like Anything to Me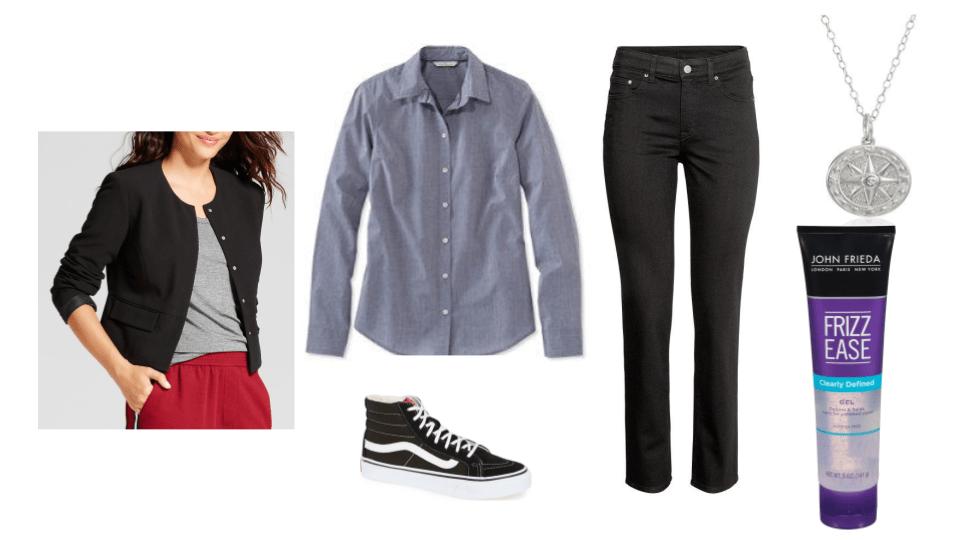 Products: Blazer – Target, Shirt – L.L. Bean, Jeans – H&M, Necklace – Amazon, Sneakers – Nordstrom, Hair Gel – Target
Key to the success of the park are the staff – especially Bernard and Elsie, who write and maintain the code that runs the hosts. These no-nonsense workers have an incredibly challenging job – figuring out how to make the hosts look and act just like you and I, while ensuring that they behave exactly as they're supposed to for the safety of the guests. When hosts start to act out of their loops, Bernard and Elsie have to work under uncertain circumstances, even going out into the park to find out what's going on.
Channel Elsie's utilitarian look with a chambray shirt and black straight-leg jeans. Add a collarless blazer for a bit of formality, and a pair of high-top sneakers for a creative twist. A compass necklace is a reminder not to get too lost in the wilderness of the park, and hair gel keeps your hairdo looking put-together, even when you're unraveling a treacherous mystery. Using a neutral palate and hard-wearing basics lets you create an outfit formal enough for a class presentation, but still comfortable enough for a long study session.
Welcome to Westworld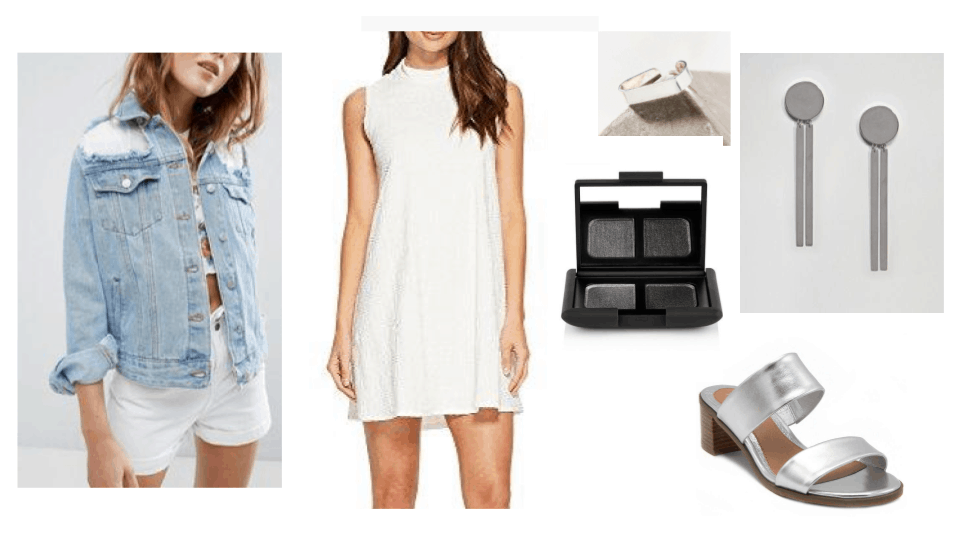 Products: Jacket – ASOS, Dress – 6pm, Ear Cuff – Urban Outfitters, Earrings – ASOS, Eyeshadow – Net A Porter, Sandals – DSW
While Westworld lets visitors experience the world in whatever way they wish, and find out their true selves; the true importance of the park comes in the form of the hosts, who begin to question their identity and form their own consciousness. Are they real? If you can't tell, does it matter?
This outfit mixes a structured high-neck dress with a distressed denim jacket, to mirror the conflicting nature of the hosts. Add strappy sandals and a sleek ear cuff for a futuristic vibe, and do a messy smoky eye for a rebellious edge. The key to the hosts' consciousness is the ability to look within themselves – so when you're wearing this, trust yourself, and don't be afraid to break the rules.
What's your story?
What did you think of Westworld? Are you excited for the Season 2 premiere? Let me know in the comments below!