Ever wanted to dress like you were in a Tom Ford-styled dream sequence? No, just me?
Well, get ready to do just that. Today, I will be continuing our Style and Art Direction series with the hazy, dreamy, '60s fab 2009 film A Single Man.
The film, based on the book by Christoper Isherwood, tells the story of George, a depressed gay professor living in early-'60s SoCal. It follows his adjustment to life as a "single man" after the death of his partner.
A Single Man (available on Netflix steaming if you haven't seen it!) is notable for many reasons. For one thing, it stars Colin Firth in a role that would earn him an Academy Award nomination for Best Actor. The most unique aspect of this film for me though is that it marks the directorial debut of fashion designer Tom Ford.
https://www.youtube.com/watch?v=sC9Zm1UJ7zs
Tom Ford throughly channels sixties style in his film, in partnership with the design team who styled the sets of Mad Men.
This film has many pops of color in neutral settings and that is what I included in my outfits. So let's get started — here's our guide to channeling 'A Single Man' style in our ensembles.
A Single Man Outfit #1 – The Liquor Store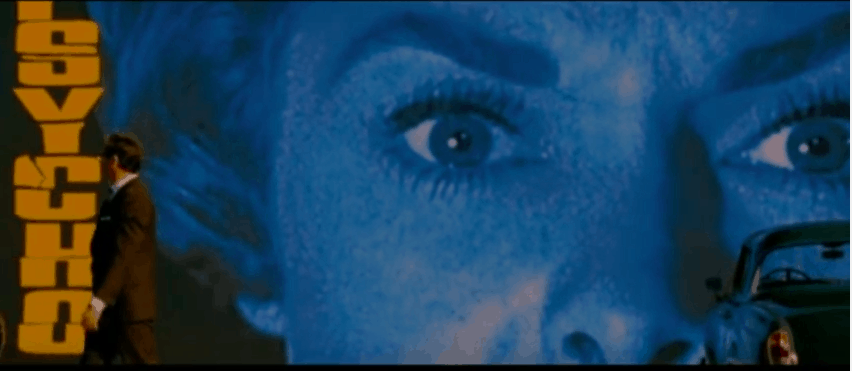 In this scene, George is seen going to the liquor store. Where he parks his car, there is a promotional poster for the Alfred Hitchcock film, Psycho. In case you aren't familiar with the woman in the poster, it's Janet Leigh as Marion Crane, who gets murdered by Norman Bates in that iconic shower scene.
For this first outfit, I wanted to call back to the '60s while creating an end-of-summer look.
To channel the blue lighting, start off with this adorable cut-out sundress. Keep the rest of the outfit neutral by adding dark round sunglasses and a leather satchel bag. Since this art direction is dedicated to the film, Psycho, finish off your outfit with a Hitchcock phone case.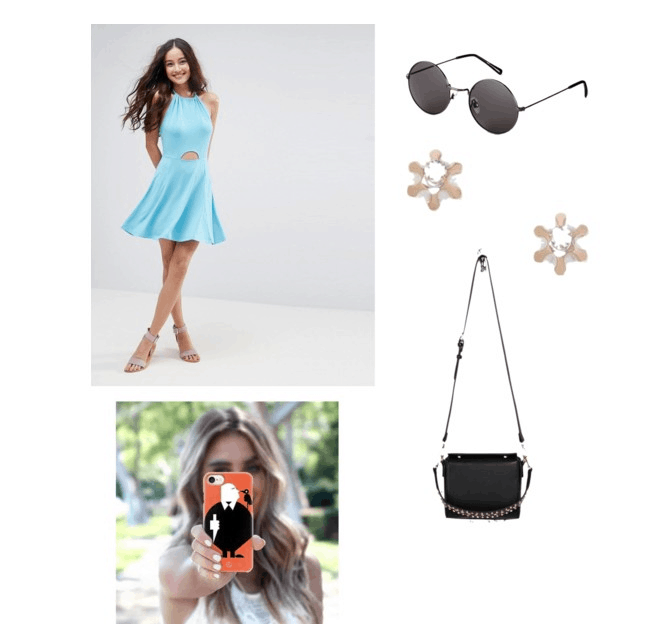 Products: Sundress – ASOS, Sunglasses – H&M, Studs – Forever 21, Satchel – Forever 21, Phone Case – Casetify
A Single Man Outfit #2 – Charley's Bedroom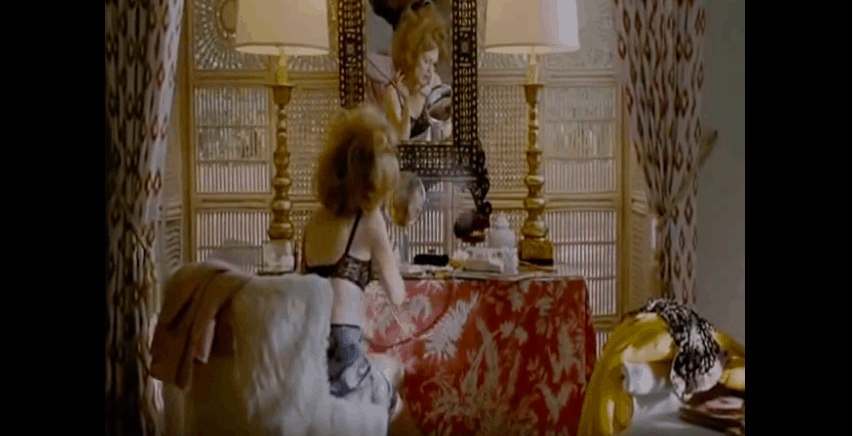 Charley, portrayed by Julianne Moore, is George's good friend who is also depressed. She wants a relationship with George and doesn't understand why he doesn't feel the same way. In this scene, she is getting ready to go to dinner with him. She has a colorful bedroom, with many prints and patterns, characteristic of the glamorous side of the '60s.
To channel the red patterns in Charley's bedroom, start off with a floral cami dress. As a nod to the beige accents around the space, and its general moody feel, add a sunhat and a crossbody bag. Include some more of the red palette with these burgundy triangle earrings and ankle-strap flats.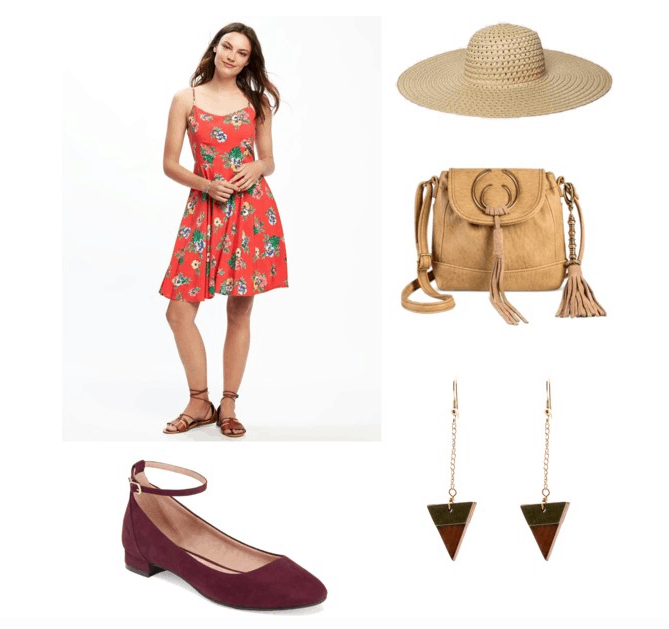 Products: Sundress – Old Navy, Sunhat – Avenue, Crossbody – Target, Earrings – Shoptiques, Flats – Old Navy
A Single Man Outfit #3 – Meeting Carlos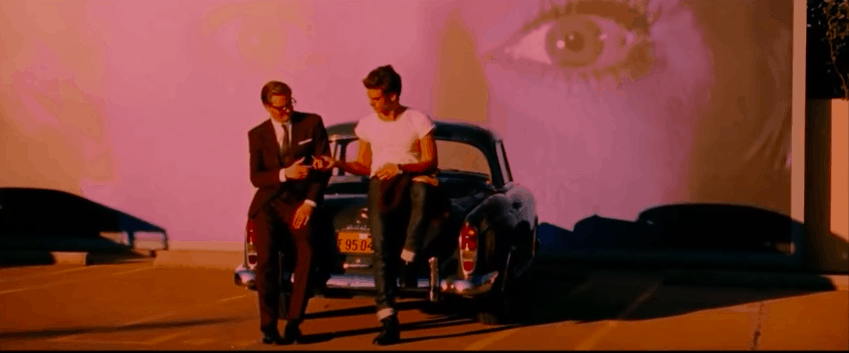 Later in the film, George enters the same liquor store again and meets a male prostitute named Carlos. George buys Carlos a bottle of liquor and bonds with him while having a cigarette. This is the exact same setting as the first image, above. The only difference is the lighting.
Carlos tells George that the smog is what gives the light here its pinkish hue. This scene, like its blue counterpart, is full of emotion thanks to its coloring. And, of course, it's totally inspiration-worthy.
For our final look, I took inspiration from the scene's muted pink color and pops of black to create a look for the office. Start off with this adorable black neck bow blouse and black trousers. Channel more of the pink lighting by adding these beautiful heels. You are in a professional setting, so finish off the outfit with a darker shade of lipstick.
This outfit is my favorite out of all of them. Personally, I love it when office looks include pops of unexpected color. This outfit would also be ideal for a classy night out.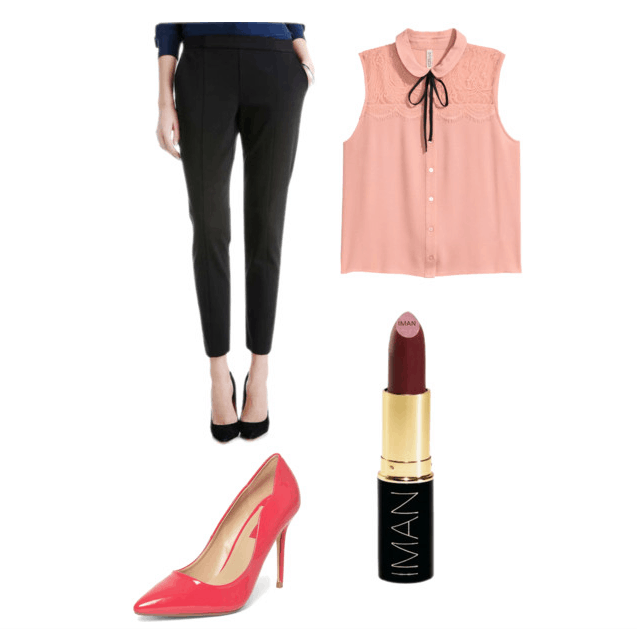 Products: Trousers – Joe Fresh, Collar Top – H&M, Heels – Dorothy Perkins, Lipstick – Iman
What do you think of the art direction in 'A Single Man'?
Have you seen A Single Man? If not, are you going to check it out? Which outfit is your favorite? Would you wear pink to the workplace? Do you prefer the blue or pink color scheme of the liquor store scene? Leave a comment below!