From the costumes to the set, from the words of the script to the movements of the actors, everything on stage tells a story. Stage-Inspired Fashion explores ways to add a little dramatic flair to your style.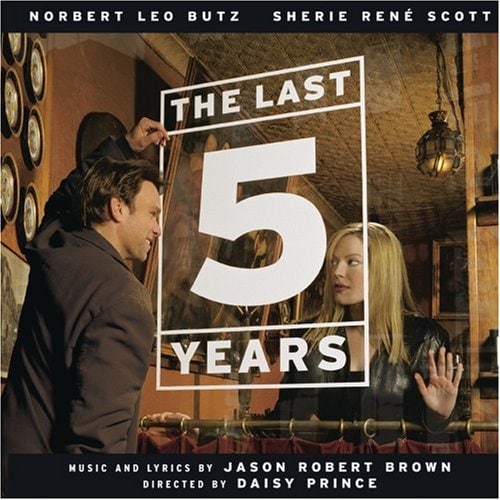 The Last Five Years is my all-time favorite musical. I had the opportunity to perform as Cathy in a six-person production last year, and it was one of the best theatre experiences of my life.
Behind the Scenes
The Last Five Years is a two-person show written by Jason Robert Brown. It covers the five years of the relationship between Jamie Wellerstein, a successful writer, and Cathy Hiatt, a struggling actress. This concept may seem simple, but there's a twist: Jamie tells the story starting from the beginning, after their first date, while Cathy tells the story from the end, after their divorce. They cross paths in the middle at their wedding– the only point in the show that they sing together at the same point in time.
I firmly believe that Jamie and Cathy are a good couple, but their career paths are ultimately incompatible. Cathy doesn't know how to deal with the juxtaposition of Jamie's success and her own failure, and Jamie doesn't know how handle her discomfort.
Although the show is set in the late 1990s, I've opted for more contemporary fashion. Since Cathy is a practical person, each of these three outfits serves a specific purpose. Scroll down to see them all!
Still Hurting
"Jamie is over and Jamie is gone.
Jamie's decided it's time to move on.
Jamie has new dreams he's building upon,
And I'm still hurting."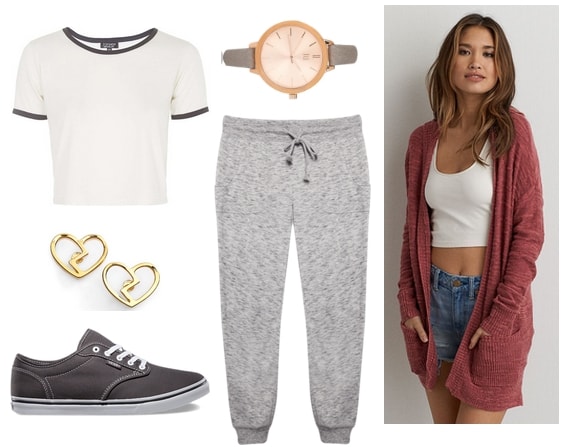 Shirt, Joggers, Cardigan, Shoes, Earrings, Watch
Cathy has the first lines: "Jamie is over and Jamie is gone." When the show begins, their relationship has already ended. In keeping with the slow rhythm and pensive nature of the song, I designed this outfit with comfortable pieces and muted colors.
To channel Cathy on a lazy day, put on soft gray joggers, a white crop top, and gray sneakers, then add a bit of color with this cozy hooded cardigan. The gold and gray watch represents the watch Jamie gave Cathy, and the earrings reference her broken heart.
Climbing Uphill
"Why did I pick these shoes? Why did I pick this song? Why did I pick this career?"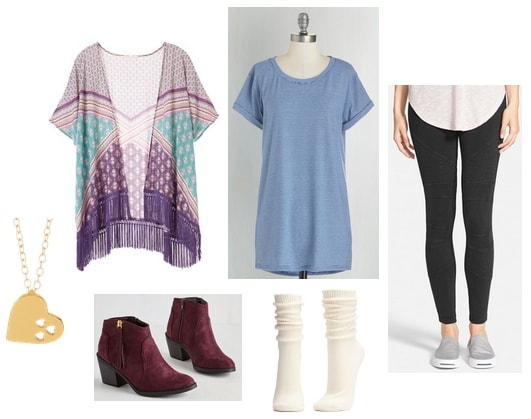 Shirt, Kimono, Leggings, Socks, Shoes, Necklace
"Climbing Uphill" covers several years of Cathy's relatively unsuccessful auditions. All actors can sympathize with her– auditions are nerve-wracking! For a typical musical theatre audition, you need to memorize and perform a song and monologue and learn a dance on the spot– all in front of a panel of people.
Advice on what to wear to an audition varies, but given Cathy's lively personality and desperation for a job, I think she would want to stand out, and the variety of patterns and colors in this outfit would do the trick. A blue-and-white tunic, subtly textured gray leggings, and a blue-and-purple printed kimono let you move around while still looking put-together.
Although Cathy regrets wearing statement shoes, these maroon ankle booties should inspire confidence! Finish off the look with a gold heart necklace that references the sweetness of Cathy's audition song.
I Can Do Better Than That
"I want you and you and nothing but you,

Miles and piles of you…"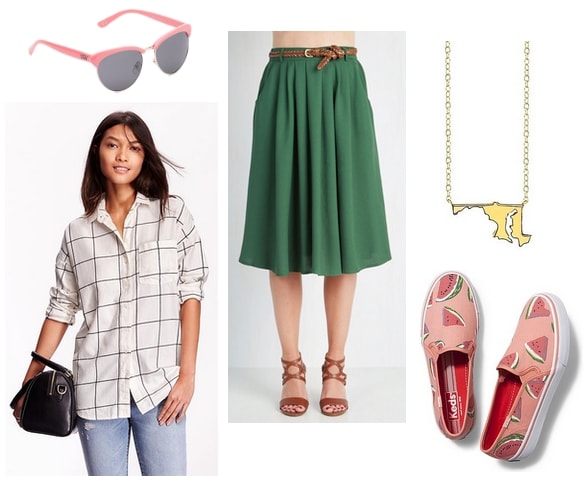 Shirt, Skirt, Shoes, Necklace, Sunglasses
Cathy and Jamie drive to Cathy's hometown, presumably to spend time with her family. After telling him about mistakes she and her friends have made in their love lives in the past, Cathy asks Jamie to move in with her. It's one of my favorite Cathy moments– she's so honest with Jamie about her past and about her feelings for him.
This outfit is perfect for a road trip back home. Start with a plaid shirt and a bold green midi skirt for a combination that is both comfortable and polished. Watermelon printed sneakers add a quirky touch, just like Cathy's sense of humor. Accessorize with retro pink sunglasses and a gold necklace that references Cathy's home state of Maryland (the other 49 states are available, too!).
Epilogue
Although this article has covered songs from Cathy's perspective, I don't see her as being better or more right than Jamie. The best thing about The Last Five Years is that the characters are painfully real. Both of them made good and bad choices; neither of them can take all of the blame for their breakup.
Through its beautiful music, The Last Five Years shows us a good relationship that went wrong and makes us think about love and commitment in our own lives.
Your Thoughts?
Have you seen the show or the movie? Do you have a favorite audition outfit? Are there any plays or movies that you would love to see covered in this column? Let us know what you think in the comments!