From the costumes to the set, from the words of the script to the movements of the actors, everything on stage tells a story. Stage-Inspired Fashion adds a little drama to everyday style.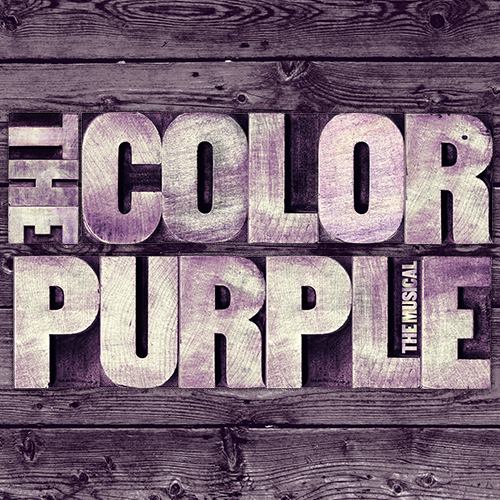 The Color Purple took home two Tony Awards this weekend! Cynthia Erivo won Best Leading Actress in a Musical for her performance as Celie, and the production won Best Revival of a Musical. So naturally, I had to feature it here.
Behind the Scenes
The Color Purple is based on the novel of the same name by Alice Walker. With music and lyrics by Brenda Russell, Allee Willis, and Stephen Bray and book by Marsha Norman, this show has moved Broadway audiences in its original production in 2005 and its current revival.
Set in the American South in the 1920s and 30s, The Color Purple tells the stories of several black women who survive in a world that seems set against them. Celie, Nettie, Shug, Sofia, and Squeak come to strengthen and support each other as they deal with abusive fathers, boyfriends, and husbands and racist communities and institutions.
The score draws on black musical traditions and showcases amazing female voices. To get a sense of the show's power, watch Cynthia Erivo sing "I'm Here" at the Tonys. To put it simply, she stunned the audience.
I've created three outfits based on three of the songs from The Color Purple. Keep reading to see them all!
Our Prayer
When I lay me down to sleep,
I will say my prayer
That God love me so deep,
He will promise our souls to keep together.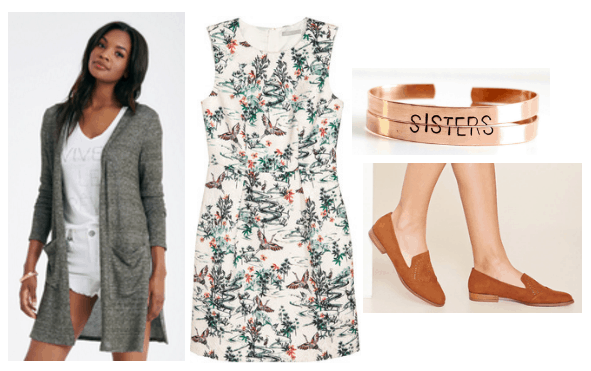 Products: Dress, Cardigan, Loafers, Bracelets
Sisters Celie and Nettie sing this song as children, discussing the hopes they have for their adult lives and expressing a wish to stay together. This jacquard-weave dress, patterned with flowers, streams, and birds, represents their dreams of planting gardens and hearing birdsong. An olive green duster cardigan highlights the green in the dress. Finish the look with faux-suede loafers and a sophisticated take on a friendship bracelet.
The Color Purple
God is the flowers and everything else
That was or ever will be.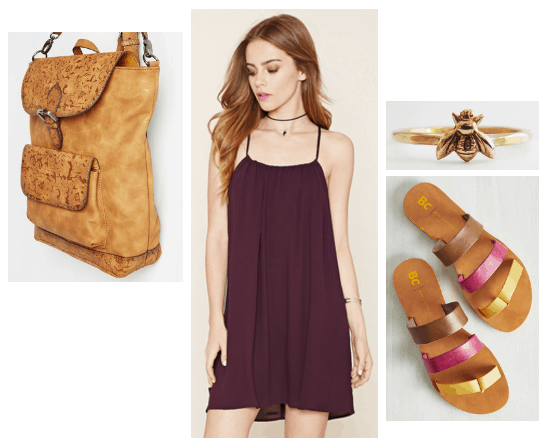 Products: Dress, Sandals, Ring, Knapsack
In the titular song, Shug Avery, a jazz singer and Celie's lover, invites Celie to live with her in Memphis and enjoy the simple, beautiful things. Enjoy the warm summer weather in a flowy purple dress and pretty multicolor sandals. Add a delicate honeybee ring, and hold your essentials in an embellished knapsack.
I'm Here
I believe I have inside of me
Everything that I need to live a bountiful life.
Products: Blouse, Pants, Heels, Bracelets
In this climactic song, Celie realizes that she loves herself for who she is, and she doesn't need Shug to make her feel confident anymore. Embody Celie in a pair of dramatic wide-legged navy pants that represent her calling as a pants designer. Put on a blue floral-patterned chiffon blouse and blush-pink kitten heels. Accessorize with a set of heart charm bracelets that symbolize Celie's powerful self-love.
Epilogue
This year's #TonysSoDiverse were the opposite of #OscarsSoWhite, and for the first time, all four musical acting Tony Awards went to people of color. Here's to better representation and greater recognition of the diverse stories and people in our theaters.
Your Thoughts?
Have you seen a production of The Color Purple? Were you as impressed with their Tony performance as I was? Are there any plays or musicals you would love to see covered in this column? Let us know what you think in the comments below!