From the costumes to the set, from the words of the script to the movements of the actors, everything on stage tells a story. Stage-Inspired Fashion explores ways to add a little dramatic flair to your style.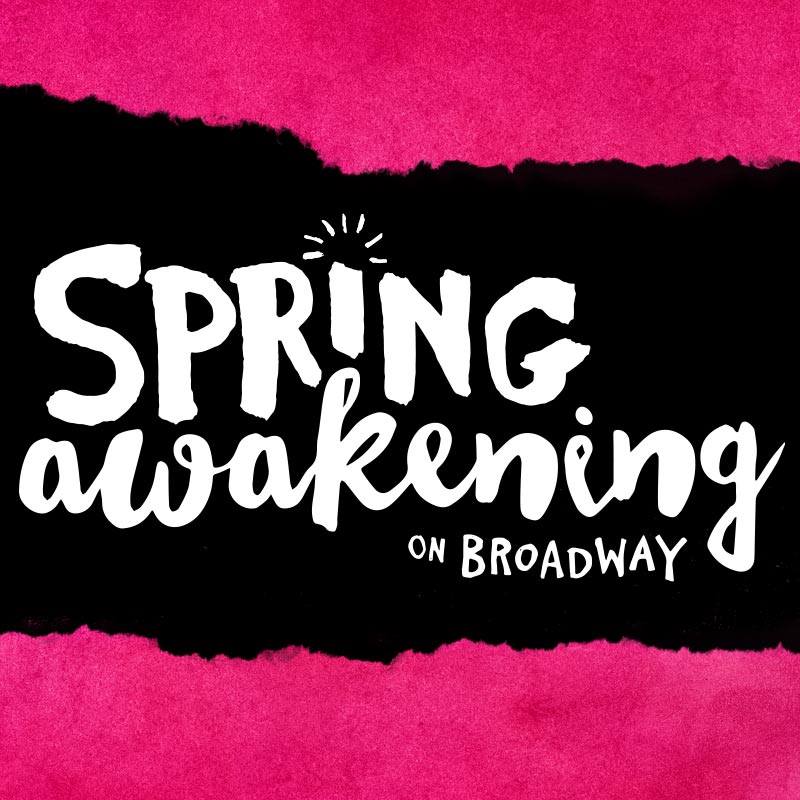 Many of you have asked for an article on Spring Awakening, and here it is! I've been a fan of this show since my theatre group did it a few years ago, and I really love the music.
Behind the Scenes
Spring Awakening, based on Frank Wedekind's 1891 play of the same name, tells the stories of German teenagers that are learning what it means to grow up. With a rock score by Duncan Sheik and lyrics and book by Steven Slater, the show mixes historical and modern styles of music, fashion, and language to connect young people in the 1890s to young people now.
Spring Awakening addresses difficult issues such as morality, sexuality, teen pregnancy, abortion, suicide, incest, and rape. But even with that laundry list of mature themes, I would say that the show's defining quality is not darkness, but pensiveness. The music often sounds slow and dreamy, and the characters raise questions that don't have easy answers.
The original Broadway production starred Lea Michele, Jonathan Groff, John Gallagher Jr., Skylar Astin, and many other talented young actors. If you didn't get to see that version, don't worry— a revival by the Deaf West Theatre, featuring both deaf and hearing actors, is coming to Broadway this fall.
I've created three looks based on Spring Awakening's three main characters. Since my outfits have featured a lot of denim lately, I gave myself a challenge: no denim at all! Scroll down to see all three denim-free looks.
Wendla Bergmann
"And he touched me and I let him love me,
So let that be my story."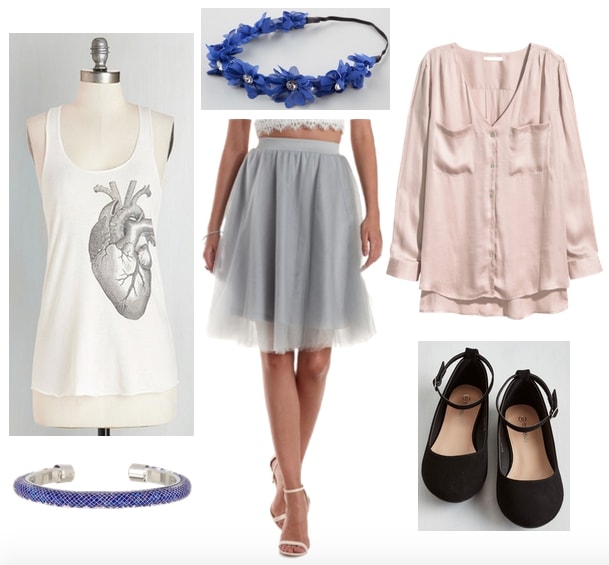 Shirt, Blouse, Skirt, Shoes, Headband, Bracelet
To capture Wendla's character, start with an anatomical heart tank top that is simultaneously delicate and macabre. The heart represents the conflict between Wendla's desires for love and sex and her community's strict morals.
Add a gray tulle skirt and an open blush pink blouse for a grown-up fairy princess look inspired by the old dress that makes her feel like a fairy princess. Accessorize with ankle-strap ballet flats, a royal blue flower crown, and a matching blue cuff bracelet.
Melchior Gabor
"You watch me—
Just watch me—
I'm calling,
And one day all will know."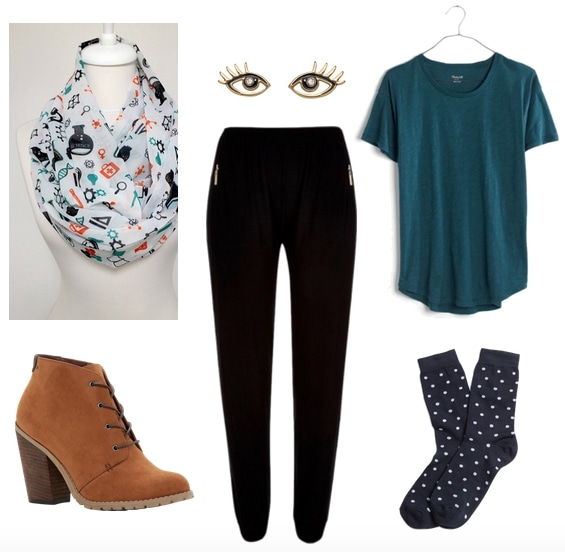 Shirt, Joggers, Socks, Boots, Scarf, Earrings
For a classroom-ready look, try zipper-pocket joggers and a dark teal shirt. A fun scarf patterned with scientific symbols and measuring tools represents Melchior's insatiable thirst for knowledge and truth. Comfy socks and sturdy but stylish boots speak of his practical nature, and will keep your feet warm as the air gets cooler.
Finally, add jeweled eye earrings that symbolize the two people watching over Melchior at the end of the show.
Moritz Stiefel
"You wanna laugh, it's too absurd—
You've start to ask, can't hear a word—
You're gonna crash and burn, right, tell me more…"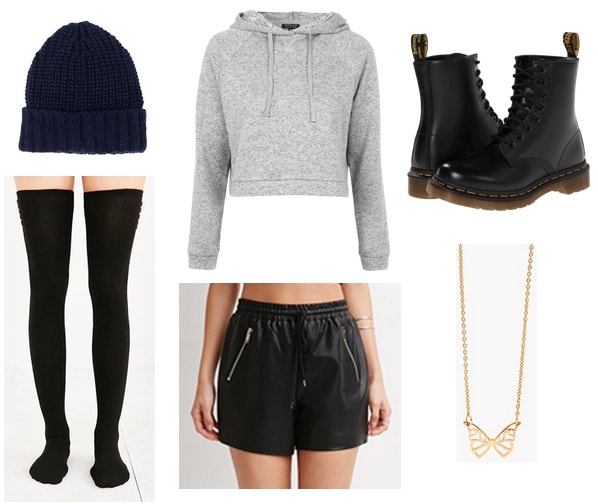 Sweatshirt, Shorts, Socks, Boots, Necklace, Hat
Moritz's volatile combination of awkwardness and anger often lead costume designers to give him a punk-inspired look. Mix summer and fall fashions with faux leather shorts and a soft gray cropped sweatshirt. Add black thigh-high socks and Doc Martens (Docs are expensive, but they'll make it through bad weather and heavy use).
The butterfly necklace and dark blue beanie reference Moritz's Act II duet with Ilsa, "Don't Do Sadness/BlueWind."
Epilogue
Many young people today— including me— are still forming their identities as adults, and Spring Awakening speaks to the universality of those feelings of discomfort and confusion. From this anachronistic musical, we can take away ideas about the process of growing up… and some awesome fashion inspiration.
Your Thoughts?
Are you going to see the new Broadway production? Do you connect to these characters? Are there any plays or musicals you would like to see covered in this column? Let us know what you think in the comments!