From the costumes to the set, from the words of the script to the movements of the actors, everything on stage tells a story. Stage-Inspired Fashion adds a little drama to everyday style.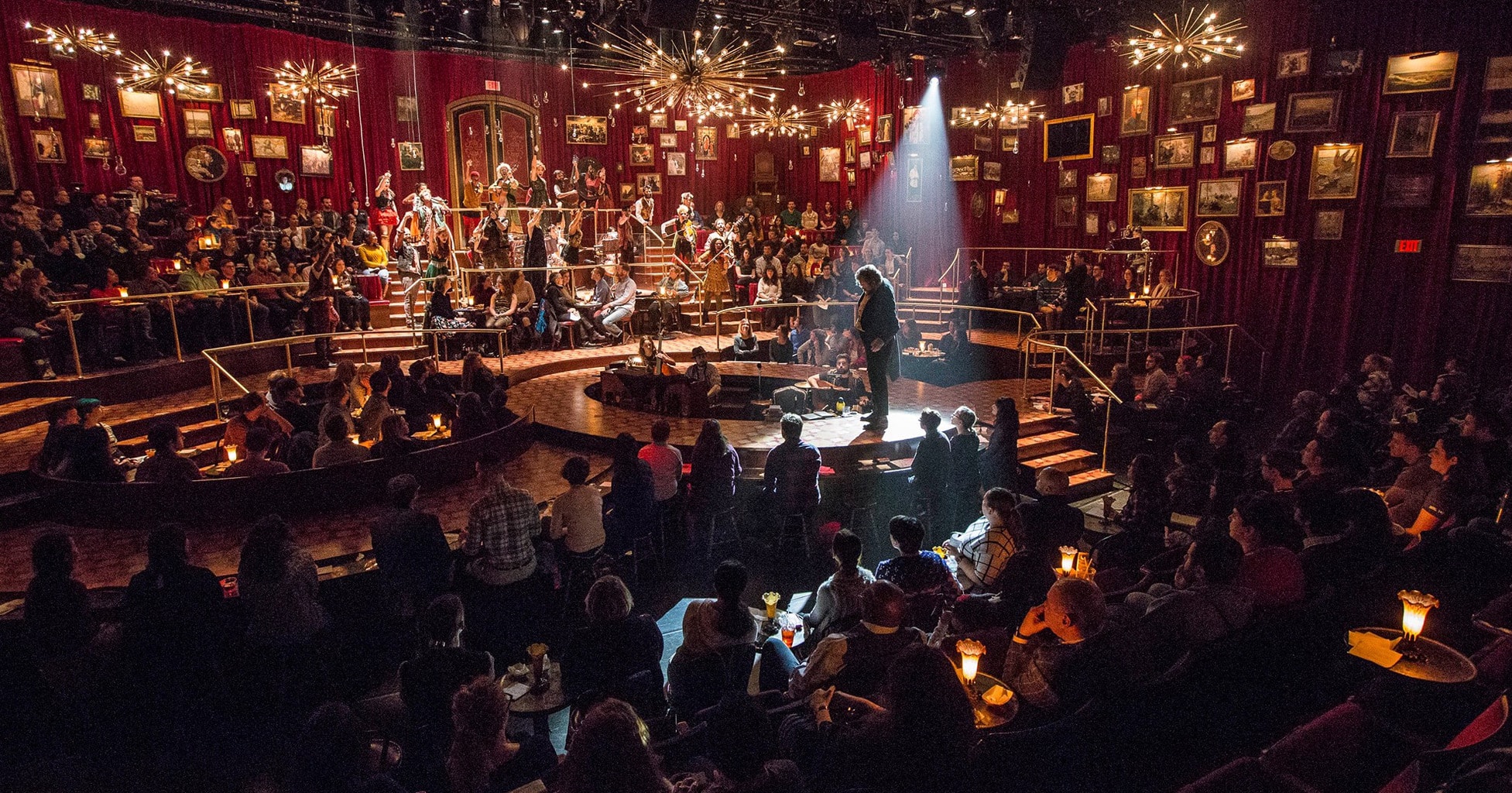 In this column, we've covered quite a few plays based on books, but we've never ventured into the complex world of Russian novels.
Behind the Scenes
Natasha, Pierre & The Great Comet of 1812 is Dave Malloy's adaptation of a 70-page section of War and Peace. As the prologue notes, the story is very complicated and "everyone's got nine different names." But here are the basics: Natasha, betrothed to Andrey, is staying with her cousin Sonya and godmother Marya in Moscow when she is seduced by the dashing (but married) Anatole. Meanwhile, the unhappily married Pierre is having an existential crisis. Natasha and Pierre may be the only people who can help each other figure out their lives.
The show is currently opening on Broadway, starring Denée Benton as Natasha and Josh Groban as Pierre! As shown in the image above, the show's staging brings the audience into an opulent Russian club, with the actors moving around a circular runway/stage.
The entire story, with the exception of a single line, is told through song. The music blends Russian folk, classical, indie rock, and EDM into a unique, intense style. The outfits I've created, based on three of the characters, blend old and new fashions in a similar way. Keep reading to see them all!
Natasha is Young
It seems to me I've loved him a hundred years.
It seems to me that I've never loved anyone before.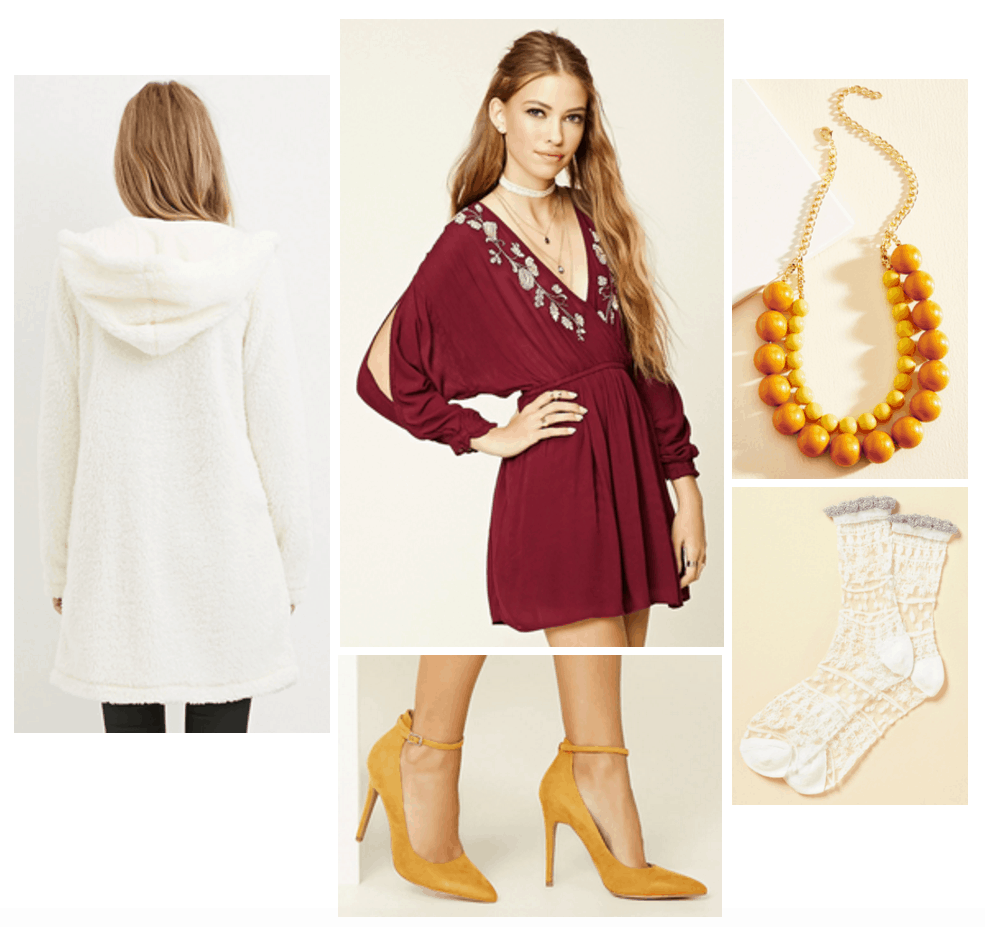 Products: Dress, Socks, Heels, Coat, Necklace
Capture Natasha's youthfulness, passion, and warmth with an embroidered burgundy dress, lacy white socks, and yellow suede heels. Add a chunky yellow beaded necklace to play up the folksy look, and put on a white faux fur jacket that reflects Natasha's classic ingénue costumes.
Anatole is Hot
Because what makes a town pleasant
Ce sont les jolies femmes.
Isn't that so?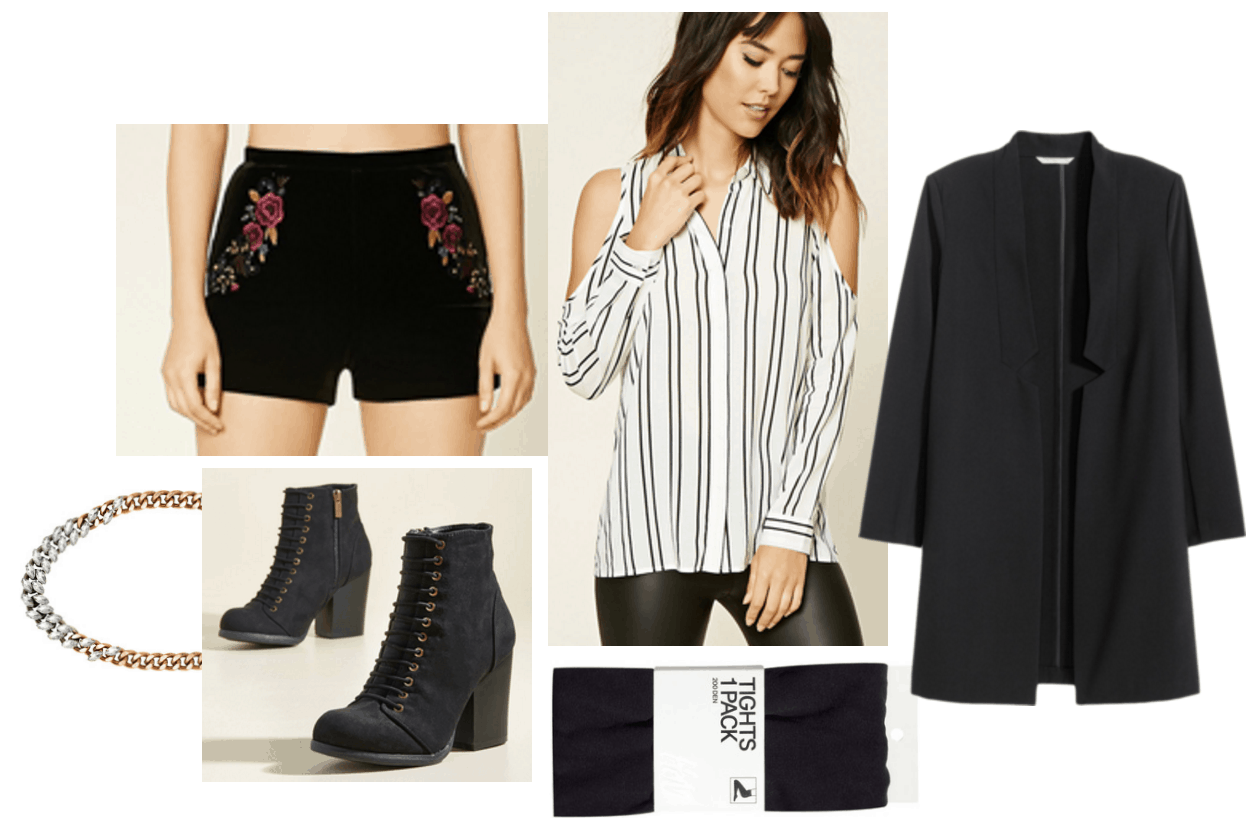 Products: Shirt, Shorts, Blazer, Tights, Boots, Necklace
Get Anatole's aristocratic bad boy style by pairing a striped cold-shoulder blouse with embroidered velvet shorts. Keep warm in the cold Russian winter with opaque tights and a long black blazer, and add heeled lace-up boots. To complete the outfit, let a chunky gold necklace peek out from under your shirt collar.
But What About Pierre?
It's dawned on me suddenly,
And for no obvious reason,
That I can't go on living as I am.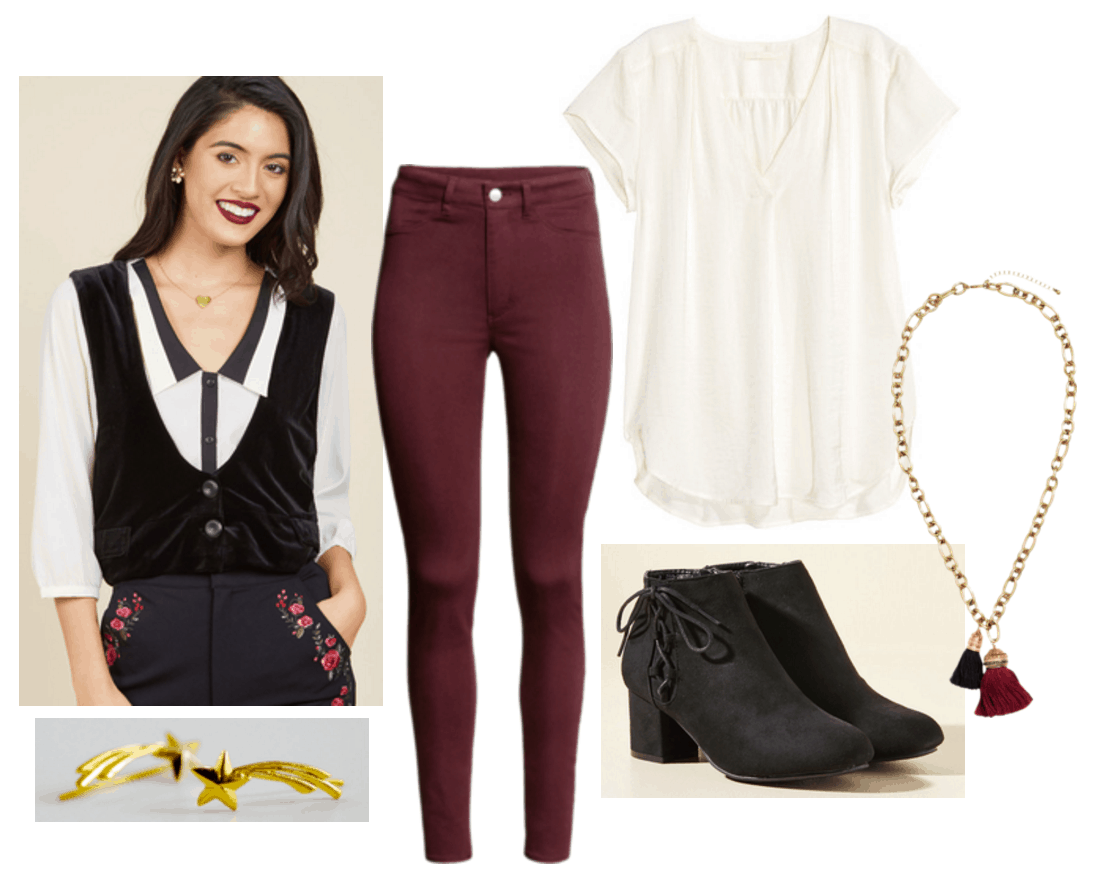 Products: Shirt, Vest, Pants, Boots, Necklace, Ear Climbers
For an outfit inspired by the more gentlemanly Pierre, tuck a silky white blouse into high-waisted wine-colored pants, and layer a cropped velvet vest on top. Put on low-heeled black boots and a tasseled necklace for an elegant touch, and finish with gold comet-shaped ear climbers to represent the Great Comet of 1812.
Epilogue
Natasha, Pierre & The Great Comet of 1812 remixes a nineteenth-century Russian novel by setting the powerful words to captivating music. Get inspired by this up-and-coming musical, and think about ways to remix your style in dramatic new ways!
Your Thoughts?
Have you seen a production of Great Comet yet? Are you as excited to hear Josh Groban on the new cast recording as I am? Are there any plays or musicals you would love to see covered in this column? Let us know what you think in the comments below!