From the costumes to the set, from the words of the script to the movements of the actors, everything on stage tells a story. Stage-Inspired Fashion explores ways to add a little dramatic flair to your style.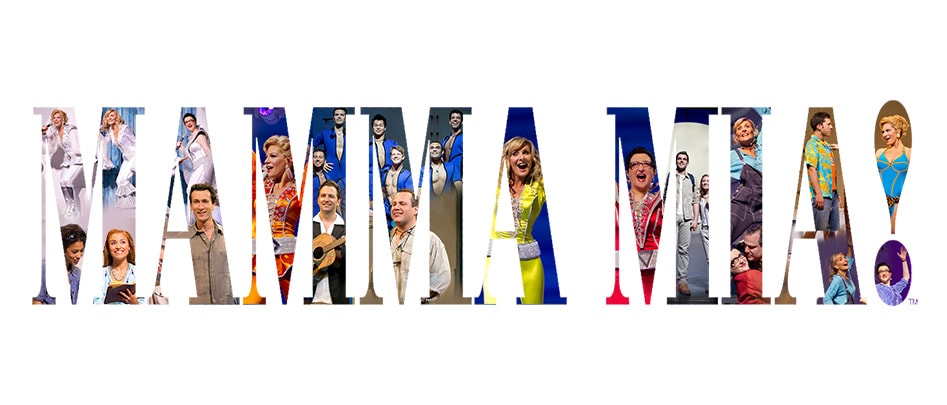 Mamma Mia! is closing next month after 14 years and 5,773 performances, making it the eighth longest-running Broadway musical. As someone who once had all of the words to all of the songs memorized, I'm sad to see it go.
Behind the Scenes
Mamma Mia! is a jukebox musical written by Catherine Johnson and based on the music of 1970s Swedish pop group ABBA.
Sophie, soon to be married, wants her father to walk her down the aisle– but she doesn't know who her father is. After reading her mother Donna's diary, she invites three men who could possibly be her father to come to the wedding so she can get to know them.
Donna is alarmed to find that all three of her former lovers have shown up at her home the day before the wedding. Sophie suddenly finds herself with too many parents: her mother and all three possible dads want to walk her down the aisle.
The show was adapted into a movie in 2008, starring Amanda Seyfried as Sophie, Meryl Streep as Donna, and Pierce Brosnan, Colin Firth, and Stellan Skarsgård as the dads. Filmed on location in Greece, it has absolutely beautiful scenery– the perfect background for a romantic musical comedy.
I've created outfits based on three songs in the show. Scroll down to see these 1970s-inspired looks!
Thank You for the Music
I've often wondered, how did it all start? Who found out that nothing can capture a heart like a melody can?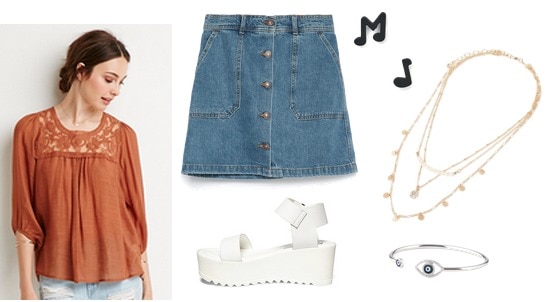 Shirt, Skirt, Shoes, Earrings, Necklace, Bracelet
Channel this sweet song performed by Sophie and her possible dads in a brown peasant blouse and light-wash denim skirt. To accessorize, add music note earrings that reference the title of the song and an evil eye bracelet that symbolizes Sophie's home on a Greek island. Evil eye decorations and jewelry are everywhere in Greece!
Also Read: Movie Fashion Inspiration: Young Donna from Mamma Mia Inspired Outfits
Lay All Your Love on Me
'Cause everything is new, and everything is you,
And all I've learned has overturned– what can I do?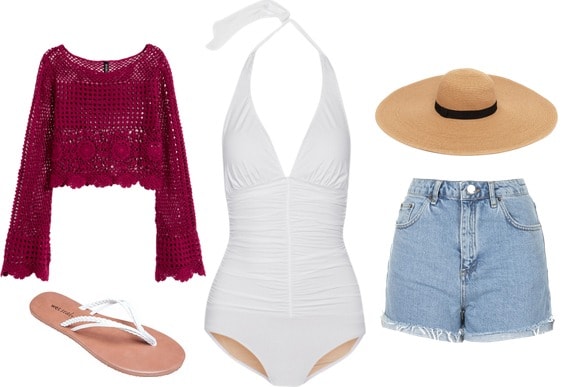 Bathing Suit, Shirt, Shorts, Shoes, Hat
This song is one of my favorite moments in both the show and the movie. As Sophie and her fiancé, Sky, confirm their love and attraction for each other, a chorus of Sky's friends appear on the beach in scuba gear and flippers and perform a dance routine.
Have a wonderful day at the beach in this classic white one-piece bathing suit and white flip-flops. If you want to cover up, reach for these high-waisted denim shorts and burgundy crochet crop top. The deep, beautiful color reflects the sexiness and passion of the song. Finally, shield your face from the sun with this adorable floppy sun hat that is reminiscent of the flippers.
Finally, no article about ABBA or Mamma Mia! would be complete without a mention of…
Dancing Queen
You are the dancing queen, young and sweet, only seventeen…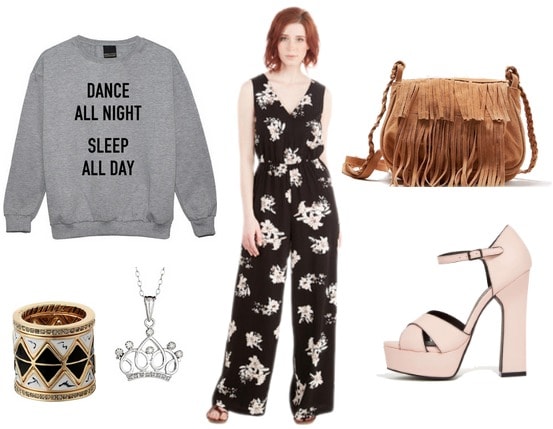 Jumpsuit, Sweatshirt, Shoes, Rings, Necklace, Bag
Donna's best friends, Rosie and Tanya, sing "Dancing Queen" to convince Donna that her glory days are not behind her. Get ready for a night on the town in this modern take on a 1970s jumpsuit and fabulous pink platform heels. Bring along a printed sweatshirt in case you get cold and a fringed suede purse to carry your essentials. Finish off the outfit with a collection of stackable rings and a crown necklace that shows you're the queen.
Epilogue
From the catchy songs to the colorful characters, this lighthearted show is a lot of fun. Although the musical is closing on Broadway, we can always sing ABBA songs at karaoke night!
Your Thoughts?
Do you have fond memories of singing along to Mamma Mia!'s soundtrack? What's your favorite part of the show? Are there any plays or musicals you would love to see covered in this column? Let us know what you think in the comments below!