From the costumes to the set, from the words of the script to the movements of the actors, everything on stage tells a story. Stage-Inspired Fashion explores ways to add a little dramatic flair to your style.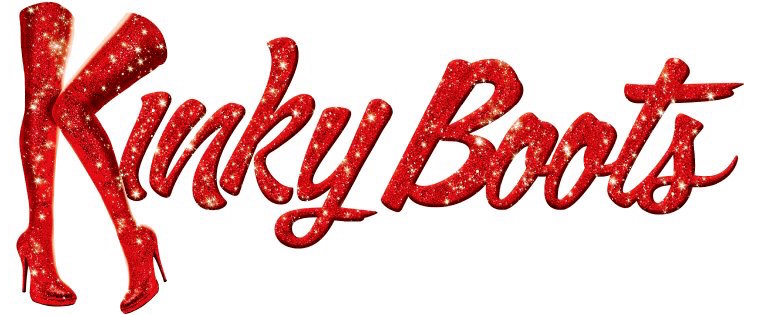 A surprising number of Broadway musicals are about British factory workers falling on hard times, but only one is also about manufacturing high heeled boots for drag queens. Ladies and gentlemen: Kinky Boots!
Behind the Scenes
Kinky Boots, with music and lyrics by Cyndi Lauper and book by Harvey Fierstein, tells the story of two people dealing with the legacies of their fathers and learning how to be themselves. Charlie inherits a struggling shoe factory from his father, and although he is not initially interested in shoes, he wants to keep the factory running. Lola's father trained her as a boxer but disowned her when she appeared for a match in drag. Although she is confident in herself as a drag performer, she faces criticism for her choices.
Charlie and Lola form an unlikely partnership and make more supportive high heels for drag queens–the titular "kinky boots." Charlie finds a passion in making heels, and Lola finds greater senses of acceptance and legitimacy.
Although the subject matter isn't traditional, Kinky Boots is a traditional Broadway spectacular, complete with a bouncy '80s-style score and some really fabulous costumes.
I've created outfits based on three of the songs. To reflect the show's central item, all three outfits feature high heels. Keep reading to see them all!
Charlie's Soliloquy/Step One
Do I belong here?
Am I what's wrong here?
Know what I'm doing?
Or am I a fraud?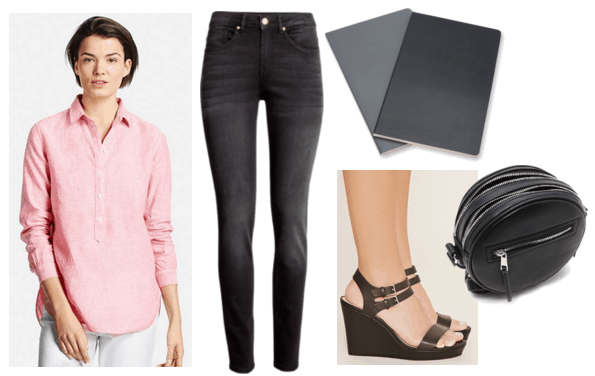 Products: Tunic, Pants, Wedges, Purse, Notebooks
This work-ready look combines Charlie's simple upbringing in Northampton with his professional aspirations. Stay cool and collected in a loose pink linen tunic and dark gray jeans. Add black faux leather wedges that represent the high-quality shoes that Charlie's father made. Finish the outfit with a matching black crossbody purse that can hold your notebooks in case inspiration strikes.
Land of Lola
I am freedom, I'm constriction,
A potpourri of contradiction!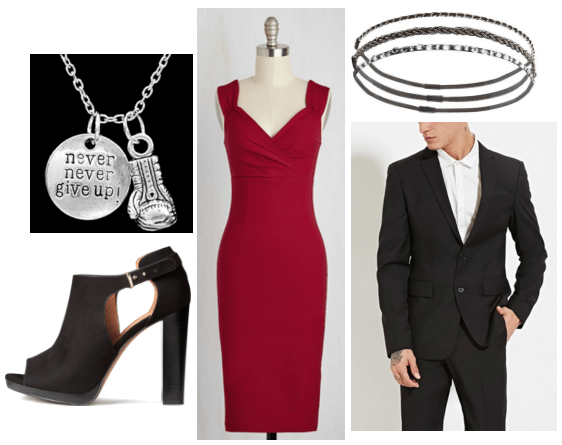 Products: Dress, Blazer, Heels, Necklace, Headbands
For an outfit inspired by Lola, combine classic women's fashion with menswear. Start with a red bombshell dress and sky-high peep-toe heels, and add a sleek men's blazer. A necklace featuring a boxing glove and the words never never give up! symbolizes Lola's training as a boxer and her commitment to fighting for herself. This look wouldn't be complete without sequins, so finish it off with a set of sparkly headbands.
Raise You Up/Just Be
Now I stand up for myself.
Now I stand out from the crowd.
Now I'm standing on high heels!
If Dad could see me now!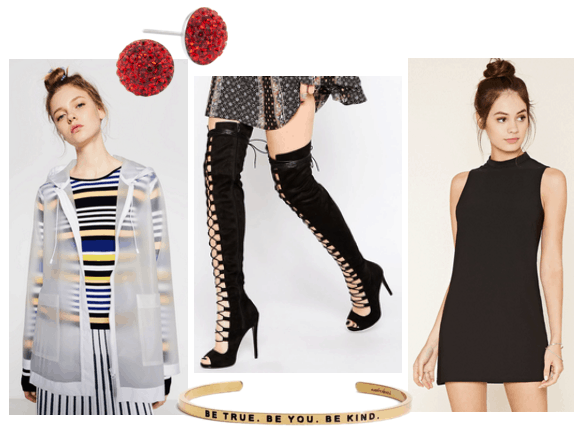 Products: Dress, Raincoat, Boots, Earrings, Bracelet
Here they are: the thigh-high heeled boots.
To style boots this bold, put on a sleek black shift dress. Add a transparent raincoat that represents the show's message of showing people your real self–for a more literal take on this message, try this gold bracelet engraved with the words Be True. Be You. Be Kind. Finally, accessorize with red crystal earrings for a hint of the show's signature red sparkle.
Epilogue
Kinky Boots is all about being yourself, doing what makes you happy, and learning not to judge others for being themselves and doing what makes them happy. With that in mind, wear something out-of-the-box today!
Your Thoughts?
Have you seen Kinky Boots? What do you think of shopping in the men's department? Are there any plays or musicals you would love to see covered in this column? Let us know what you think in the comments below!