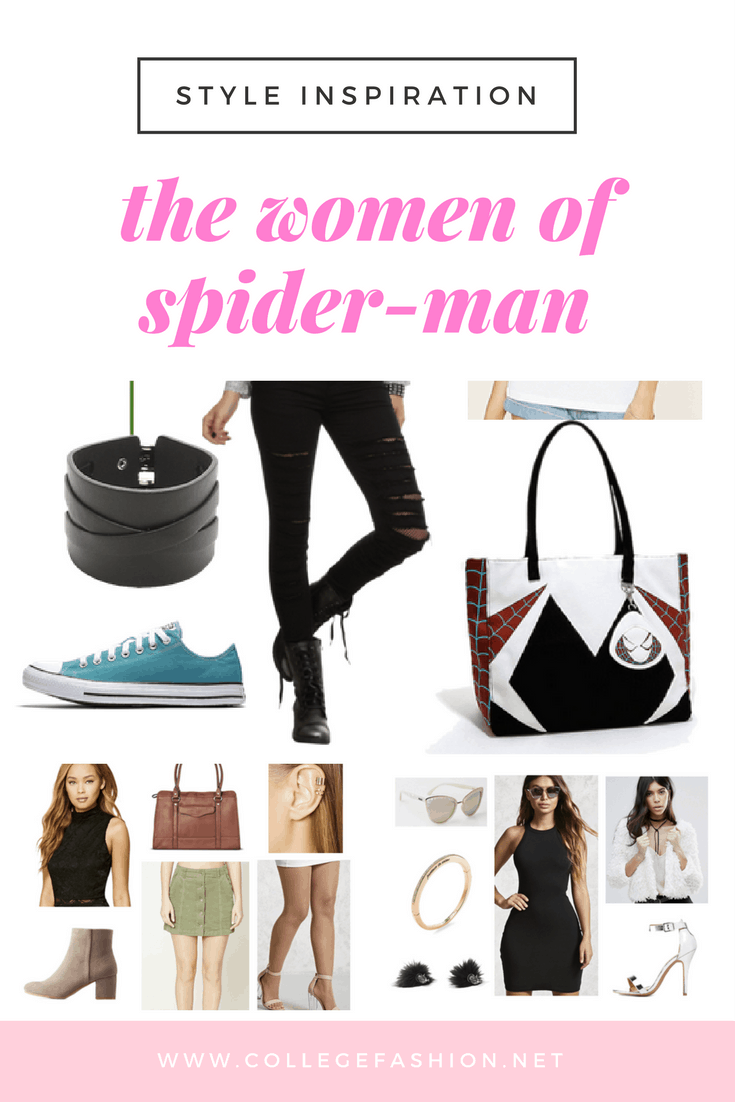 I don't know about you guys, but I've been waiting for Spider-Man: Homecoming to come out forever and today is FINALLY THE DAY!!
Whatever it is that makes Spider-Man so popular- the witty dialogue, the excellent character design, the character's status as an "everyman" who possesses incredible power but still has to deal with, like, school – it's clear that this web-slinger is here to stay.
We've covered fashion inspired by Spider-Man here before. However, today I want to focus on some other important people in the Spider-verse: the women of Spider-Man.
Peter Parker's female foils are AWESOME. Rarely reduced to damsels-in-distress, most of the women in Peter's life are strong, confident, complex, and emotionally mature.
From Silk (from a universe in which a girl named Cindy Moon is bitten by the same radioactive spider as Peter, receiving the same powers), to Mayday Parker (Peter's daughter in an alternate universe, who takes up the mantle and becomes Spider-Girl), these women are powerful, independent, complicated individuals.
Today we're covering the three most recognizable women from Spiderman, Gwen Stacy, Mary-Jane, and Felicia Hardy. (But make sure you read the comics to delve into some more obscure characters!)
Spider-Gwen Style / Gwen Stacy Style
Spider-Gwen is a comic series that takes place in an alternate Earth (Earth-65) in which Gwen Stacy is bitten by a radioactive spider instead of Peter Parker.
The series is popular because it turns Gwen, whose personality is limited to "nice-girl-love-interest" in most other Spider-Man universes, into a character with complexity, power, and agency. (Not to mention, her spectacular character design is unbeatable.)
Even Gwen's "real world" alter-ego is more interesting: she's the drummer for a band called The Mary Janes and has a much more humorous, sarcastic personality than her alternate-universe counterparts.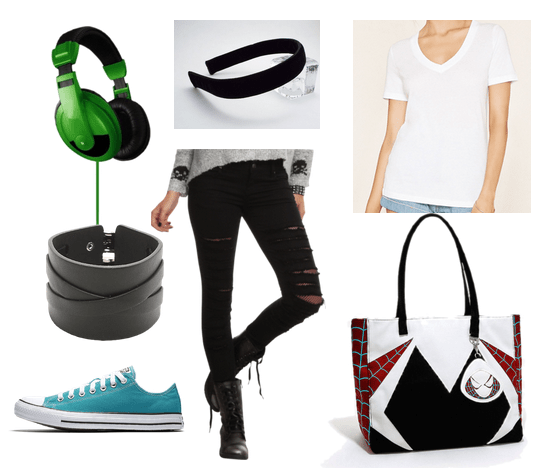 Products: Headphones – Walmart, Cuff – Hot Topic, Sneakers – Macy's, Headband – Etsy, Jeans – Hot Topic, Shirt – Forever 21, Bag – Her Universe
Gwen Stacy's "Spider-Gwen" style is edgy yet still casual and realistic. Therefore, the look I put together starts with a basic white tee and some distressed black jeans, combined with her signature black headband and the turquoise shoes that are part of Spider-Gwen's iconic look.
Because she's in a band, I included some headphones and a thick black cuff bracelet, then finished the look with a bag inspired by Spider-Gwen's superhero costume.
Mary-Jane Style
Mary-Jane is one of the most iconic and recognizable women of the Spider-Man universe (to the point that when I told my mom I was writing this article she said, "Isn't it just Mary Jane? Who else is there?").
MJ was originally introduced "for fun," as Stan Lee and his co-creator had originally intended for Gwen Stacy to be Peter Parker's one true love, but once the character proved far more interesting than Gwen Stacy's "nice-girl-next-door" persona, the writers decided to pair Peter with MJ.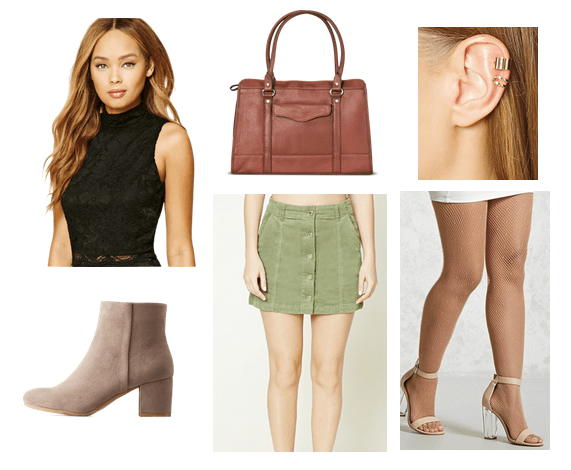 Products: Top – Forever 21, Purse – Target, Cuff – Forever 21, Shoes – Charlotte Russe, Skirt – Forever 21, Tights – Forever 21
This look is based on the outfit worn by Mary-Jane when she first meets Peter, and features a black lace sleeveless turtleneck and an olive green skirt paired with tan suede booties.
I like the idea of layering nude fishnets underneath the skirt because they aren't noticeable from far away but they add visual interest and some subtle sexiness when you get closer! Finally, accessorize with an edgy gold ear cuff and a structured brown bag.
Spider-Man Black Cat Style / Felicia Hardy Style
Black Cat (real name: Felicia Hardy) is one of those complex not-quite-a-villain/not-quite-a-hero characters everyone adores.
She was created to be a foil to Spider-Man and serves as another love interest for him, but the best thing about Black Cat is that her personality is not confined to this role. She has her own set of complexities and a fascinating backstory that make her an important character.
Felicia Hardy's history is detailed: She was sexually assaulted by her boyfriend as a freshman in college and, hating the idea of being a victim, taught herself acrobatics and fighting styles with the intent of getting revenge on him. When she finds out that he was killed in an accident before she can exact revenge, she decides to follow in the footsteps of her father, a renowned cat burglar.
Black Cat constantly struggles with morality and her mistrust for others, but also demonstrates compassion and loyalty, especially towards Spider-Man.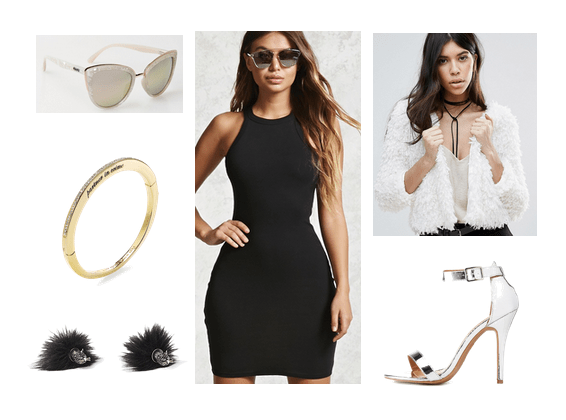 Products: Sunglasses – Unique Vintage, Bracelet – Bloomingdales, Earrings – Kate Spade, Dress – Forever 21, Jacket – ASOS, Shoes – Charlotte Russe
For this cat burglar's outfit inspired by Black Cat, slinky, sparkly pieces are a must. Start with a black form-fitting dress, then drape a white fur jacket over your shoulders and slip on some silver heels.
The three accessories I chose are all allusions to the "cat burglar" theme: cat-eye sunglasses, reversible cat earrings, and a "partner in crime" wrist cuff that looks a bit like half of a pair of handcuffs!
What do you think?
Will you be going to see Spider-Man: Homecoming this weekend? Which of these characters do you wish you could see more of? Let me know in the comments!