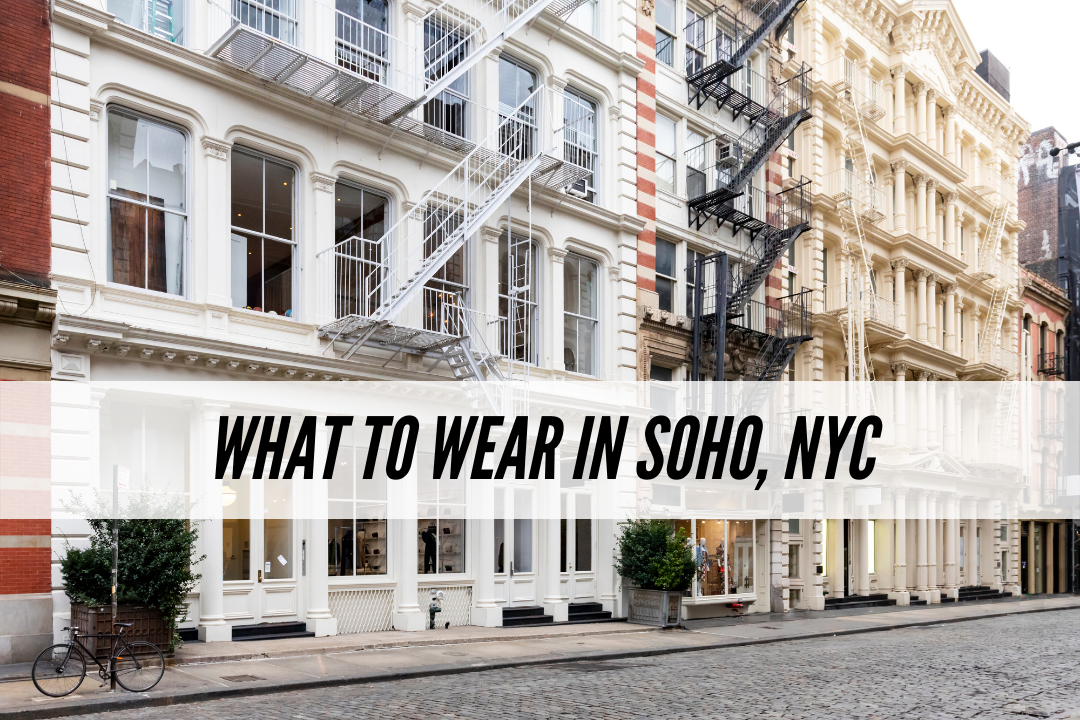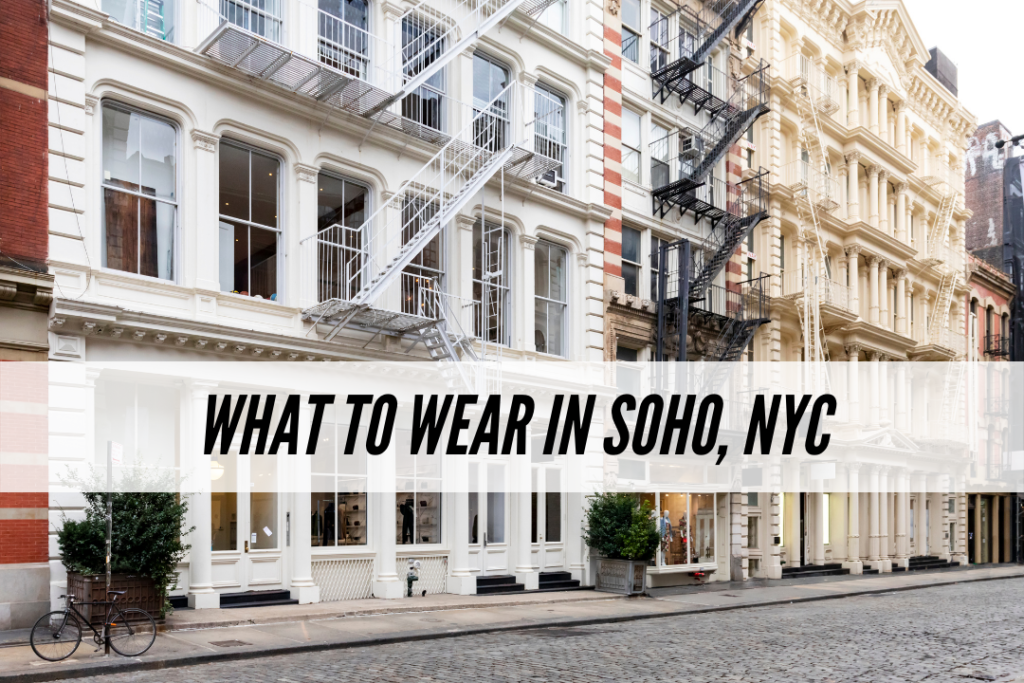 Although I have traveled to New York City many times, one aspect of the city that never fails to impress me is the style. This past week, I spent some time in SoHo and observed the outfits I saw on the street.
In case you aren't familiar with it, SoHo (short for South of Houston St.) is best known for its huge variety of shops. (Not to mention that there are a ton of amazing restaurants to choose from!)
However, in my opinion, one of the most impressive aspects of SoHo is the unique sense of effortless style that's constantly on display. The area is popular with models, celebrities, and fashionable people alike — just sitting on a bench and watching the people go by is like watching a fashion show.
So, keep scrolling to find out how you, too, can dress like a member of SoHo's fashion parade.
Related reading: NYC Outfits 101: What to Wear in New York City This Year
Outfit #1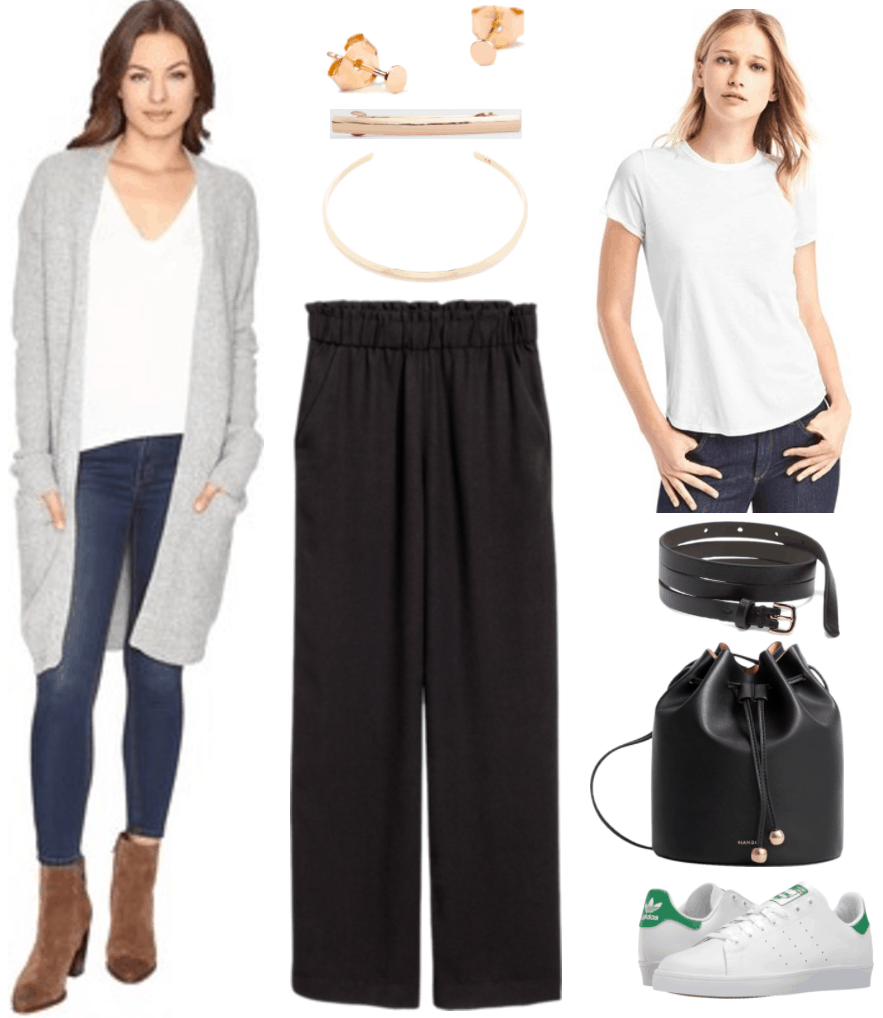 Products: Cardigan – Zappos, Earrings – Trouva, Hair Clip – J.Crew Factory, Pants – H&M, T-Shirt – Gap, Belt – Old Navy, Bag – Mango, Sneakers – Zappos
If I had to pick out the quintessential SoHo outfit, it would look something like this one, which is simple, elegant, and classic while still being modern and trendy.
Start by tucking a plain white t-shirt into a pair of minimal wide-leg black pants. Next, throw on a long, loose-fitting cardigan in a neutral shade (although a long, baggy coat would also work well).
To avoid drowning in the bagginess of the outfit, use a simple black belt to cinch the cardigan at your waist and add some definition.
As far as footwear goes, New Yorkers do a lot of walking, so grab a comfortable pair of white sneakers; Adidas Stan Smiths are a favorite amongst the SoHo crowd.
Delicate jewelry is literally everywhere in SoHo, so slip on a dainty and fashion-forward choker necklace and some cute tiny flat circle stud earrings. Modern hair clips are popular as well, so if you have long hair, put it back in a half-pony or bun using a sleek metallic hair clip.
To finish off your look, pick up a bucket bag with cool details and you've got yourself a super-stylish outfit that is sure to fit right in with SoHo's fashion elite.
Outfit #2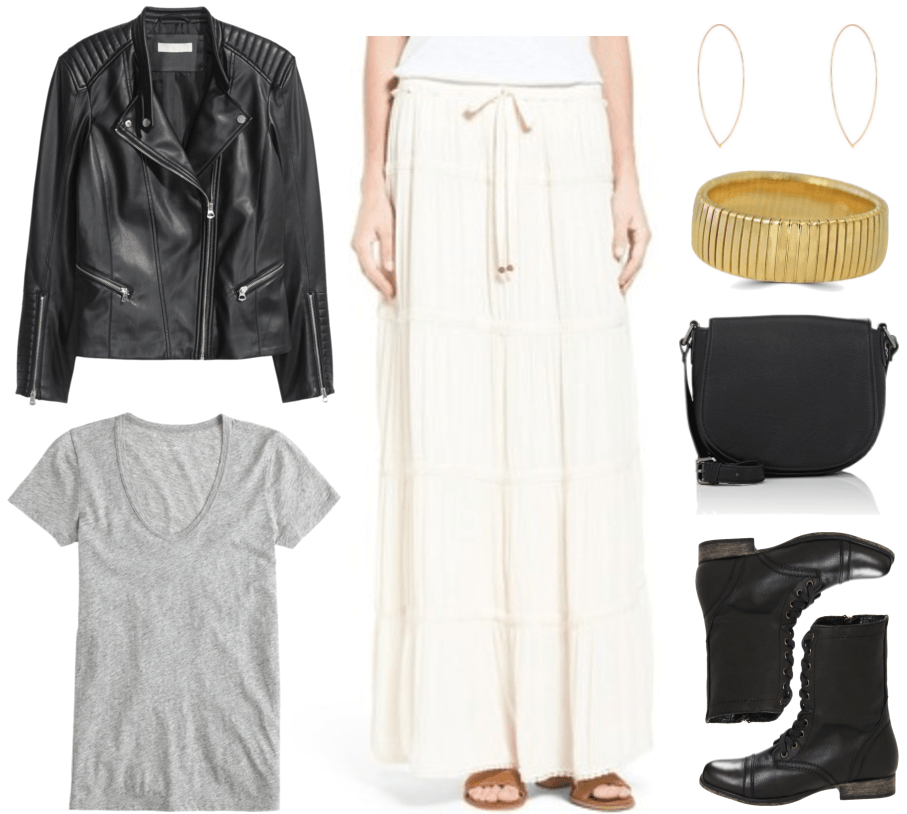 Products: Jacket – H&M, T-Shirt – J.Crew, Skirt – Nordstrom, Earrings – Barneys Warehouse, Cross-Body Bag – Barneys Warehouse, Combat Boots – Zappos (More sizes on the Steve Madden website.)
If your look is skews more bohemian, try adding a SoHo spin to it by incorporating sleek, edgy pieces and a neutral color palette.
Leather moto jackets (whether real or faux) are a go-to in SoHo right now due to changing Spring temperatures, so start by throwing one on over a plain gray t-shirt and boho maxi skirt.
To lend some extra toughness to your look, put on a pair of black combat boots that look like they were made for walking around SoHo's boutique-lined streets.
As for accessories, this timeless black cross-body bag lends just the right amount of classiness to any outfit, while a chic gold bracelet and unique pear-shaped hoops add a touch of shine to an otherwise neutral look.
Outfit #3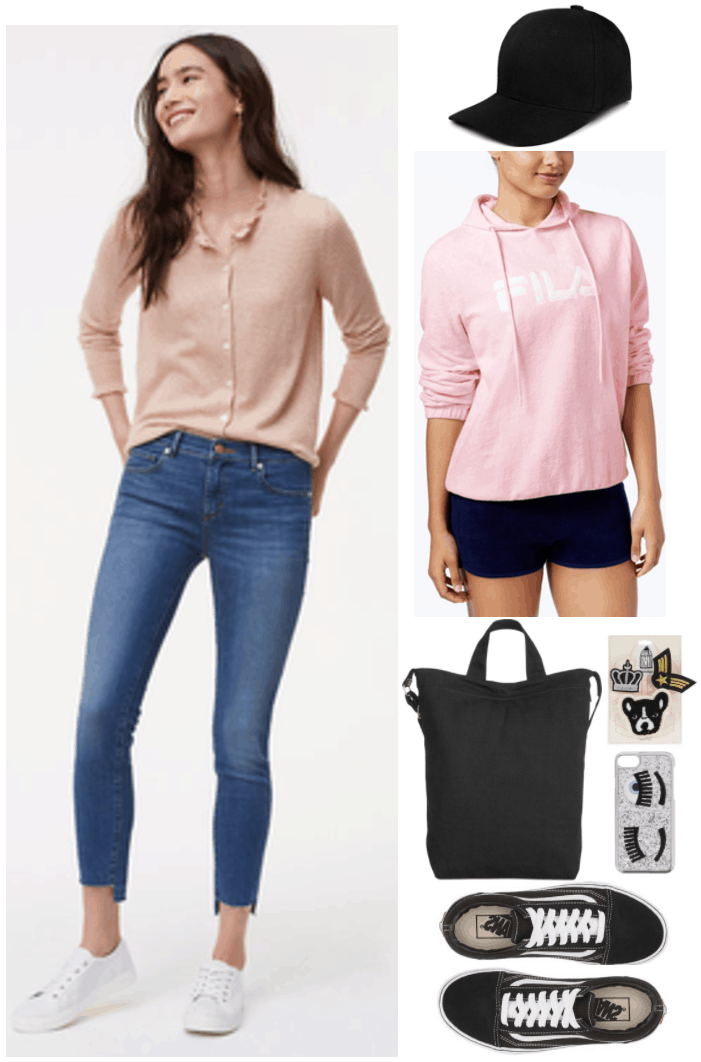 Products: Jeans – Loft, Baseball Cap – boohoo, Hoodie – Macy's, Tote – Macy's, Pins – Lord & Taylor, Phone Case – italist.com, Sneakers – Nordstrom
Although SoHo is definitely a fashion-forward and glamorous place as far as fashion (and, well, everything else) goes, a lot of people that I've seen in the area tend to prefer a more laid-back look.
This cute millennial pink hoodie takes on an extra-modern feel when paired with a pair of step-hem skinny jeans that are perfect for Spring 2017, while pair of classic black Vans and a take-everywhere tote bag are perfect for those who commute a lot.
One thing I have noticed is that people in SoHo, and in New York in general, are always on their phones — whether they're on the subway or sitting in a trendy café, people in SoHo are definitely into keeping up with the latest goings-on. Naturally, then, it's only logical to invest in cute tech accessories, such as this fun phone case, to make sure that your gadgets looks as good as you do.
Also, I've noticed that pins and patches are everywhere; the patch-pin hybrids here are perfect for attaching to your bag, your top, your jacket…the possibilities are endless! Bonus: This set includes an adorable dog design made to look like a Boston Terrier, one of the small dog breeds that I've seen across SoHo.
Lastly, don a minimal black baseball cap to complete this athleisure-inspired ensemble, and you're all set to go!
Outfit #4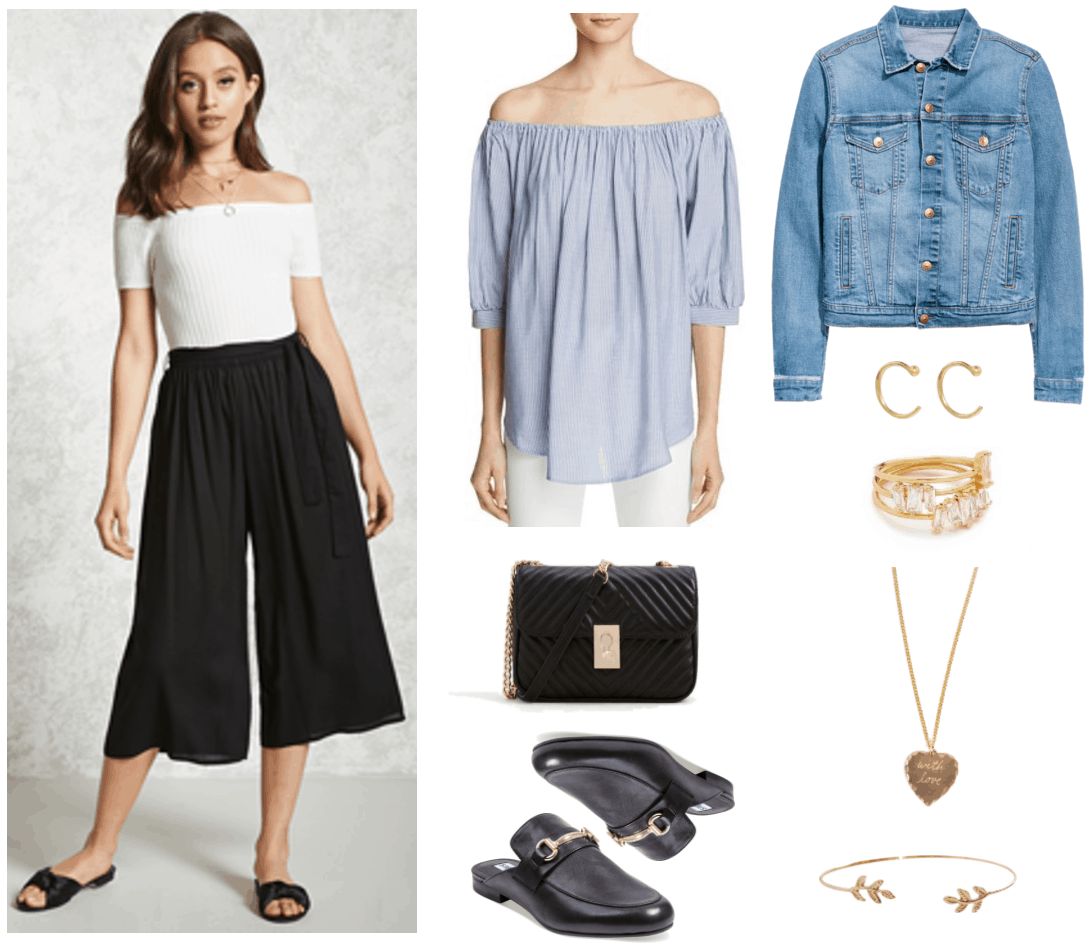 Products: Culottes – Forever 21, Top – Bloomingdale's, Cross-Body Bag – Mango, Mules – Tillys, Denim Jacket – H&M, Earrings – Ylang 23, Stacking Rings – Shopbop, Necklace – In God We Trust, Cuff Bracelet – Humble Chic
Are you searching for the perfect outfit to wear right now? Well, your search is over: With its of-the-moment striped off-the-shoulder top and black culottes, this ensemble screams Spring 2017.
If it's not warm enough to go bare-shouldered where you live, feel free to layer on a distressed denim jacket; people in SoHo love their denim!
Also, can we take a moment to drool over these ultra-cool mules? They look almost exactly like the Gucci ones you've been seeing on all of fashion's tastemakers, while only costing a fraction of the price. And, whether you choose to go with a classic black pair as shown here, or opt for these faux fur-lined ones (which are a definitely a knock-off of this incredibly popular style–once again by Gucci), you're bound to look like you just stepped off the streets of SoHo.
Finally, a gorgeous chain-strap bag is perfect for storing your essentials, while dainty and feminine pieces of jewelry, such as these tiny hoops, stacking rings, heart necklace — note the super-cute "with love" engraving– and delicate cuff bracelet lend subtly sophisticated finishing touches to the look.
What do you think?
Have you ever been to SoHo? If so, what are your favorite fashion destinations in the area? What do you think of SoHo style? Which parts of the world inspire your wardrobe the most? Let me know in the comments!