I'm so happy that you guys liked last week's article on Effy Stonem's style from the UK television series Skins. With so many requests, it was impossible not to continue with the Skins fashion series with a post on Cassie Ainsworth's style.
If you've never seen the UK drama Skins, here is a quick synopsis:
Skins is an award-winning British teen drama that follows a group of teenagers in Bristol, South West England, through two years of high school. UK Skins prides itself on having relatively unknown actors and a team of young writers to keep the show fresh. The show was also recently adapted by MTV in the US, but met with a lot of protesting due to the controversial nature of the show.
Cassie Ainsworth is a central character on the first two seasons of Skins. The show follows the seventeen-year-old's struggle through multiple personal and relationship issues, including an eating disorder, drug abuse, and a tumultuous romance. Like Effy, Cassie's unique personality is always echoed in her wardrobe.
Cassie's Style
Quirky, feminine and vintage are the three best words to describe Cassie Ainsworth's style. Her go-to closet staples include long skirts, Mary Janes, and mod-inspired sunglasses and blazers. Her style is the perfect mix of school-girl prep and thrifty vintage.
Elements of Cassie's Wardrobe
Below, I've detailed a few main elements of Cassie's wardrobe, and will show you how to incorporate Cassie's pretty style into your own look – all on a college budget! As you guys requested, I've put together some sample outfits that you can easily imitate and translate with your own wardrobe.
Classic School-Girl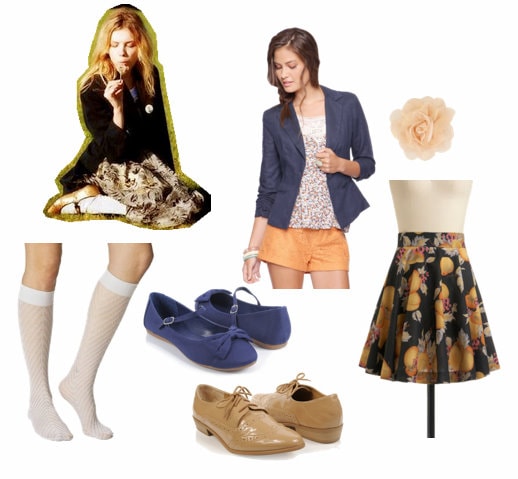 Product Information: Blazer – Forever 21, Skirt – ModCloth, Flower Pin – Forever 21, Mary Janes – Forever 21, Oxfords – Forever 21, Knee Socks – Target
Knee-socks, Mary-Janes, a shrunken blazer and a floral skirt – does it get any better? This look is all about mixing vintage trends together – while maintaining a perfect balance between masculine and feminine fits. While stores like Forever 21 and Urban Outfitters are sure to have some of these pieces in stock, for the most authentic "Cassie" look, why not go thrifting instead?
To recreate this look, seek out long floral skirts, blazers (be sure to check the Boys section for styles that are fitted!) and T-strap flats. Of course, if this look is a little too over-the-top for you, try just adding one or two of the elements to your normal look.
Quirky Vintage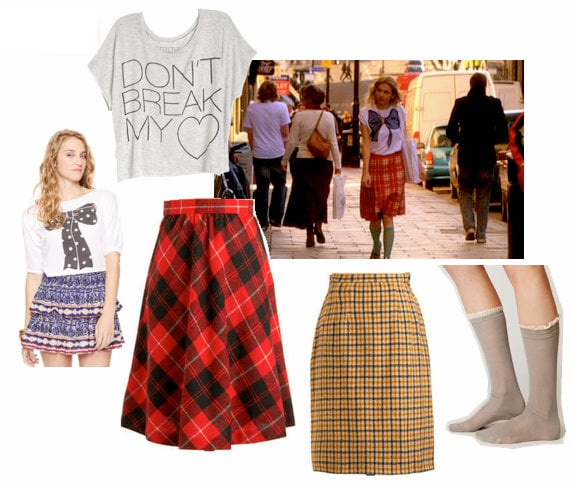 Product Information: Bow Tee – Forever 21, Heart Tee – Delias, Red Plaid Skirt – ModCloth, Plaid Flannel Pencil Skirt – ModCloth, Knee Socks – Free People
While her style is often described as soft and feminine, Cassie wouldn't be a character on Skins if she didn't have her own unique quirkiness. For a quirkier aesthetic, Cassie opts for tougher fabrics, as seen on her red plaid skirt, as well as graphic t-shirts (but of course still has her knee socks on).
As with Effy, vintage t-shirts and ironic tops are among Cassie's wardrobe favorites. If you aren't a fan of the longer skirts, pair a bold tee with a pair of skinny jeans or tucked into a more basic skirt.
Soft and Feminine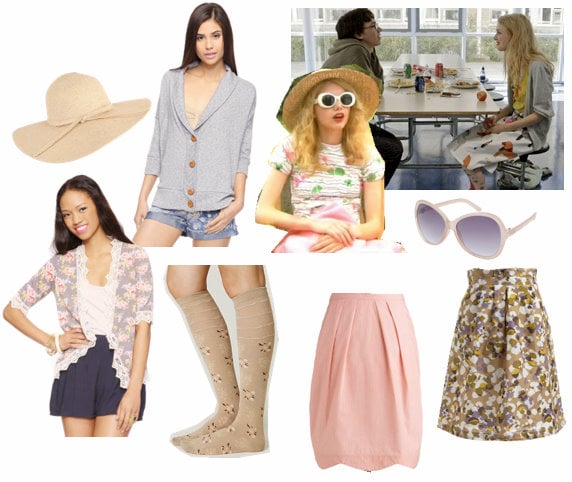 Product Information: Hat – Forever 21, Floral Cardigan – Forever 21, Gray Cardigan – Forever 21, Knee Socks – Free People, Petal Skirt – ModCloth, Floral Skirt – ModCloth, Sunglasses – Forever 21
By far my favorite aspect of Cassie's style is her collection of ladylike vintage skirts and accessories – which she pairs with soft cardigans and tees. Since I already touched upon her love of longer skirts above, these looks in particular are all about the accessories.
Round white sunglasses, a flat-brimmed straw hat, and printed stockings are the pieces that really set Cassie's outfits apart from every other vintage-chic fashionista. To capture her style, pile on the vintage accessories, and utilize soft colors like pastels and neutrals. By keeping all of the pieces within the same color spectrum, you'll have more room to experiment with different prints and fits.
Tying it All Together
Cassie's style is one part rebellious teen, one part school-girl and a few parts vintage femininity. From flowy skirts to knee socks, Mod white sunglasses to patent leather Mary Janes, her looks are a great fashion inspiration no matter what your personal style.
What do you think of Cassie's style? Do you prefer her feminine touches or Effy's rocker edge? What items do you think really shape her 'signature' style? You guys had amazing input on last week's post, and I love to hear your comments and suggestions. Be sure to leave a comment!