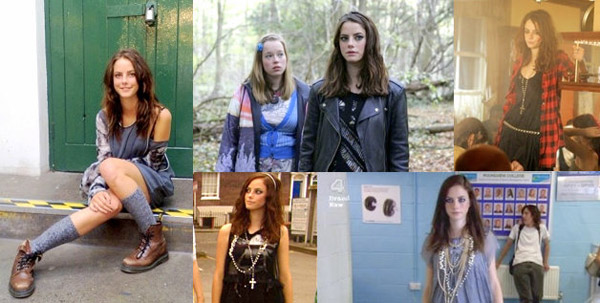 Although the MTV version of popular TV show Skins was met with a lot of criticism, the original UK series continues to be hugely popular around the world. If you've never seen Skins, the show follows a group of teenagers in England through the ups and downs of their high school years.
Effy Stonem, from seasons 1-4, is perhaps the show's most fashionable character: Tons of CF readers have written in requesting a post on her clothes! So in response, this post breaks down the important elements of Effy Stonem's style, and shows you how to dress like her.
About Effy
Effy is the quintessential rebellious teenager, often sneaking out to clubs and parties behind her parents' backs. Over her four seasons, the show touched upon many controversial issues, and Effy was often at the center of the drama. Her style perfectly reflects her rebellious nature and uniqueness – and is a great inspiration if you like the edgy look.
How to Dress Like Effy Stonem – For Day
Mini skirts, short dresses, comfy t-shirts and tanks (usually in shades of black and gray) are all staples in Effy's daytime wardrobe. She usually pairs these basic pieces with edgy accessories such as masculine boots, fishnet tights and piles of necklaces, for a completely unique aesthetic.
Although we can't all pull off Effy's over-the-top looks, incorporating a little bit of her style into your everyday look is super easy.
To really nail that Effy Stonem style, invest in a great pair of mid-height boots that have a masculine and tough edge to them. Wear your edgy boots with your favorite pair of jeans and a basic tee, or with a pretty sundress for a really unique contrast.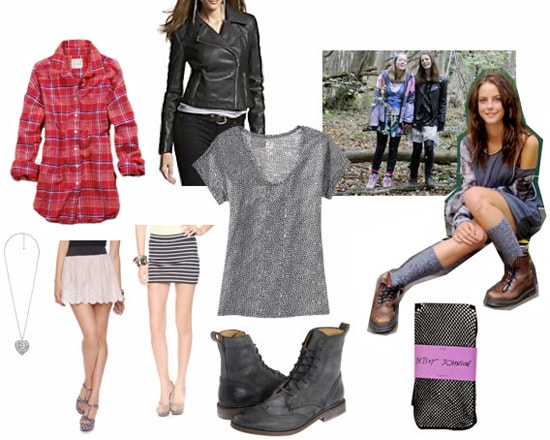 Product Information: Plaid Shirt – American Eagle, Leather Jacket – Express, Tee – Old Navy, Necklace – Forever 21, Eyelet Skirt – Forever 21, Striped Skirt – Forever 21, Boots – Zappos, Tights – Bluefly
How to Dress Like Effy Stonem – For Night
For nights out, Effy ups the ante with skintight tops and bottoms, lots of jewelry and heavy makeup. As with her daytime looks, black is still her go-to color and combat boots are still a favorite.
To channel Effy's nighttime looks, mix and match different textures and fabrics. Tulle, cotton, fishnets, satin – don't be afraid to pair pieces that you normally wouldn't. If body-hugging dresses aren't your style, go for a unique t-shirt and dress it up with black denim and heels.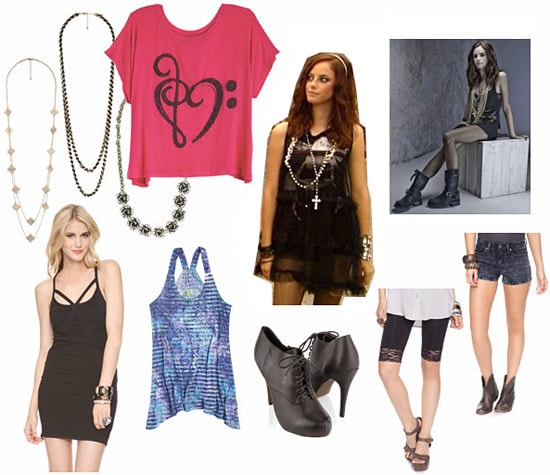 Product Information: Diamond Necklace – Forever 21, Chain Necklace – Forever 21, Rosette Necklace – Forever 21, Tee – Delias, Dress – Forever 21, Tank – Delias, Oxford Lace Ups – Forever 21, Bike Shorts – Forever 21, Denim Shorts – Forever 21
Effy Stonem's Hair and Makeup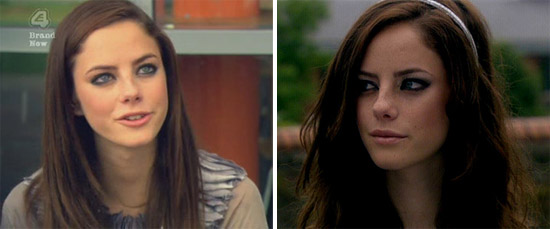 In keeping with her too-cool-to-care, rebellious nature, Effy normally keeps her hair natural, in loose, messy waves. Although for nights out, she sometimes opts for straightening her hair.
Effy's makeup is often pretty simple for daytime – she always rocks flawless matte skin and a touch of mascara, but that's about it. For night, she loves to play up her eyes, rocking thick black liner and/or smudgy dark shadow. For day and night, she usually keeps her lips bare, or rocks just a hint of clear lipbalm.
Want to try and emulate Effy's beauty routine at home? Below are some great YouTube video tutorials!
Tying it All Together
The true essence of Effy Stonem's style is her attitude and confidence. She isn't afraid to experiment with fashion or makeup – and truly uses style to express herself. While some of her looks are over-the-top, there are always unique elements that can be translated to fit any wardrobe or budget.
What do you think of Effy Stonem's style? Are any of these looks something that you'd try? What items do you think really create her 'signature' look? I love to hear your comments and suggestions, so be sure to leave a comment!