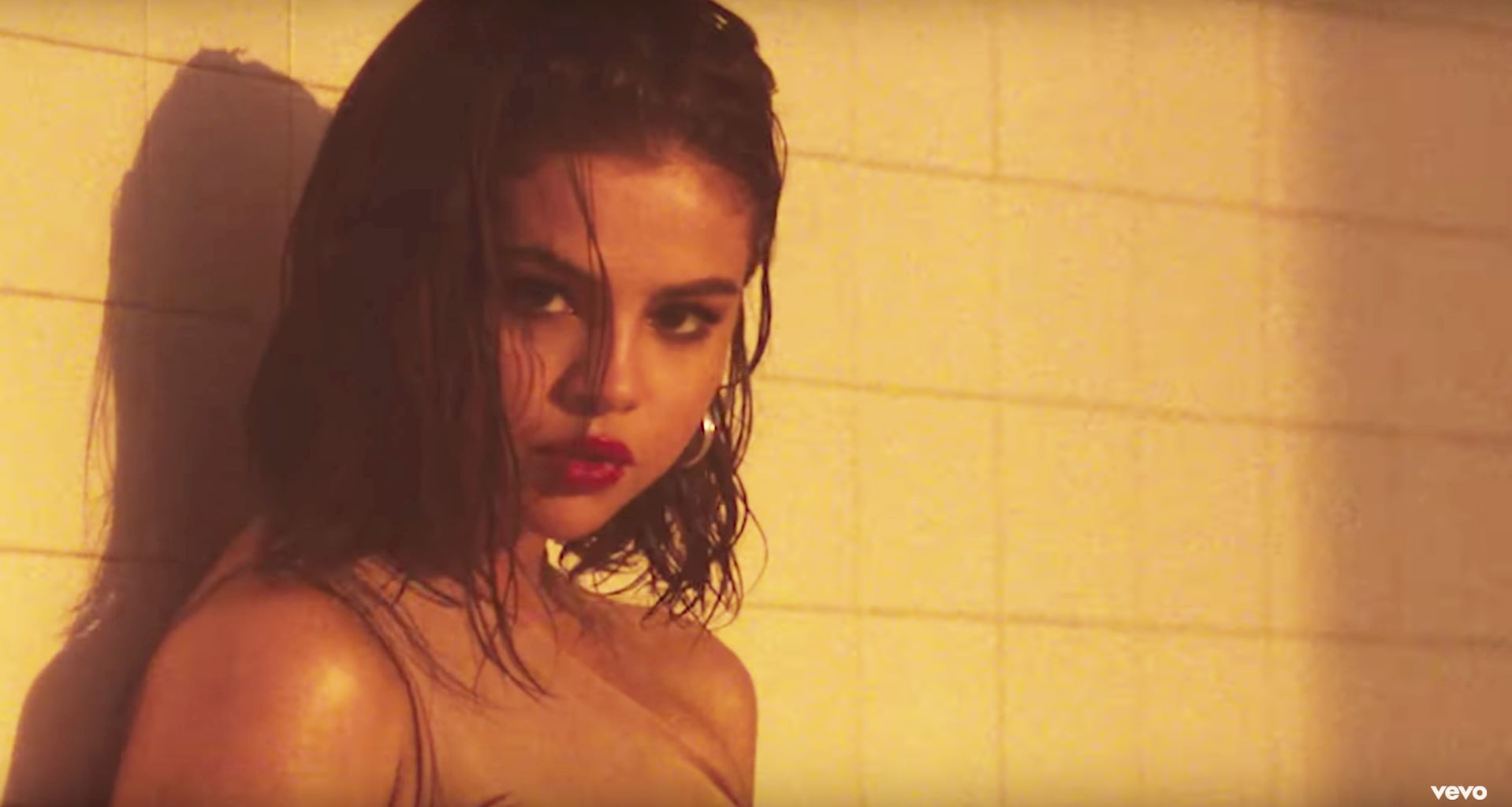 I have no words to describe Selena Gomez… other than amazing. Selena is a role model to youngsters who've known her since her Wizard of Waverly Place days and a musical favorite of teens and twenty-somethings everywhere.
If you are new to Selena's music (where have you been?), I've put together a mini playlist as an intro to some of Selena's best songs. I recommend you to listen when you're getting ready. (10 minute challenge, anyone?)
Wolves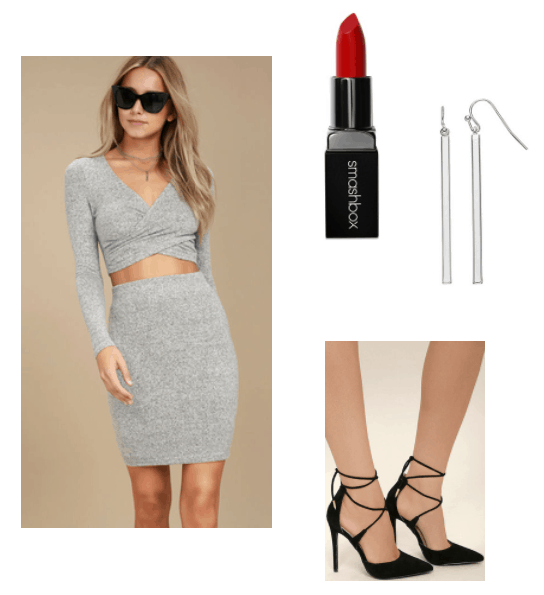 Products: Dress – Lulu's, Earrings – Kohl's, Lipstick – Macy's, Shoes – Lulu's
Selena Gomez killed it alongside electronic DJ Marshmello when she released their new song "Wolves". The mix of EDM and Selena's vocals creates the perfect unexpected blend to top the charts!
The music video for the track features eye-catching dresses paired with minimal jewelry. One of the looks in the video has Selena in a beautiful rhinestone two-piece dress — stunning!
Our goal here is to create an outfit inspired by the video… that will actually work for a night out in college. This heathered two-piece dress is perfect! As a bonus, you can use the two parts as a skirt and top to spruce up your other outfits! Pair the set with some black strappy heels, dangling silver earrings and a red lip and you're good to go, Selena-style.
Fetish
Products: Dress – Lulu's, Earrings – Charming Charlie, Lip gloss – Target, Nail Polish – Macy's, Shoes – Vans
Similar to her work in the popular track "Bad Liar", Selena blessed us with her amazing vocals on "Fetish." In the music video for the song, Selena looks absolutely gorgeous with a natural, no-makeup look and casual attire. With knee-length dresses and earthy tones, the video's style transports us back to the '70s.
To recreate Selena's look in the video over spring break, wear a pale mustard dress with a wrap design. In keeping with the video's boho vibe, pair the dress with some dangly gold earrings and a pink lip gloss. To finish it off, slip on some white sneakers (original white Vans are my personal favorite), add a nude nail polish and you're set!
Hands to Myself
Products: Jewelry – Burlington, Tights – Mango, Coat – Mango, Shoes – ALDO, Dress – Tobi
One of Selena's older songs, "Hands to Myself" is a total classic that fans still adore. I love adding it as a little throwback in my playlists. If you tend to gravitate towards slow but catchy tunes, it should be on your list too.
Inspired by the music video's black and white wardrobe color scheme, pull out your favorite little black dress! Since it's still quite chilly out, instead of a thin button-down to cover you up, layer on a light grey coat and a pair of black tights. Complete the look with a pair of sleek black heels and a silver ring!
What do you think?
What's your favorite Selena Gomez song? Which outfit would you wear? Leave a comment below and let us know!