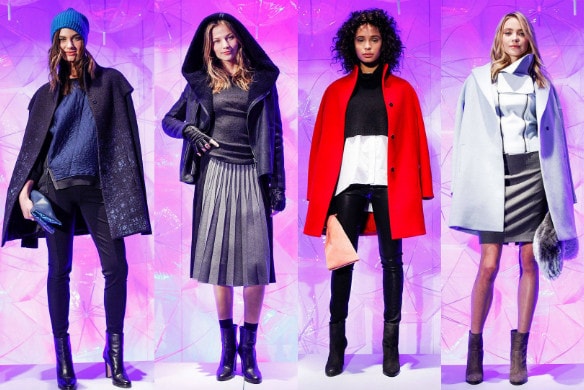 Elie Tahari Fall 2014 RTW | ELLE
The perfect mix of internship-appropriate clothing and street-style vibes, Elie Tahari's Fall 2014 RTW collection is definitely an enviable one. The color palette was edgy – full of grays, whites, navys, and black with pops of coral, pink, and blue – which made the outfits really stand out. From tailored pieces, such as skirts and shift dresses, to more relaxed ones, like loose knits and beanies, Tahari created a collection that is perfect for autumn layering.
Are you in love with Elie Tahari's new fall collection but not so willing to cough up the cash? Keep reading for three budget-friendly outfits inspired by Tahari:
1. Sunset Hues

Photo: ELLE
While Tahari's color palette was based on neutrals, this outfit combined red, coral, and pink for an attention-grabbing outfit that stands out amongst the sea of darker hues that are ever-present during fall. Though I personally would have never thought of combining these shades together, Tahari pulled it off and created this lust-worthy look.
Get the Look: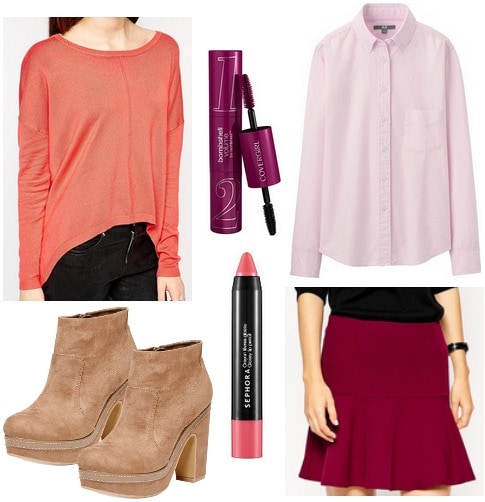 Product Info: Top- Uniqlo, Sweater- ASOS, Skirt- ASOS, Shoes- Macy's, Mascara (in "Very Black")- Target, Lip Stain (in "Pink")- Sephora
To recreate the outfit above, pair a deep red, trumpet-style skirt with a pale pink and slightly preppy button-down shirt. Start layering with a loose, coral-hued sweater, then choose neutral suede booties for an urban feel. Get the model's fresh-faced makeup look with tons of volumizing mascara and a pink-tinted lip.
2. Blue Girl

Photo: ELLE
Blue is one of my personal favorite colors to wear: it comes in a variety of shades, so it's easy to find at least one shade that'll look amazing on everyone. Here, Tahari used a lot of navy, which is a perfect alternative to black. By applying different shades of navy to smartly tailored pieces, this outfit becomes a stylish example of how to mix professional and fashionable elements.
Get the Look: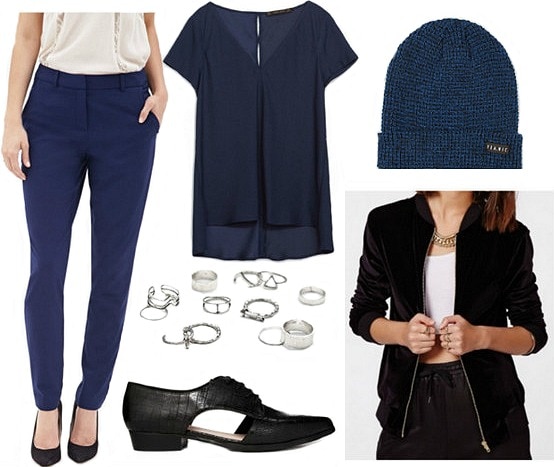 Product Info: Top- Zara, Pants- Forever 21, Jacket- Missguided, Shoes- ASOS, Beanie- Tilly's, Rings- Free People
Start with a tailored pair of pants in a navy hue, then choose a dark navy v-neck top in a light fabric. Edge things up with a bomber jacket that's cut a bit closer to your body for a professional but relaxed vibe. Slip on trendy cut-out oxfords and a knit beanie. Finish the ensemble with a bit of bling in the form of some delicate silver rings. We think this look (minus the beanie) would be perfect for a laid-back internship!
3. Tailored Edge

Photo: ELLE
This final Elie Tahari look incorporates the collection's multiple neutrals and fabulous tailoring to create a sophisticated ensemble. However, the front zipper of the LBD, the fingerless leather gloves, and cut-out booties add a modern, trendy edge. This outfit would be fab for a night out on the town!
Get the Look: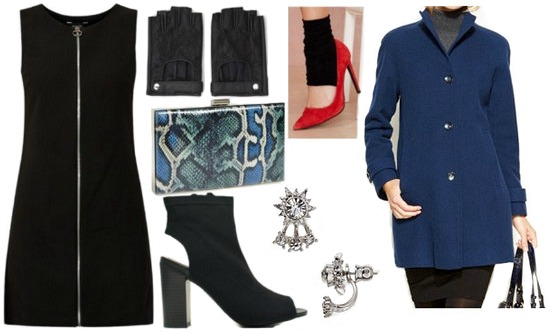 Product Info: Dress- New Look, Coat- Macy's, Socks- Nasty Gal, Shoes- GoJane, Gloves- Forever 21, Clutch- Nordstrom, Earrings- Bloomingdale's
Choose a black dress with a front zipper, then slip on a perfectly cut navy coat. Add edge to your outfit with toeless socks, peep-toe booties, and faux-leather driving gloves. Accessorize with a snake-print clutch and sparkly earrings to complete the look.
Your Thoughts?
What did you think of this collection? Has Elie Tahari inspired your fall closet? Which one of these outfits is your favorite? Would you wear any of them? Remember to let me know your thoughts in the comments below, along with any designers you'd like to see featured in upcoming weeks!