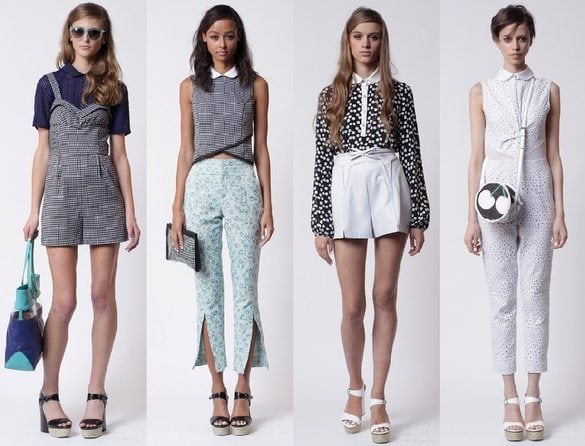 Charlotte Ronson Spring 2014 RTW | Style.com
Charlotte Ronson's Spring 2014 RTW collection could be considered a little laid-back, but it was also so refreshing. The collection featured summery eyelet tops, trendy plaid and floral prints, and preppy Peter Pan collars combined with edgy leather details and drool-worthy handbags. With cool colors, varying silhouettes, and a casual chic essence, Ronson created perfect warm weather looks.
Are you coveting these super-trendy pieces but want to save a little cash? Keep reading for three wallet-friendly looks inspired by Charlotte Ronson's flawless spring collection.
1. Perfect Plaid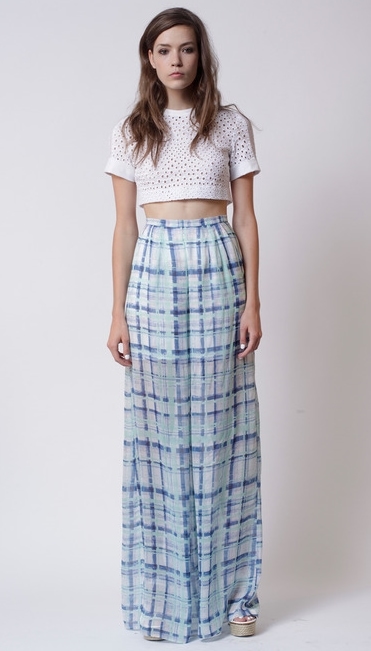 Photo: Style.com
Here, Ronson combined two of the season's biggest trends – plaid and crop tops. While it's easy to create a '90s grunge-inspired look from these trends, this ensemble has a distinctly feminine vibe. By combining white and varying shades of blue with airy fabrics, this first look is not only a fab outfit for warm weather, but it's one that can easily go from day to night!
Get the Look: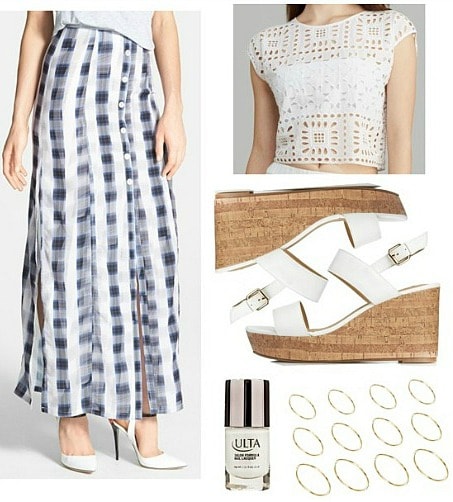 Product Info: Top- Bloomingdale's, Skirt- Nordstrom, Shoes- Forever 21, Rings- ASOS, Nail Polish (in Snow White)- ULTA
To recreate this look, opt for light materials and cool colors. We picked this blue-and-white crepe maxi skirt to pair with a cropped eyelet top. Accessorize with dainty rings and a pair of white faux leather wedge sandals. Finish off with an optic white nail polish for a mani just like the model's.
2. Dotty Summer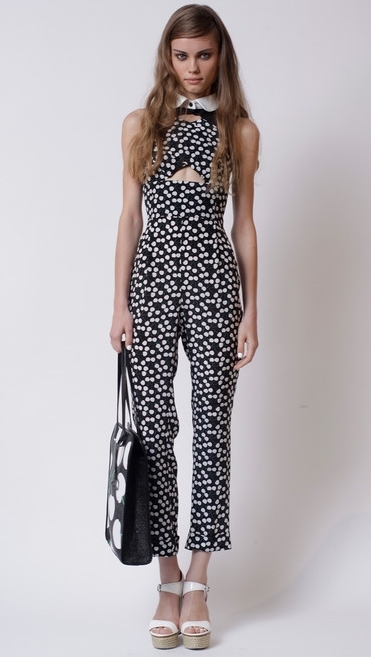 Photo: Style.com
Polka dots can sometimes look a little childish, but this outfit is as far from childish as a look can get. The tailoring, cut-outs, and contrasting collar add a level of sophistication, as does the classically chic black-and-white color scheme. Also, the tote bag and white wedges keep things looking polished yet casual.
Get the Look: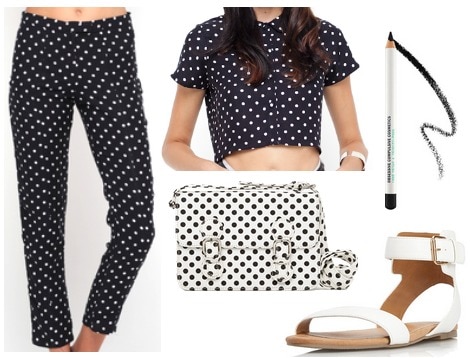 Product Info: Top- Motel Rocks, Pants- Motel Rocks, Shoes- Forever 21, Bag- Forever 21, Eyeliner (in Tarred)- Sephora
Channel the designer ensemble by choosing tailored separates instead of a jumpsuit. The cropped collared top shows off the perfect amount of skin, just like the cut-outs on the jumpsuit. Pair with strappy sandals, then add a bit of quirkiness with a contrasting polka dot bag. To truly mimic the model, use a black eyeliner to create a trendy smudged eye look.
3. Edgy Floral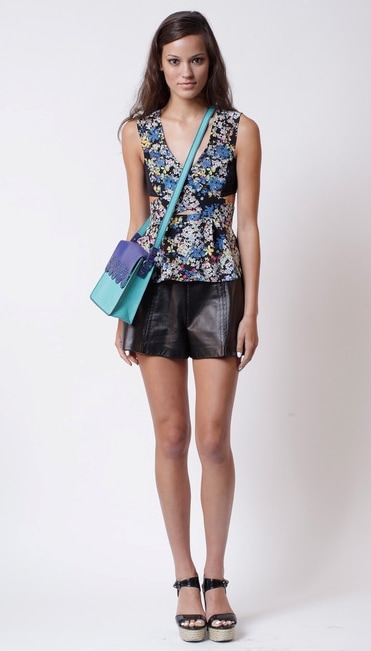 Photo: Style.com
Leather and florals are becoming as much of a classic fashion combo as black and white. This look combines a stylish pair of leather shorts with an equally stylish floral tank. The darker color scheme is also a great alternative to the usual light-colored floral prints that are typical during springtime.
Get the Look: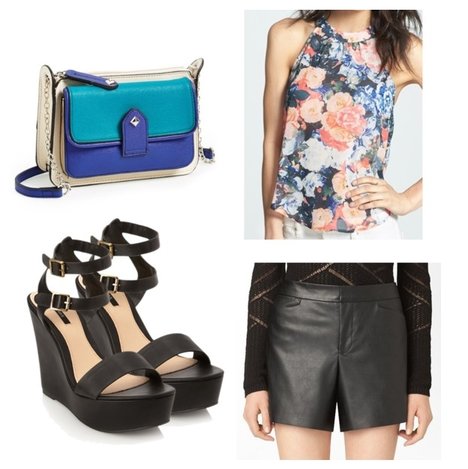 Product Info: Top- Nordstrom, Shorts- Calvin Klein, Shoes- Forever 21, Bag- Nordstrom
Begin with a pair of tailored faux leather shorts, which we balanced with a flowy and flowery top. We think this look would be ideal for a girls' night out, so choose a pair of stylish black wedges with unique details (these have a funky double strap!). To complete this getup, grab a teal and cobalt blue color-blocked cross-body bag.
Your Thoughts?
What did you think of this collection? Are you tempted to recreate one of Charlotte Ronson's outfits? Which of these looks is your favorite? Would you wear any of them? Do you want to see a specific designers in the next few weeks? Remember to let me know your thoughts in the comments below!