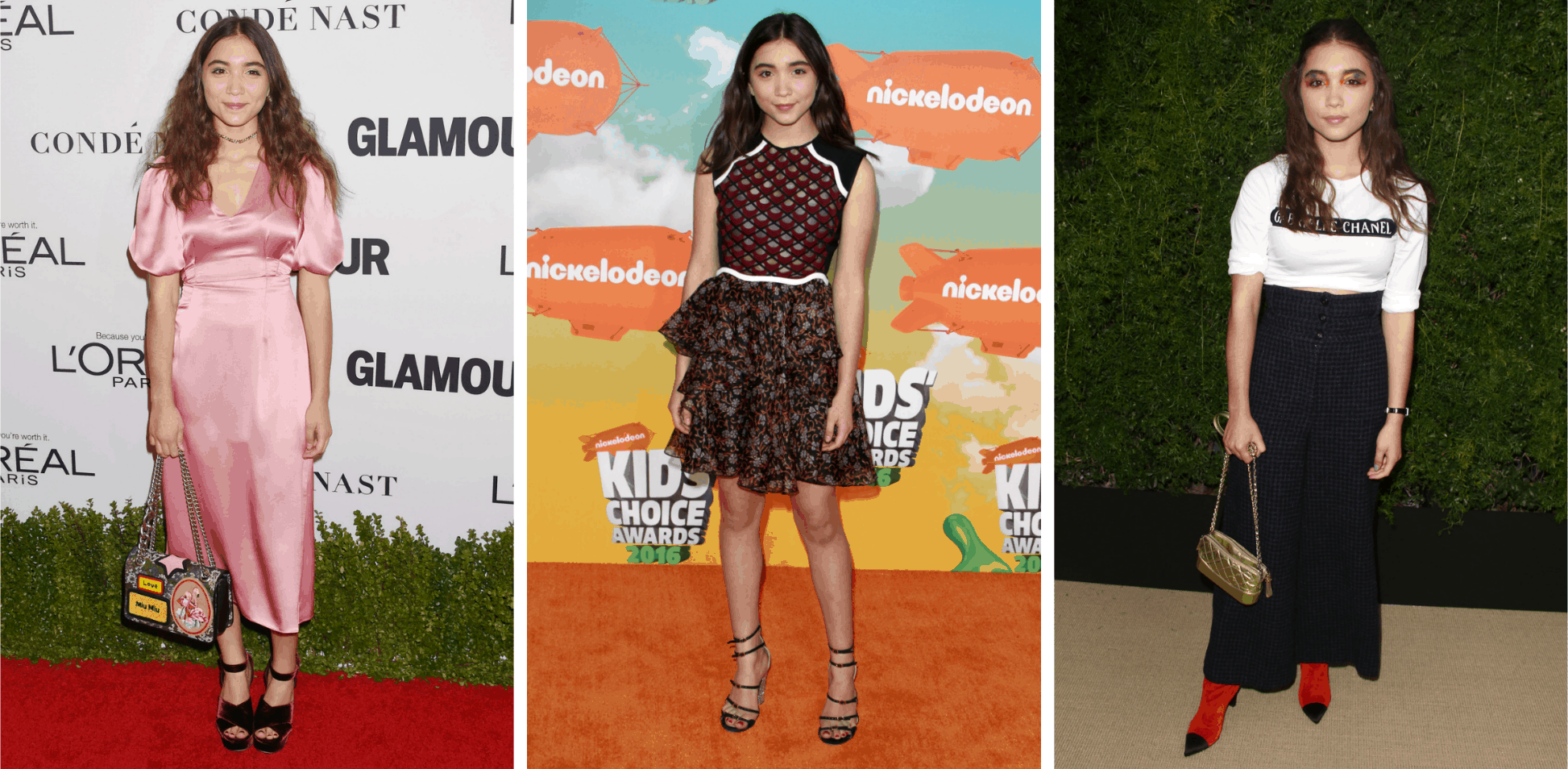 Hi there! If you are new to this series, this is where I take you by the hand and decipher how to emulate the style and confidence of women who for some reason did not get recognition for it.
Today, I have decided to tackle someone younger than the majority of our readers: Rowan Blanchard. If you don't know her, here's a brief introduction:
She is an actress who was on Disney's reboot of Boy Meets World called Girl Meets World. Pretty straightforward.
She has spoken at the UN on behalf of He for She (love that!)
She is outspoken on social media (example below)
https://twitter.com/RowanBlanchard/status/796988735304806400
And to top it all off, she is one stylish lady!
With all that said, let us now go and discuss Rowan's Clothing!
Rowan Blanchard's Clothes:
Here is the first look we are going to unpack today:
Okay, wait, one more — here's look two:
Why, you ask, did I post two consecutive looks? Well, it's because I noticed a pattern. In fashion, most people tend to gravitate towards certain pieces that they feel best in. That in turn becomes their uniform.
In Rowan's case, I noticed that she wears graphics a lot; graphic tees with slogans are her fave. Basically, she finds a way to make sure she is being heard without having to say anything.
I noticed in Rowan's feed that she does indeed have a stylist, which is to be expected for an actress. However, the two looks above appear to be candid, un-styled shots. I wanted to be sure that I gave you guys the truest version of her, without the glam squad in the background.
For tops, Rowan would likely be most comfortable in soft t-shirts made of ethical materials: She is a big fan of social justice and ethical living. On the bottom, she loves cutoffs and jeans with her tees.
She dresses up when it's most appropriate for an event, but otherwise, Rowan is the epitome of casual California girl.
A capsule of Rowan's closet would look a bit like this: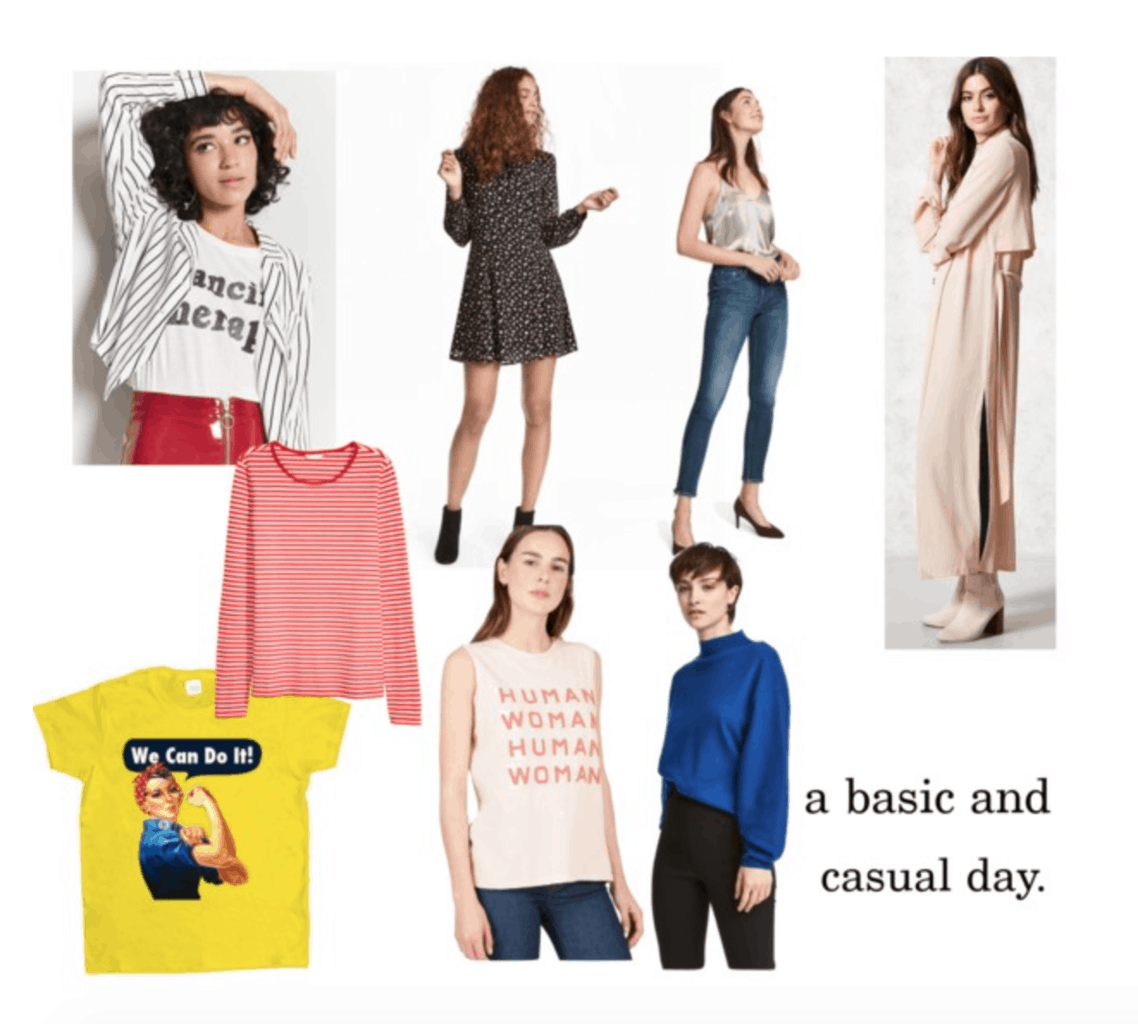 Products: Stripe Jacket – Forever 21, Long sleeve tee – H&M, Feminist tee – Feminist Apparel, Floral dress – H&M, Human tee – Everlane, Eco friendly jeans – H&M, Eco friendly sweater – H&M, Duster – Forever 21.
Rowan Blanchard's Accessories & Shoes:
Now, onto Rowan's Accessories and Shoes!
Ah, Converse sneakers work swimmingly with the whole Cali vibe, don't they!
The beauty of this look is the ease of it. The uniform is something we can all get behind as students in college, and that is why I felt it would work so well. Jeans, cute t-shirt, sneakers of some sort.
Looking through photos of her, I can definitely tell Rowan is a fan of flats. Stan Smiths, Converse, Vans – she's got them all. For a college student, that is gold. So remember that! Sneakers are all you need! Or a basic universal ballet flat to jazz it up or keep it dressier.
If you want to be trendier than that, go for a platform sneaker! Pro tip: Superga has really cute pairs that I have been eyeing for months. You're welcome.
When it comes to accessories, I notice that Rowan is very, very minimal. She will occasionally wear basic crossbody bags in neutral colors.
As for other accessories, I've seen her wear hoop earrings once, flower crowns surprisingly often, and I have also noticed that she also likes to wear her opinions on her sleeves, as she does in that second look above. Each pin has a tiny slogan on it, like her political shirt collection.
Whether you agree with her views or not, it's admirable to see that she is consistent in her views, and hey – she is taking advantage of her basic right to speak her mind.
To copy Rowan's style, I suggest scouring Etsy for pins that align with your beliefs. If you don't care for the 100% unique factor but still have something to say, try looking here and here.
Don't like pins on shirts? Well this year has been the year of wearing patched up denim jackets! Go ahead, customize that jacket, tee, or even your jeans. Wear patches with slogans or symbols on them, so even your neighbor and teachers know that you are a cat person. (Or in my case, that you love stars, flowers, and vegan food.)
A possible capsule of Rowan's accessories would look like this: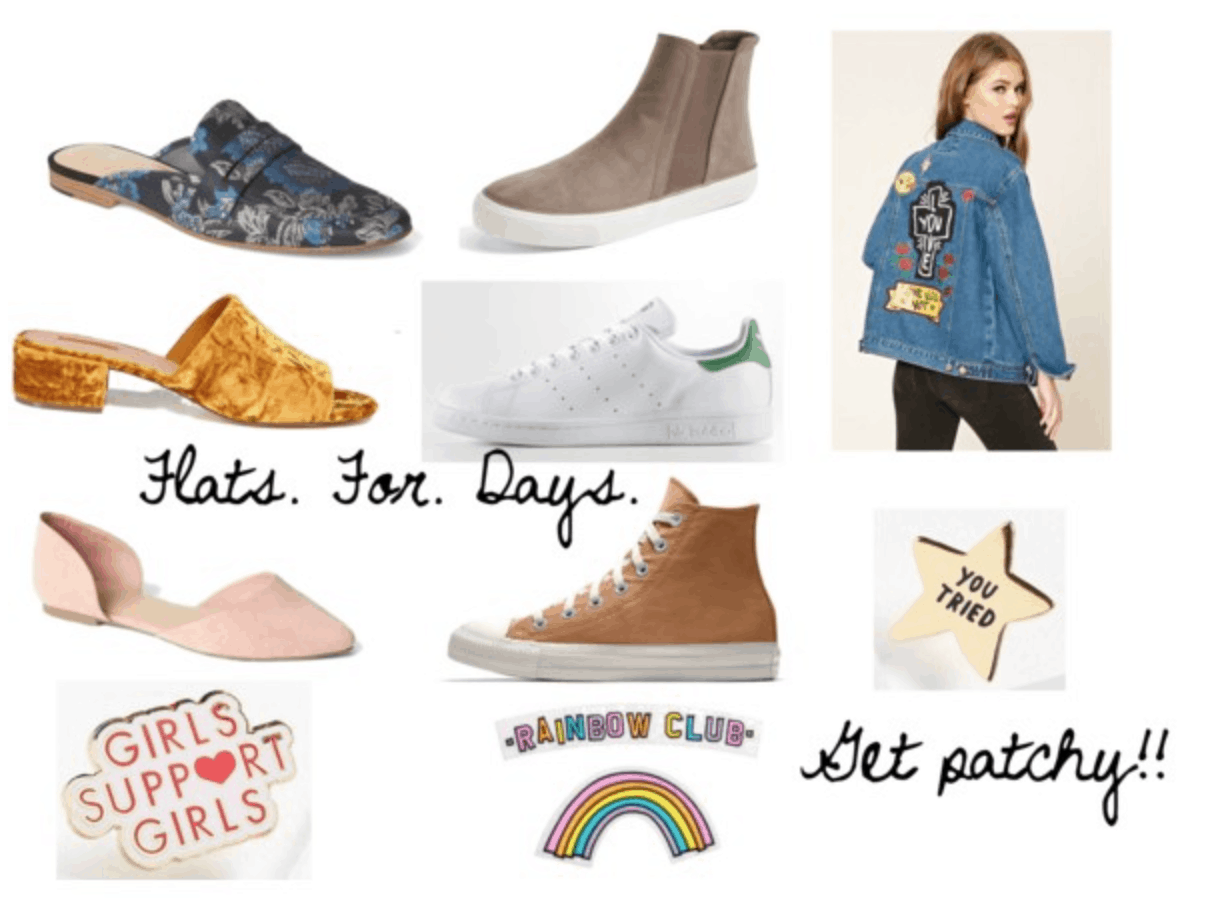 Products: Flat mules – Gap, Sandal mules – Forever 21, D'Orsay flats – Gap, Chelsea Boot sneakers – Gap, Stan Smiths – Adidas, Converse – Nike, Denim jacket – Forever 21, Star pin – UO, Girls pin – UO, Rainbow patch – H&M.
These shoes allow for a trendy approach to Rowan's "back to basics"/"comfort is key" approach. Mules keep you up to date on trends in the flat shoe world and keep you cool when you hike to class. Patches work on jeans, jackets, shirts, and pins can go on caps or other hats and tees. I also linked this jacket here that already comes pre-customized in case you guys don't have the time for DIY work.
Rowan Blanchard's Beauty Routine:
Finally, let's look at her Beauty and Haircare!
I chose this photo to show Rowan's hair and beauty because I noticed that her everyday look is – you guessed it – very low-key and casual.
Rowan's skin is flawless, so I can see why she wouldn't need to wear foundation or anything on it (at least not every day). And, really, none of us need to wear foundation 24/7 either. So take a breather if you want!
In terms of makeup products, an interview from a few years back reveals that Rowan is very fond of the brand Kevyn Aucoin, specifically their eyelash curler and contouring powder. That brand is pricey, but reviews are amazing, so if you are a makeup maven and use makeup daily, then definitely save up!
Fortunately for the broke girls like myself, Rowan also favors L'Oreal Paris Voluminous Miss Manga Mascara which falls under ten dollars and is therefore a great choice!
Here are some ideas for what you might want to have in your tool kit for scoring her hair and beauty: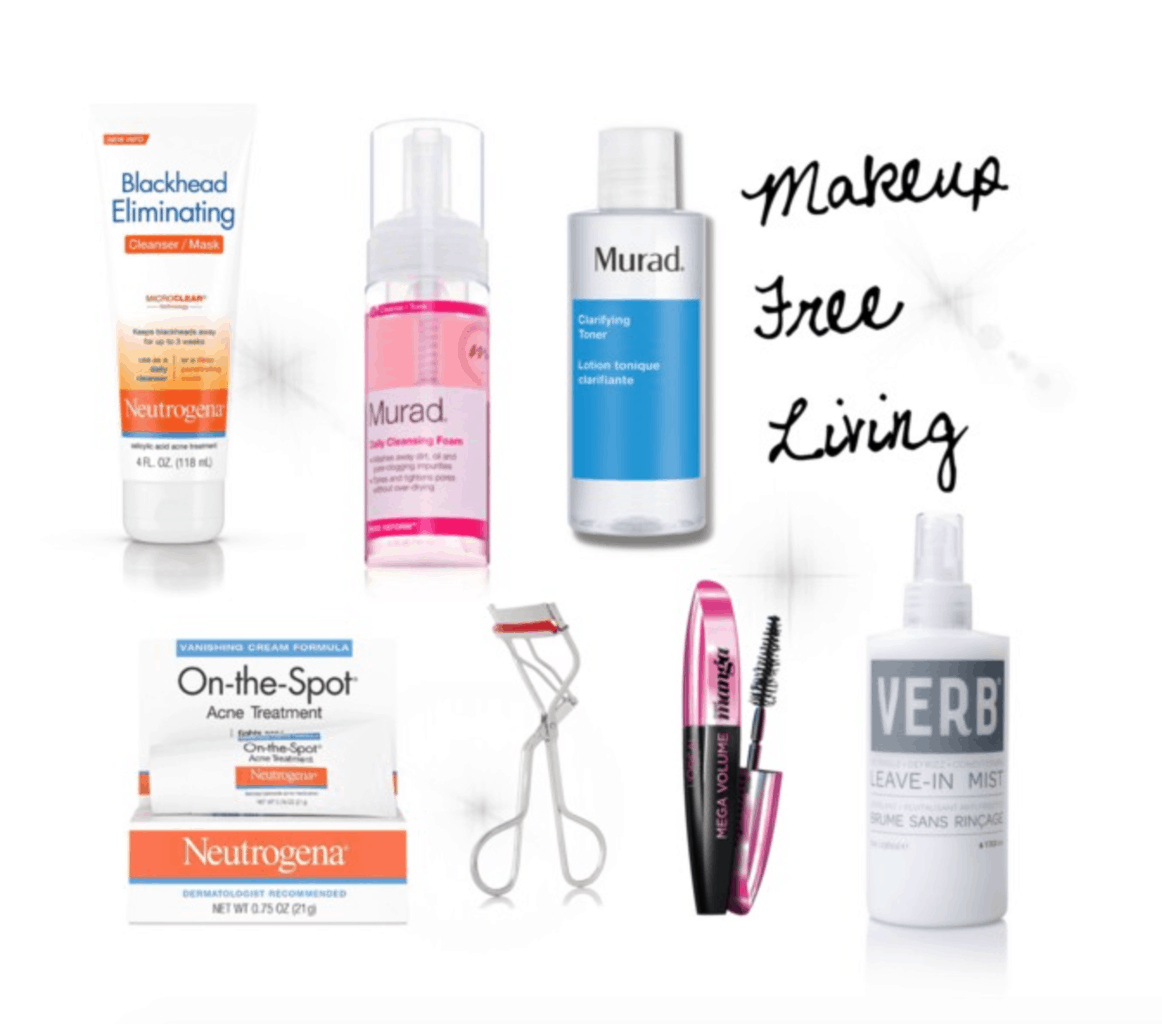 Products: Blackhead eliminating wash – Amazon, Murad cleansing foam – Dermstore, Murad clarifying toner – Sephora, On the Spot – Ulta, Eyelash curler – Sephora. Miss Manga Mascara – Target, Hair mist – Amazon.
Rowan Blanchard's Style 101:
That's it! Now time for a quick recap.
The key points you want to hit to get Rowan's look are:
Keep it casual, keep it low-key
Wear your opinions on your clothes or at least get some graphics
Sneakers and flats are all you need!
Let your pores shine through! Keep the makeup minimal
Hair-wise, give your natural texture a chance and show it off.
Alright ladies, I hope you enjoyed this installment! And remember, inspiration can come from anyone, anywhere, regardless of age or gender – like Rowan here, who at just fifteen is killing the fashion and activism game.