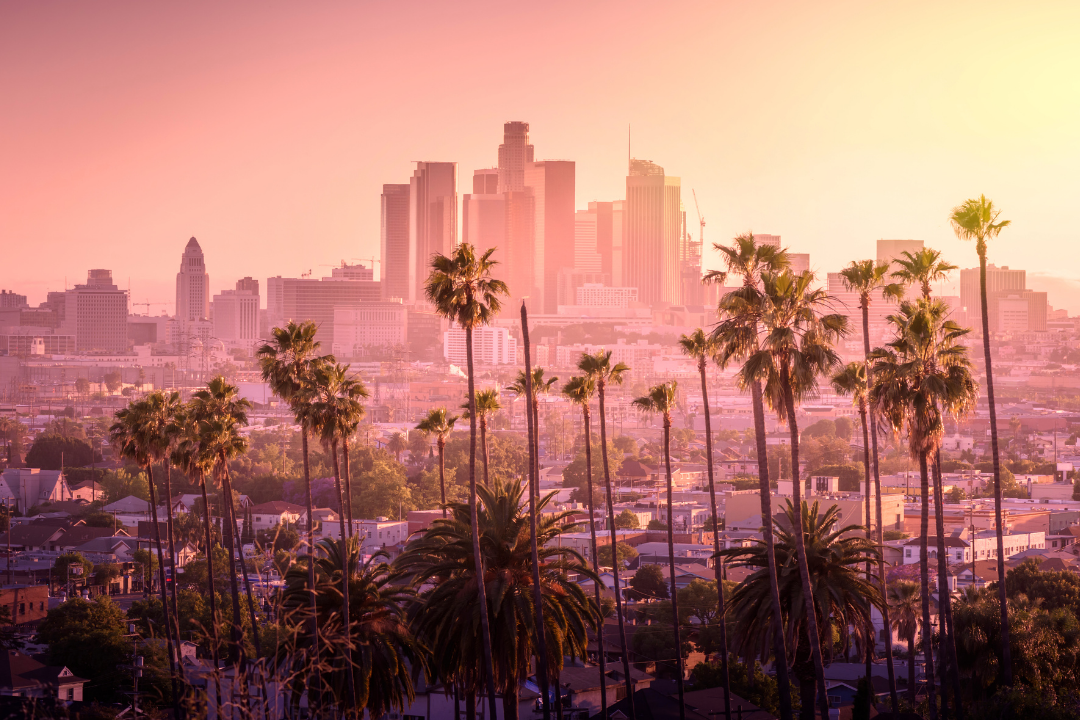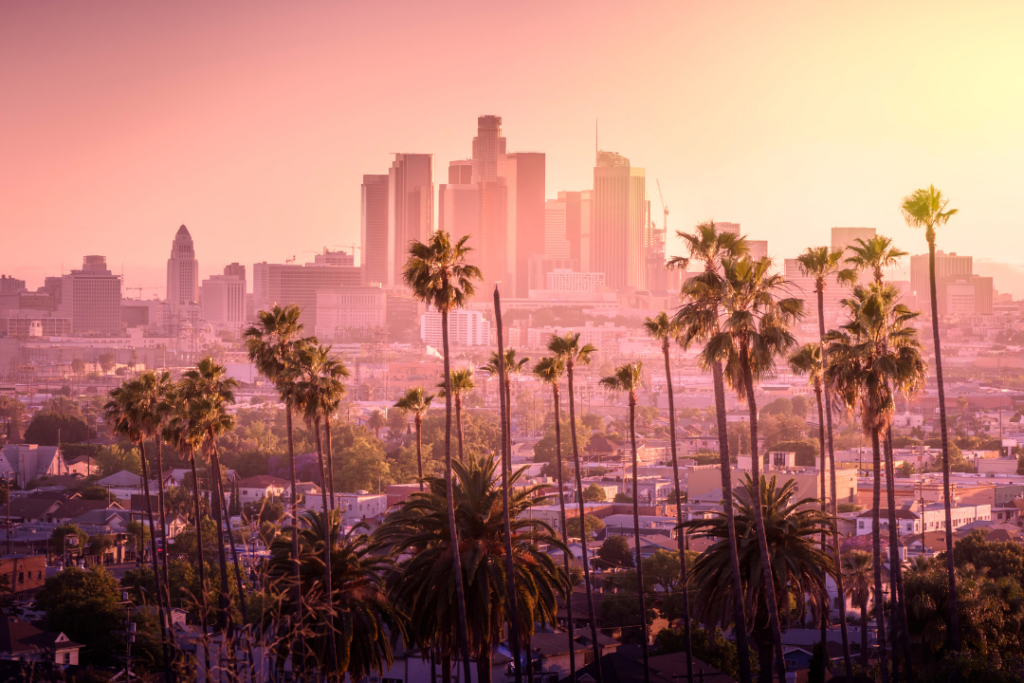 After the positive feedback we received from our first two magazine-style quizzes (in case you missed them, see Quiz: What Color Should You Wear Today?, and Quiz: Which Spring Trend Should You Try?), we're back with another personality test. This week's quiz will show you how your personal style fits in internationally.
Just take the fun quiz below to find out which city best represents your personal style. If you take the quiz here on the site, the widget will automatically total up your answers for you. If you print the quiz, total up the letters you got and find which one you selected the most. Once you get your answer, find your letter and corresponding result below for a sample outfit based on your personality type.
Quiz: Which City Best Represents Your Style?
1. What is your favorite color to paint your nails?
A. Whatever is popular at the moment – I'm always trying the newest styles.
B. Dark colors like black, gray, and navy. I'm also loving the new shattered nail polish trend.
C. Pretty pastel pinks and neutrals – something subdued but still polished.
D. Any color that pops!
2. Which summer flick are you most excited to watch?
A. Friends with Benefits – I love chick flicks and this one with Justin Timberlake and Mila Kunis looks hilarious.
B. Transformers: Dark of the Moon – I'm ready for another one of Shia Labeouf's action- packed adventures.
C. One Day – You can't go wrong with a good old fashioned romance film – especially with Anne Hathaway and Jim Sturgess as the main characters.
D. Harry Potter and the Deathly Hallows – The combination of adventure and magical fantasy drew me to the series and it hasn't disappointed yet.
3. What is you favorite type of casual shoe?
A. Sandals – comfortable and cute.
B. Boots, preferably with a heel or in a funky motorcycle style.
C. Classic ballet flats.
D. Sneakers, preferably in a funky color or style.
4. When you are on vacation, what does your itinerary usually look like?
A. Relaxing at the beach during the day and hitting the town at night.
B. Exploring all the local hot spots around the city.
C. Visiting museums and enjoying some coffee at a local café.
D. I normally don't make an itinerary. I like to explore and see where I end up.
5. What colors do you tend to wear most often?
A. Bright Colors — Yellow, green, hot pink, and electric blue
B. Classic Neutrals — You can never go wrong with black, gray, and white. I do like to add some pops of color, though.
C. I like to mix creams and pastels like pink, lavender, mint green, and light blue with classic neutrals such as black and navy.
D. For me, it's all about the prints, regardless of the color.
6. What is your go-to accessory when you want to make a statement?
A. Standout sunglasses
B. A great pair of shoes
C. A sturdy and classic handbag
D. A quirky and unique piece of jewelry
7. What is your ideal summer job?
A. Working at a kids' summer camp – I'm still a kid at heart so this job would be perfect.
B. I'd rather be interning at a company that will help me for my future career.
C. Working at a clothing store – I love being surrounded by all the current fashion trends.
D. I'd love to do something where I get creative freedom or am able to help others reach their full creative potential.
Now add up your score and see which letter you chose the most! Then get your result below.
Quiz Results – No peeking!
Below are the results of the quiz. Don't look if you haven't taken it yet! I've created one outfit for each result to help give you some ideas for what to wear. Enjoy!
Mostly A's: Los Angeles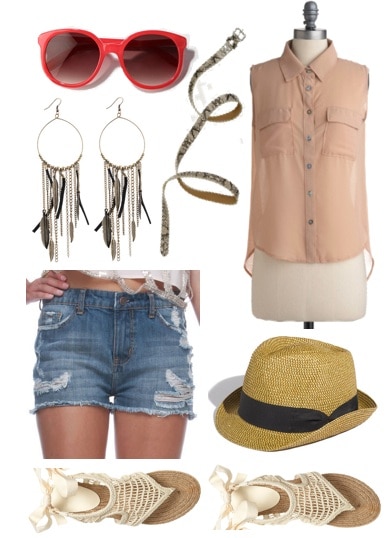 Product Information: Sunglasses, Belt, Top, Hat, Sandals, Shorts, Earrings
Typical LA fashion draws inspiration from hipster, rocker, and bohemian trends, combining them with today's styles for a look that's both laid-back and fashion-forward.
Because of the hot summers, as well as LA fashion's casual feel, denim cutoffs and neutral sandals are wardrobe staples here in Southern California. I love pairing these basics with a sleeveless button-up top and a snakeskin belt, like those seen above. To complete the look, accessorize with a straw fedora and some feather-inspired earrings. (The feather hair trend is HUGE at my school right now, and earrings are a non-committal way to try the look.) Finish with some fun red sunglasses to give the outfit a pop of color as well as the playful feel associated with the LA lifestyle.
Mostly B's: New York City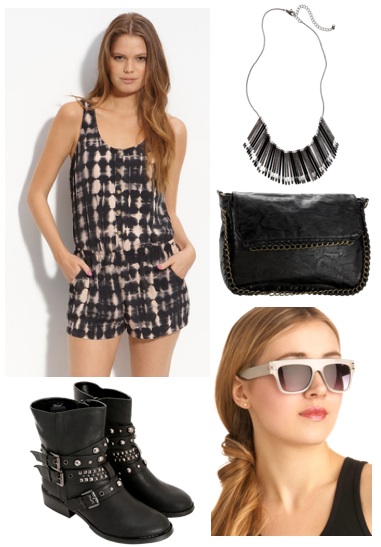 Product Information: Romper, Necklace, Bag, Sunglasses, Boots
New York City is another trendsetting city, known as a world "fashion capital". While the city's diverse population draws inspiration from many different styles, the city has an edgy, gritty vibe that always makes me think of an updated rocker aesthetic.
This printed romper is perfect for the hot NYC summers. Add extra pizazz with a cool statement necklace like the one above. A small cross-body bag with chain detailing is perfect for storing away your essentials while running around the city, and flat moto boots allow you to do so comfortably. Finally, add on a pair of retro-inspired sunglasses to complete your ensemble.
Mostly C's: Paris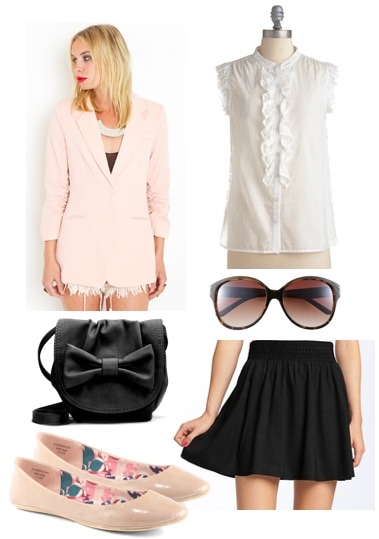 Product Information: Jacket, Top, Sunglasses, Skirt, Shoes, Bag
Paris is another city known for its fashion sense, specifically for pieces that are feminine, elegant, and timeless. As the home of Chanel, Dior, and Yves Saint Laurent (just to name a few), these key elements of Parisian fashion should not be too surprising.
Getting a Parisian-inspired look is so easy. There is nothing more classic than a blazer, however one that is blush colored is a refreshing and fun way to update the look for summer. Pair it with a crisp white, ruffled blouse and a simple black, A-line skirt. Pretty accessories such as a small black cross body bag with a pretty bow, blush colored ballet flats, and timeless shades add to the simple and classic look that has made Parisian fashion famous.
Mostly D's: Tokyo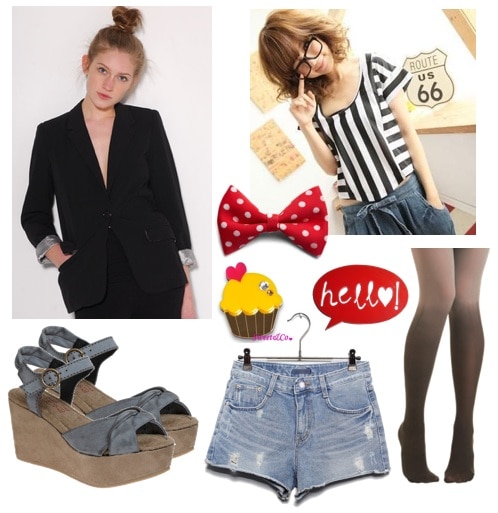 Product Information: Jacket, Top, Tights, Shorts, Shoes, Bow Hair Clip, Hello Brooch, Cupcake Brooch
Over the past few decades, Tokyo style (known for its loud pairings of patterns, colors and unique accessories) has made a name for itself in the fashion world.
Start your Tokyo-inspired look with a funky top; this one, with stripes that face different directions, makes it easy to get the mixed prints feel. A black blazer and gray wedges help balance out the casual feel of denim cutoffs. To finish the look, it is important to incorporate standout accessories. Unique brooches like the ones seen above can be worn on the lapel of the blazer to give your look a one-of-a-kind flair. Tokyo fashion is also famous for incorporating unique legwear, and these gray ombre tights are just that. Bows are another popular trend in Tokyo streetwear, so this red polka-dot hair clip represents the cherry on top of this Tokyo-inspired outfit.
What do you think?
Did you like the quiz? Which result did you get? Do you think your result represents your personal style well? Which outfit was your favorite? Do you enjoy these personality quizzes? Please let me know what you think by leaving a comment below!