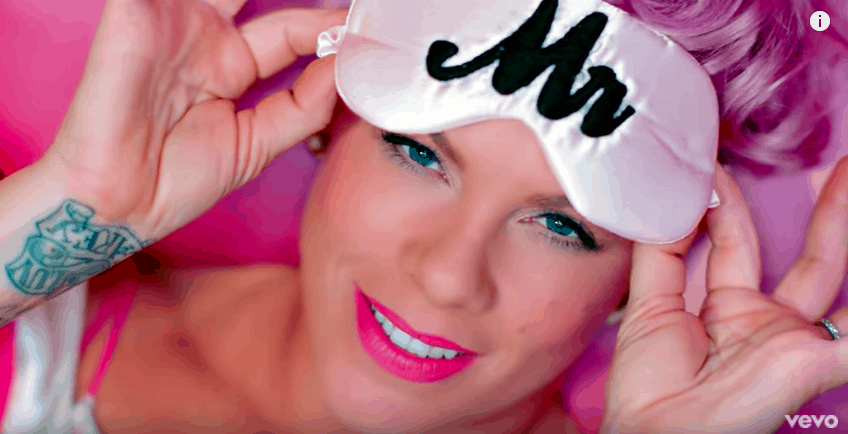 Pink has had a great few weeks: Following her incredible AMA performance of her latest hit "Beautiful Trauma," the singer released the music video for the song last week.
The colorful music video is both fun and thought-provoking. It comes with a message about gender roles and the modern meaning of marriage. Plus, the video includes a special appearance by Channing Tatum, which makes it more awesome!
The video explores gender expectations, viewed through the lens of the "perfect" 1950s family. The video pokes fun at the couple's marital misery, until they swap gender roles and become much happier. This music video also includes of varieties of '50s-style outfits that you could totally translate into 2017 wear.
Today, I'll show you how to channel the music video in your outfits. Read on for some Pink Beautiful Trauma fashion!
P!NK - Beautiful Trauma (Official Video)
Outfit #1 – Pink as a '50s Housewife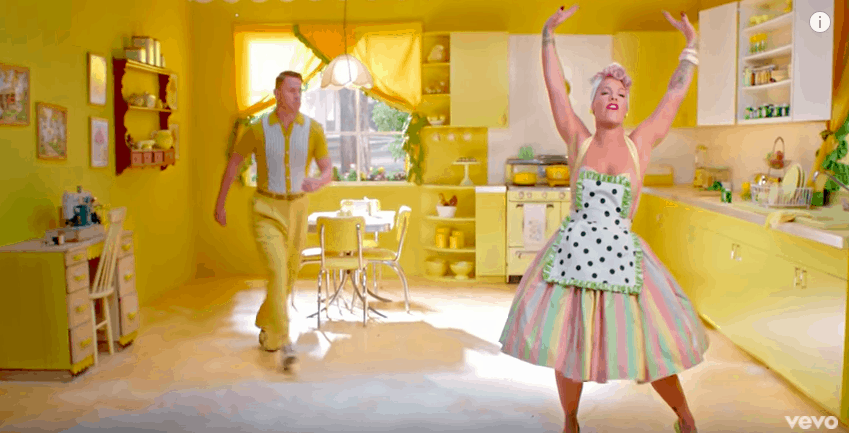 Although Pink plays a miserable housewife, her sunshine-and-rainbows outfit catches all the attention. Her outfit plays with pastel colors and patterns and looks like something out of a candy shop.
Mix pattern and texture to create your own inspired outfit. Start off with a pastel pink tulle skirt. Next, since Pink is seen wearing a polka dot apron, channel it and wear a polka dot top. Although our leading lady rocks large yellow studs, gold studs are a more wearable choice. Finish off your outfit with these cute green heels.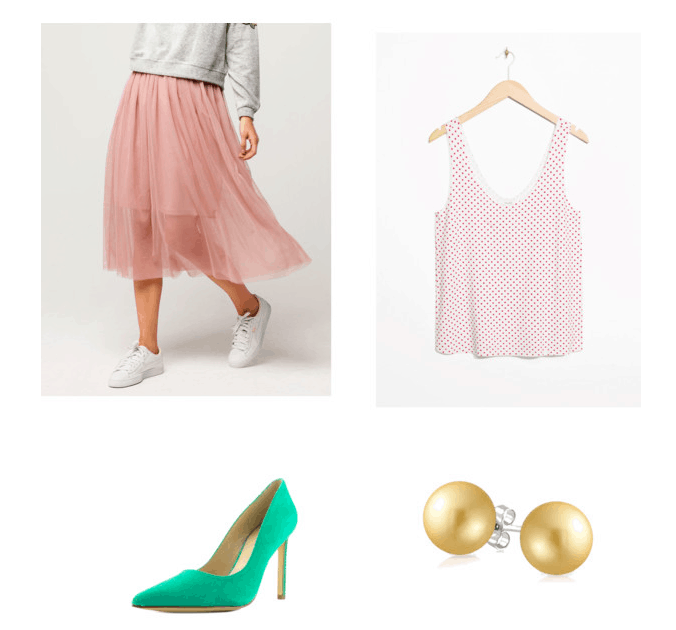 Products: Midi Skirt – Tilly's, Tank Top – & Other Stories, Heels – Amazon, Studs – Bluefly
Outfit #2 – Channing Tatum's '50s Outfit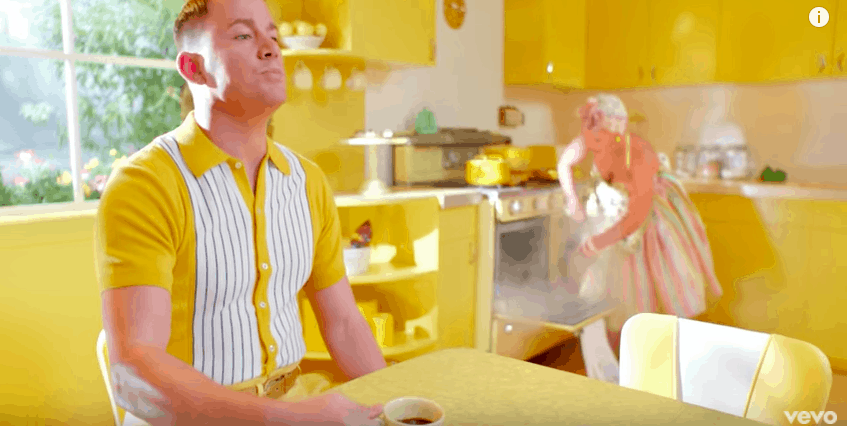 I love Channing Tatum's yellow outfit in this video (his dancing is not the only thing that is great!). I can totally see this translating into an outfit you could wear any day!
To channel this outfit, go for it and wear all yellow. Start off with a yellow button-down blouse and skinny jeans (you could wear trousers as well). Break up the outfit a bit with a basic belt, so it doesn't look too bright. Complete your outfit with these adorable Calvin Klein loafers.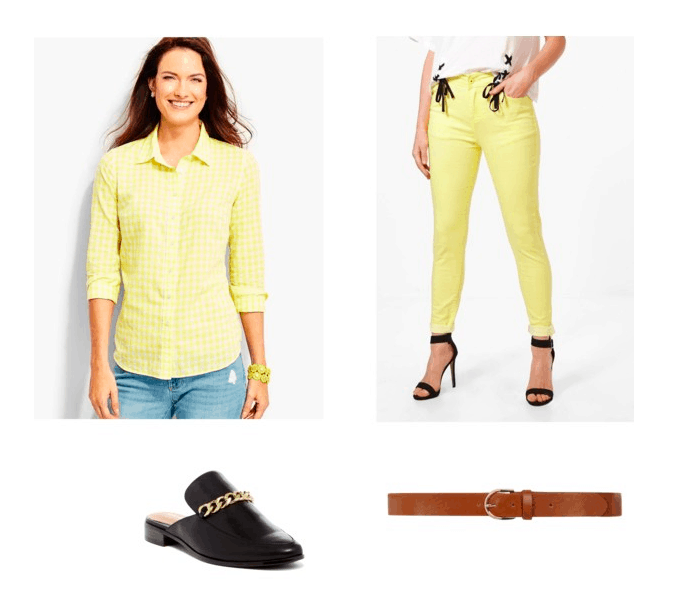 Products: Shirt – Talbots, Jean – Boohoo, Loafers – Calvin Klein, Belt – Dorothy Perkins
Outfit #3- Leather-bound Look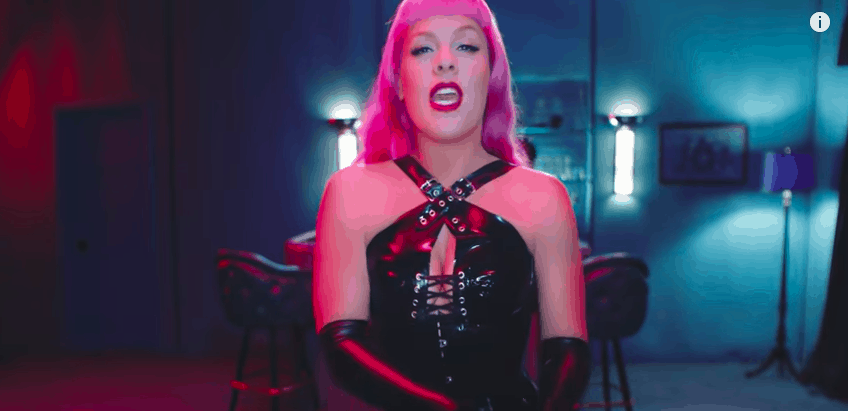 This outfit is inspired by the scene in which Pink and Channing decide to spice up their marriage — although it looks crazy, the two are much happier for having taken the plunge. In fact, it saves their marriage.
I like the leather look that both Pink and her friend are wearing. It reminds me of Catwoman. To get a similar vibe in a more toned-down manner, see the following outfit.
Start off your head to toe leather look with these cut-out leggings. You could wear any basic tee that you'd like as long as you finish it off with a studded leather jacket for that needed edginess. Add basic black heels and leather gloves for the win!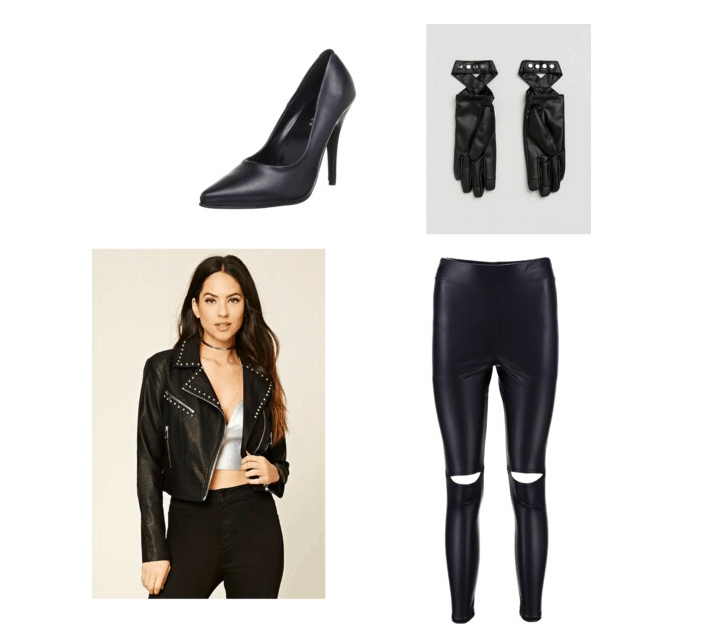 Products: Jacket – Forever 21, Heels – Amazon, Leggings – Boohoo, Gloves – ASOS
What do you think?
Have you heard Pink's new album? Do you love it as much as I do? What do you think of the video? Do you like the message it conveys? Are you going to be rocking leather this winter? Leave a comment below!