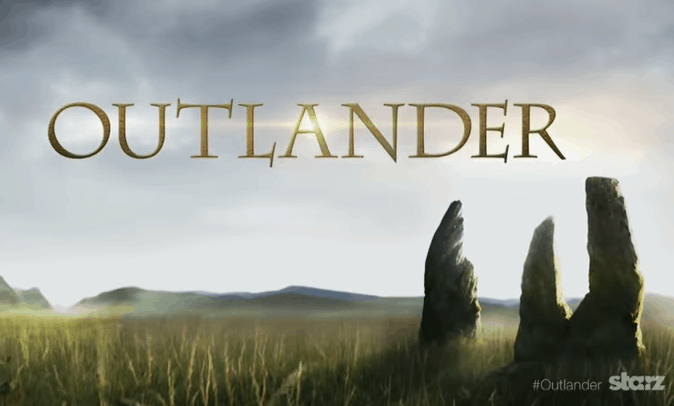 During the first two weeks of the school year, I spent nearly every night reading well into the wee small hours of the morning. While that might sound like the hallmark of an overambitious student, my time was devoted not to poring over medical textbooks, but to devouring all eight books of the Outlander series.
The books, written by Diana Gabaldon, aren't easily categorized: while they're frequently advertised as romance or historical fiction, they also contain elements of science fiction/fantasy, mystery, medical thriller, and swashbuckling adventure. No matter what genre you choose to place them in, I'm quite upset that I rushed through the books so quickly, since the next one won't be out until at least 2017!
Luckily, my thirst for more Outlander has been somewhat quenched by the Starz television adaptation, starring Caitriona Balfe, Sam Heughan, and Tobias Menzies. (Pro tip: you might need to hop into an ice cold shower after watching…especially the wedding episode! Now that I think about it, the same might be said of the books.)
We've covered Outlander fashion on CF before (as well as fashion inspired by the Outlander books), but with the Season 2 premiere approaching, we wanted to revisit this engrossing series. Here's Outlander fashion, part two!
About Outlander:
In 1945, English field nurse Claire Beauchamp Randall and her husband Frank celebrate the end of WWII by taking a belated honeymoon to the Scottish countryside.
While exploring an ancient circle of standing stones, Claire is suddenly transported back in time to 1743, where she is thrust into the tumultuous beginnings of the Jacobite uprising. As an Englishwoman, she is a Sassenach — an outlander — alone in the highlands, a stranger to both the time and culture.
Her fate changes forever when she crosses paths with the handsome, intelligent, and courageous Jamie Fraser, a young Highland soldier.
Although Claire is desperate to return to Frank and the 20th century, she and Jamie soon develop an indelible bond.
Unfortunately, the nefarious Black Jack Randall, who bears an uncanny resemblance to his descendant Frank, threatens to destroy their love.
Season 1 of the Outlander TV show covers Book 1; Season 2 will be an adaptation of the second book, Dragonfly in Amber.
Outfits Inspired by Outlander
I've put together two outfits inspired by Claire's life in each of the time periods she lives through, as well as an outfit inspired by the adventures that will take place in the next season of the show! (Which means spoiler alert for anyone who hasn't read/seen the first book or season!)
1945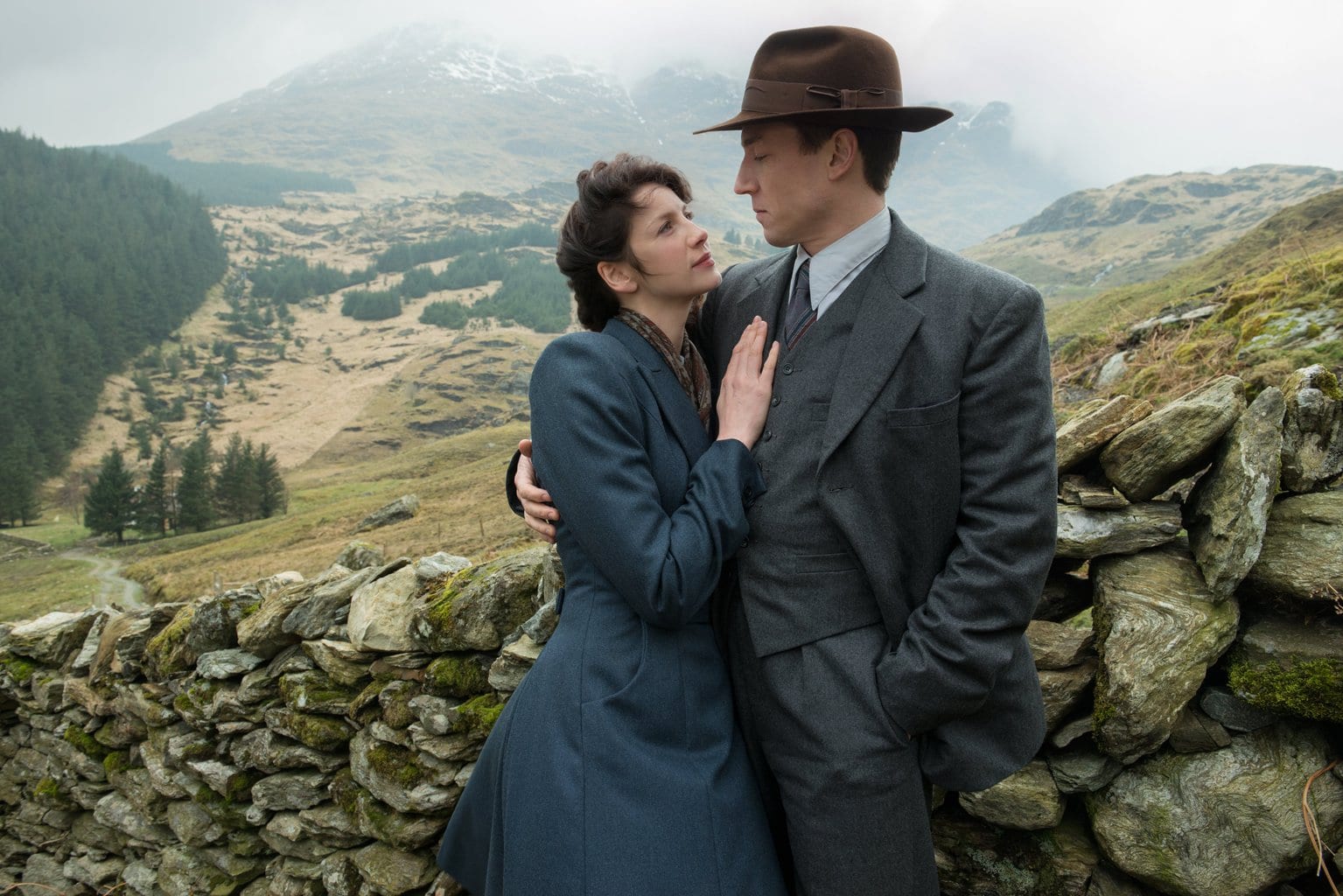 When we first meet Claire and Frank Randall, the couple has been apart for several years due to the war. Frank, a mild-mannered Oxford historian, served with MI6 while Claire endured the traumas of the battlefield while treating horrifically injured patients. The two work hard to reconcile the changes in personalities they have experienced and to re-learn to love one another.
Get the Randalls' jaunty mid-century look with perfectly polished pieces like a classic trenchcoat and a teal pencil skirt. A cap-sleeved blouse in a rich wine hue complements the skirt color, while a patterned paisley scarf pulls it all together. Slip into a pair of ladylike pumps, adapted for the 21st century with a criss-crossed ankle strap and a stiletto heel.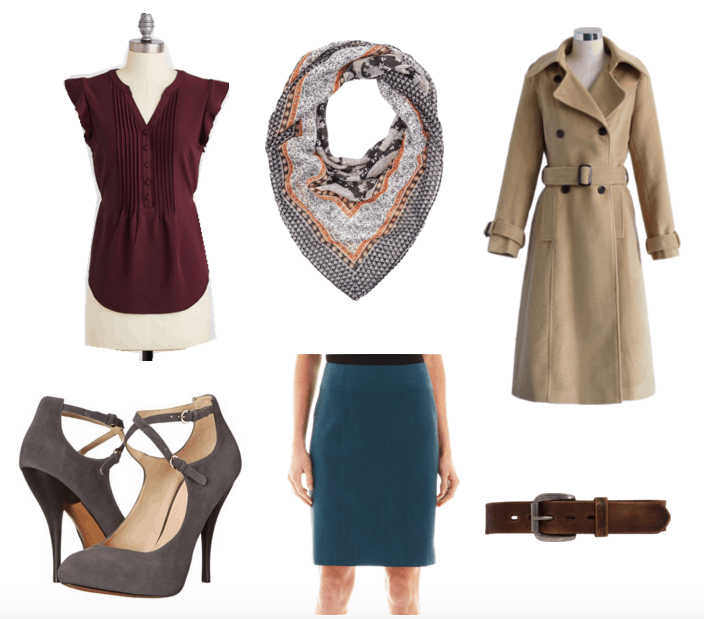 Products: Coat, Top, Skirt, Shoes, Scarf, Belt
1743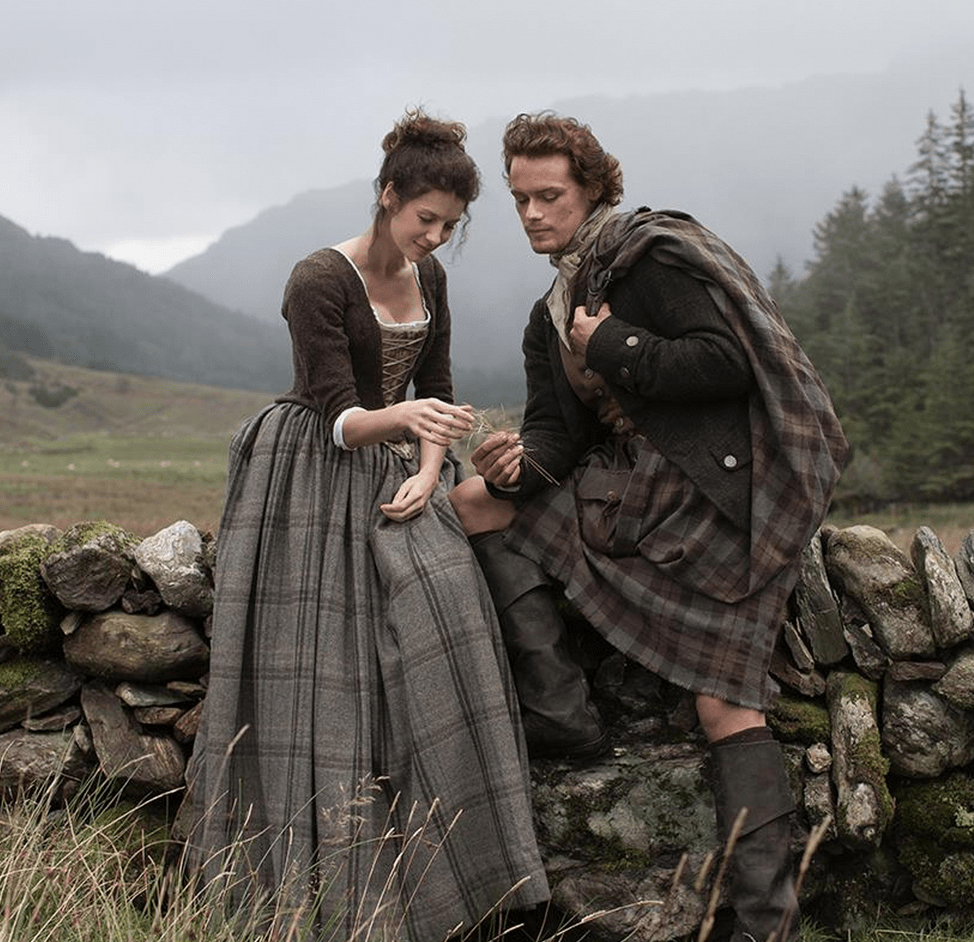 Claire and Jamie marry out of convenience, not for love. As time passes, though, Claire finds herself torn between the husband searching for her in the 20th century and the earnest, strapping Scotsman who promises her his heart in the 18th century. (Frank is awesome, but guys…JAMIE. Forget book boyfriends, he's book husband #1.)
Naturally, Claire must adopt the clothing and customs of the 1700s: she exchanges her structured frocks and modern brassiere for woolen petticoats, stays, and linen bodices. For an earthy ensemble inspired by Claire and Jamie, start with a breezy ivory blouse. Next, keep warm even in blustery winds with a textured olive cardigan and a tartan scarf. Suede skirts are a popular trend this spring; plus, the brass buttons are reminiscent of those on Jamie's coat. Add pearl earrings as a reference to the Scotch pearl necklace that Jamie gives Claire; a delicate ring made of both gold and silver alludes to the two wedding rings that Claire wears: a gold band from Frank and a silver one from Jamie.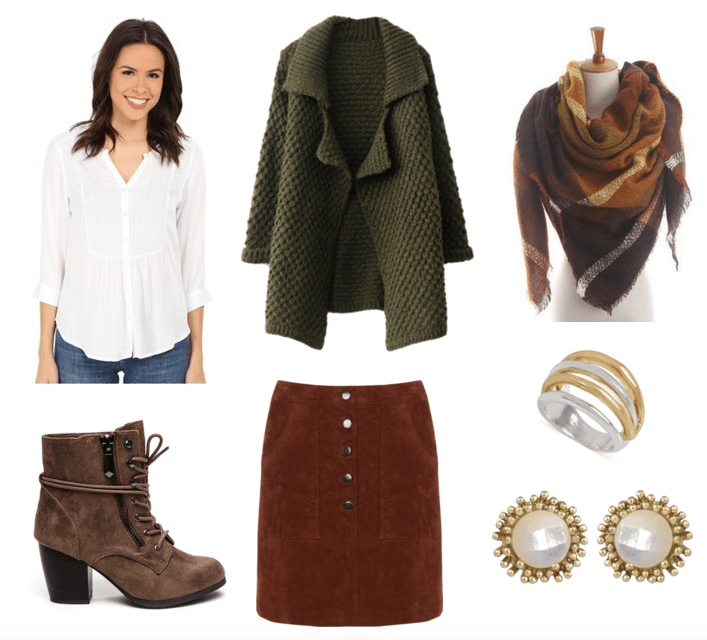 Products: Cardigan, Blouse, Skirt, Boots, Scarf, Ring, Earring
Book 2: Dragonfly in Amber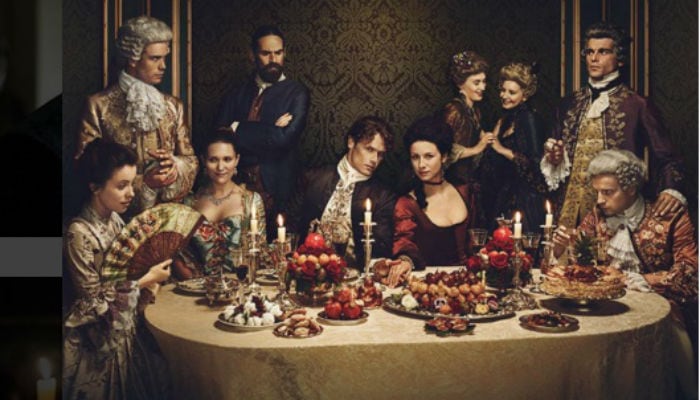 After a harrowing ordeal that nearly kills Jamie, the Frasers leave Scotland for France, where they gain influence in the French court in an effort to prevent the doomed Jacobite uprising. But just because they've traded broadswords for political scheming doesn't mean that the battlefield is any less dangerous.
While I love a good tartan, I'm pretty excited to see the incredibly ornate costuming work in store for us this season! Garnering intrigue in the highest aristocratic echelons requires Claire and Jamie to dress the part, and it looks like they rise to the occasion beautifully. Stir up some drama of your own by pairing an eye-catching brocade frock with a sumptuous velvet jacket and glistening heels. A stone cuff references the standing stones that changed Claire's life forever, while dragonfly earrings allude to the book title.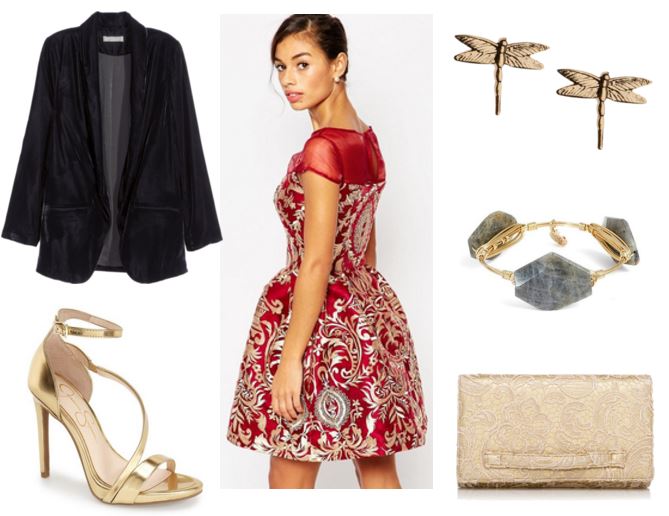 Products: Blazer, Dress, Heels, Earrings, Bracelet, Clutch
What did you think?
Would you wear these outfits? Do you watch Outlander? Have you read the books? Are you utterly besotted with Jamie, as I am? Are you excited for Book 9 and/or Season 2 of the show? Let me know in the comments!