Welcome to the latest edition of Looks from Books, which aims to prove that you can look smart, while still being book-smart, too. Fashion inspiration can be found between the pages of your favorite stories, on well-designed book covers, and in your favorite characters… if you read closely enough.
This week, I'm taking on a recommendation from a regular "Looks from Books" reader, and branching out of my comfort zone with a historical multi-genre romance… and boy, did I enjoy it. Here's Diana Gabaldon's Outlander!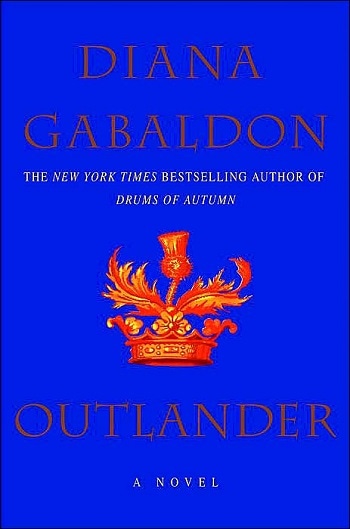 Outlander Cover via Amazon
Inside Cover
The Outlander series, by Diana Gabaldon, is a work of historical romance fiction that was published in 1991.
The first novel of the eight book series, Outlander (published in the United Kingdom as Cross Stitch), follows the story of Claire Beauchamp, an Englishwoman on a second honeymoon after WWII with her husband, Frank Randall, in Inverness, Scotland.
After a time-bending experience at the stones of Craig na Dun, Claire finds herself thrust into a battle between the English "lobsterbacks" and Scottish clansmen in the 18th century, and is unable to get back home. However, when a handsome young highlander named Jamie McTavish catches her eye – and her heart – will Claire even want to?
The book was a success upon its release, and won the Romance Writers of America RITA award for Best Romance of 1991.
A Fashionable Literacy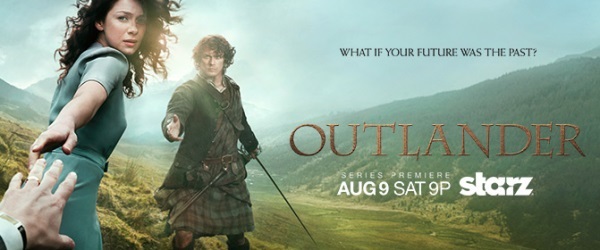 A promotional poster for the new Starz adaptation
The popular novel has recently been adapted for television by Starz network, and stars Caitriona Balfe as Claire and Sam Heughan as Jamie. Tobias Menzies also stars as Black Jack Randall, the ancestor of Frank and merciless captain of the British Army, who is after both Jamie and Claire. The season has already gotten rave reviews from major critics, and will run for sixteen episodes. The first episode it set to premiere on August 9.
The costume direction will be true to the series, if the designer has any say in it: on September 2nd, 2013, designer Terry Moore took to Diana Gabaldon's Facebook page to profess her love for the books, as well as offer the fans some reassurance as to how the adaptation will go, saying, "My husband is Ron Moore [the writer and producer of the series], and he will do the books proud. If he doesn't, he lives with a die hard fan who will not feed him anymore."
How to Add Claire to Your Wardrobe
By integrating key elements from the novel into your own wardrobe, you, too, can have a look that is perfect for adventure and romance… good luck finding that time-traveling portal, though.
A Good Love Story Takes Time ( -Travel)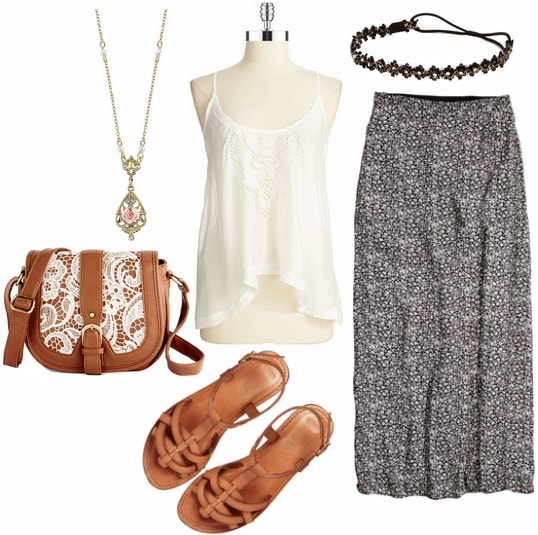 Product Information: Necklace – 1928, Tank – Bloomingdales, Headband – Modcloth, Maxi – H&M, Sandals – Asos, Bag – Modcloth.
Outlander takes the form of many different kinds of stories, from sci-fi and historical fiction to action, fantasy, and everything in between; however, at its heart, the novel is a romance, focusing on the relationship Claire has with Jamie. While their adventures take on a grand scope of a country's history, the dynamics of their relationship – and their relationships with others – take center stage.
Integrate this celebration of the lovelier things in life with romantic fabrics, like lace and chiffon, pretty details, and airy silhouettes. A floral crinkled maxi and lightweight tank lay the floaty groundwork, while intricate detailing comes out in a lace-paneled saddle bag, woven sandals, a long flower necklace, and headband.
Antiquated Outdoorsmen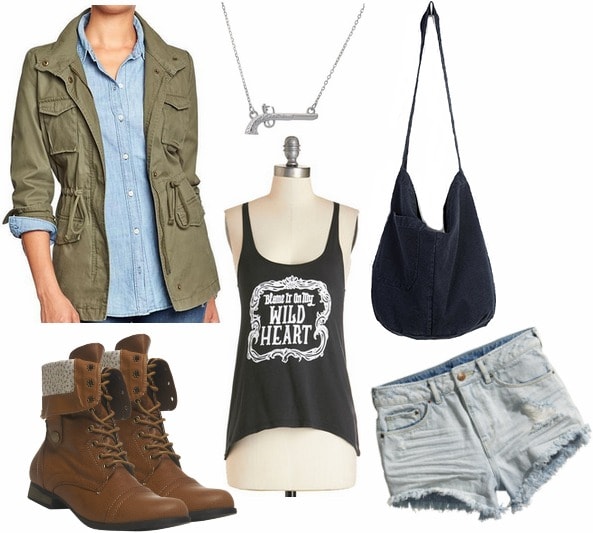 Product Information: Jacket – Old Navy, Necklace – Bluefly, Shirt – Modcloth, Bag – Urban Outfitters, Shorts – H&M, Boots – Wet Seal.
Claire's transition into pre-1800s life is not an easy one. War is brutal and bloody (and nearly everywhere), superstition crowds religion, and neither one of the two necessarily means strong moral judgement. Worst of all, these horseback travels to faraway places are like the world's worst camping trip. Getting acclimated to a much more rough and rugged life than the one she left behind means adopting a whole new set of beliefs, protocols, and wardrobe.
Channel Claire's transition to the antiquated life of 18th century Scotland by bringing in some roughness of your own with hardy fabrics and tried-and-true basics. Distressed denim and an adventure-inspiring tee are basic enough, but are amped up for summer with a utility jacket and foldover boots. A canvas hobo bag is easy to travel with, while a gun necklace harkens to the tools Claire must learn to use to protect herself in her new setting.
Nurse, Healer, Witch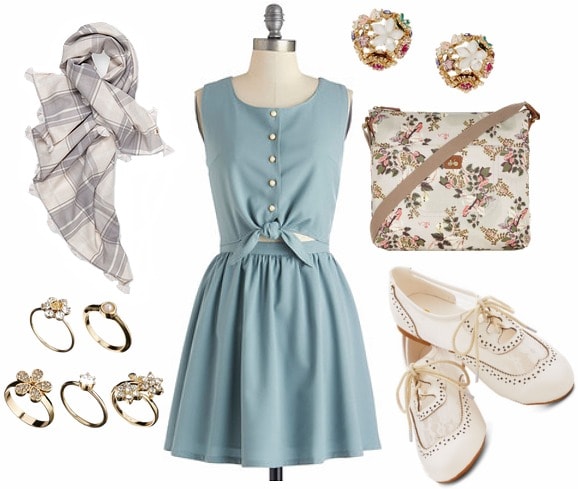 Product Information: Scarf – Levis, Dress – Modcloth, Earrings – Asos, Purse – Debenhams, Oxfords – Modcloth, Rings – Asos.
Claire starts her journey well-versed in the life of a nurse, having served her country on the fields of WWII; this kind of ability is helpful, and just a wee bit more difficult, as she makes a new life for herself in Scotland. Taking cues from the healing properties of plants and animals and relying on homemade remedies, she applies her skills to a new century well… a bit too well. Her aptitude, taken from the '40s, might just raise some eyebrows in her new home.
Pay homage to Claire's orderly occupation with elements that tie together her feminine '40s wardrobe with her new job as Castle Leoch's resident healer. A prim tie-front blue dress and white ballet-inspired oxfords bring 1940s fashions into the present day, while a plaid scarf, floral rings, flowery earrings, and a similarly-bedecked messenger bag add on the viewpoint of her new job (though they're a bit more glittery than usual).
What Do You Think?
Have you ever read Outlander, or any other books in Diana Gabaldon's series? Do you have any intention of watching the television show? What do you think of having so many genres in one novel? What do you think of the outfits and styling tips? Let me know in the comments below!