Continuing with my series on outfits inspired by opening credits, I will be covering some disparate works today. On the movie front, we have The Adventures of Tintin and Do the Right Thing. To mix things up even further, I'll also be covering the quirky comedy TV series, Man Seeking Woman.
What do these works all have in common? For starters, the opening credits are all visually interesting and well worth watching. (Bet you could have guessed that.) And believe it or not, all three opening sequences have great inspiration for styling your sneakers!
If you, like us, are sneaker obsessed right now, you'll enjoy the following outfits. Let's get to it.
Opening Credits Fashion #1 – Man Seeking Woman
Man Seeking Woman FXX Show Theme Opening Titles
Man Seeking Woman is one of the most hilarious FX series of the year. The show stars Jay Baruchel as an awkward man in his 20s who faces odd circumstances while trying to find love in Chicago.
I love the quirky vibe of the show's opening credits. The sequence has a modern cartoon vibe that sucks you in, with plenty of details that will make you smile. I especially love how it starts off cute, but ends in tragedy, just like the series and, well, love, much of the time. </3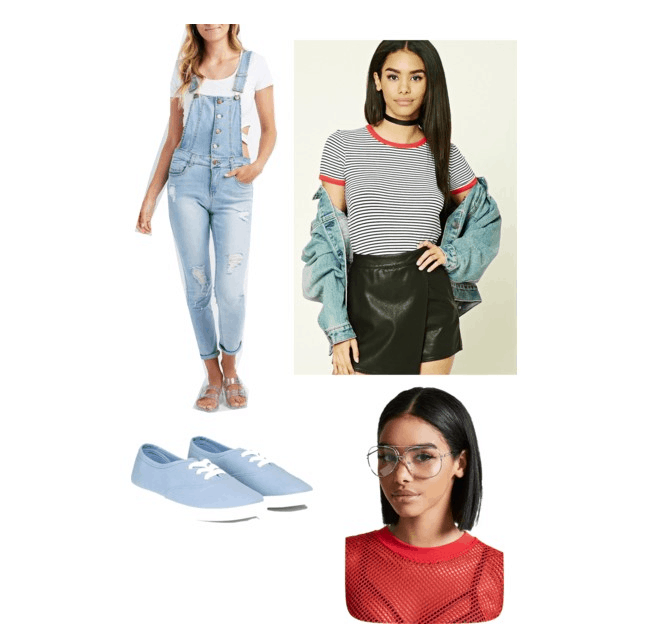 Products: Overalls – Charlotte Russe, Tee – Forever 21, Glasses – Forever 21, Shoes – Forever 21
When re-watching this opening sequence, I knew I had to channel Jay's nerdy personality into an outfit. Obviously, you should start with faux glasses if you don't need real ones. (Or forgo them and look at least 25% less nerdy, your call.)
Nod to the black and white scheme of the opening sequence by adding a striped, cropped tee. Add some overalls for a trendy, laid-back vibe. Finish the look off with cute blue canvas sneakers.
Opening Credits Fashion #2 – Adventures of Tintin
This Steven Spielberg film was among my favorite movies to watch and re-watch when it came out! It follows the adventures of Tintin and his dog, Snowy. The film features British hunks Jaime Bell and Daniel Craig.
The Adventures of Tintin is based on the French comic series of the same name. The opening sequence gives a thorough introduction to the film, but what I love most about it is the music. It was composed by Spielberg's partner in crime, John Williams and was nominated for Academy Award for Best Original Score.
This film reminds me a lot of Catch Me if You Can, which was also directed by Spielberg. Personally, I wish I could explore Belgium with Tintin right now…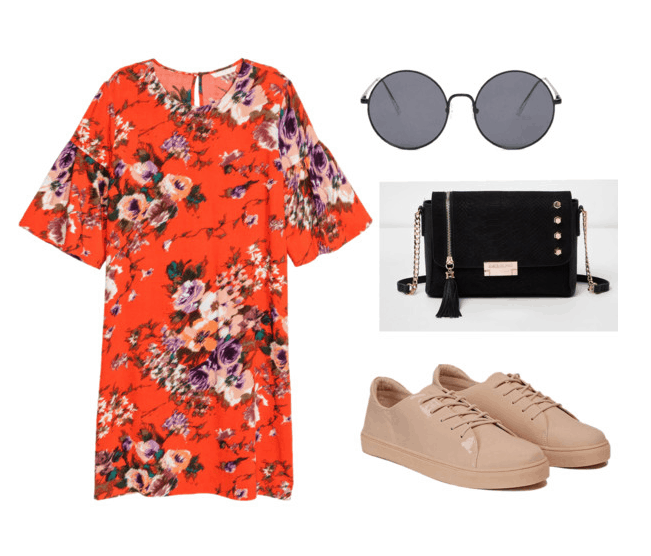 Products: Dress – H&M, Shoes – Forever 21, Sunglasses – Forever 21, Purse – River Island
So there were a lot of color schemes in this theme — in fact, too many to choose from! Because of this, I chose a dress that combines many colors at once, with a pattern that looks like it could have been inked on the dress.
Channel your inner Tintin with these cute beige patent running shoes, so you can run all over the city in style like he does. Finish off the look with round sunglasses and a black satchel for balance.
Opening Credits #3 – Do the Right Thing
The Greatest Opening Credits in Movie History
Written and directed by Spike Lee, Do the Right Thing is considered one of the best films of all time. It is about the racial tension in Brooklyn during the hottest day of the summer.
The opening is nothing short of late '80s/early '90s fabulousness, complete with Soul Train-style dancing, brightly colored graphics, and killer music. The theme song is the iconic hit, Fight the Power by Public Enemy, and the dancer is none other than Rosie Perez. Fun fact: This film was her first major acting role.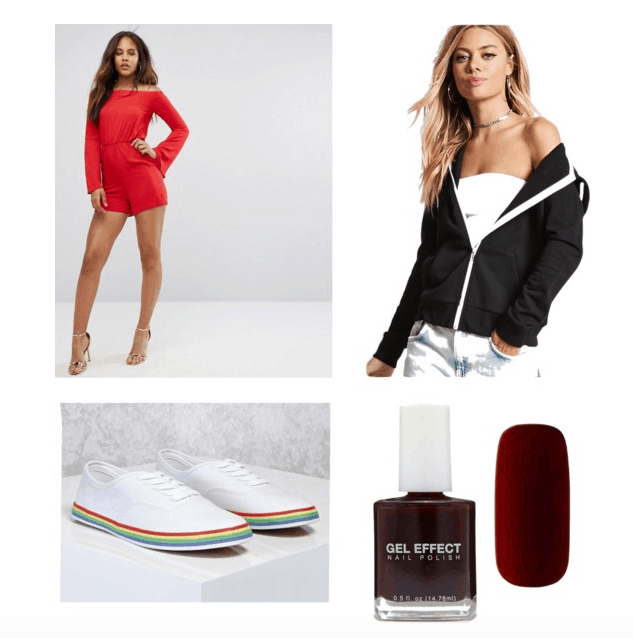 Products: Romper – ASOS, Hoodie – Forever 21, Shoes – Forever 21, Nail Polish – Forever 21
Red is the main color shown in this sequence, creating a sense of the tension in the film that underlies the upbeat dancing. To reference this, I started with an '80s fab off-the-shoulder romper and some '90s burgundy nail polish.
Wear some comfortable shoes if you want to dance like Rosie Perez: These Converse decorated with rainbow stripes would fit right in with the time period. Just like the theme, this outfit is high-energy, so finish it off with a sporty black hoodie.
What did you think?
Have you seen any of these films? Have you seen Man Seeking Woman? What did you think of it? Will you be rocking sneakers in the upcoming fall? Leave a comment below!