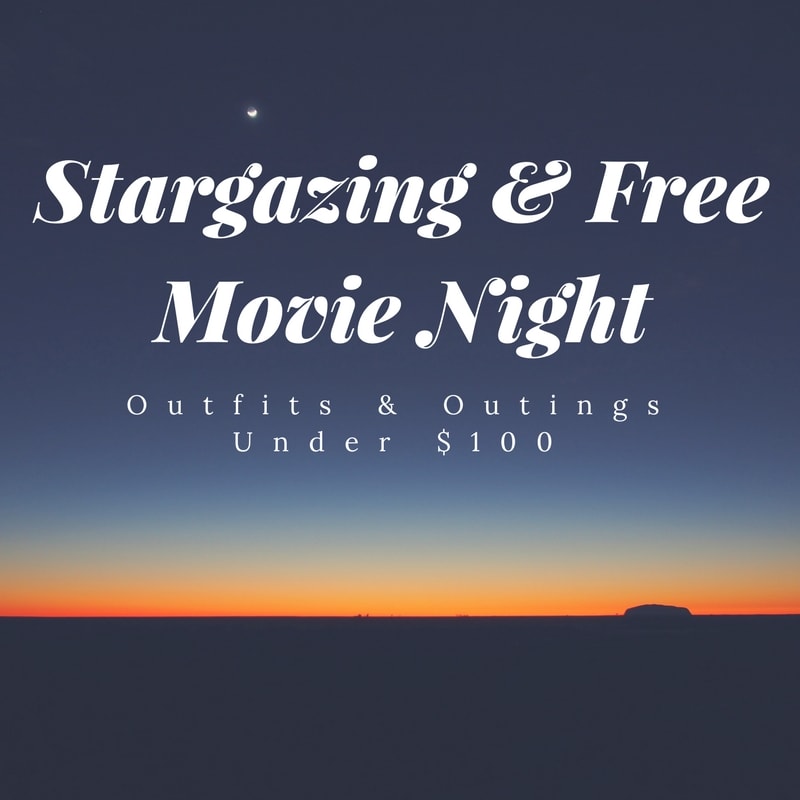 Today we're continuing our series on fun things to do and outfits to wear that won't break the bank. With spring finally here, we're all about outing ideas that don't cost a lot or involve Netflix and your couch.
As mentioned before, each outing is around $30/person and each outfit set is around $70 excluding accessories/makeup since those can be swapped out depending your style/budget.
We're also keeping body size and lifestyle diversity in mind for this series. This is for the girls who like wearing dresses and the girls who like wearing pants (or pants-esque leggings).
Stargazing + Free Movie Night Cost Breakdown
Stargazing: ~$23 max
Let's talk stargazing. A lot of universities provide discounted usage of their telescopes. You could also attend a show or seminar done by the astronomy department. Those shows/seminars cost $5-8/person if you show your student ID.
Of course, the cheapest way to stargaze on-campus is to grab a blanket and a free spot on the quad during a clear night.
If you go off-campus, science centers and planetariums often have free or inexpensive nights for students. Tickets usually round up to $15/person max. Transportation or gas costs should be around $8 per person.
Free Movie Night: $0
Free movies are easy to come by on a college campus – and don't require cramming people into a dorm room.
Universities typically have free movie nights for students in either the student center or a specific theater. Film departments also frequently host free movie nights. Check your university's Facebook pages or website and ask around.
Stargazing Outfit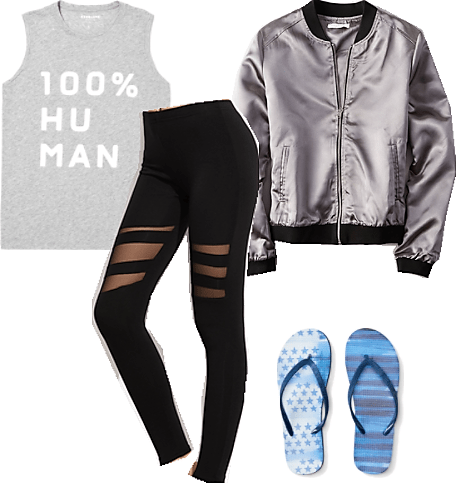 Products: 100% Human Tank top – Everlane (XXS-XL) | Silver Bomber Jacket – American Eagle (One Size) | Black Mesh Leggings – Shein (One Size) | Star Flip Flops – Aeropostale
Cost: $61 as of April 27th, 2017
Shoutout to the stars with a metallic bomber jacket and star print shoes. Flip flops are great if you'll be sitting on a picnic blanket. If you'll be standing and walking around a planetarium, definitely bring sneakers.
Promote intergalactic relationships and rep your humankind pride with a 100% Human tank top. You also get to do good for your fellow humans with the tank: Everlane will donate $5 to the ACLU for every one sold. Round off your athleisure-ish outfit with black mesh leggings.
Free Movie Night Outfit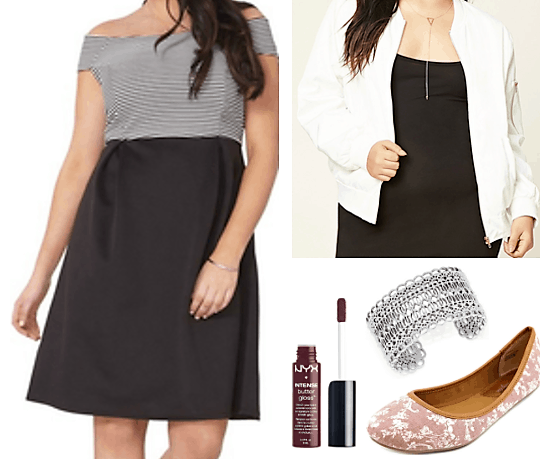 Products: Fit & Flare Dress – Dorothy Perkins (14W-24W) | White Bomber Jacket – Forever 21 (0X-3X) | Pink Flats – American Rag @ Bluefly | Purple Lipgloss – NYX @ Charlotte Russe | Silver Cuff – Lucky Brand @ Macy's
Cost: $73 as of April 27th, 2017
Be prepared for any movie genre during free movie night!
Saunter in with deep red-purple lips, silver jewelry, and a classy off-shoulder LBD for Old Hollywood and black/white film screenings.
What about a sci-fi film? Throw on a slick white bomber jacket.
A modern movie about 20-somethings working hard to make it? You got this with millennial pink flats.
Your Thoughts?
What body type and fashion style do you wish College Fashion would cover more? What do you think is a reasonable budget cap for outfits & outings? Let us know! We want this series to be as relatable as possible to the average college student.