Fashion inspiration can be found anywhere, and books are incredible sources for style innovation. Book-Inspired Fashion explores these treasure troves, and brings them them to you in looks inspired by vibrant characters, far away lands, brilliantly woven plotlines, and more.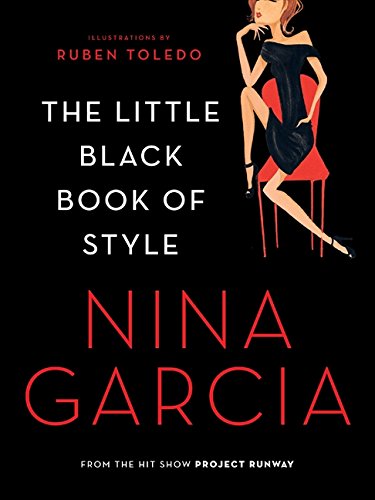 If you're anything like me, you're probably firmly entrenched in the haziness of summertime. I'm fully aware, however, that classes are going to start soon (summer courses, anyone?) and am now attempting to hold on to the vestiges of summer with all my might. So, the book I picked this week is one that is great light reading – a guidebook, in many ways – that allows me to fantasize a little bit more about fashion before really having to hit the books.
Reading Between the Lines
The Little Black Book of Style by Project Runway judge Nina Garcia was released in 2007, and many women, myself included, have never looked back since. This book, contrary to expectation, heavily emphasizes internal style and the way that exterior fashion reflects, responds to, and embodies a woman's inner beauty.
Notably, the book is filled with illustrated by the amazing Ruben Toledo, rather than the photographs that other style guides are known for, and this is both to maintain the timeless quality of true, individual style as well as to demonstrate that there is no single outfit that works for everyone. Imagination and creativity need to be at work, although Garcia certainly asserts some pointed (and sometimes controversial) opinions about how women should wield their style.
Regardless, The Little Black Book of Style is bursting with sources of fashion inspiration – movies, trends from decades past, celebrity interviews, and more – and I have created three outfits surrounding the sections of the book that I personally refer to the most.
1. Style One Must Possess
Fashion can be bought. Style one must possess.

– Edna Woolman Chase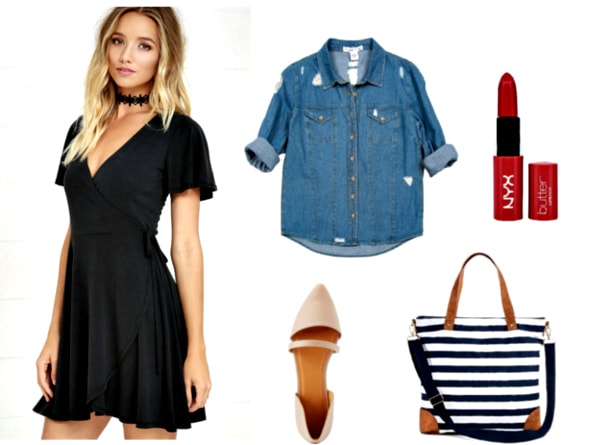 Product Info: Dress, Shirt, Shoes, Bag, Lipstick
This section of the book is concerned with basics, and how stylish women need to be able to rely on timeless, reliable pieces that essentially will work for you every time. These pieces, "the bones of your wardrobe" provide "a blank canvas" for a woman to feel confident and express herself, and will vary for everyone although Nina personally recommends standard pieces such as a little black dress and denim (18).
Here, I went with her suggestions because I heartily agree that most women will find a use for these pieces. This outfit starts with a simple wrap dress that can be dressed up or down easily. The denim shirt is equally versatile, and the accessories have color schemes that have yet to go out of style! But again, the LBD doesn't have to be little, black, or even a dress, as long as it's a piece that is versatile and makes you feel comfortable.
2. Imitate Anything
Those who do not want to imitate anything produce nothing.

– Salvador Dali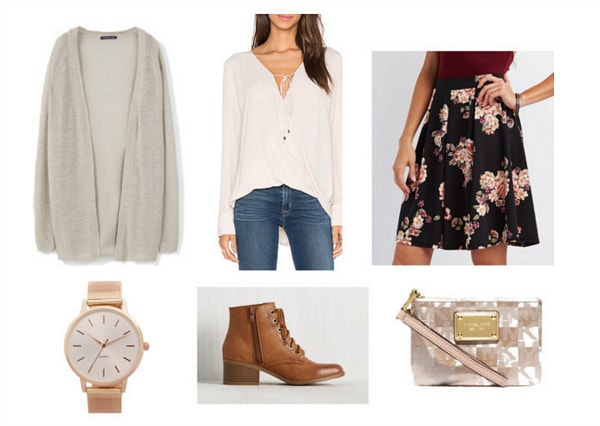 Product Info: Top, Skirt, Sweater, Boots, Watch, Bag
In this next section of the book, titled Inspiration, Nina highlights the sheer importance of finding inspiration in the world around you. This follows in the popular vein of thought that the person you are today is heavily shaped and influenced by the environment around you.
Using Nina's book itself as inspiration for this look (this is Book-Inspired Fashion, after all!), I focused on creating a smart casual outfit that is equally concerned with form and function since Nina encourages flexibility and versatility in style. For me, a skirt is the perfect compromise because it's so easy to put on and style, and is comfortable to boot because of the freedom of movement. Boots also reflect this same ideal.
The accessories help place this outfit in the middle ground between formal and informal. The watch is nondescript enough for either scenario, and the bag is the best of both worlds because although it is Michaels Kors, it does not have the standard pattern and is therefore not as conspicuous as a pricier item.
3. Which Clothes to Wear?
I wear my sort of clothes to save met the trouble of deciding which clothes to wear.

– Katharine Hepburn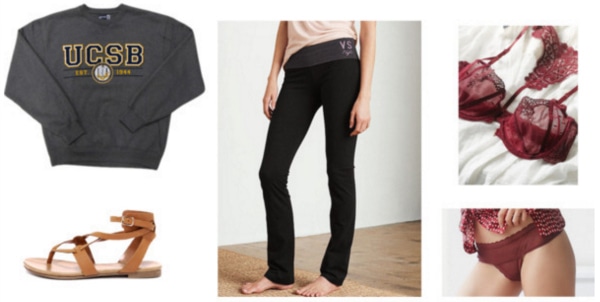 Product Info: Sweatshirt, Pants, Shoes, Bralette, Underwear
This is definitely the chapter that I refer to the most, because here is where Nina Garcia tells her readers how to dress for each occasion. Yes, she is sometimes overbearingly specific, but her overall message is actually to find ways to be confident in yourself in situations where you may have anxiety, for a variety of reasons.
One of her tips that I've taken to heart is that wearing sexy lingerie underneath any outfit can really boost confidence in a subtle way because even if any given event doesn't work out, you'll still be armed with your favorite underwear and have a hidden satisfaction and confidence that nobody can take from you because no one else will know!
This outfit is all about comfort, both mental and literal. Although lingerie is not typically considered comfortable, the contrast it provides with the unassuming exterior is mischievous and secretive, and will give you that mental confidence.
I also wanted to specifically target this look for college students because I have run into so many nerve-wracking situations while in an outfit just like this – and who knows? Perhaps my favorite underwear would have given me the extra boost of confidence I needed!
Your Thoughts?
Light reading might be great for some lazy summer moments, but please comment with any recommendations you may have for books that can provide fashion inspiration from the other end of the spectrum: moody, profound, or even deeply humorous – I'm looking for picks for the chilly autumn days that will be here before we know it!