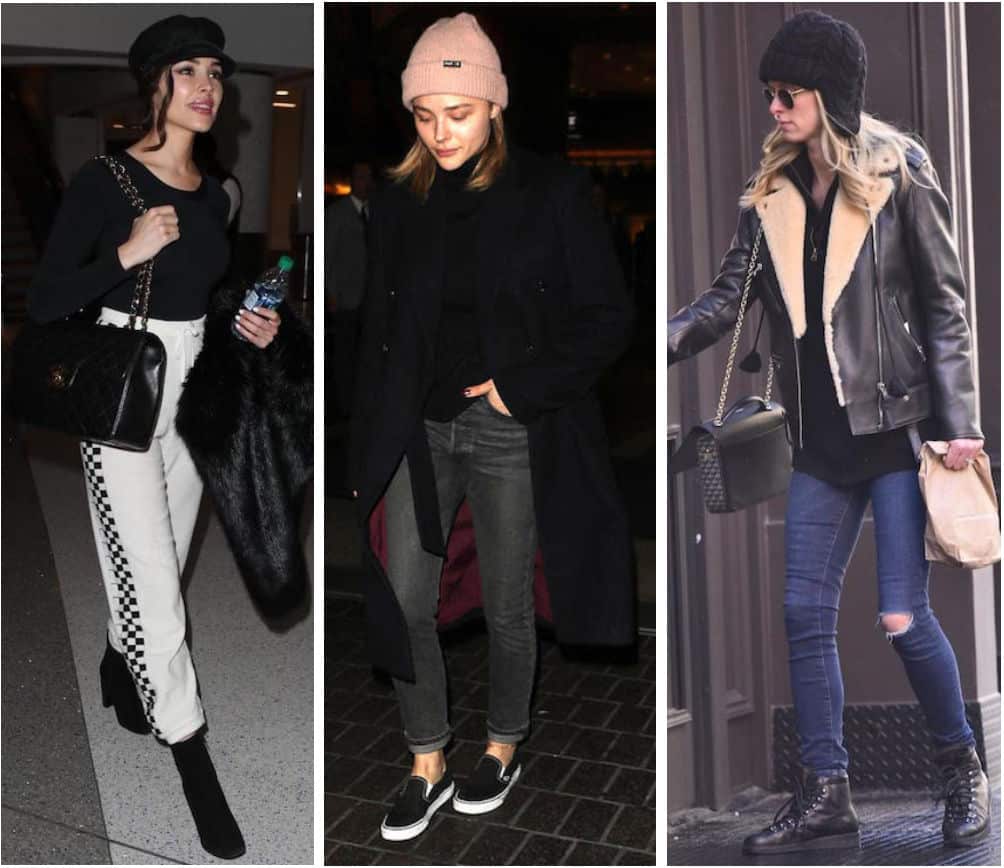 Every week, I scour the web to find inspiring outfits on your favorite celebs and help you recreate their looks! This week, I was inspired by Olivia Culpo, Chloe Grace Moretz, and Nicky Hilton. Read on to see how you can get their looks for yourself.
Celebrity Outfit #1: Olivia Culpo's Comfy Cool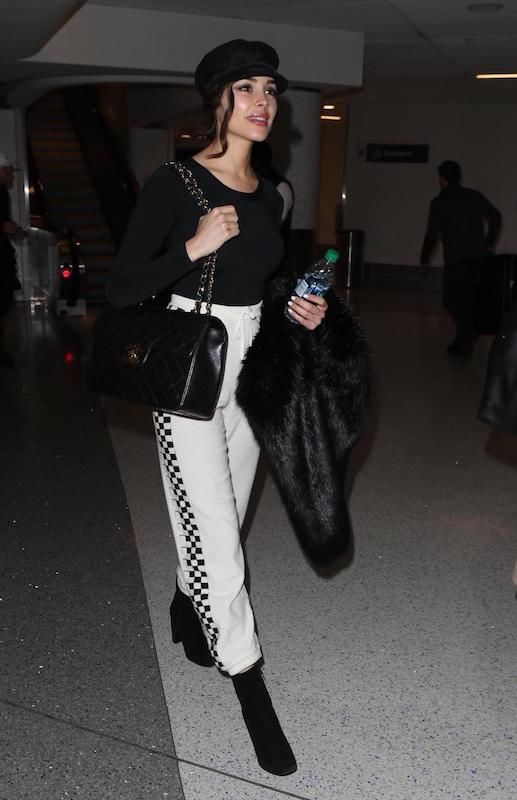 Olivia Culpo gave her comfy travel outfit a major upgrade with luxe accessories and a cool print this past week.
Olivia wore a pair of white jogger sweatpants with a black and white checkered design running down the sides for an eye-catching touch. She paired her joggers with a simple black long sleeve top, and accessorized with a trendy black cabby hat and a chic quilted Chanel bag. Olivia also opted for black sock booties to give her ensemble a dressier look.
Outfit Inspired by Olivia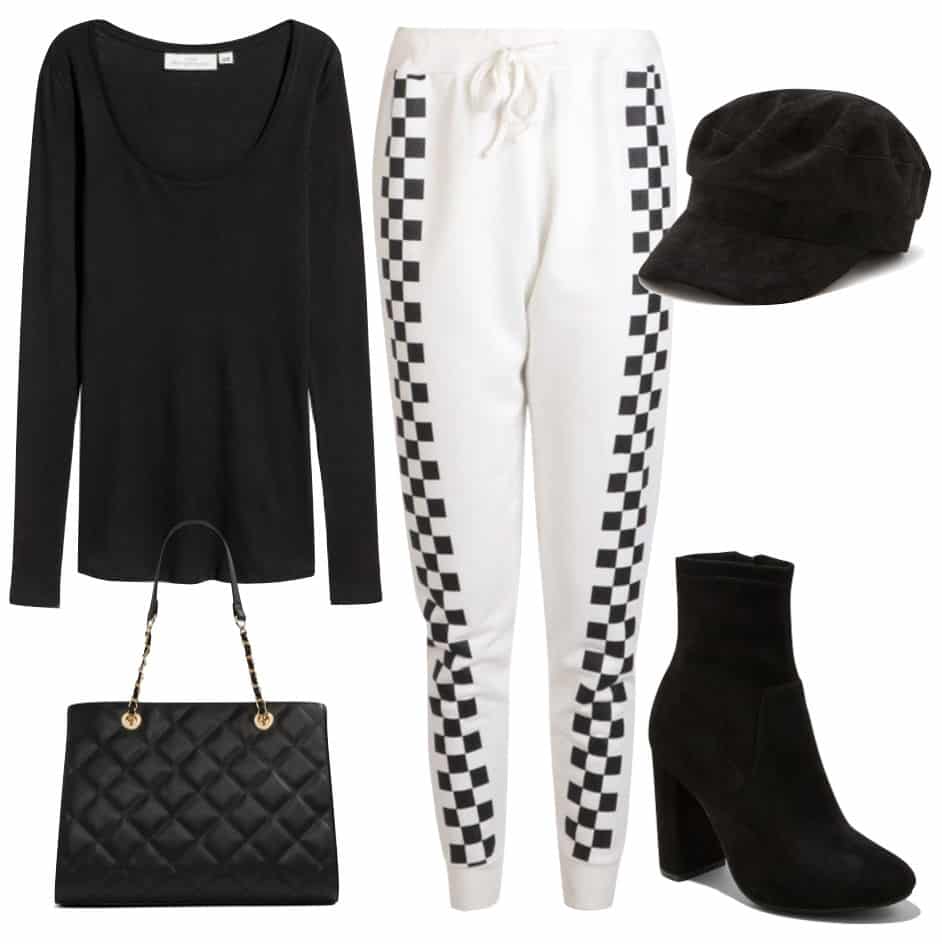 Products: Top – H&M, Joggers – Boohoo, Hat – Forever 21, Bag – Aldo, Booties – Target
With the right accessories and details, you can make sweats look chic!
This pair of white joggers features a black and white checkered print similar to Olivia's, and can be worn with a plain black long sleeve top for a comfy feel. Take a cue from Olivia and give the outfit a trendy vibe by wearing a black cabby hat and some black sock booties. A quilted handbag adds luxe to the overall look.
Celebrity Outfit #2: Chloe Grace Moretz's Sleek Meets Street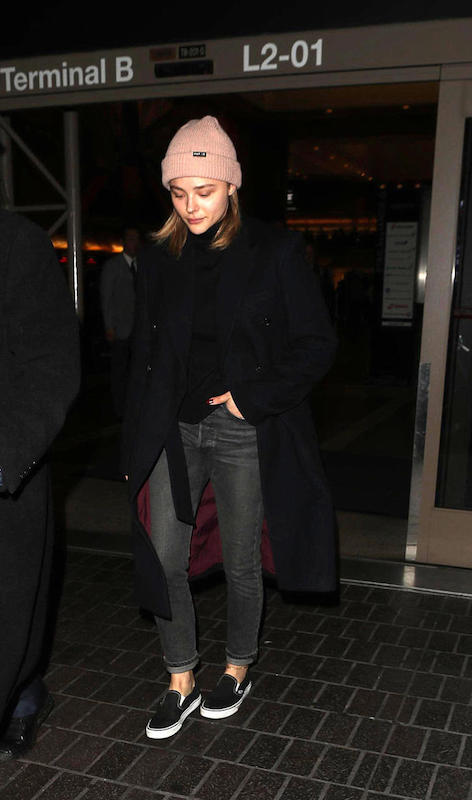 Actress Chloe Grace Moretz combined streetwear-inspired pieces with sleeker items to create a cool wintertime look.
Chloe kept her color palette dark, wearing some gray straight leg jeans with a black sweater and a chic long black coat with a lapel detail. She then wore some black Vans slip-ons and a blush pink beanie hat to create a laid-back contrast.
Outfit Inspired by Chloe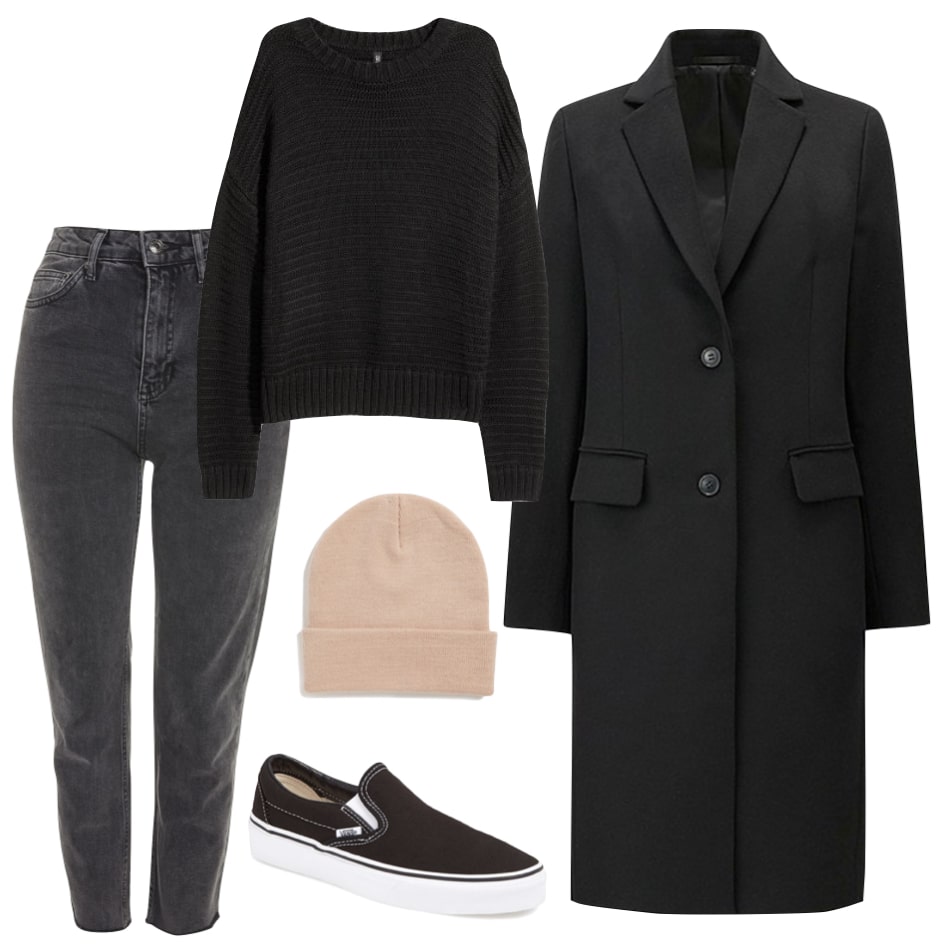 Products: Jeans – Topshop, Sweater – H&M, Hat – Forever 21, Sneakers – Nordstrom, Coat – Uniqlo
Mix streetwear pieces with more polished pieces for Chloe's cool look.
A long black coat with a blazer-like fit is a sleek item which makes for a great wardrobe investment. It can be dressed up, or worn more casually over a black sweater and some gray straight-leg jeans.
Complete this Chloe-inspired look with some black slip-on sneakers and a blush pink beanie hat, both of which give the outfit a laid-back feel.
Celebrity Outfit #3: Nicky Hilton's Cold-Weather Edgy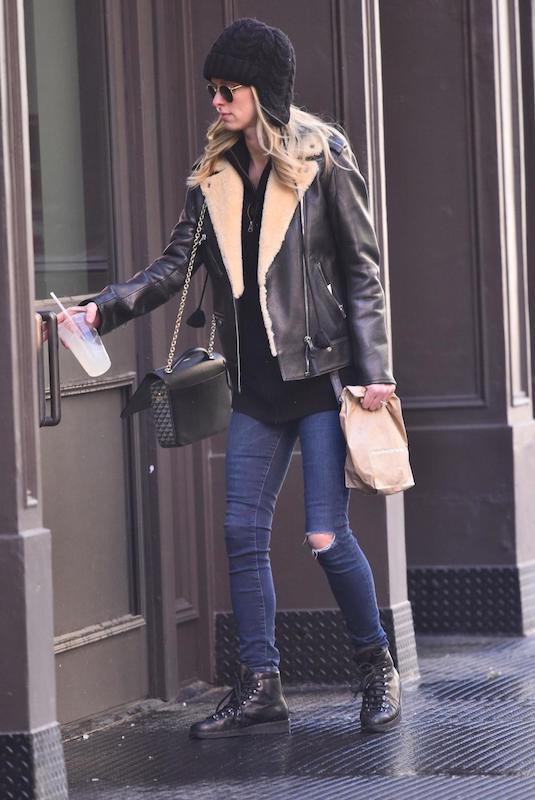 Nicky Hilton braved the chilly streets of New York in a wintertime look with a bit of edge.
Nicky wore a trendy leather moto jacket with a shearling collar, which gave texture to her ensemble. She paired her jacket with a black sweater,  some dark skinny jeans with a rip in the knee, and a quilted black handbag. Adding to her look's edginess, Nicky wore a pair of practical-yet-cool black lace-up winter boots.
Outfit Inspired by Nicky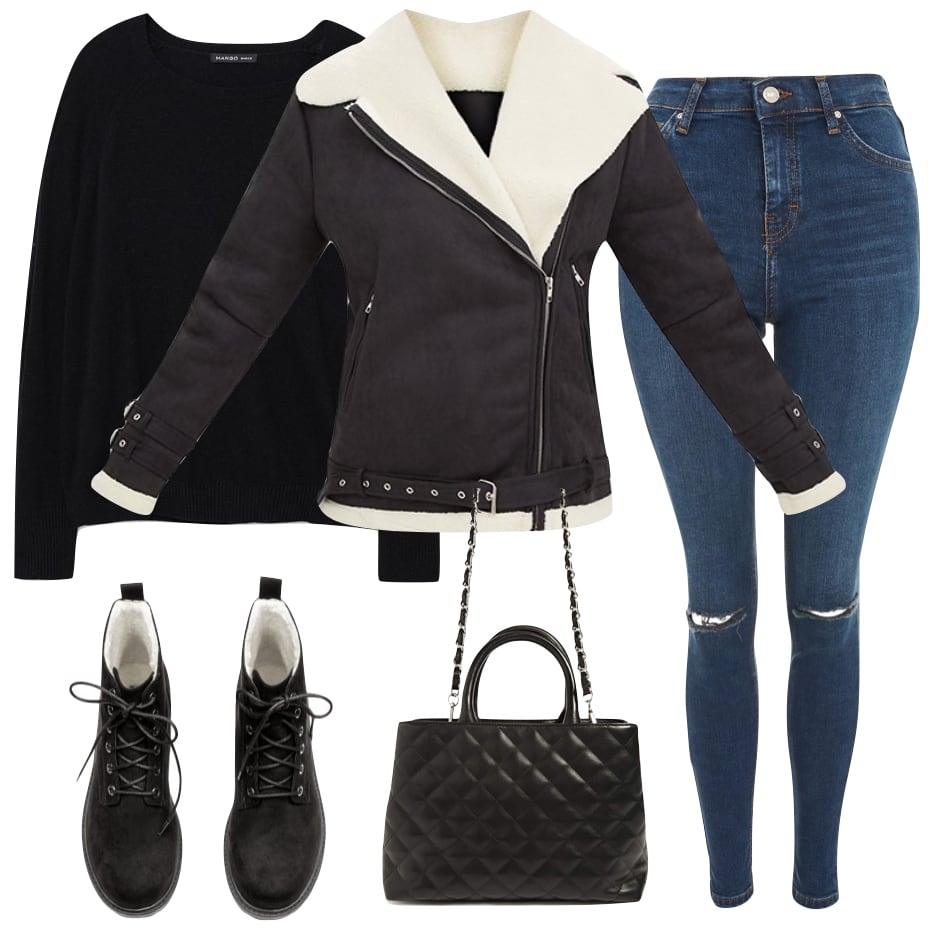 Products: Sweater – Mango, Jacket – Pretty Little Thing, Jeans – Topshop, Boots – H&M, Bag – Forever 21
Give a basic black sweater and some dark wash ripped knee skinny jeans a bit of edge by wearing a black and cream faux-shearling aviator jacket and some black lace-up winter boots.
Aviator jackets are a major outerwear trend this season, and instantly make even a simple outfit look cool. These black lace-up boots feature a pile-lined interior to keep you warm – plus they match the jacket! A black chain-strap handbag brings it all together.
What do you think?
Which outfit would you be most likely to wear? What other celebs would you like to see featured? Leave a comment and let us know!