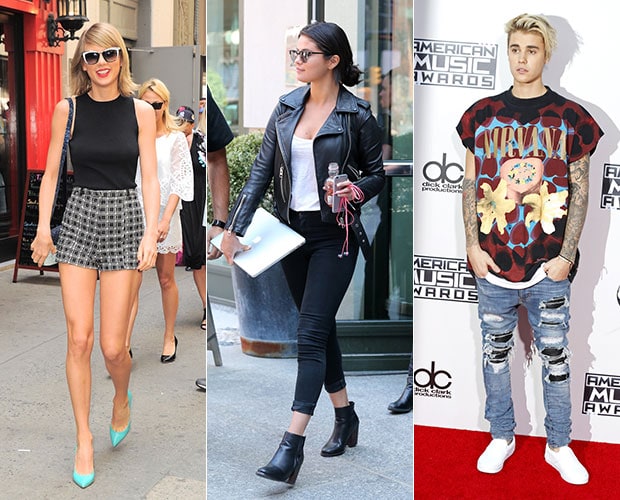 For the past month, our lives have been about reinvention. The new year makes people reflect on themselves and, sometimes, inspires them to change or evaluate the changes they made throughout the past year.
Fashion can be an amazing tool for reinventing oneself – and it works instantly. Feel like being someone else for a day? Fashion gives us the tools to look the part. It also gives us the option to express a more authentic version of ourselves.
In this article, I want to highlight three musicians who have used fashion to reinvent themselves: Taylor Swift, Selena Gomez, and Justin Bieber. These stars all got new looks in recent years, which coincided with different "eras" in their careers. Interestingly, these artists also joined the game very young so we got to watch their styles grow and evolve over the years.
Let's take a look at how these artists have used fashion for reinvention:
Taylor Swift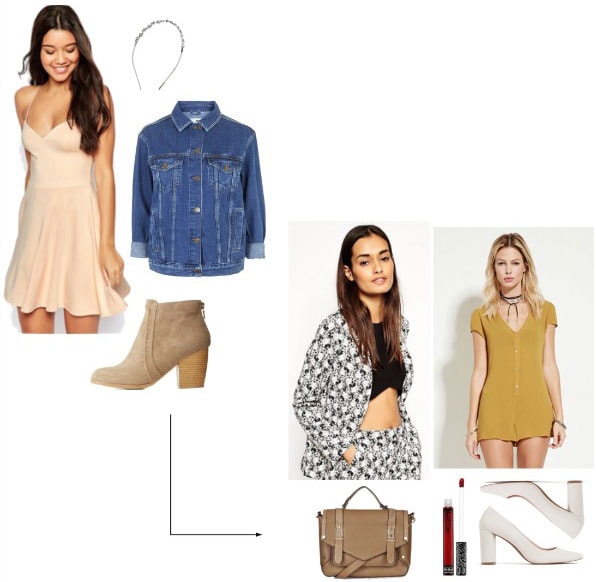 Products: Outfit 1: Dress, Jacket, Headband, Booties; Outfit 2: Jacket, Romper, Bag, Lipstick, Heels
The first person I want to highlight is Taylor Swift, who has done a style 180 in recent years.
When she first came onto the scene, she was marketed as a sugary sweet teen country star. Her outfits reflected that, with an emphasis on sequins, pastels, and cowboy boots. On the left, I put together an updated version of her 2009 outfits, with booties instead of cowboy boots and a sparkly headband in place of the sequins.
While she's still girly, these days Ms. Swift is all about the playful two-piece sets and rompers. She also loves to experiment with color and her outfits have a more retro feel to them. The romper I chose (at right) has the retro silhouette Taylor loves and a bright color. I also included a patterned coat and heels, although flats might work better for everyday. And no T.Swift look would be complete without a red lip – this one is a matte shade that lasts all day.
Selena Gomez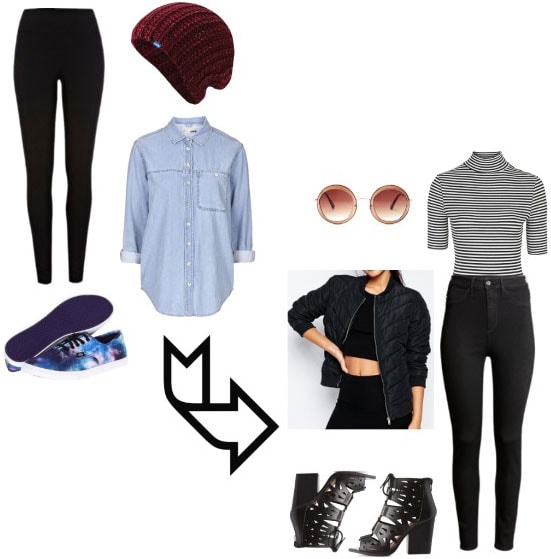 Products: Outfit 1: Leggings, Shirt, Beanie, Sneakers; Outfit 2: Jacket, Bodysuit, Jeans, Sunglasses, Shoes
Another notable style-changer is Selena Gomez.
When Selena first started out on the Disney channel, she was all about the neons and skater girl style that was popular around 2008/2009. She also was seen as more of a tomboy and her style reflected that. I tried to capture this look with leggings and bright accessories.
However, Ms. Gomez has since upgraded to a more streamlined, monochromatic look (though she does still love her pops of color occasionally). I incorporated a bodysuit into this look because she was been known to sport quite a few of them and they tend to give a sleeker look than a tank top would. I also included cage heels and eye-catching sunglasses, which Selena loves.
Justin Bieber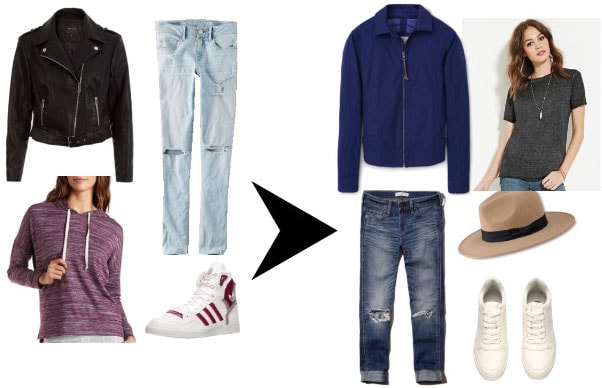 Products: Outfit 1: Jacket, Hoodie, Jeans, Sneakers; Outfit 2: Jacket, T shirt, Jeans, Sneakers, Hat
Last but not least is Justin Bieber. While he's been the source of lots of recent controversies, he recently cleaned up his act and released one of the strongest pop albums of 2015.
Back when he was starting out, Justin was know for his love of purple and his signature hair flip. He dressed relatively normally for a teenage boy but would usually have fun with his footwear. I tried to capture that with his first look above, using sneakers and layered outerwear.
As the Biebs grew up, so did his style. He went on the talk show circuit this year, sporting a more mature look, relying more on stylized activewear and having fun with his accessories, specially hats. In the look above, I kept the base simple with just a t shirt and boyfriend jeans and finished the outfit with fresh white sneakers, a camel fedora (an accessory Bieber often wore last year), and a navy blue jacket. The jacket is my favorite part because it is a cool step up from basic black.
What do you think?
Do you use fashion to reinvent yourself? Do you think the stars have made good changes over the years? Let me know below!