This post may contain affiliate links, which means we may receive a commission if you purchase through our links. Please
read our full disclosure here
.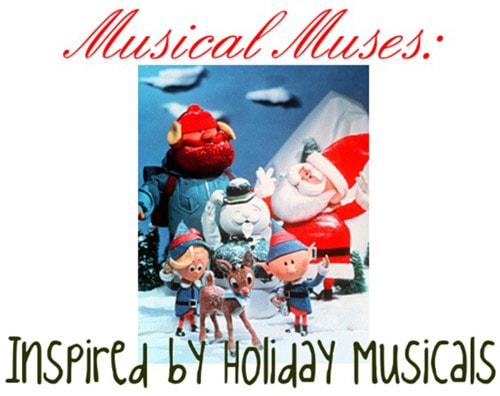 One of my favorite holiday traditions is re-watching the TV specials I looked forward to each year as a kid. No holiday seemed complete without Rudolph, Frosty, and Santa bringing some Christmas cheer to my living room. Many of these classics even date back as far as the 1950s and '60s, making them just as beloved by our parents and proving their timeless appeal.
Below, I've taken inspiration from five of my favorite holiday musicals – Frosty the Snowman, Holiday Inn, The Nutcracker, Rudolph the Red-Nosed Reindeer, and White Christmas to come up with a few perfect wintery looks.
1. Frosty the Snowman
This charming, heartfelt cartoon, based on the 1950 song of the same name, brings to life everyone's favorite snowman. As Karen and her friends are building Frosty, they come across a magical hat discarded by a crazy magician. This hat brings Frosty to life and they proceed to laugh and play "over the hills of snow." To this day, I still get teary-eyed during the poinsettia-filled greenhouse scene where Frosty melts, much to the dismay of new-found friend Karen.
I wanted to give this outfit an early '70s feel since the special first came out in 1969, so I chose flared jeans and wooden-heeled loafers. A purple shirt and yellow coat represent the solid brights the characters wear, while the shoes also mimic Karen's light blue boots. Wintery white hats and scarves are perfect accessories for building a snowman, and a snowflake-printed cardigan and earrings keep the outfit fun and festive. Product Information: Beret- D&Y, Scarf- John Lewis, Earrings- Overstock, Purple Shirt- American Eagle, Jeans- American Eagle, Sweater- Forever 21, Coat- Forever 21, Shoes- Swedish Hasbeens. (Photo Credit)
2. Holiday Inn
Fred Astaire is one of my favorite actors, so of course I can't get through the holiday season without watching this black-and-white classic at least once. Co-starring crooner Bing Crosby and featuring music by Irving Berlin, the film follows Astaire and Crosby's attempts to reinvigorate an old inn with performances for every holiday of the year. The movie also features the debut of the best-selling single of all time, "White Christmas."
For this look, I was inspired by the 1940s-era outfits the girls sport and the suits Fred and Bing wear in the film. This party-ready jumpsuit paired with an embellished tuxedo jacket and patent loafers looks classy with pops of red like the satin clutch and rose hair clip.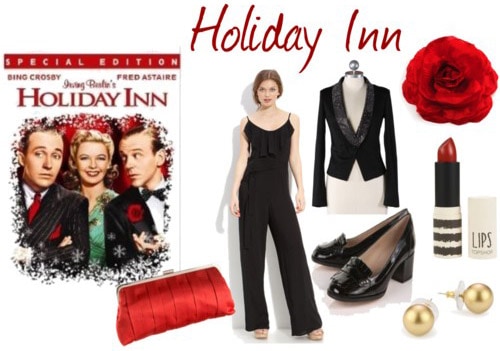 Product Information: Clutch- Endless, Jumpsuit- Nordstrom, Tuxedo Jacket- ShopRuche, Shoes- Topshop, Rose Clip- Avalaya, Lipstick- Topshop, Earrings- Endless. (Photo Credit)
3. The Nutcracker
Since 1892 there have been so many adaptations of the Nutcracker, but what most have in common is a two-act ballet and the famous score by Tchaikovsky, especially the selection of eight numbers entitled The Nutcracker Suite. The ballet, based on the story written by E.T.A. Hoffman in 1816, follows a girl named Clara who is given a wooden nutcracker toy on Christmas. At midnight, the nutcracker comes to life in the form of a prince and leads Clara to a candy wonderland ruled by the Sugar Plum Fairy. I love watching any version of the ballet because of the creative, enchanting costumes.
In honor of the ballet, I chose a top that resembled a tutu along with pink slippers and a soft cardigan that would be cozy enough to sleep in. Light jeggings, lace socks, and a tulle headband will transform you into a true ballerina. A nutcracker necklace and candy cane flavored lipgloss are festive final touches.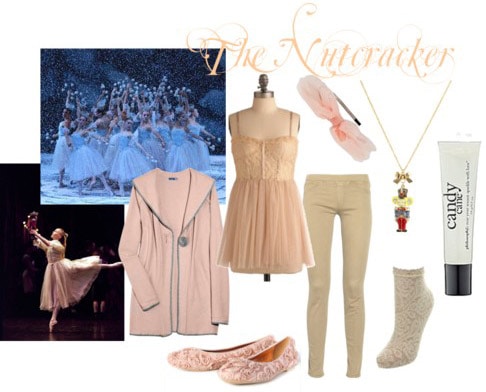 Product Information: Coat- The Outnet, Top- ModCloth, Flats- ShopRuche, Pants- Net-a-Porter, Headband- Urban Outfitters, Necklace- Zappos, Lipgloss- Sephora, Socks- Miss Selfridge. (Photo Credit)
4. Rudolph the Red-Nosed Reindeer
One of my favorite holiday musicals as a child was Rudolph the Red-Nosed Reindeer. The TV special was based on the song by Johnny Marks, which was taken from the poem written by Robert L. May in 1939. The short film follows fellow misfits Rudolph and Hermey the elf as they embark on an adventure to prove their independence.
This outfit is centered around a fuzzy red coat that I thought perfectly channeled the wooly look of the show's animals. A blouse tucked into an A-line black skirt with fair isle tights and leather boots is a foolproof look for any holiday party. Add reindeer mittens and Rudolph lip balm for extra cuteness.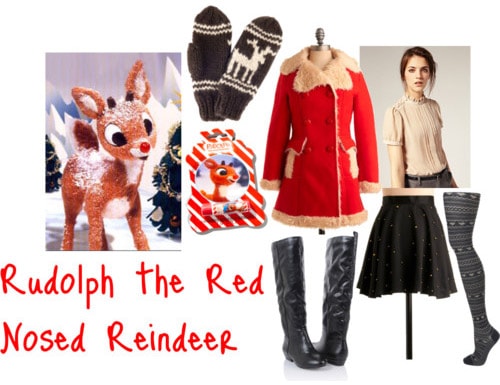 Product Information: Mittens- Dorothy Perkins, Lip balm- Fred Flare, Coat- ModCloth, Boots- Forever 21, Top- Asos, Skirt- ModCloth, Tights- Topshop. (Photo Credit)
5. White Christmas
Another classic holiday film starring Bing Crosby, White Christmas also features Danny Kaye and Rosemary Clooney. Crosby and Kaye are Broadway producers who end up at the bankrupt Columbia Inn in Vermont run by their former commanding officer from World War II. They decide to start showing their musical talent to bring in business and end up surprising the General with a huge show in his honor on Christmas Eve.
This outfit was inspired by the 1950s, as well as the red cloaks the actors wear in the movie poster. Pair a lace blouse and tailored black dress pants with oxfords reminiscent of the tap shoes the men sport in the film. A decorative red coat instantly adds glam even when thrown over sweatpants, while a faux fur scarf, leather mittens, and fuzzy white muff add warmth. A jingle bell ring adds an extra dose of Christmas spirit.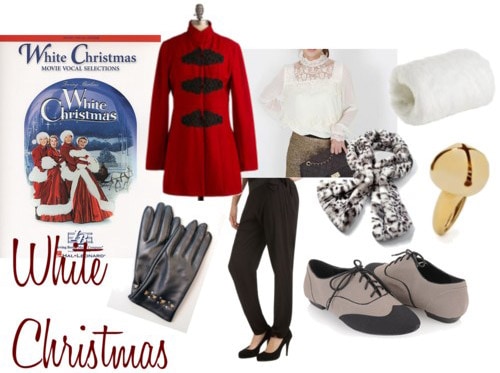 Product Information: Gloves- Shotwell, Coat- ModCloth, Pants- Wet Seal, Oxfords- Urban Outfitters, Scarf- White House Black Market, Blouse- Queen's Wardrobe, Muff- Amazon, Jingle Bell Ring- Kate Spade. (Photo Credit)
Modern Versions of Classic Holiday Musical Tracks
What do you think?
Do you watch any of these films during the holidays? What other holiday musicals do you love? What kind of festive outfits are you planning to wear this December? Let me know with a comment!