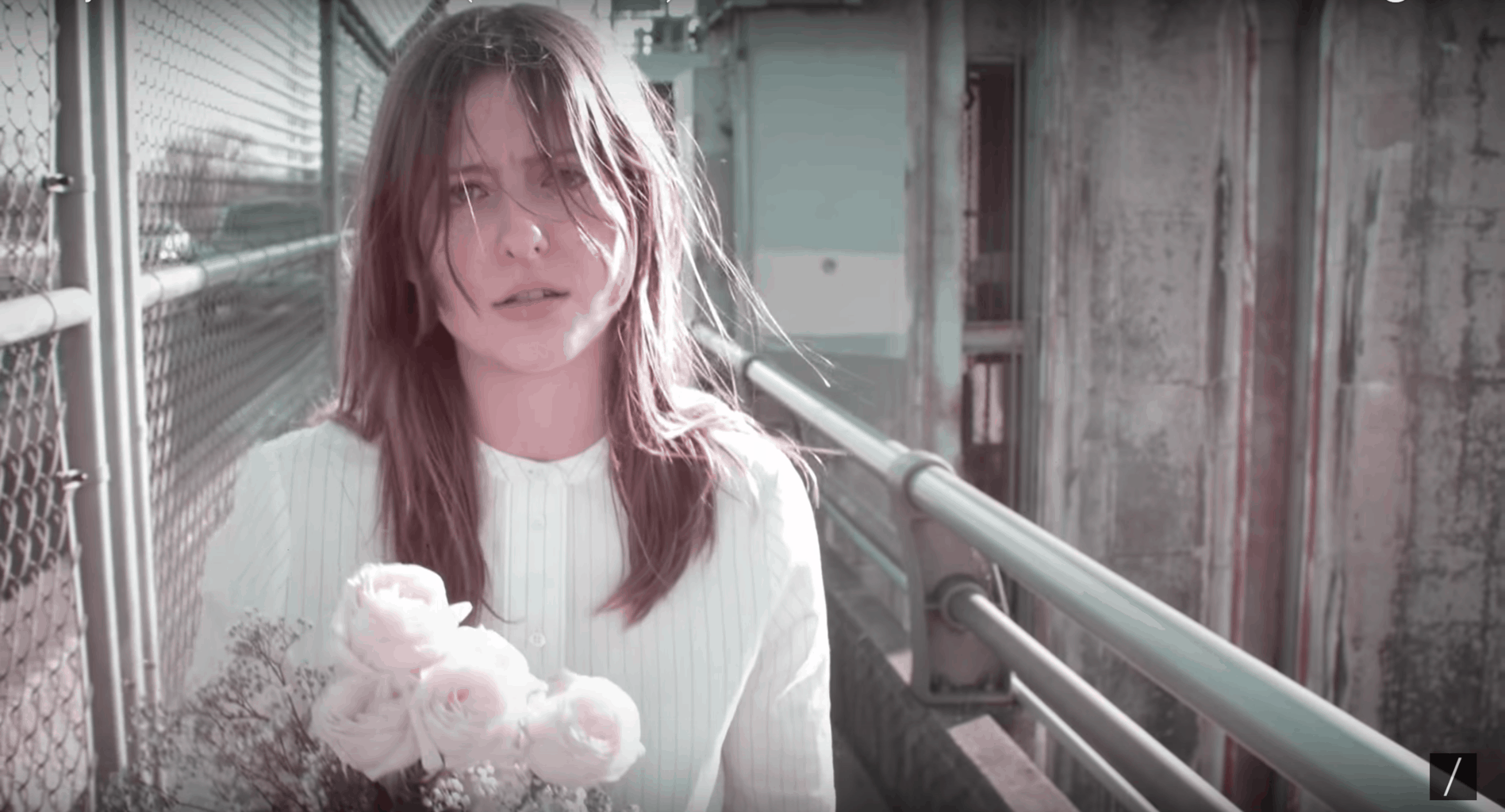 Although I just discovered Molly Burch's music, I am already a fan. Judging from her soothing voice, her amazing songs, and, of course, her laid-back, vintage-inspired style, I'm surprised she isn't more well-known!
My favorite music video of Molly's is for her song "Please Be Mine," from her full-length debut album of the same name. I love the haunting beauty of her vocals, as well as the video's pared-down, yet somehow still ethereal, aesthetic.
If you haven't already, watch the video below, then keep scrolling to see three "Please Be Mine"-inspired looks. They're total spring inspiration.
Molly Burch // Please Be Mine (Official Video)
Outfit #1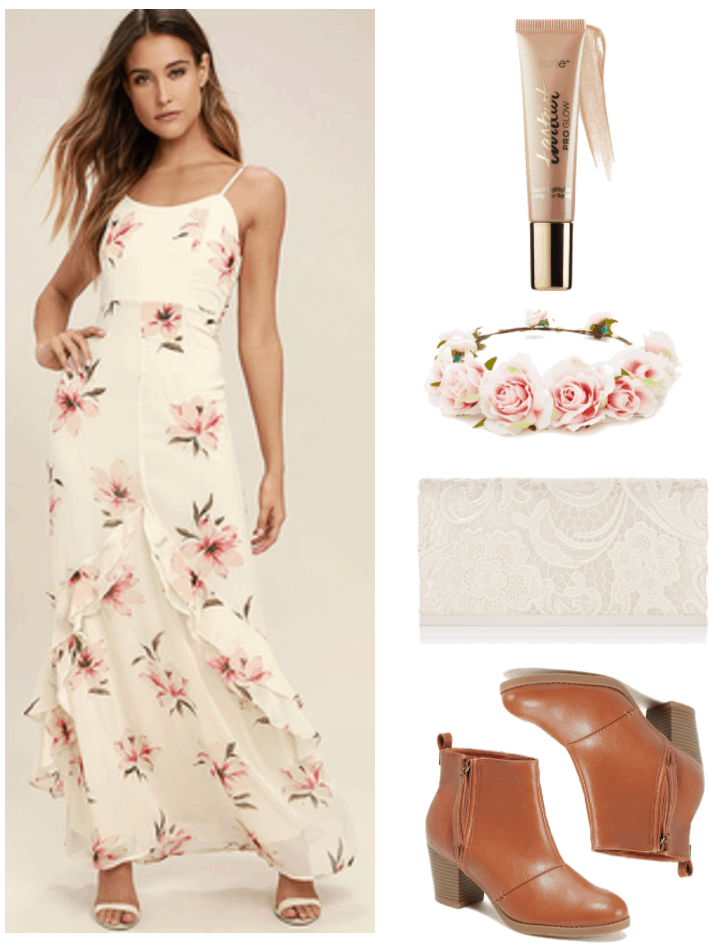 Products: Dress – LuLu's, Highlighter – Sephora, Flower Crown – Forever 21, Clutch – Accessorize, Ankle Boots – Old Navy
Molly's first outfit in "Please Be Mine" is a vintage-looking floral maxi dress paired with simple brown boots. For a similar look, try this lovely dress from LuLu's; it has a decidedly vintage feel to match the video. Brown (faux) leather boots add a bohemian, '60s-esque vibe.
Although Molly doesn't wear any accessories, I added a pink rose flower crown, inspired by the roses seen throughout the video. I also included an ivory clutch with a floral lace design that reminds me of the baby's breath flowers Molly carries. Lastly, to get Molly's subtle glow, mix a bit of liquid highlighter with your foundation.
And there you have it — an effortlessly bohemian, feminine look for Spring.
Outfit #2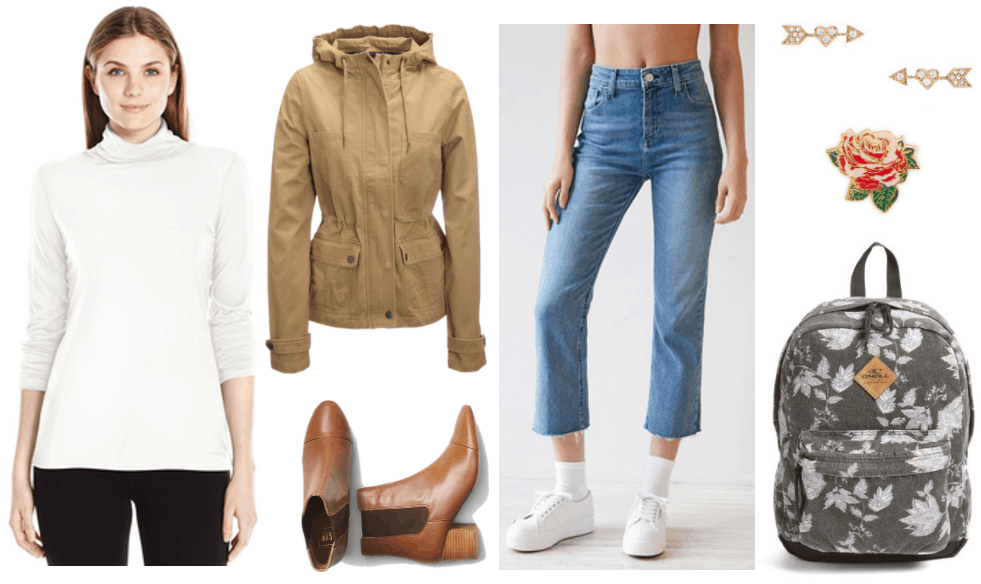 Products: T-Shirt – Amazon, Jacket – Aéropostale, Ankle Boots – Gap, Jeans – Urban Outfitters, Earrings – Chloe + Isabel, Pin – Macy's, Backpack – Zappos
This look, inspired by the outfit Molly wears to roam the streets in the video, is a perfect transitional look for class. Also, its trendy '90s feel is so Spring 2017.
Start off with a white turtleneck: Although Molly wears a sweater in the video, I'm hoping we won't need heavy layers much longer, so I substituted a t-shirt. (Style tip: For the slouchy, relaxed vibe of Molly's sweater, go up a size or two.) Next, add trendy cropped kick-flare jeans, perfect for late Spring temperatures. I love pairing cropped jeans with ankle boots, as Molly does, so rock high heeled Chelsea boots for her look.
To ward off any early Spring chills, layer on a minimal beige anorak, similar to Molly's; this one, from Aéropostale, is not only on sale, but also has a flattering drawstring waist so you can customize your look.
Now for the finishing touches: A floral backpack is cute and practical, while a sweet rose pin and dainty arrow-and-heart earrings add femininity to the look, all while referencing the song's/video's romantic theme.
Outfit #3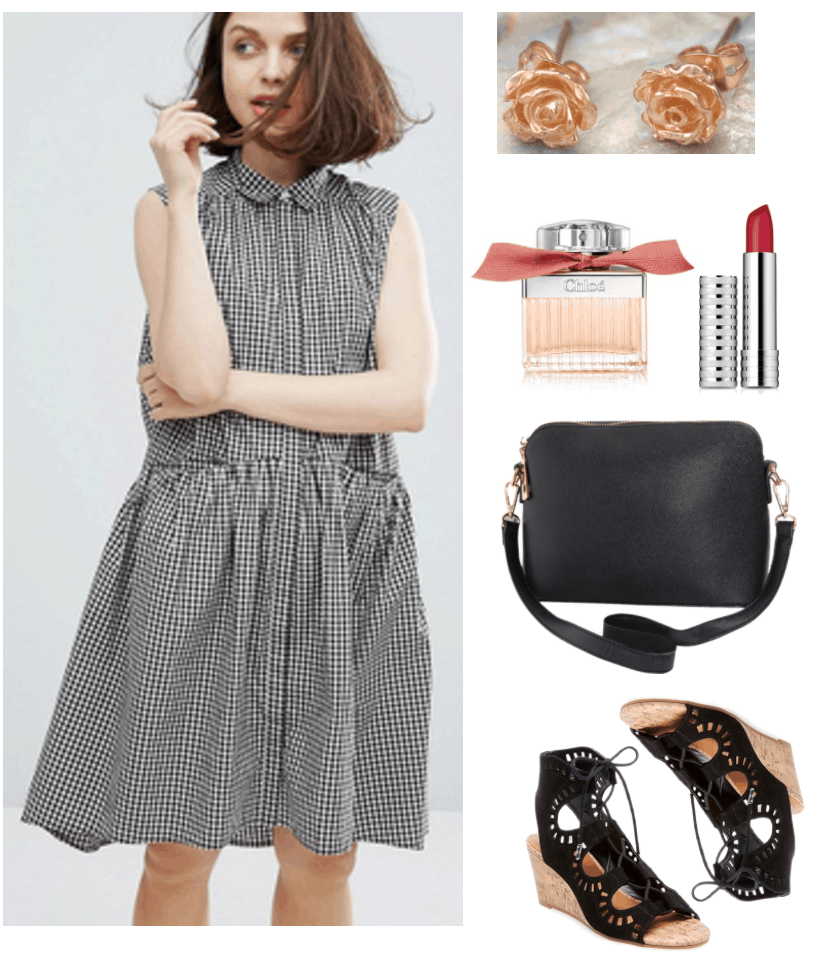 Products: Dress – ASOS, Earrings – Notonthehighstreet, Perfume – Bloomingdale's, Lipstick – Bloomingdale's, Bag – Humble Chic, Wedge Sandals – Target
Gingham is one of my favorite Spring trends, so when I saw Molly wearing a vintage-looking gingham dress in this video, I knew I had to create a similar look.
Start by putting on a breezy version of Molly's dress — I love the looser fit and versatility of this one from ASOS. Although we don't see Molly's shoes, these budget-friendly wedges go great with the dress and are sweet, fun, and girly.
Now for the extras. To get Molly's red-stained lips, apply matte red lipstick from the tube, then blot it with a tissue. Next, add rose stud earrings, which, once again, pay homage to the roses seen in the video. Finally, grab a classic cross-body bag and spritz on some rose-scented perfume.
There you have it: A cute, romantic look that can be worn to class or even a Spring date.
Outfit #4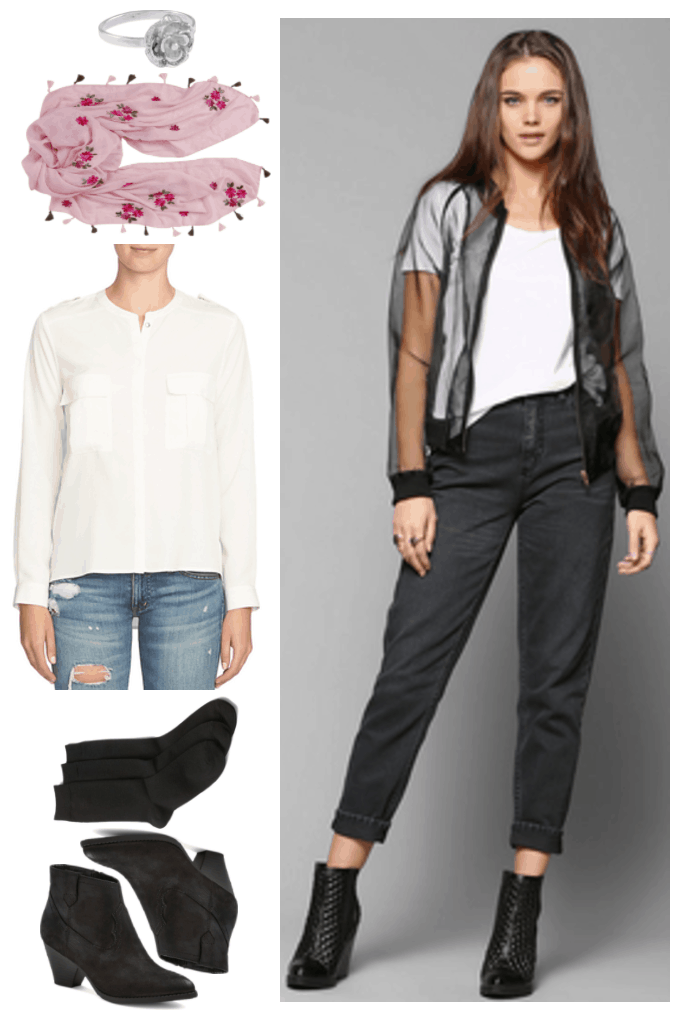 Products: Ring – Accessorize, Scarf – Humble Chic, Blouse – Nordstrom Rack, Socks – Gap, Ankle Boots – Target, Jeans – Urban Outfitters
In the pivotal scene of the video — in which Molly throws her bouquet (presumably representing her lost love) into the water — Molly wears a collarless blouse, faded high-waisted black jeans, black socks, and ankle boots.
To mimic this look, begin by tucking a loose-fitting blouse into baggy mom jeans. Next, add black crew socks and black ankle boots (I love these western-inspired ones!), ensuring that the top part of the socks is visible.
This look is minimal and sweet sans-accessories, however, if you're big on extras like I am, add an embroidered floral scarf and a lovely silver rose ring.
Regardless of whether you go for a minimal, '90s-inspired look or a sweet, romantic one, Molly Burch's video for "Please Be Mine" is sure to be a source of inspiration this Spring!
What do you think?
Which music video should I cover next? Are you a fan of Molly Burch? Is your style more romantic or minimal? Do you like wearing vintage/vintage-inspired pieces? Let me know in the comments!