Jennifer Nettles is probably best known as one half of the country duo Sugarland, but she has done plenty to make a name for herself including winning a Grammy, collaborating with Bon Jovi, performing at President Obama's Inaugural Celebration, hosting CMA Country Christmas six years in a row, and lending her time and talent to help non-profit organizations.
Her solo career is just one more notch in her very talented belt. "Playing With Fire" is her second solo album, and is a must-listen for country fans and non fans alike. Jennifer Nettles is definitely a musical force to be reckoned with.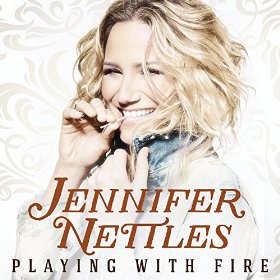 I love country music created by women because they have a marvelous way of projecting strength and independence. Jennifer Nettles' new album is no exception. "Playing With Fire" includes songs that range from country rock to powerful ballads, each one conveying that Jennifer writes her own rules and will live her life exactly as she chooses.
The best time to listen to this album: when you need a feminist pick-me-up
Here are 3 outfits inspired by "Playing With Fire" by Jennifer Nettles:
Playing With Fire
This song is like fuel for a fire. The music makes you want to get up and dance, the lyrics make you want to belt every word, all the while enticing you to have a little fun and walk on the wild side. If you didn't know bad girls had more fun, give this track a listen and you'll see it's true.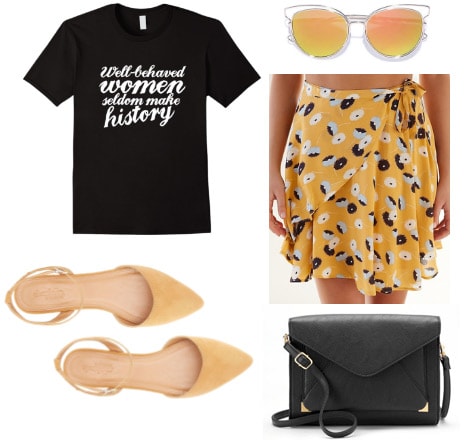 Products: Sunnies, Skirt, Bag, Shoes, Shirt
This look is perfect for anyone new to living life dangerously. Start with a shirt that quotes Laurel Thatcher Ulrich; her sentiment perfectly sums up this theme. Tuck that shirt into a pretty wrap skirt that shows just the right amount of leg. Dandelion yellow flats add class and comfort. Bright sunglasses can give you an air of mystery or hide the effects of a late night out, whichever! Finish the look with a black crossbody and you are ready to go.
Drunk In Heels
Only our fellow women know how hard it is to be a girl. This is the perfect song to play when the patriarchy has you down and you need the inspiration to get back on your feet. Listen to it by yourself or with your whole squad and you are sure to feel all kinds of powerful.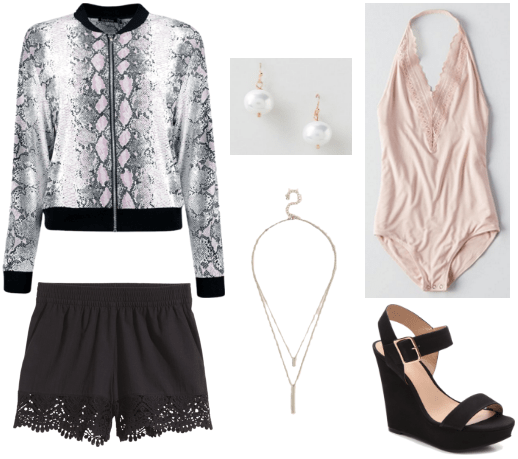 Products: Earrings, Bodysuit, Heels, Necklace, Shorts, Jacket
This is another great song to inspire a night out look! A halter bodysuit and cute shorts make a really comfortable nighttime outfit. Throw on some black wedges if you can handle the height and bring a cute jacket in case of late night chills. After you add some delicate jewelry, you are ready to paint the town.
Stupid Girl
When the world gives you a lot of "no's", sometimes you have to be your own "yes". This soulful ballad picks you up when you are sad and reminds us that every woman has a right to be heard.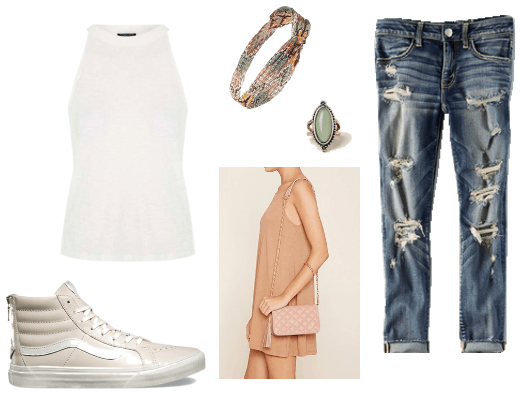 Products: Headwrap, Ring, Jeans, Crossbody, Sneakers, Top
This outfit is a modern take on Rosie the Riveter, the literal poster woman for female empowerment. Try these distressed, cropped boyfriend jeans with a white high-neck tank top. High-top sneakers are comfy and make it easy to hold your ground. For accessories, rock a statement ring, a crossbody bag, and of course a head wrap, which ties together the whole look.

Jennifer Nettles' new album "Playing With Fire" is out now. Listen to it here.
What do you think?
Do you like country music? Do you identify as a feminist? What do you think of the outfits? Let me know in the comments!