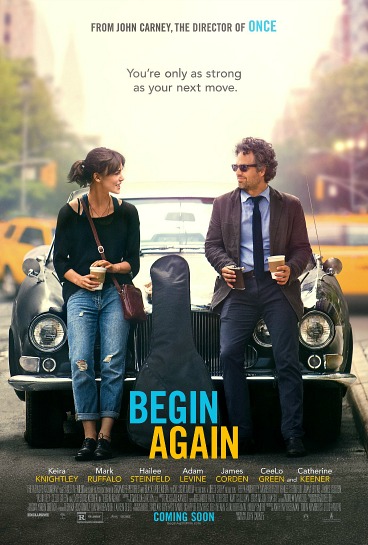 Official Movie Poster
The film Begin Again took the typical summer comedy-drama storyline in another direction by combining light-hearted comedy and romance with music. Begin Again takes you through the lives of two New Yorkers who decide to partner together to produce an album recorded at different locations around New York City.
One of the main characters Gretta, played by Keira Knightley, has a style that centers around the idea of staying comfortable, but still looking put-together. Her style is very laid-back, and Gretta's outfits also incorporate a lot of summery separates that would work well for the transition between summer and fall.
Below are three outfit based on looks Gretta wore in the film. Scroll down to see them all:
Movie Poster Outfit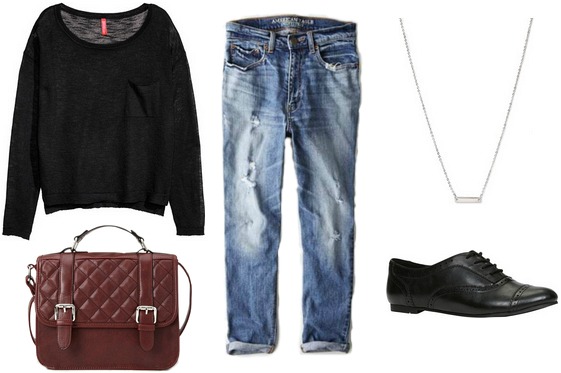 Sweater, Bag, Jeans, Necklace, Shoes
Inspired by Gretta's look on the Begin Again movie poster, this first outfit is what you would wear if you want to stay comfortable and casual but still incorporate a few stylish and on-trend pieces. Start with a loose-fitting black sweater and a pair of distressed boyfriend jeans.
Add a pop of color with a quilted maroon crossbody bag, then keep the borrowed-from-the-boys vibe going with black oxfords. For the finishing touch, accessorize with a pretty silver pendant necklace.
Red Dress on the Stairs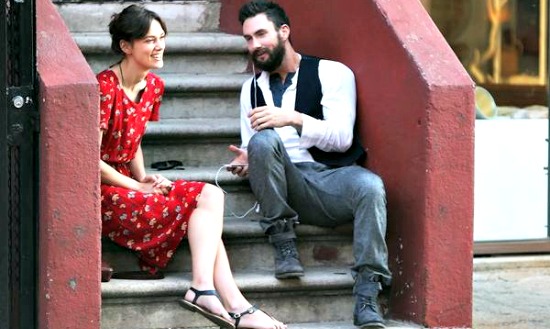 Official Promotional Image
How adorable is this red dress? While red may be intimidating to some, the floral print balances out the bold hue of this dress and makes for a sweet and stylish daytime look. With laid-back sandals and swept-up hair, this outfit is equal parts girly and casual.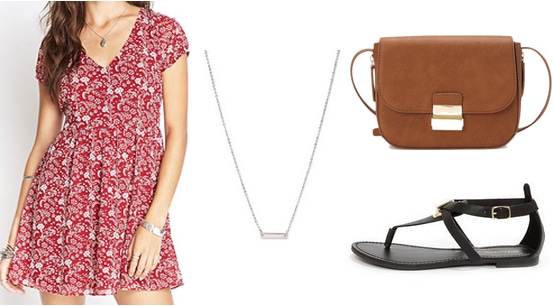 For a similar look, choose a red floral dress. The short sleeves make this frock ideal for the summer-to-fall transition, and crimson color continues to bridge the gap between both seasons. Wear the same silver necklace from the first ensemble, and carry a polished satchel. Complete the look with strappy black sandals, but switch them out for flats or booties if the weather is chilly.
Recording in the Streets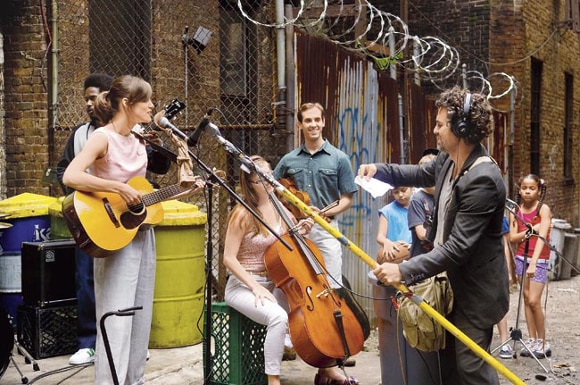 Official Promotional Image
This laid-back outfit incorporates pastels and lighter shades, and although pastels are usually associated with warmer months, Gretta's wide-legged pants make the look fall-appropriate. We love the idea of swapping the typical skinny jeans for a pair of easygoing wide-legged trousers, and this movie outfit serves as great inspiration if you want to test out this look.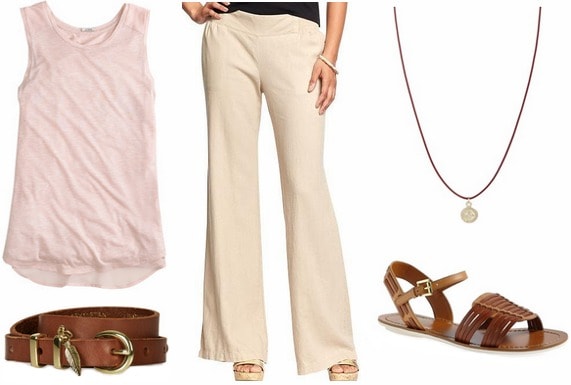 Tank, Belt, Pants, Necklace, Sandals
To recreate this outfit, pair a light pink tank top with a pair of neutral-colored pants. We went with wide-legged ones like Gretta did, but if that is out of your comfort zone, you can replace them with a pair of skinny pants or jeans. Add minimalist yet chic accessories, such as this brown belt and cord pendant necklace. Don't forget a matching pair of sandals!
What are your thoughts?
Did you watch Begin Again? What do you think of the movie and outfits featured in this post? What films would you like to see featured in future Movie Inspiration posts? Please leave your thoughts in a comment below!