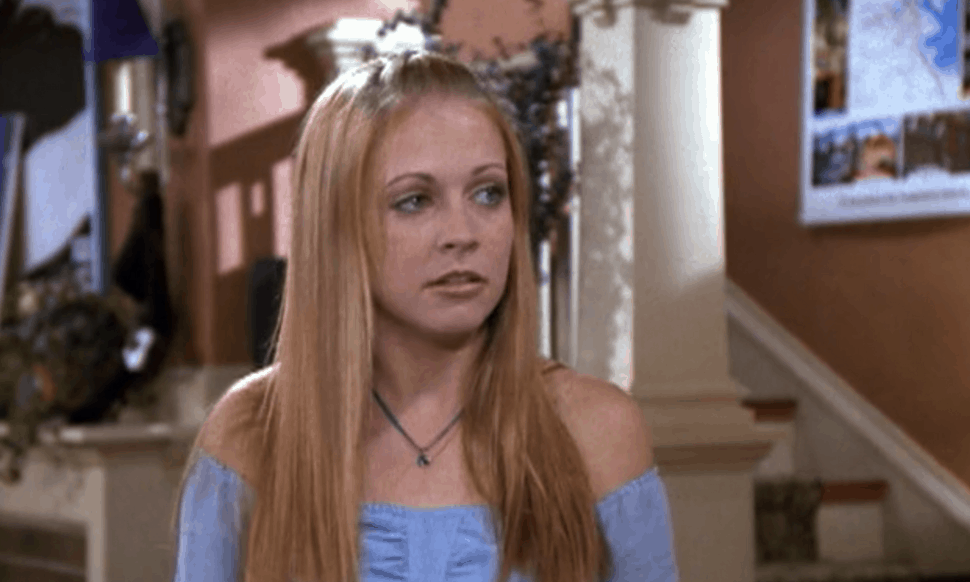 In case you're new here, let's get you up to speed. Over the last few weeks I've been breaking down the nine '90s fashion icons you need to know about if you want to really rock decade's look. Last week's spotlight was on the stunning singer/dancer/actress/ageless wonder Jennifer Lopez, but this week we're talking about someone with a totally different approach to fashion. Today we're covering our favorite TGIF star and teenage witch extraordinaire, Melissa Joan Hart.
Melissa Joan Hart Biography
This starlet has been acting since she was only four years old! She starred in a commercial as a tot and soon got her first TV role at age 10.
She's most famous for two leading roles she had in the '90s: Clarissa, in the Nickelodeon children's show Clarissa Explains It All, and Sabrina, on the original series Sabrina The Teenage Witch.
Before getting cast as Sabrina, Melissa was a student at NYU! She had to leave school to film the show that would make her a '90s superstar.
In case you missed it, Sabrina The Teenage Witch is a show about the spunky, free-spirited witch (and her sassy talking cat, Salem) first popularized by the Archie comics series. It lasted for seven seasons.
But Melissa didn't stop working after that. She found success with another hit show Melissa & Joey several years later, and his been acting on and off ever since.
Today, Melissa has her own production company. She's also written a memoir called Melissa Explains It All where she talks about her long-lasting career and experiences as a young it-girl in Hollywood. It's a fun read if you want to know more about the actress.
Melissa Joan Hart's Style in the '90s
Just like her characters on TV, Melissa's style was quirky and fun throughout the '90s. If you're missing the OG Sabrina Spellman or looking for inspiration for funky, vibrant outfits, here's how you can get Melissa's '90s style!
1. Shiny, satiny fabrics!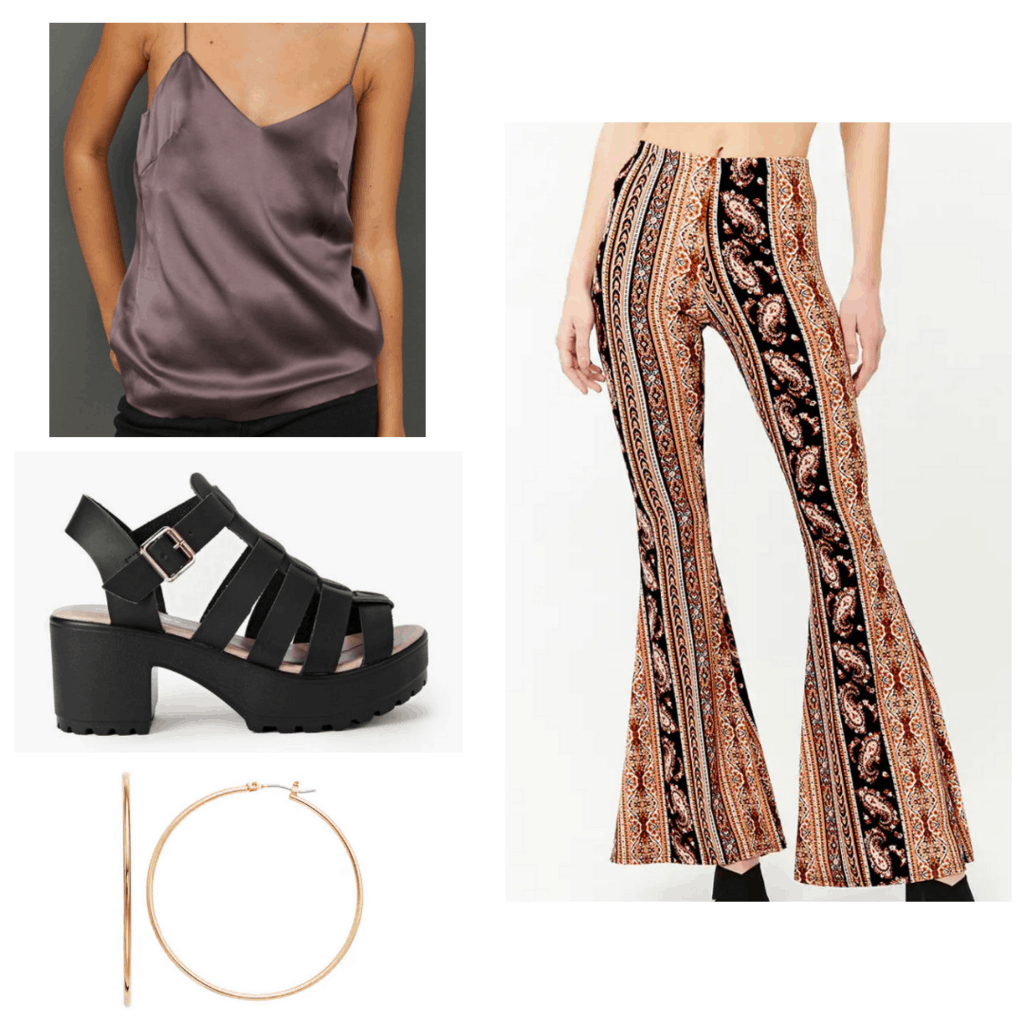 Products: Top – H&M, Pants – Forever 21, Shoes – Boohoo, Earrings – Kohl's
Silky/satiny/soft looking fabrics were such a big deal in the '90s. These fabrics gave off an almost metallic sheen which would become one of the defining traits of '90s fashion (alongside pairing vibrant colors with loud prints). Melissa loved mixing funky fashions, so if you think something may be a little too much, don't worry. It's not!
If you can splurge a little on a genuine silk cami, definitely go for it! It will last you forever and can be dressed up and down for pretty much any occasion. But if not, there are so many satin options that will give you the same old-school shine.
2. All of the mini-dresses and mesh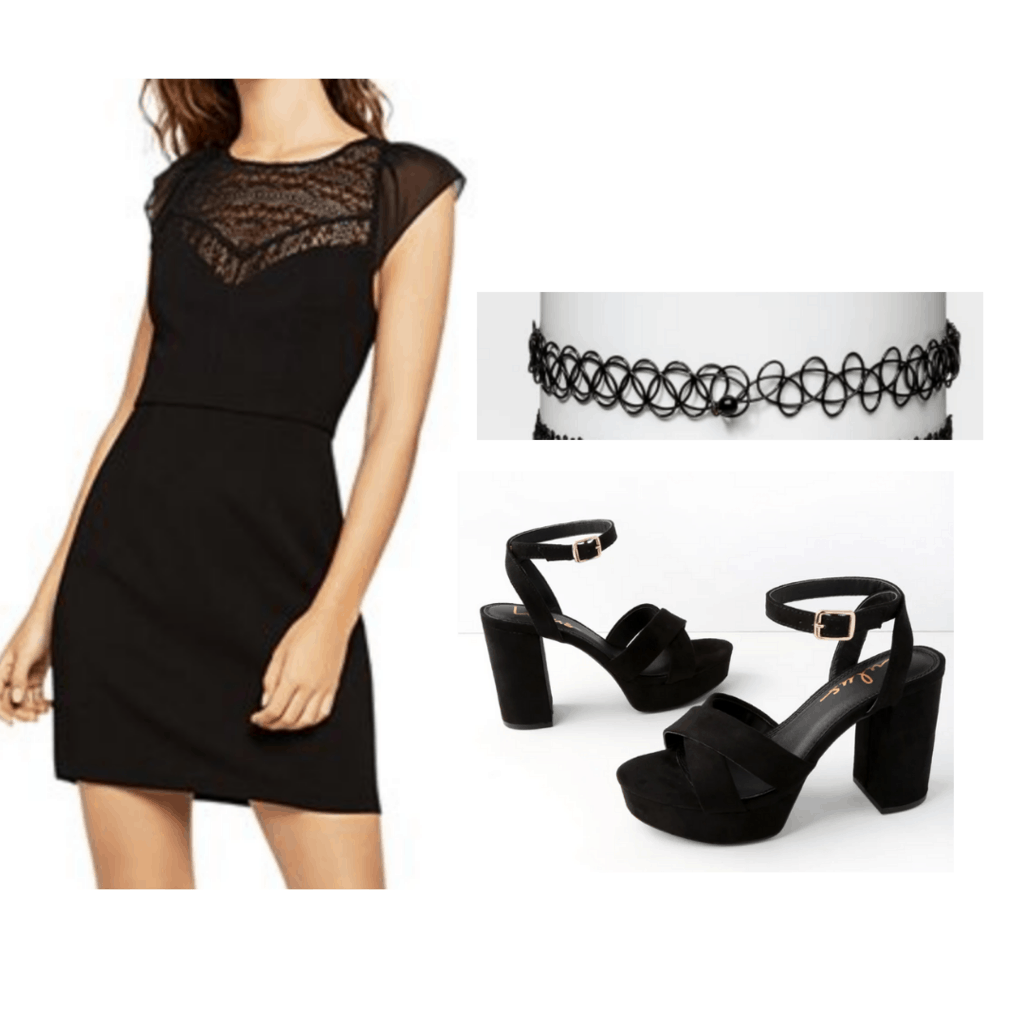 Products: Dress – Bloomingdale's, Choker – Target, Shoes – Lulu's
It doesn't get much more '90s than a black mini-dress and one of those spiral-y chokers! This was kind of the peak of young sophisticated fashion and has, rightfully so, made a major comeback.
See-through fabrics were a popular choice, so search for things with mesh and/or lace trim (bonus points if you can find a dress in that silky fabric!). You'll want something short and sweet that's also fitted to really capture Melissa's style. As she grew up, so did her style on-and-off screen, becoming trendier and more chic for the time. For added '90s glam, go for a dark, vampy lip color.
3. Try out different shapes
Products: Top – Free People, Pants – H&M, Shoes – Charlotte Russe, Necklace – Urban Outfitters
Halter tops were a Melissa favorite and signature staple of '90s looks. Find one in a funky color or pattern for true MJH vibes. Jeans should be loose — kind of like mom jeans — and/or have a low-rise fit. (It pains me to set aside my high-waisted pairs, too.)
Overall, your outfits needs to be comfortable, youthful, and a little over the top. Back in the day, these looks were pretty tame, but the fun part about the '90s revival, and Melissa's specific look, is how jazzy and quirky it is. Just have fun with it! That's what the '90s were about.
Will you be channeling Melissa Joan Hart's style?
Have you been searching for the perfect excuse to add some colorful throwback pieces to your wardrobe? Are you ready to binge the entire original Sabrina series this weekend? Let us know in the comments!
For more information on Melissa Joan Hart, check out these great sources: