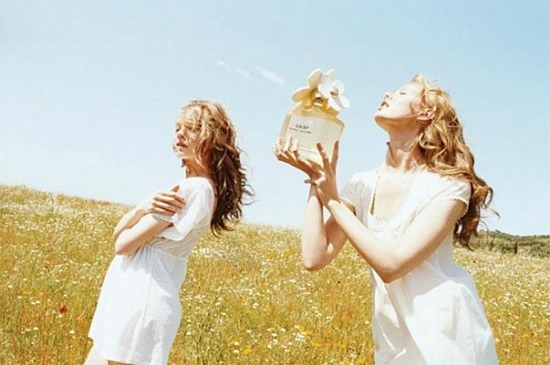 Photo Courtesy of Daisy by Marc Jacobs
For me, spring is a time where I'm ultra-inspired to freshen up my wardrobe and try something new. With flowers in full bloom, my focus shifted towards Marc Jacobs' Daisy fragrance collection for a little springtime fun!
While you may not wear the fragrance, the Daisy collection features an ad campaign that's perfect for warmer weather. The ads feature girls frolicking in meadows filled with — you guessed it — daisies. Fresh, flirty, and super fun, these ads offer a perfect source of spring and summer fashion inspiration for your own everyday looks! Below, I've created two outfits inspired by both the fragrance and advertisements for Daisy. Scroll down to see them!
Flower Girl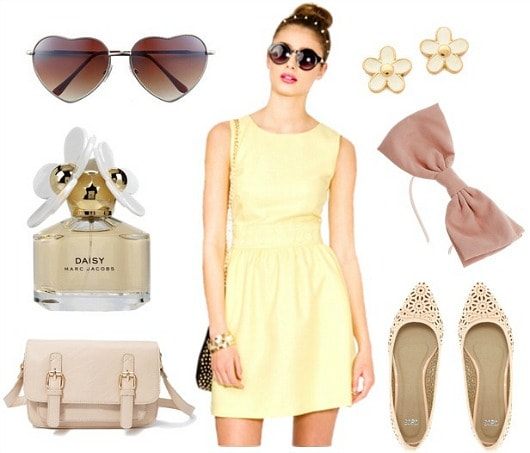 Dress, Shoes, Bag, Sunglasses, Earrings, Headband, Fragrance
Freshen up your look for spring with a pastel yellow dress and a pair of trendy laser-cut flats. A tan bag is a functional, yet trendy accessory, while heart-shaped sunglasses add a girly touch. Wear a pastel pink bow headband and daisy stud earrings for a fun twist, then spritz on Daisy perfume before heading out to enjoy the beautiful day on campus!
Eau So Fresh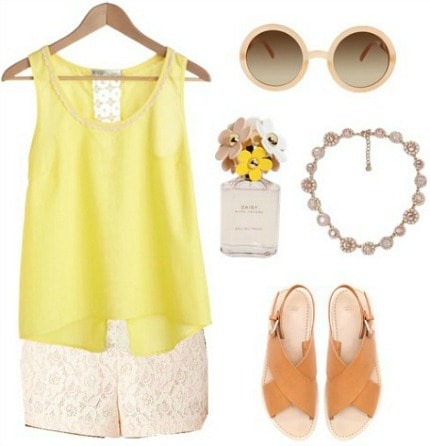 Top, Shorts, Sandals, Sunglasses, Necklace, Fragrance
Cute and flirty, this look has a light, airy feeling that's perfect for spring. Pair a flowy tank with lace shorts and sandals for a girly-meets-boho vibe, then accessorize with retro sunglasses for a vintage feel. A jeweled necklace adds a glam accent to the easygoing ensemble. Finish the look with – what else? – Daisy perfume.
What do you think?
Do you wear Marc Jacobs Daisy? Are you inspired by fragrance collections? Would you wear any of the looks above? Which one is your favorite? Would you like to see more posts like these in the future? Let me know in a comment below!