Welcome to the latest edition of Looks from Books, which aims to prove that you can look smart, while still being book-smart, too. Fashion inspiration can be found between the pages of your favorite stories, on well-designed book covers, and in your favorite characters… if you read closely enough.
This week, we're taking a closer look at The Maltese Falcon, a prolific mystery thriller novel published in the 1930s, that launched a genre, as well as the iconic name of Samuel Spade, Private Detective.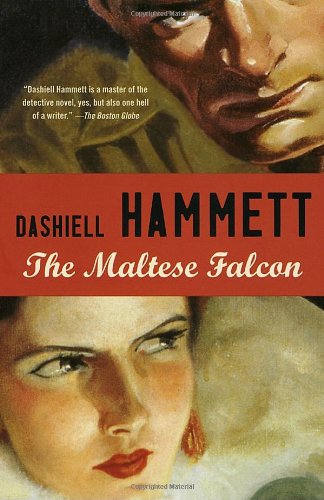 The Maltese Falcon book cover via Amazon.com
Inside Cover: A Little Bit of Background
The Maltese Falcon, published in 1930, was written by short story writer and novelist Dashiell Hammett.
Hammett is credited with perfecting the art of the detective novel, and more specifically, the archetype of the "hard-boiled" detective, a persona he mastered in the characteristics of such literary names as Sam Spade, in the Maltese Falcon.

The remarkable realness present within Hammett's stories, and the intricate amount of detail applied to every element, is said to be a by-product of Hammett's own life as a private detective: he worked as a Pinkerton operative from 1915 to 1922. Most of his characters, he claimed, were based off of people he worked for, with, or against.
This element is especially present within The Maltese Falcon, one of the most well-known detective novels of all time, which follows Sam Spade, Private Detective, who is searching for a mysterious artifact being hunted by a beautiful woman named Brigid O' Shaughnessy, a mysterious foreigner named Joel Cairo, and a pompous collector named Kasper Gutman.
When the search proves to be the end of his partner, finding the falcon and the killer gets all the more personal for Spade. Our hero becomes desperate to get to the artifact first, while also avoiding the interference of ineffective police forces.
A Fashionable Literacy
The Maltese Falcon has been adapted into three movies.
The third movie, made in 1941 — which starred Humphrey Bogart as the hard-boiled detective and Mary Astor as his love interest — is the adaptation most commonly associated with the novel due to its close adherence to the plot. In fact, the movie earned three Oscar nominations (Best Actor, Best Writing, and Best Picture), a high placing on movie lists across the United States, and, in 1989, was inducted into the National Film Registry.
The movie itself is a solid source of fashion inspiration, despite the strict adherence to the time period, as well as its black-and-white color scheme. The luxe stylings of early 1940s starlet Mary Astor as Brigid O' Shaughnessy project an elegant and mysterious persona, by way of fascinator caps, fur accessories, and finger wave hairdos.
However, it might be a little difficult to pull these sort of looks off today… without a little help from us, of course! Check out our ways to wear faux fur here and here, and learn how to wear fascinator caps in this Kate Middleton style guide!
How to Add Sam Spade to Your Wardrobe
By integrating key elements of the detective genre and the characteristics of the head detective himself into your look, you can achieve such a highly calculated and carefully executed outfit, that Spade himself couldn't figure out how you did it!
Classic Mystery Tropes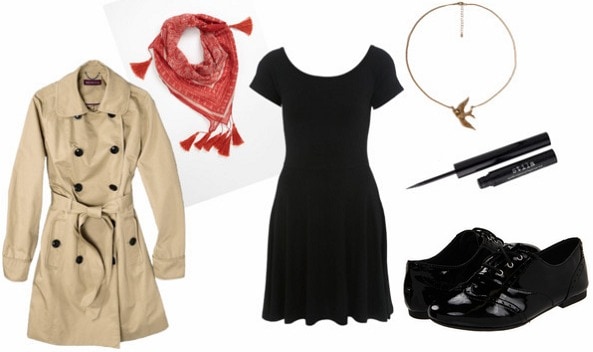 Product Information: Trench Coat – Target, Skater Dress – Miss Selfridge, Tasseled Scarf – Nordstrom, Bird Necklace – Forever 21, Patent Brogues – 6pm, Eyeliner – Stila.
The detective and mystery genres are sometimes accused of being overly formulaic and predictable, with various names and faces filling in previously perfected personas, with all-too-similar plot lines and mysteries to be solved.
While The Maltese Falcon could also be argued to contain such predictable mystery novel tropes, it is not because of lack of originality. Instead, this novel was the original. Such iconic titles and plot devices as the "femme fatale" and the "mysterious foreigner" might be obvious nowadays, but in the 1930s, this book helped launch a genre.
Embrace what others might deem as "predictable" or "boring," by utilizing mystery novel cliches within your outfit: use each of the iconic characters as inspiration for each piece you wear! For instance, a clingy black skater dress and winged eyeliner screams "femme fatale," while a printed scarf is a little bit "mysterious foreigner." The bungling presence of too-slow "police intervention" is represented in a pair of shiny patent brogues, while a gold piece of statement jewelry can be our "important artifact." A trench coat, of course, serves nicely to represent our "intrepid detective."
Neutrality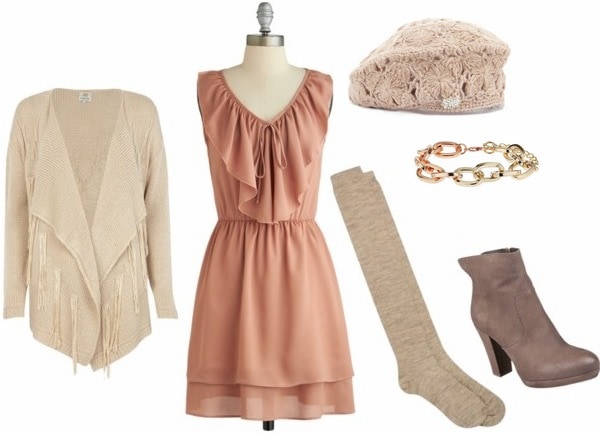 Product Information: Fringe Cardigan – River Island, Ruffle-front dress – Modcloth, Knit Beret – Accessorize, Knee High Socks – Debenhams, Gold Chain Bracelet – Miss Selfridge, Booties – Steve Madden.
Neutrality is key in the job of a detective: one wrong move, outspoken phrase in the heat of interrogation, or over-displayed enthusiasm or intent, can give away vital information.
Sam Spade is the perfect representation of this aspect of a heat-charged career – he rarely loses his cool in the face of danger. This is similarly displayed in Spade's wardrobe, surroundings, and pallor – frequently remarked upon in the novel- which are described as white or close neutrals, (like gray, yellow, and tan), which project a visual focus on the practice of neutrality.
Integrate this same strict sense of neutrality within your look by building an outfit around a muted palette, with hues like blush and brown. Start with a ruffled chiffon dress as your base, then pile on neutral elements, like a fringed oatmeal sweater, brown knee high socks, brown leather booties, and gold jewelry. Cap it all off with a tan knit beret, thus hiding even the barest bit of betraying color beneath your indifferent appearance.
Calculated Cunning and Visual Focus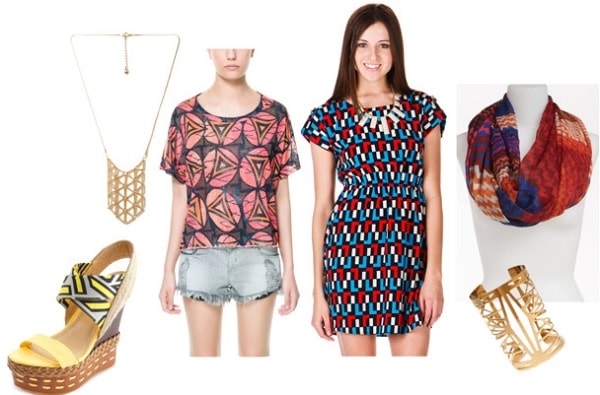 Product Information: Necklace – Forever 21, Tee Shirt – Zara, Dress – Francesca's Collection, Scarf – Nordstrom, Wedge Sandal – Charlotte Russe, Cuff – Forever 21.
Most of the descriptions in the novel are strongly visually-oriented, relying on portrayals of color and pattern to shape the world for the reader to understand, just as Spade does. In fact, this point is summed up best upon our first meeting of Spade, when his appearance, instead of being described in familiar terms, is related to the reader as a "series of 'Vs" running from his forehead to his chin.
This deliberate focus on visual observations as key to calculation and cunning is what makes Spade one of the greatest detectives in the business.
Reference this extreme calculation and visual focus by utilizing something equally formulaic and sharp in your outfit: geometric prints! Whether you opt for a strong geometric pattern à la this tee shirt and dress, or more minimally patterned accessories, geo prints capture the similar cunning of the iconic detective. Gold geometric jewelry makes perhaps the best style statement, as it also encapsulates the hard and direct style in which Sam conducts his business.
What Do You Think?
Have you ever read The Maltese Falcon, or any of the other detective novels by Dashiell Hammett? Are you a fan of mystery or detective novels in general? What did you think of the novel, and the elements at play? Have you seen the movie? What do you think of the outfits and styling tips? What book would you like to see me do next? Let me know, in the comments below!