This post may contain affiliate links, which means we may receive a commission if you purchase through our links. Please
read our full disclosure here
.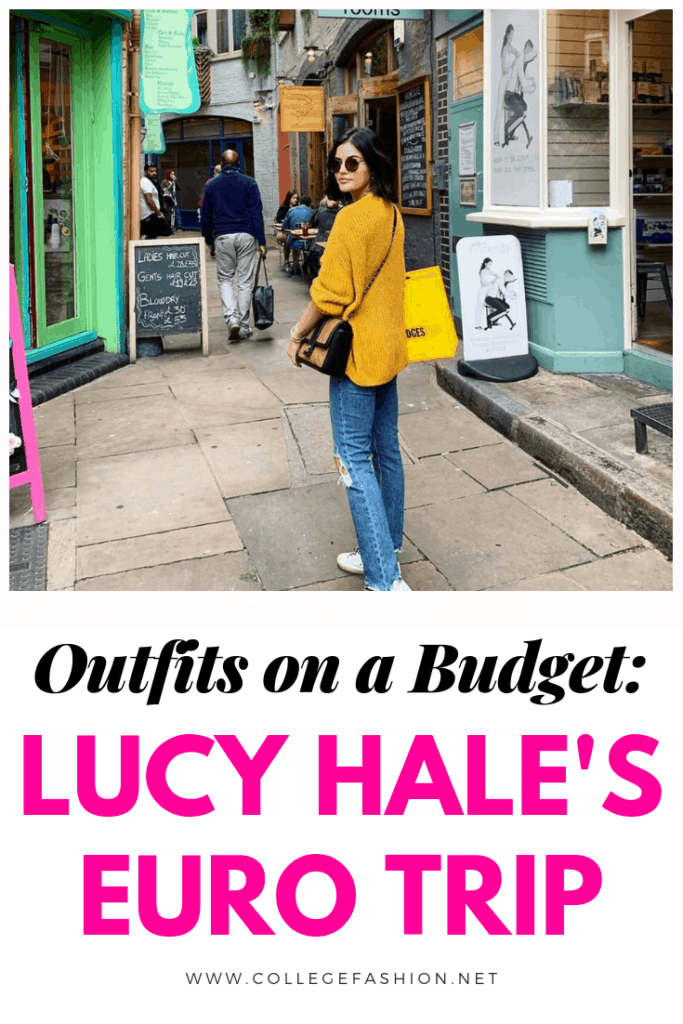 Every week, I scour the web to find inspiring outfits on your favorite celebs and help you recreate their looks! This week, I was inspired by Lucy Hale's super cute Euro-trip outfits, that are also perfect for the back-to-school season.
Read on to see how to get Lucy Hale's style for yourself.
Lucy's Laid-Back Chic
Lucy Hale is one of the many celebs to vacation in Europe this summer, and her first stop was London, England.
Because she is a master of street style, Lucy looked ultra put-together in a casual yet chic ensemble while posing by a classic red phone booth.
Lucy paired a printed yellow long sleeve blouse with some dark jeans featuring raw, slightly flared hems. She accessorized with a two-tone crossbody bag and round sunnies.
Lucy-Inspired Outfit #1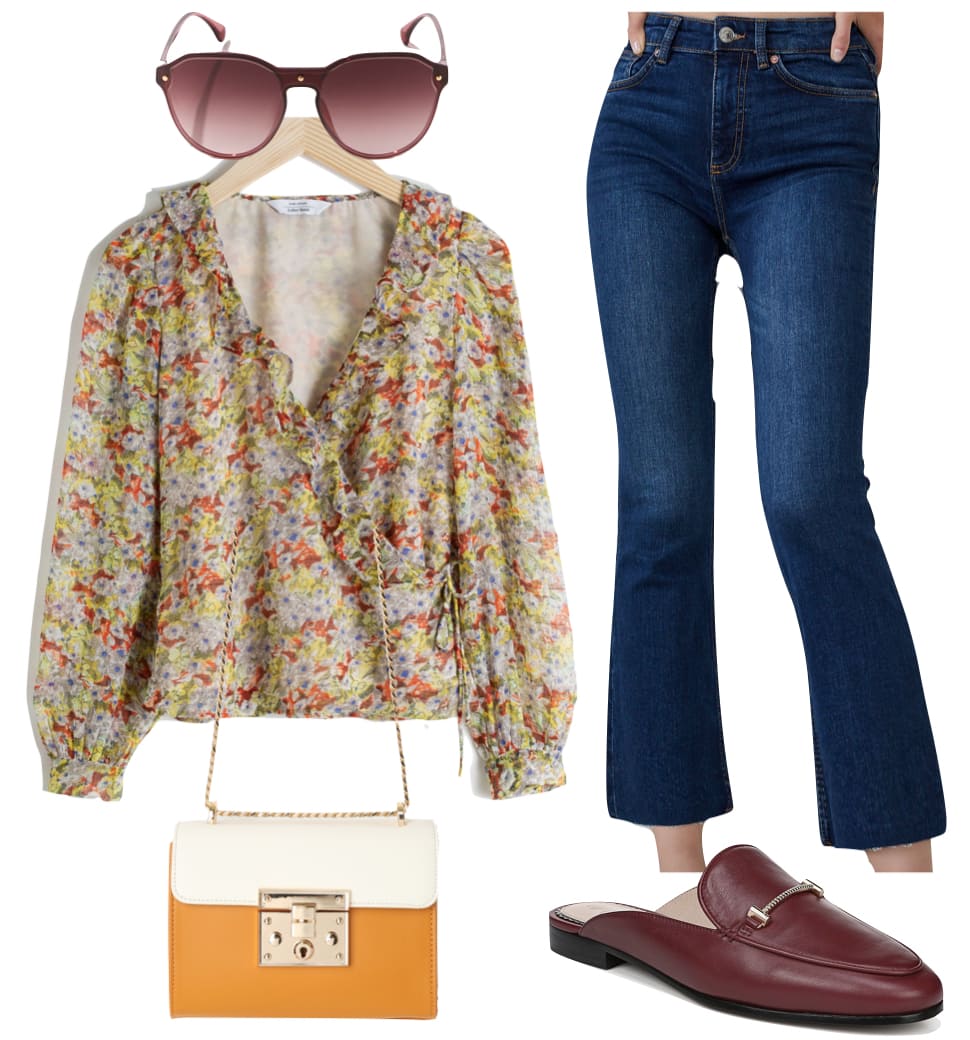 Products: Top – & Other Stories, Jeans – Zara, Sunglasses – Forever 21, Bag – Lulu's, Mules – Nordstrom Rack
For Lucy's casual chic outfit, wear a yellow floral print blouse with some cropped, flared jeans. These jeans feature a dark wash and raw hems similar to Lucy's.
A pair of burgundy loafer mules look ultra-polished, but are convenient to slip on and off. This pair of round burgundy sunglasses matches the mules perfectly.
Complete the ensemble with a color-blocked crossbody bag; this one incorporates the colors of the blouse for a cohesive look.
Lucy's Bright, Casual Cardigan Outfit
For Lucy's next London look, she opted for a bright, comfy ensemble featuring a mustard yellow ribbed cardigan sweater.
Lucy wore it with ripped knee straight leg jeans and Golden Goose sneakers with leopard print laces. She accessorized with her two-tone quilted Chanel bag worn across her body, along with some round sunglasses.
Lucy-Inspired Outfit #2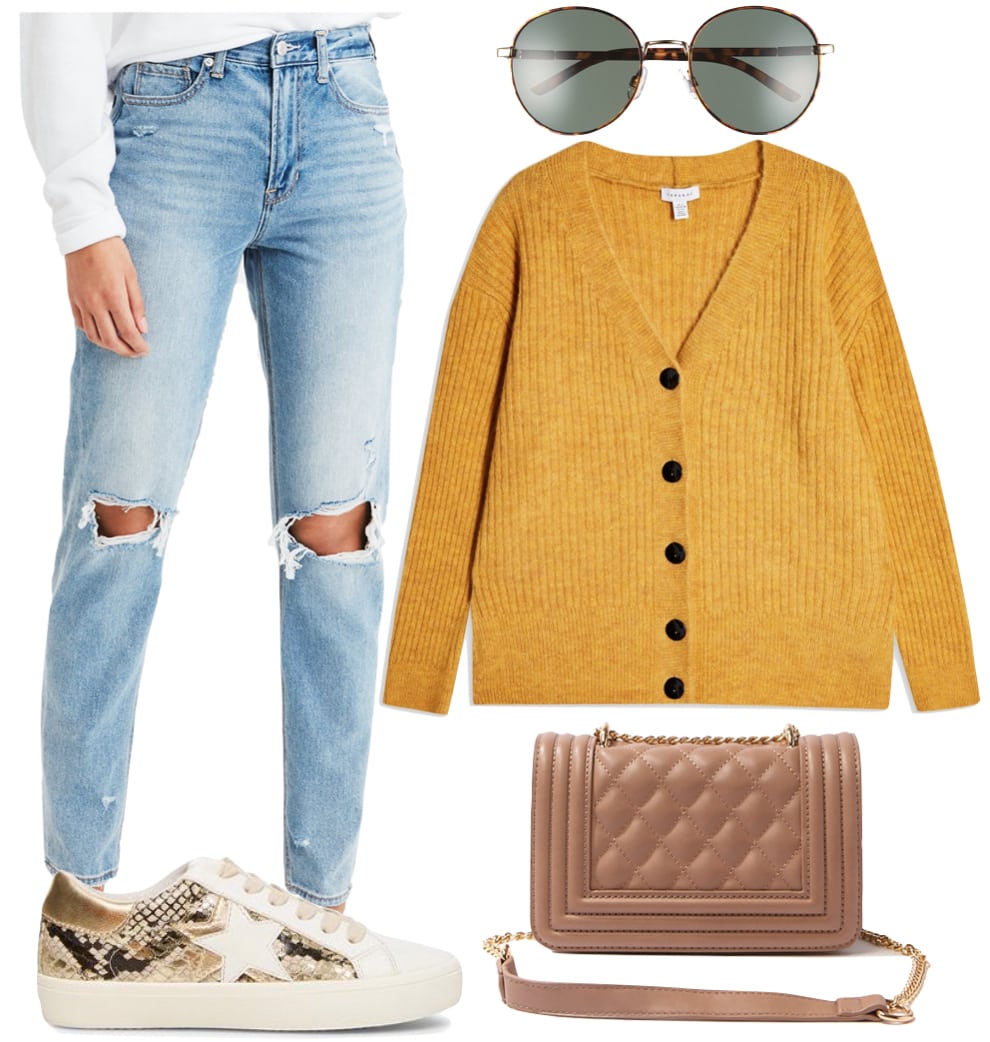 Products: Jeans – American Eagle, Cardigan – Topshop, Sunglasses – Nordstrom, Sneakers – Steve Madden, Bag – Forever 21
This outfit gives off major back-to-school vibes, being comfy yet cute.
Pair a mustard yellow cardigan sweater with a pair of lighter wash mom jeans with ripped knees. The sweater gives the outfit an eye-catching dose of color, and yellow is trending right now.
This pair of low-top sneakers features a pop of animal print in a way which is similar to the style of Lucy's pricey pair.
Bring the ensemble together with some round metal sunnies and a quilted crossbody bag.
Lucy's Doubled Up Denim Look
Next up, Lucy headed to Paris, France. There, she doubled up on denim, wearing a blue denim shirt with some black jeans.
Lucy kept the same accessories she wore with her previous outfits, and also sported a chic two-tone watch with a contrasting dark face.
Lucy-Inspired Outfit #3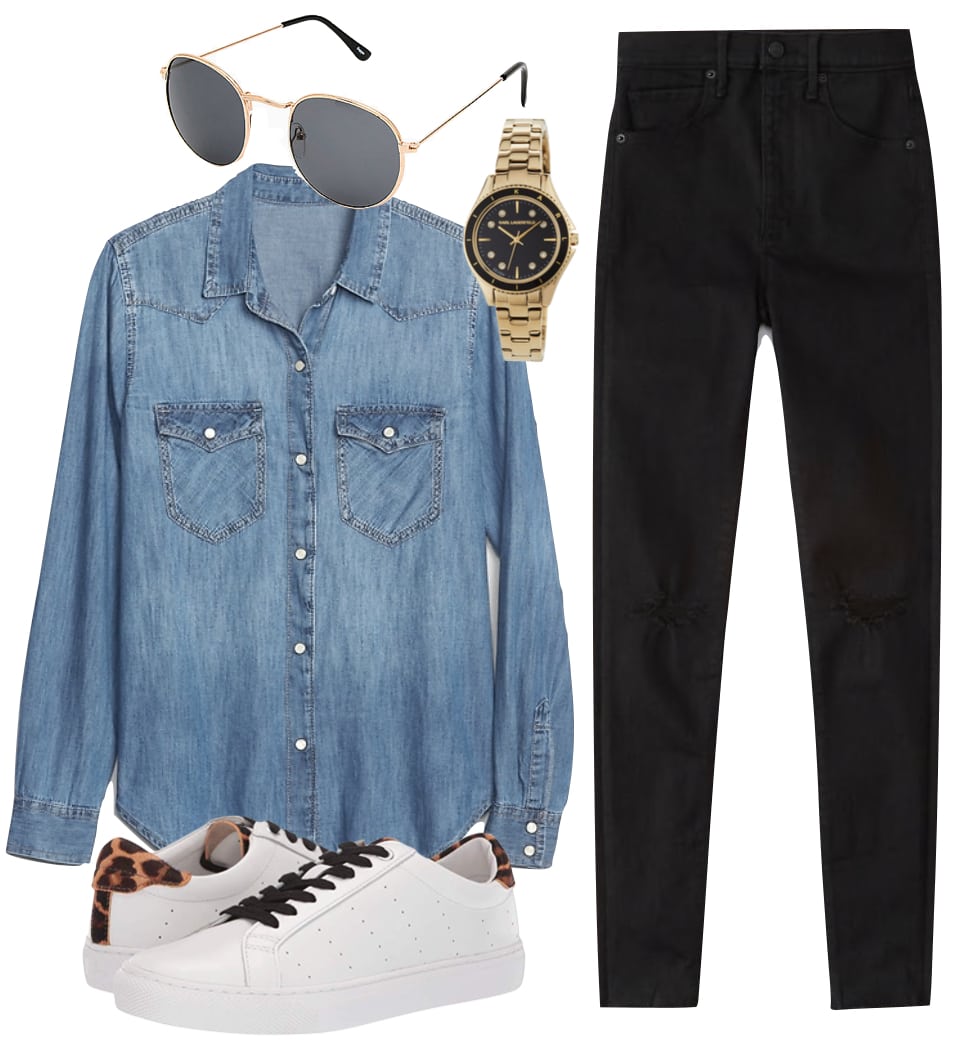 Products: Shirt – Gap, Jeans – Abercrombie & Fitch, Sunglasses – Zumiez, Watch – Last Call, Sneakers – Zappos
This laid-back look is simple but looks super put-together. It's perfect for a day spent out and about on campus.
Wear a blue denim button-down shirt with a contrasting pair of black skinny jeans.
While we don't know what footwear Lucy chose, some comfy yet trendy sneakers complement this outfit well. This pair features a pop of leopard print for added flair.
Accessorize with dark, round metal sunglasses and a two-tone watch for a luxe touch.
What do you think of Lucy Hale's style and her travel outfits?
Which outfit would you be most likely to wear? What other celebs would you like to see featured? Leave a comment and let us know!