This post may contain affiliate links, which means we may receive a commission if you purchase through our links. Please
read our full disclosure here
.
Hello, hello, hello! Welcome to the next part in our High Fashion series. If you are a regular, you already know that we will be looking at the newest high fashion trends on the runways, which celebrities and fashion influencers are loving the trend already, and where you can get the trend for yourself!
Last time, we broke down the printed dresses trend, a spring staple. We looked at different ways to wear the trend right now and where to get it for great prices.
This week, we are going to look at another trend on the runway: shades of yellow! While this is great for Spring/Summer, we can see plenty of darker shades of yellow that will translate well into Fall and Winter.
HIGH FASHION TREND: Shades of Yellow
The Spring 2019 runways were filled with this yellow trend and we are loving it! All shades of yellow were present, across garments of all varieties.
Carolina Herrera is one of the top names in fashion who has led the way this season with her boldly colored designs, incorporating yellow into several of them. Take a look:
Oscar de la Renta is another top-notch designer who is loving the yellow trend! His designs also showcase fun shades, but on more formal pieces. Wouldn't these be just lovely to wear on a fancy night out?
J. JS Lee designed separates with an interesting collar. The yellow used in the design is very bright which is perfect for Spring.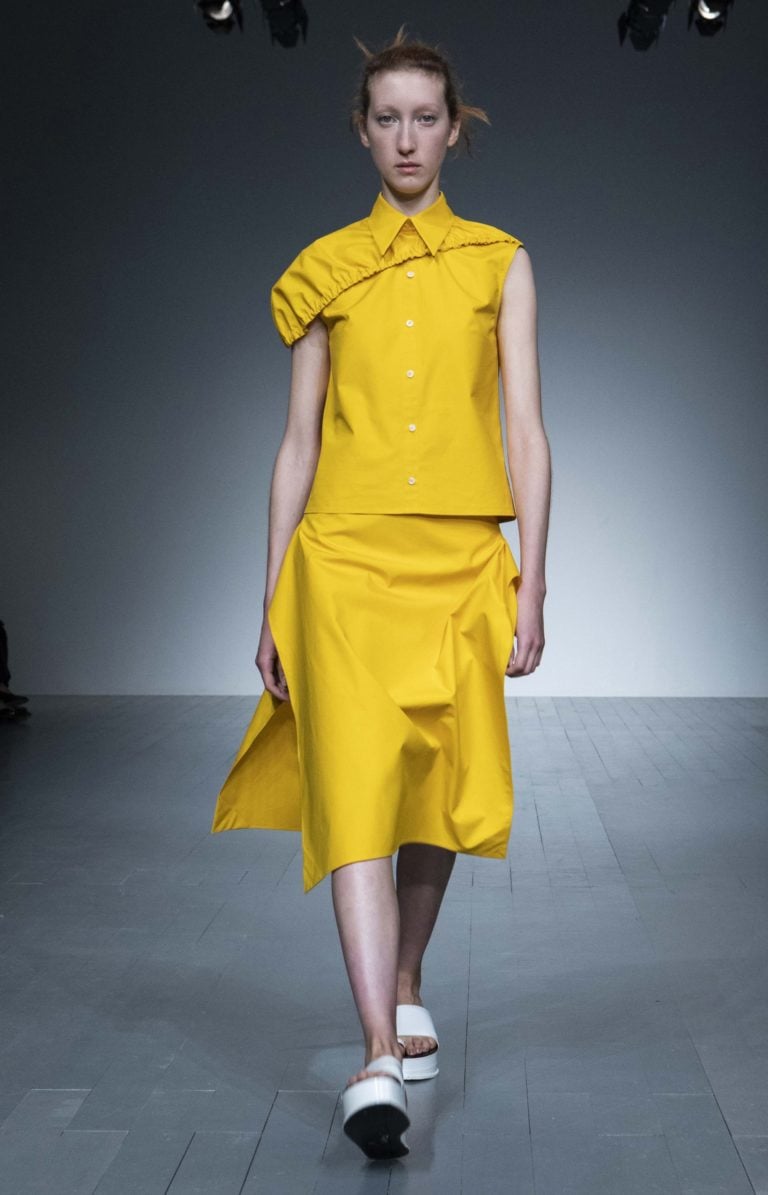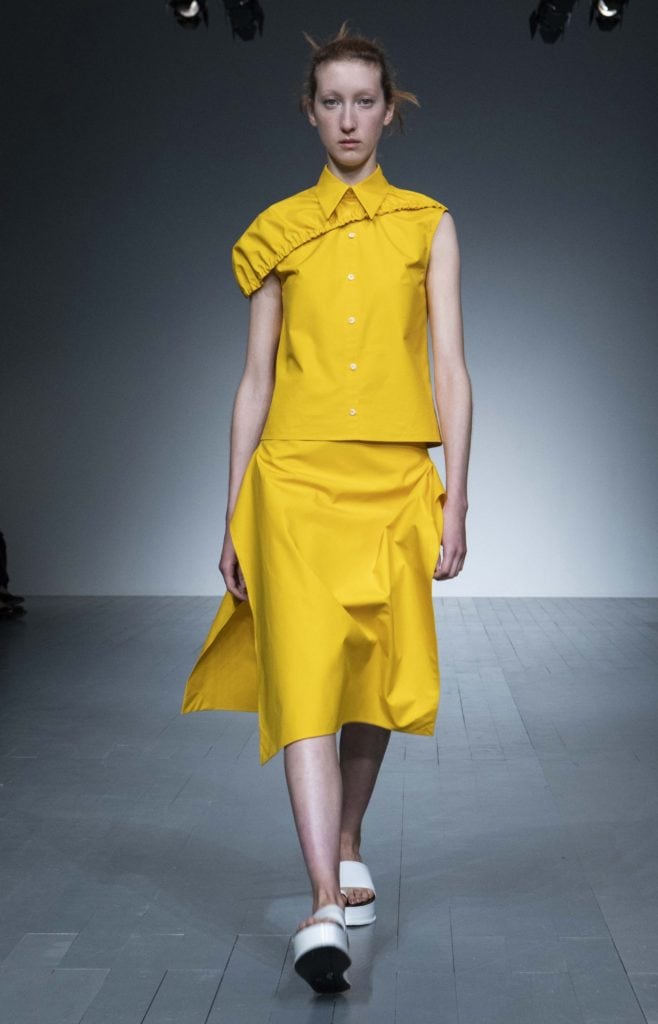 Another great designer in on this trend is Brandon Maxwell. He pairs a bold, bright yellow, flared jumpsuit with a brown belt.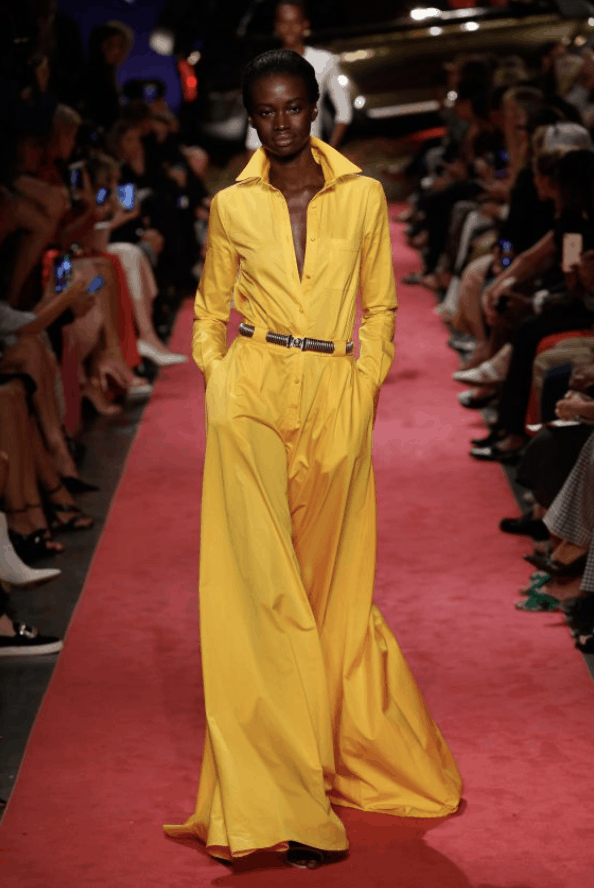 Influencers in Yellow:
Model Joan Smalls was pictured recently in this gorgeous yellow-green piece by Dion Lee. Here she is photographed with fellow models Kendall Jenner, Cara Delevingne, and Hailey Bieber.
Hailey Bieber also rocked some yellow recently in her campaign for WeekendMax Mara.
Dua Lipa is definitely on top of the current trends. She joined the printed dress trend, puff sleeve trend, and yellow fashion trend together here in this yellow, cat-printed, balloon sleeve, dress.
How to Buy the Yellow Shades Trend on a Budget:
Even if you don't typically go for yellow in your closet, there are some ways to fit this versatile trend into your closets in ways you'll love!
Affordable Yellow Pieces, Option #1: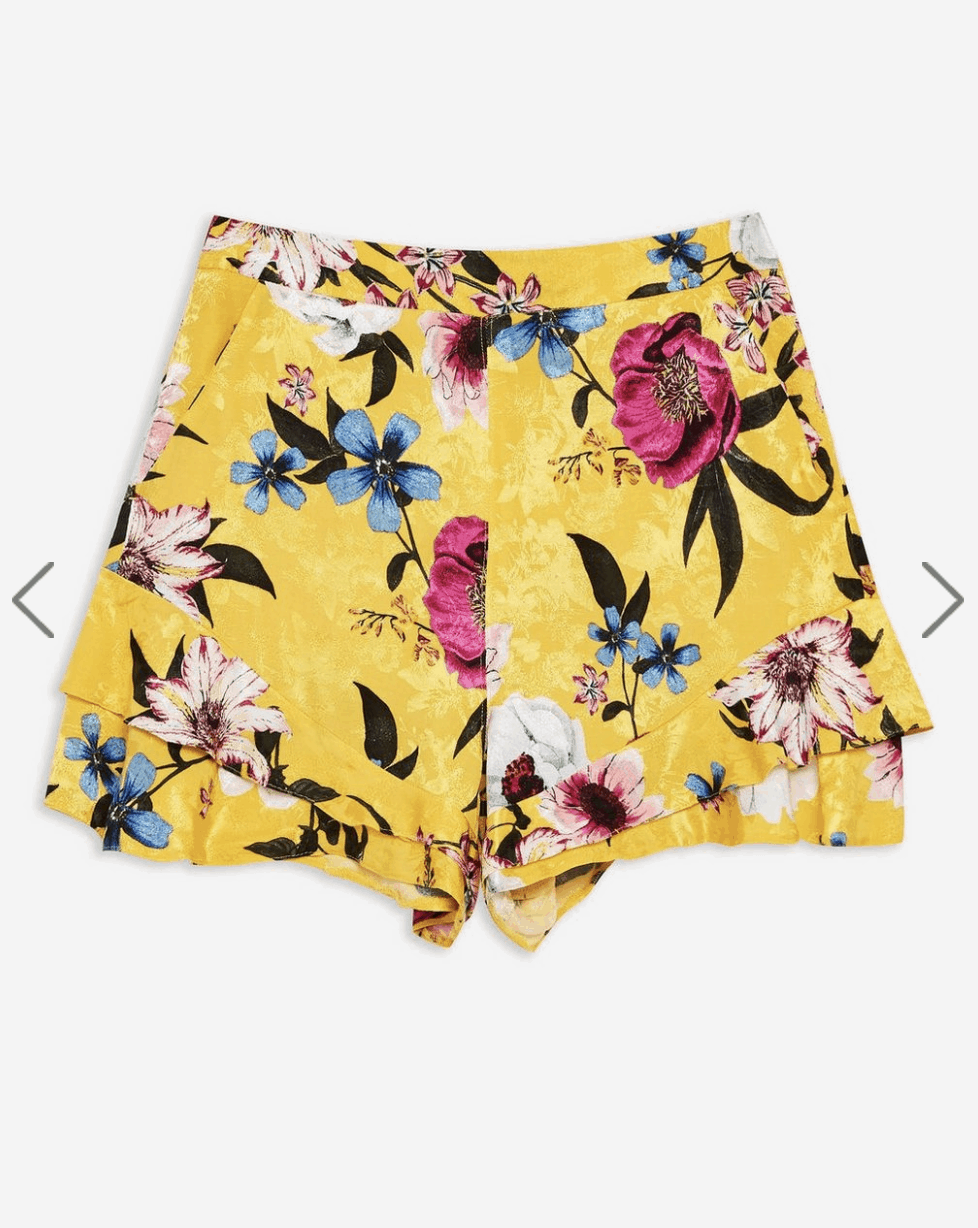 Product: Yellow Floral Shorts; $60 – Topshop
If you're looking for a bold statement piece, try a patterned bright sun yellow short like this one! They are easy to outfit because you can match the rest of your ensemble with any of the colors of the print or with neutrals.
You could pair something like this with gladiator sandals and a little white tee shirt with oversized sunglasses and a basket bag. Or, try with some white sneakers and a cropped hot pink top for a sportier look.
Affordable Yellow Pieces, Option #2: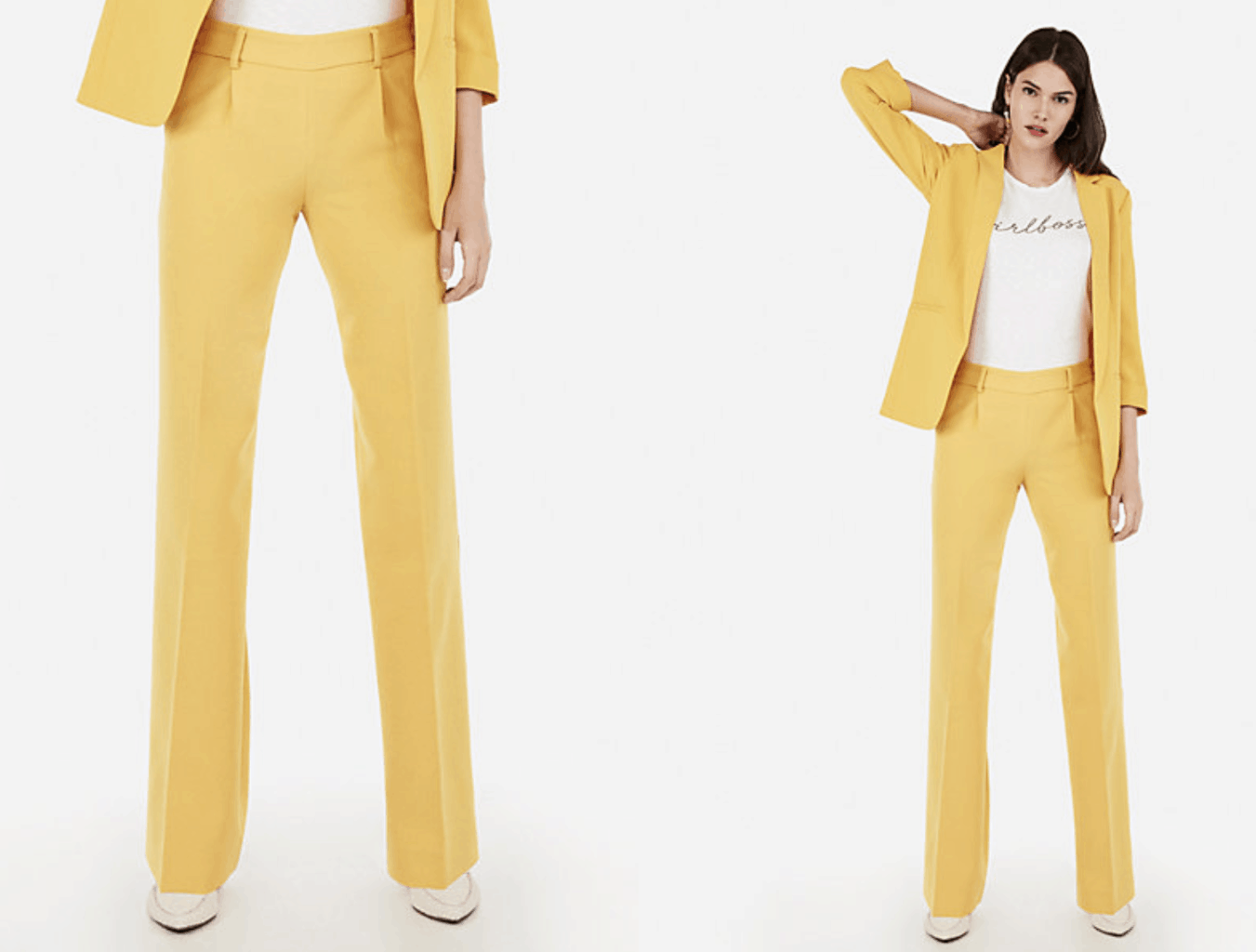 Product: Twill Wide Leg Pants; $70 – Express
Want to work the yellow trend into your work attire? Try a yellow pant like these! You can downplay it with neutral colored tops or really make a statement with another bold color like cyan or magenta.
Affordable Yellow Pieces, Option #3: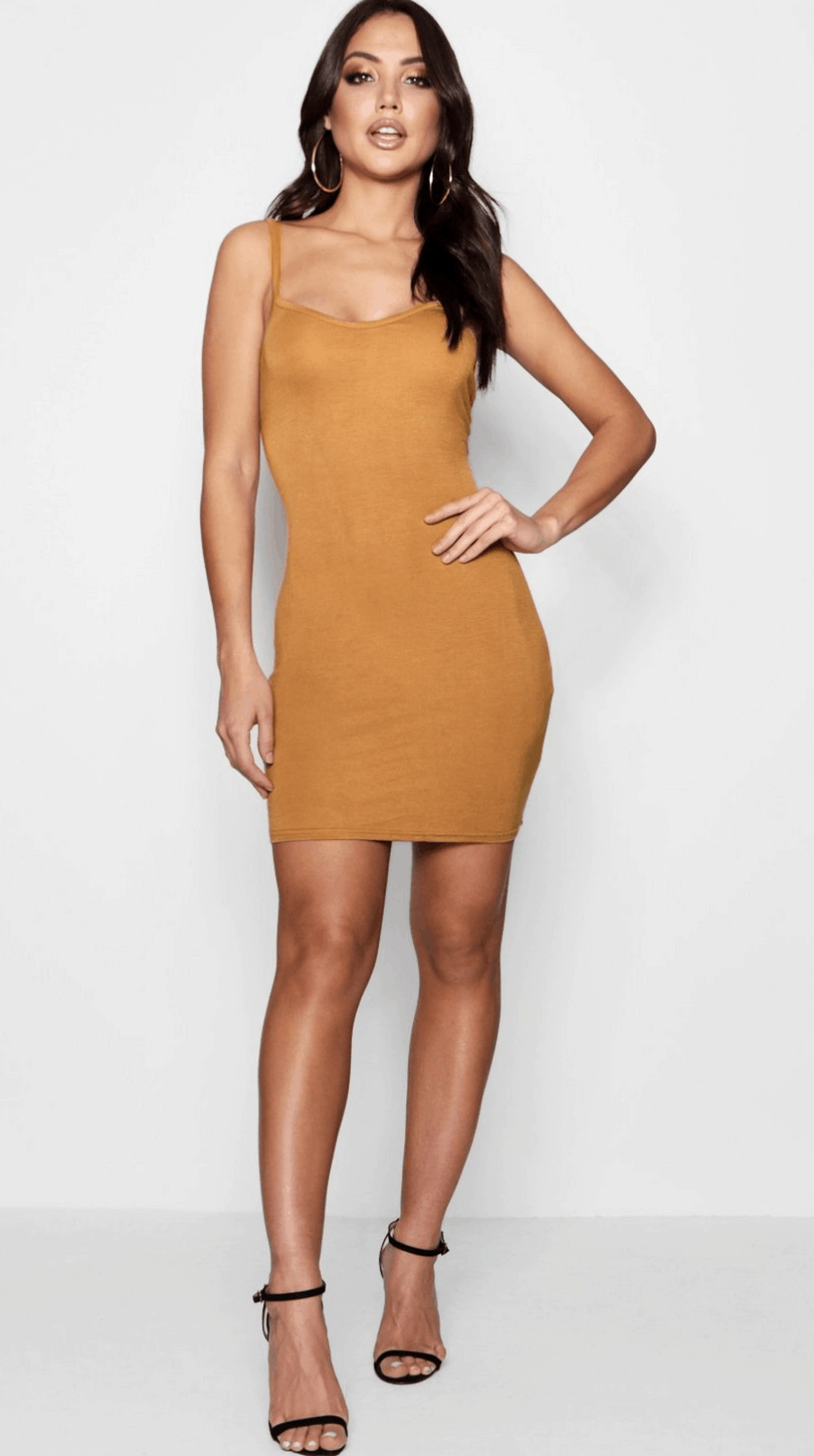 Product: Strappy Cami Bodycon Dress; $10 – Boohoo
A mustard tank top dress like this one is great for a fun day out in the sun or for some light layering. For a night out, you could layer a lightweight cardigan over top.
Alternatively, wear it under a white slightly-oversized button-up top, tied at the waist!
Affordable Yellow Pieces, Option #4: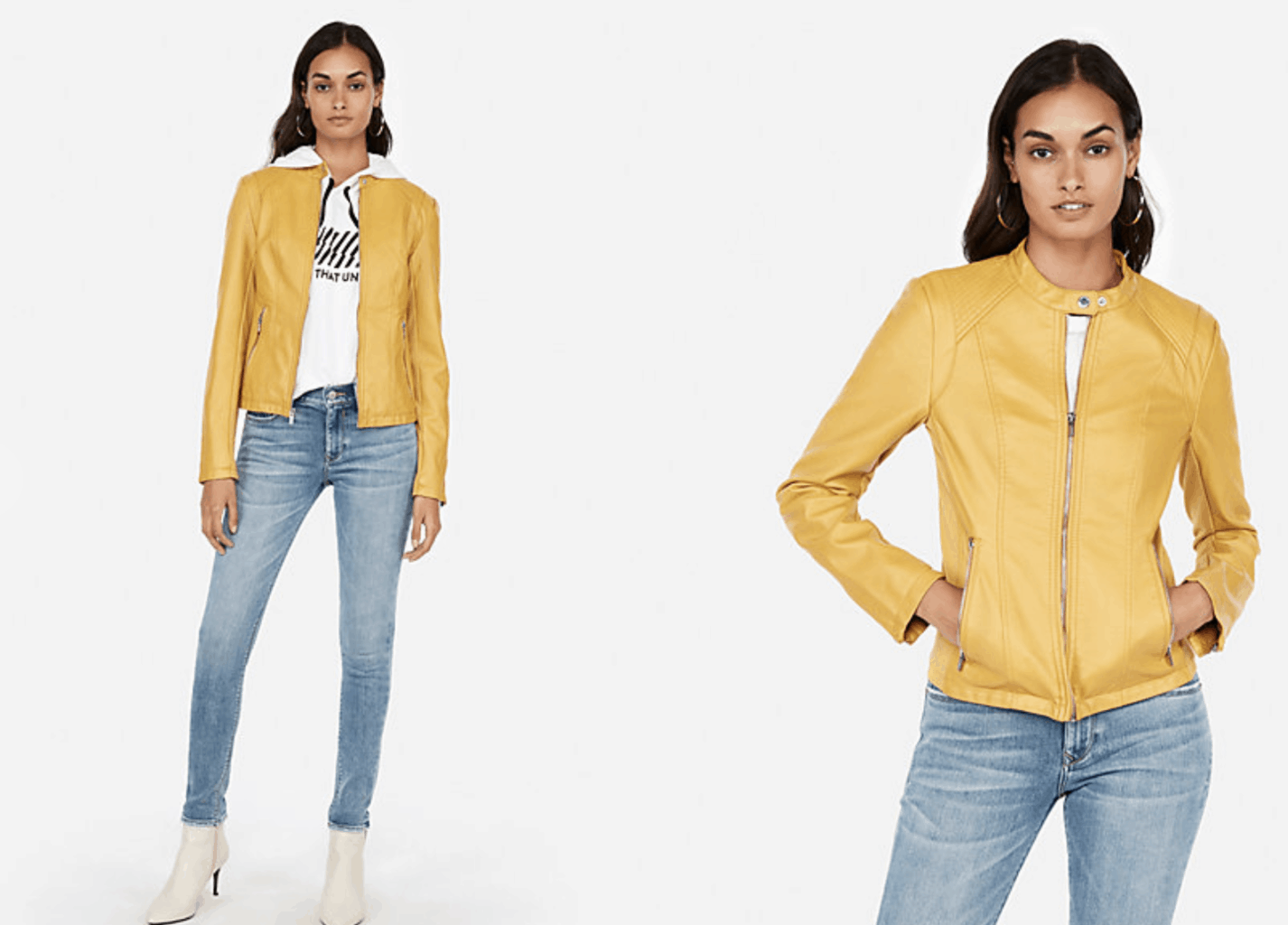 Product: Yellow Faux Leather Jacket; $77 – Express
Leather jackets can totally fit into your spring wardrobe, especially on those chilly nights. For a rocker look, pair this yellow jacket with some dark wash jean shorts, black booties, and a tucked-in band tee.
You could also try wearing it with your favorite spring sundress or romper!
Affordable Yellow Pieces, Option #5: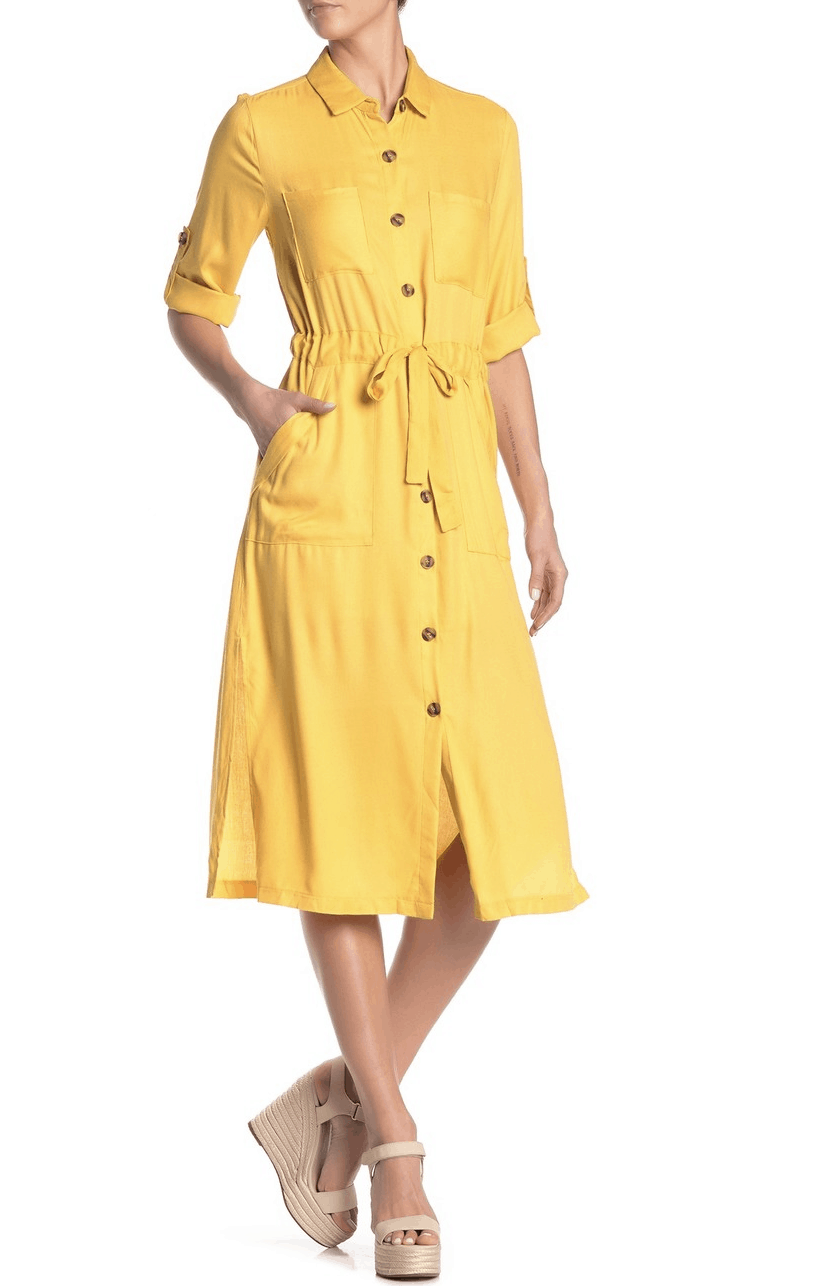 Product: Yellow Pocketed Midi Shirt Dress; $37 – Nordstrom Rack
This dress is a great way to bring color to your work attire! It's professional and even has a hint of utility.
Your outfit would look even bolder paired with a leopard print heel like these. If you'd like to add your own belt, you could tuck the ties into the button panel and layer with a belt of your choice to offset the yellow.
Affordable Yellow Pieces, Option #6: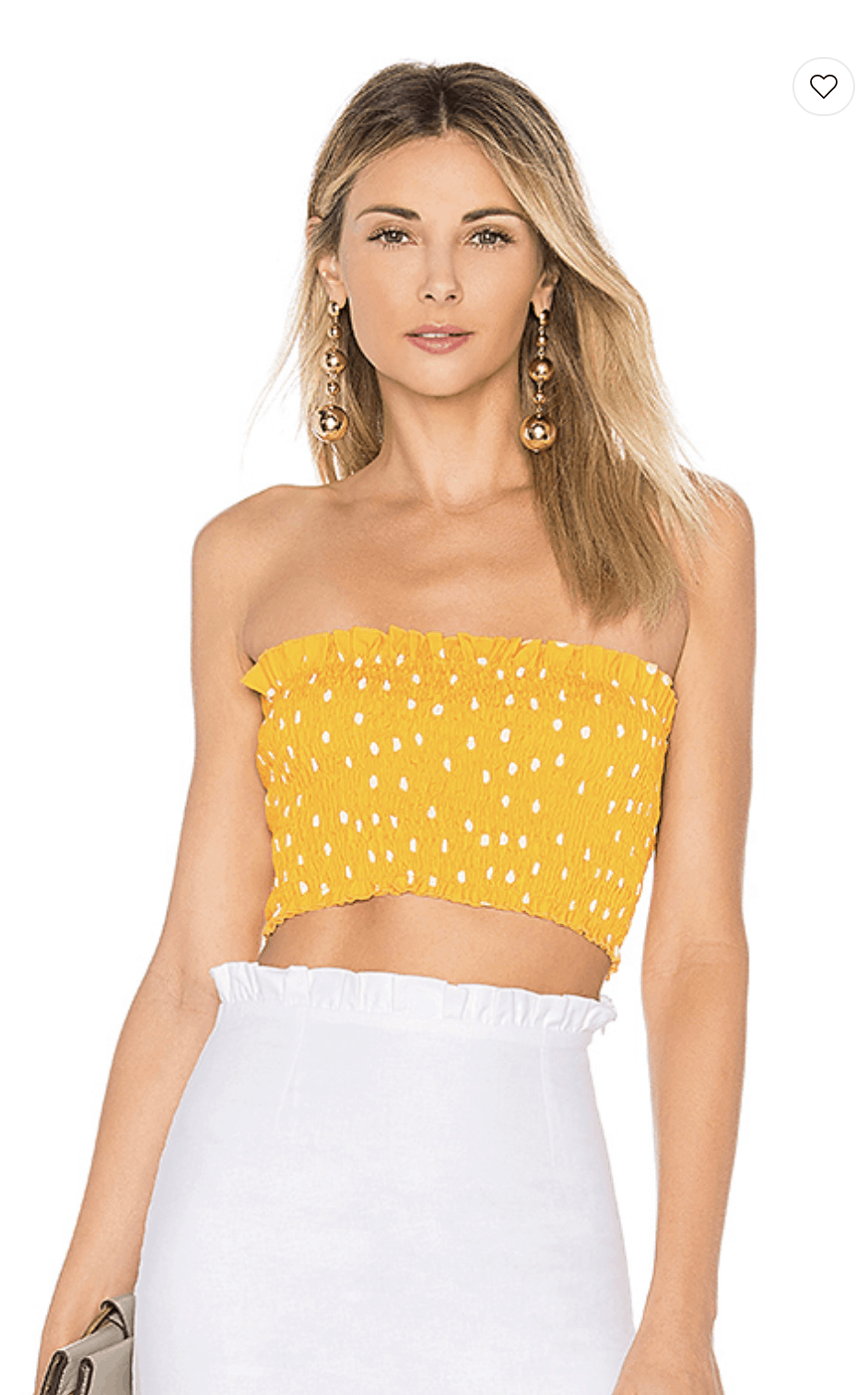 Product: Yellow Smocked Tube Top; $32 – Revolve
Not ready to add a lot of yellow to your closet? Add a crop tube top as an accent. You can wear this tube top under an open or low neck lined blouse or button up to add a pop of color.
Alternatively, you can wear this with some high waisted shorts and a cardigan, under a sheer top, or even over another dress you already love. Although the fashion blogger in the link above layered up for winter, you could simply add your tube top over a strappy cami dress or skater dress for a pop of print or color to make it new and fresh. That is what Spring is about after all!
Would you try the Shades of Yellow Trend?
Which high fashion trend would you like to see next? Share with us in the comments below!