Looks from Books is a new biweekly column offering solid proof that you can look smart, while still being book-smart as well.
Fashion inspiration can be found between the lines of your favorite stories, well-designed book covers, and awesome characters… if you read closely enough. Classic literature, fun chic lit, YA novels, sci-fi, childhood faves, graphic novels, fairy tales, Shakespeare — if the book is in print, then there's a good chance I'll be covering outfits inspired by the letters on the page! Suggestions and feedback are always welcome. Enjoy, and read on!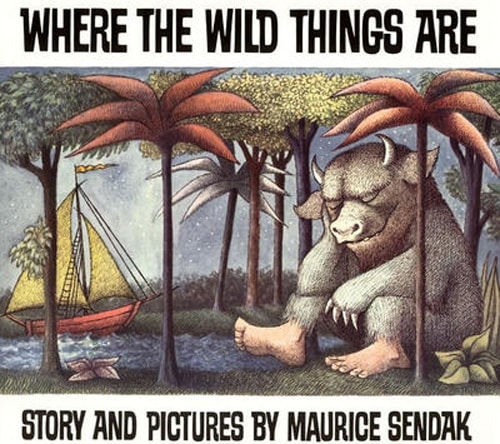 Where the Wild Things Are by Maurice Sendak — $11.14 at Amazon
(For more posts in the Looks from Books category, check out earlier posts on The Sisterhood of the Traveling Pants and The Fault in Our Stars!)
Where the Wild Things Are is basically childhood and imagination in picture book form. Who doesn't remember reading this at their elementary school library, or snuggled up in bed before mom turned out the lights? Maurice Sendak's charming illustrations and simple prose are the perfect starting points for outfits so cute, you'll eat them up you'll love them so!
Bookworm Basics
Where the Wild Things Are is a children's classic. While at first it was banned from many children's libraries in the country, over time it won multiple awards such as the Lewis Carroll Shelf Award and the Caldecott Medal. The beloved picture book has also been adapted into an opera, and most recently, a live-action film directed by Spike Jonze. Maurice Sendak sadly passed away this year at the age of 83, but Where the Wild Things Are will always be one of his most remembered works.
In the quick story (it's only nine sentences), Max gets into trouble with his mother who then sends him to his room without supper. During his grounding, he imagines a world in his room filled with mysterious creatures and fun. After taming and befriending the monsters, he realizes that he wants to go home to the one who loves him most of all, so he returns to his mother and his dinner. All is well!
Mulberry's new Autumn/Winter campaign for 2012 draws heavily on this book with a whimsical forrest and rich textures and furs all over the place. However, if you don't feel like shelling out more than 2000 dollars for a really cute sheepskin jacket, then read on for tips on how to create your own outfit inspiration from one of the most beloved children's books of all time!
She's A Wild Thing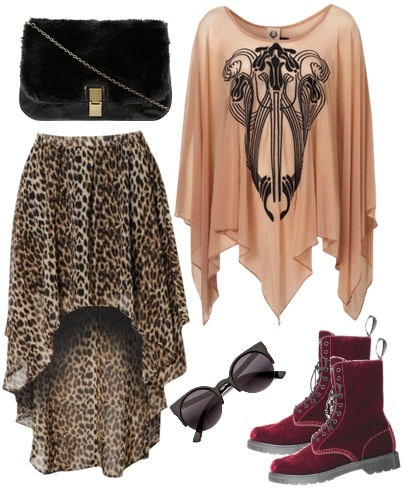 Clutch, Skirt, Blouse, Sunglasses, Boots
This look is a little rebellious and rock 'n roll-inspired. Inside all of us is a wild thing!
There are no leopards in the story book, but this animal print skirt is a play on the word "wild." If you're feeling a little flirtatious, you can tie this cool printed blouse up into a knotted crop top. Or, you can let it flow loosely the way it was was made. Either way you choose to wear it, with velevet Dr. Martens and a furry clutch full of attitude, you'll be wanting to make a little mischief of your own.
Woodsy Wild Rumpus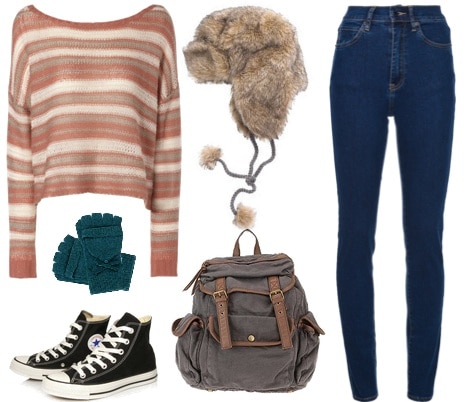 Sweater, Gloves, Sneakers, Hat, Rucksack, Jeans
This look is both practical and fun – it'd be great for adventuring around the woods, or just trekking to class in the fall.
To start, the furry trapper hat is a subtle nod towards Max's costume (because no matter how cold it gets outside, or how wild you might be feeling, you will get weird looks if you're walking around in an adult-sized wolf getup). A roomy rucksack is the perfect bag to carry any school books or supplies for when class commences in the fall! The warm woodsy and autumn-like colors of the sweater and gloves make this outfit as close to nature as Max is when he gathers around the fire with his furry, fiesty friends.
The Queen of All Wild Things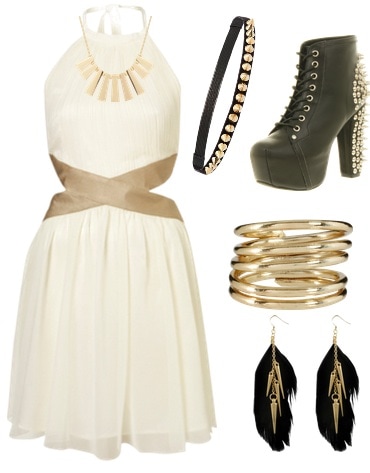 Halter Dress, Statement Necklace, Headband, Platform Booties, Triple Ring, Earrings
This look is the dressiest of the three, and utilizes metallic accents to incorporate Max's trademark golden crown into an outfit that's ready for a night out with your friends.
To start, this flowy creme-colored dress has pretty gold accenting on the waist, while these Jeffery Campbell ankle platform booties are beyond sparkly, and totally fierce! Now it's time to finish with accessories – a studded headband and bold jewelry let everyone know that you're not one to be messed with. Silence any fashion haters with a stern "be still," just like Max did!
What do You Think?
Did you read Where the Wild Things Are as a child? Which of these outfits is your favorite? Do you have any suggestions for the next installment of Looks From Books? Leave any thoughts in the comments below!