For our very first edition of Looks from Books, we're focusing on Anna Brashares's series The Sisterhood of the Traveling Pants. Even though most of us read these books years ago, stories of friendship and girl power are always great. These books are still fun beach reads to share and lend amongst your girlfriends. Plus, any book with a pair of kickin' denim jeans on the cover and four teenage girls as main characters is a clear choice for some great fashion inspiration. Let's check it out!
Bookworm Basics
The Sisterhood of the Traveling Pants is a series of Young Adult books by Ann Brashares with four total books: The Sisterhood of the Traveling Pants, The Second Summer of the Sisterhood, Girls in Pants, and Forever in Blue.
Lena, Tibby, Bridget and Carmen are the lovable, flawed, and relatable main characters of the story. Every book in the series has chapters that alternate between the perspectives and experiences of the girls.
The basic gist of the novel is that the girls share a pair of thrifted (hooray for bargains!), flattering jeans that fit them all despite their different body types. Even though they are spending their first summer apart from each other, the magic of the pants keeps them close and they mail the jeans to each other all across the world as a way of showing support and love.
Lena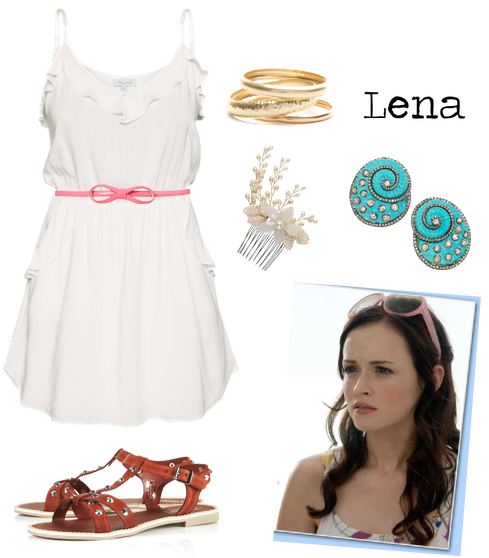 Dress, Sandals, Bracelet, Belt, Hair Comb, Earrings
Lena is a shy, introverted artist full of affection but scared to let people into her life. She's usually spotted in loose-fitting khaki pants and office fashion staples, trying to hide her delicate features with outfits more suited for her father's law firm. During the summer, she travels with her younger sister to Greece for a visit to her grandparents, falls in love with a hot island boy named Kostos, and slowly starts to emerge from her shell while developing her skills as a painter. Her look is sweet, girly and simple.
Lena Outfit Elements:
Lena's aversion to attention — in addition to the heat of the Greek/Mediterranean area —m eans that a flowing white dress is a sure bet. Take inspiration from the Greek goddesses of mythology and don't be afraid to accessorize with golden bracelets and comfortably cool sandals.
With a white dress as your blank canvas, add a few splashes of color to complete this look. Fancier shoes and a crisp blazer (standard black, or a bright neon if you're feeling bold) would make this outfit job interview-worthy!
Carmen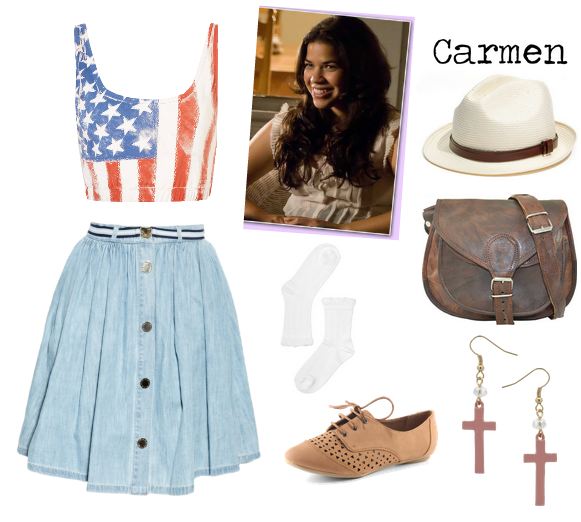 Crop Top, Skirt, Hat, Satchel, Earrings, Shoes
Carmen is the drama queen of the group, with hips and curves she is not afraid to flaunt! She's proud of her assets and her strong, Puerto Rican heritage. Yet during the summer, when she visits her dad and new family in South Carolina, she can't help but feel out of her element. Surrounded by the "blonde, bland and boring," she begins to feel self conscious of who she is when faced with her dad's apparently perfect new step-family. Despite many initial misgivings (like Carmen throwing a rock through their new home's window, or her stepmom purposely squeezing her into a too-small bridesmaid's dress), they all unite at the end and accept each other.
Carmen Outfit Elements:
A cream-colored fedora provides the perfect contrast to dark, voluminous hair. Matched with cross earrings — Carmen is Catholic, but you don't have to be religious to appreciate the significance of the cross – the look is cute and subtle.
Don't be afraid to have a little fun with a bold bralet! This American Flag Topshop piece is patriotically perfect. (In the movies, Carmen is played by the talented America Ferrera! Happy Fourth of July everyone! Be sure to keep your ensemble modest, though, with a high-waisted skirt or shorts to prevent too much midriff from showing.
Tibby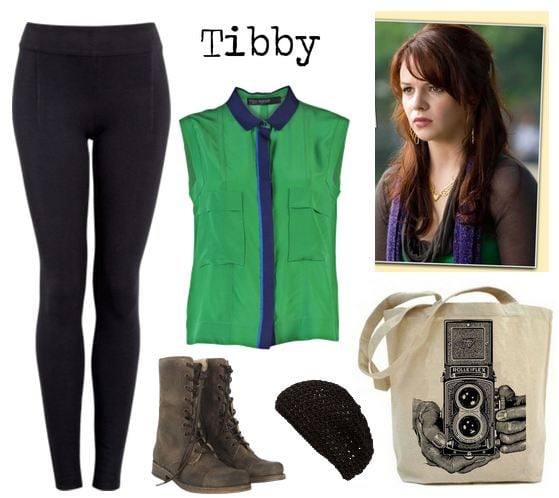 Bag, Tank, Beanie, Leggings, Boots
While all of her friends are off in far away places, Tibby stays behind and gets a job at the local Walman's and decides to make a "suckumentary" about the lameness of her surroundings. Tibby is a filmmaker in the making and a moody camera aficionado. At first she is snarky and sarcastic, choosing to build up a wall between her and other people. The daughter of hippies turned into perfect suburban parents, she feels like an outcast most of the time with her anti-establishment views. When she meets Bailey and Brian, she learns to open up and befriend those who have more to offer beneath the surface.
Tibby Outfit Elements:
The Walman smock is a gross shade of "boogery asparagus green," so this loose-fitting tank offers a more stylish interpretation of Tibby's work uniform. Tibby is a plain and easy dresser — she views fashion as a waste of time compared to her filmmaking aspirations — so when emulating her style, less is more. She prefers dark and simple colors and understated pieces.
Her camera tote bag is large enough for all of her lenses, mikes, cameras, and other necessities. Sturdy boots and comfortable leggings make walking around (she doesn't have a car because her parents are preoccupied with her significantly younger siblings) easy and convenient.
Bridget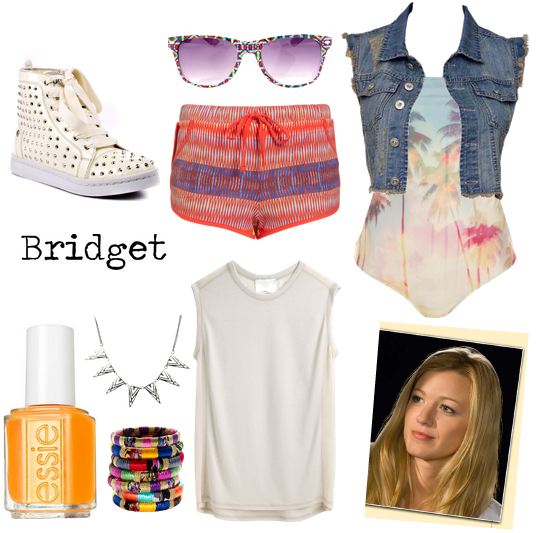 Sneakers, Sunglasses, Shorts, Tank, Nail Polish, Bracelets, Necklace, Vest, Bathing Suit
Affectionately called Bee by her friends due to her habit of whizzing around and multitasking, Bridget is a total free spirit. When she walks into the room, everyone stops and takes notice. Flirtacious, spontaneous, and a stellar soccer athlete, Bridget spends her summer at an elite training camp where she ends up folowing her reckless heart more often than her fast feet. You can't help but wince at her antics as she seduces her young soccer camp coach and does crazy things like go swimming in the middle of the night while recovering from the flu. She seems wild and free on first glance, but as we learn, Bee never got over her mother's death and throws herself with love and abandon into everything as a way of dealing with the grief.
Bridget Outfit Elements:
Bee is not one to bother with coordinating colors. She just throws on what she wants to wear that day and that's that. Comfort is first with her and she needs to be able to move freely. Although she is a tomboy in the books, she knows how to dress up in a way that claims the attention she craves. Statement jewlery and bright summer colors are the perfect way to work her look into your wardrobe.
If the "prints on prints on prints" look is a bit too crazy for your tastes, tone down the outfit with this perfect slouchy tank! Studded sneakers and funky running shorts add to the sporty feel of the outfit.
What do you think?
Did you ever read The Sisterhood of the Traveling Pants? Who was your favorite character? Have you seen the movies? Which of these outfits is your favorite? Do you have friends who you'd consider your sisters? If you have any book recommendations for the next installment of Looks From Books or answers to those questions, feel free to comment below!