Welcome to the latest edition of Looks from Books, which aims to prove that you can look smart, while still being book-smart, too. Fashion inspiration can be found between the pages of your favorite stories, on well-designed book covers, and in your favorite characters… if you read closely enough.
This week, we're taking inspiration from a recent release that's proven itself time and again on both the best-seller list and the big screen… Gillian Flynn's Gone Girl!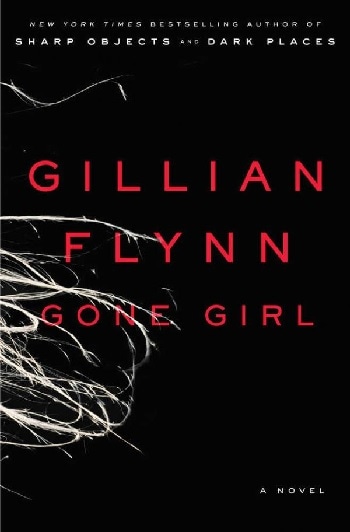 Gone Girl cover via Amazon
Inside Cover
Gone Girl is a work of contemporary thriller fiction, written in 2012 by Gillian Flynn.
The story follows Nick Dunne, the husband of Amy Dunne, after Amy goes missing. She left a trail of clues behind that make many suspicious about whether Nick knows more than he's letting on about her disappearance. Told in alternating chapters from the point of view of the discontented and anxious Nick as he searches for his missing wife, and Amy in flashbacks to their relationship through the pages of her diary, there's no way of knowing who to trust in this topsy-turvy tale of a marriage on the brink, and the damage it causes to one sleepy little Southern town.
The novel has garnered widespread critical acclaim since its publication, including earning and maintaining a spot on the New York Times Bestseller list for over two years. Readers have especially praised the novel's integration of unreliable narrators, unforeseen plot twists, and a whole lot of creepy suspense… which is probably why the movie adaptation is shaping up to be such a fit for the month of October!
A Fashionable Literacy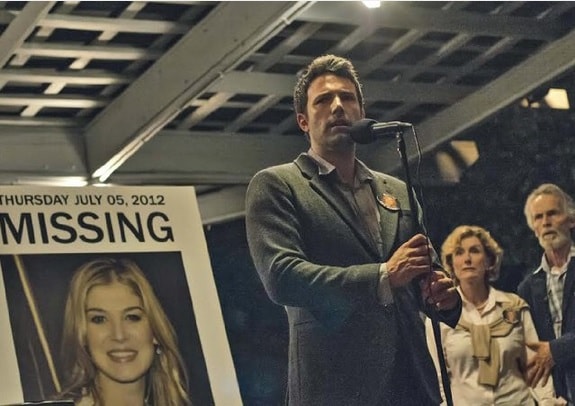 A promotional still for the Gone Girl adaptation || via IMDB
The novel was recently adapted for a film that was released on October 3rd. The movie stars Ben Affleck as Nick Dunne and Rosamund Pike as his wife, Amy. Critics and audiences alike have generated rave reviews for the recent release, earning it a "certified fresh" rating on Rotten Tomatoes, with 87% of reviews being favorable to the film.
Trish Summerville, the costume director for the movie – who has also lead the design team for films like The Hunger Games: Catching Fire and The Girl with the Dragon Tattoo – was a huge fan of the book before she signed on. She had also worked with director David Fincher previously on the latter film, and this partnership gave her confidence and a clear direction to take on Nick and Amy's style. She chose to dress the pair in contemporary fashions that played into the darker tone of the film with accessible pieces and muted colors.
How to Add Some Thrill to Your Wardrobe
By integrating key elements of the novel into your own look, you, too, can have a look just as dark and interesting as the novel (but we're wishing you a little more luck in your love life!).
Summertime Sadness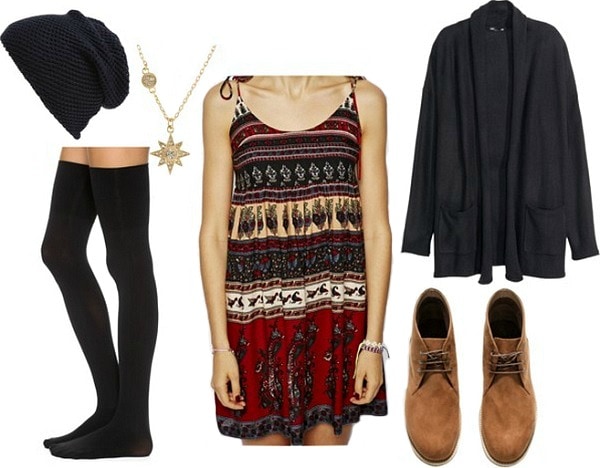 Product Information: Beanie – Nordstrom, Necklace – InPink, Dress – Asos, Cardigan – H&M, Shoes – H&M, Socks – ShopBop.
Amy disappears on warm summer morning, in the Southern town of North Carthage, Missouri, but there is nothing in this novel that would suggest anything remotely tied to those lazy mid-year days. Instead, the frigidity of Nick and Amy's brittle marriage, the tense and unrelenting build-up of suspense, and the dark overall tones of the novel would suggest something a lot more chilly.
Integrate this contrast of setting and tone into your look by mixing breezy summer staples with dark fall basics. A printed sundress, a sun pendant, and desert boots bring out the sunshine again, while thigh-high socks, a cozy cardigan, and a knit beanie add in a touch of the cold.
The Not-So-Happy Couple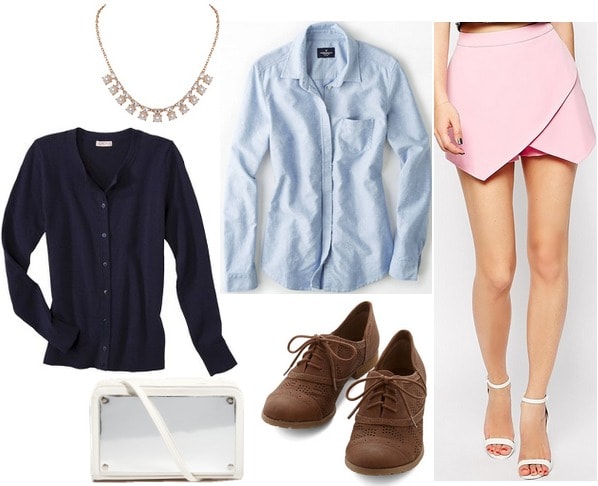 Product Information: Necklace – Humble Chic, Shirt – American Eagle, Skirt – Asos, Shoes – Modcloth, Purse – Asos, Cardigan – Target.
The novel focuses on the marriage between Nick and Amy Dunne, but not just in the suspicious and uncertain present of Amy's disappearance. Through journal entries, we get a peek into how Amy felt about their whirlwind romance as it developed, and as the media attention shifts to Nick as the primary suspect, we find that she didn't just voice those uncertainties through writing, but to others around North Carthage. How could what seemed like a match made in heaven turn out to be such a living hell?
Juxtapose the characterizations of Nick and Amy with a look that brings the two together in a way their relationship couldn't. Lazy professor Nick is personified in a pair of beaten-up oxfords, a button down shirt, and a basic cardigan, while clever and cool Manhattanite Amy is brought out in a sleek pearl necklace, a pastel skort, and a mirror-sided crossbody bag.
Conflicting Interests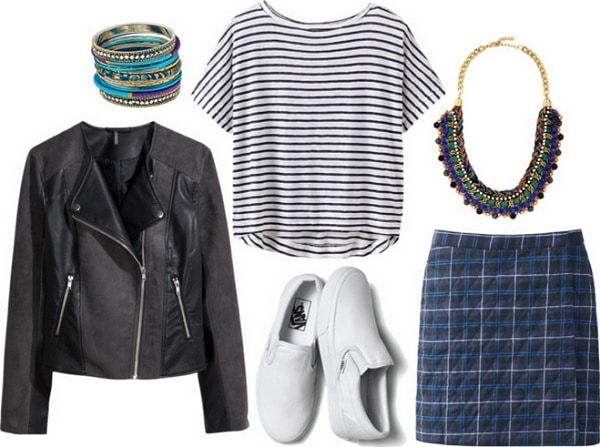 Product Information: Bangles – Max&Chloe, Shirt – Athleta, Necklace – Modcloth, Skirt – Uniqlo, Shoes – Vans, Jacket – H&M.
You've probably heard that Gone Girl packs one hell of a plot twist… and they were right! This surprise amidst all that suspense is achieved from the always changing points of view: Nick and Amy are both pretty unreliable narrators, and with new revelations of the couple's past and eyewitness accounts from neighbors and friends painting an ever-clearer portrait of a marriage on the brink, who can you really trust to tell the truth?
Integrate these conflicting points of view with a look that's all about punchy contrasts in patterns, textures, colors, and fabrics. A striped top goes against the grain of a quilted plaid skirt, while sleek slip-ons make a stark counterpoint to a black biker jacket. A statement necklace and colorful mixed media bangles complete the look by making a strong statement of their own.
What Do You Think?
Have you read Gone Girl, or any of Gillian Flynn's other novels? Have you read any thriller novels quite like Gone Girl? Do you plan on seeing the movie? What do you think of the outfits and styling tips? Let me know in the comments below!