Welcome to the latest edition of Looks from Books, which aims to prove that you can look smart, while still being book-smart, too. Fashion inspiration can be found between the pages of your favorite stories, on well-designed book covers, and in your favorite characters… if you read closely enough.
This week, we're preparing for spring by taking inspiration from a California classic and the spunk of a very special '90s fashion heroine. Here's Francesca Lia Block's Weetzie Bat!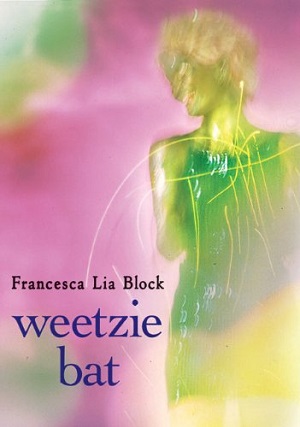 Book Cover via Amazon
Inside Cover
1989's Weetzie Bat was the first novel published by contemporary author Francesca Lia Block. As of 2013, the novel has spawned seven other books in its series.
The first of the Dangerous Angels series, Weetzie Bat follows the eponymous heroine through parts of her young life growing up in California. Through the dreamy lens of her own magical take on the world, she transforms the city of Los Angeles into her own heightened Shangri-L.A. She lives in a fairy tale, complete with a genie that grants her three wishes… though the effects of them may be more than she bargained for.
In 2009, twenty years after its release, the work was awarded the Phoenix Award from the Children's Literature Association for its status as a quintessential young adult novel.
A Fashionable Literacy
Weetzie Bat has never been adapted into a movie or a TV show, but has served as a means of inspiration for music and fashion, including magazines like Nylon and Paper, and the online magazine, Rookie.
In 2010, Wildfox Couture featured an editorial inspired by the novel, a tie-in with a promotion for the live reading of the screenplay. The brand also partnered with the novel's author to make a mini-collection based off of her characters.
The Dangerous Angels series has had a long string of controversy with book banning groups. This is due to depictions within the series of gay teens, blended families, premarital sex, and other examples of "alternative lifestyles," as well as the inclusion of AIDS and suicide. However, the book is also considered to be a young adult classic for gay and lesbian teens, and while the material is highly suggestive, the dialogue raised by such material is well worth it.
How to Add Weetzie to Your Wardrobe
By integrating key elements of the novel into your own looks, you can dress just like you belong in that fairy tale cottage with Weetzie and her friends!
Shangri-L.A.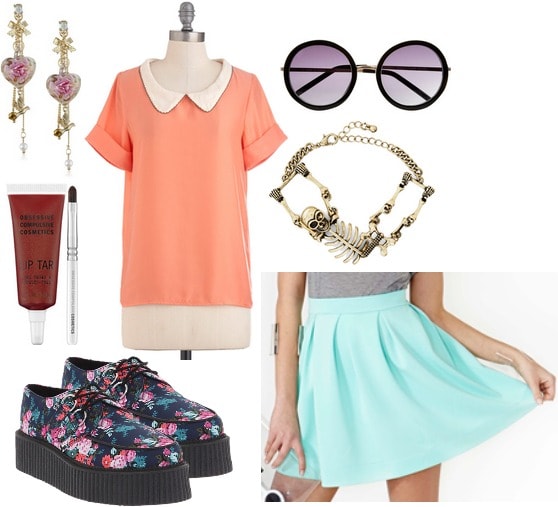 Product Information: Earrings – Betsey Johnson, Lips – Sephora, Creepers – Hot Topic, Top – Modcloth, Sunglasses – River Island, Bracelet – Modcloth, Skirt – Nasty Gal.
Weetzie lives in Los Angeles, but not the gritty metropolis you're probably used to reading about. Retro and neon, Shangri-L.A. is an idealized and heightened blend of the '80s punk movement and the Golden Age of Hollywood, with a deep affinity for surfing and Marilyn Monroe. These contrasting sensibilities – and alternative fashion sense – make Weetzie's world a unique and open-minded take on the fairy tale for contemporary culture.
Utilize this meshing of the hyper-feminine and boldly alternative in an outfit that brings together L.A.'s golden retro idealism and its punk rock grit… just like the Shangri-L.A. of Weetzie's dreams. Dangly floral earrings, wide-eyed sunglasses, and a Peter Pan-collared shirt bring out the sun, while dark lips, a skeleton bracelet, floral creepers, and a neon scuba skirt edge out the look.
Dirk and Duck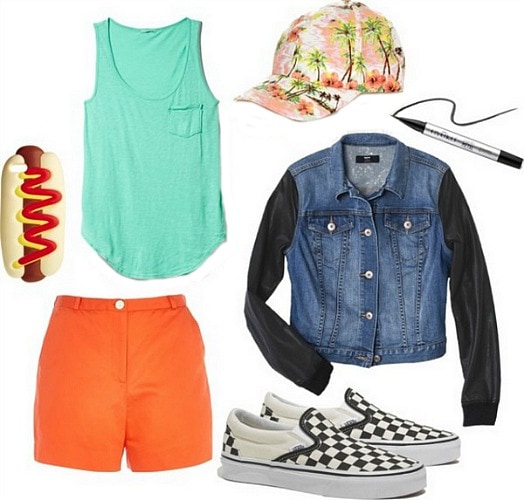 Product Information: iPhone Case – Asos, Tank – Piperlime, Shorts – River Island, Hat – Accessorize, Eyeliner – Sephora, Jacket – Target, Shoes – Vans.
While the first book in the series primarily focuses on Weetzie, it also follows two of her housemates, Dirk and Duck. The biker boy and the surfing stud who fall in love, Dirk is Weetzie's best friend since high school who sports lots of leather and a mohawk, while Duck is the blonde-haired, bright-eyed man of Dirk's dreams. Brought together by one of the wishes from Weetzie's genie lamp, Dirk and Duck's relationship is most often cited by critics as a reason the book should be banned. Funny enough, of the three relationships in the book, Dirk and Duck are the best functioning couple.
Bring together Dirk's leather edge and Duck's surfer sensibilities with a look that perfectly captures the old saying, "opposites attract." A palm-tree-bedecked cap, a breezy neon tank, and high-waisted shorts get roughed up with a leather-sleeved denim jacket, winged eyeliner, and classic Vans slip-ons. A hot dog phone case calls to mind one of the novel's most frequently remarked upon establishments, L.A.'s Oki-Dogs.
Beautiful Angels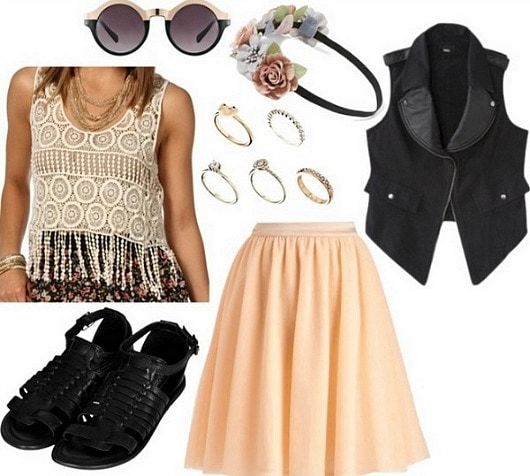 Product Information: Sunglasses – Asos, Top – Windsor Store, Sandals – TopShop, Rings – Asos, Headband – Nordstrom, Vest – Target, Skirt – Modcloth.
Weetzie Bat doesn't just follow the titular heroine's exploits, but also those of the people she loves most. Tutus and taffeta, fringe and feathers all come together under the roof of the fairytale cottage Weetzie and her family lives in. From Weetzie and her Secret Agent Lover Man (yes, that's his name), to Dirk and Duck, to Weetzie's daugther, Cherokee, and Secret Agent Lover Man's daughter, Witch Baby, their fairy tale cottage is bursting with lots of people and lots of love. The family that makes indie films together, stays together.
Celebrate Weetzie's blended family with pieces inspired by its various members. Weetzie's tutus are a little strong for the street, so a tulle skirt works just fine. Cherokee's bohemian sensibilities come together in a fringe shirt, Dirk's edge comes in a leather vest, and Duck's laid-back attitude calls to mind a floral headband. Sleek sunglasses are perfect for Secret Agent Lover Man, while a handful of rings brings the whole family together.
What Do You Think?
Have you ever read Weetzie Bat, or any of the other books in the Dangerous Angels series? Have you read any works of fiction or poetry by Francesca Lia Block? Do you think this post should have had more sequins in it? (I do.) Would you want a Weetzie Bat movie? What do you think of the outfits and styling tips? Let me know, in the comments below!