Welcome to the latest edition of Looks from Books, which aims to prove that you can look smart, while still being book-smart, too. Fashion inspiration can be found between the pages of your favorite stories, on well-designed book covers, and in your favorite characters… if you read closely enough.
We've had quite a bit of fun with fantasy recently, so why stop now? Here's yet another set of outfits inspired by a wondrous work of magic and adventure: Neil Gaiman's Stardust!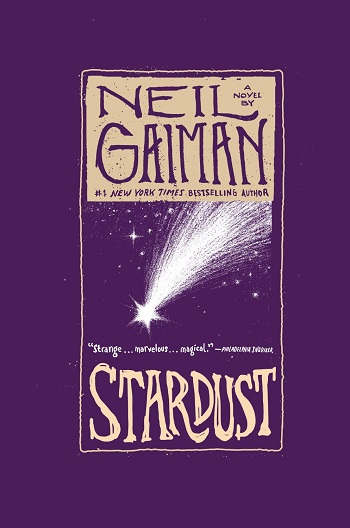 Stardust Cover via Amazon
Inside Cover
Stardust is a novel written in the style of classic fantasy, and was published by accomplished British novelist Neil Gaiman in 1999.
The story begins in the village of Wall, bordering on Faerie, where Tristran Thorn sets off on a journey to pursue a falling star after promising to catch it and bring it back to the girl he loves. However, once he finds the star, not only does he discover that his task is trickier than it would originally seem, but he is not the only one searching.
While finding the star is easy enough, Faerie is a land of magic and danger, and Tristran and his new companion, Yvaine, have a lot to look out for on their way back to Wall, including ancient witches, competitors for the crown, and maybe even a magical creature or two.
Stardust was originally conceived and published as a graphic novel that included original illustrations by Charles Vess, but since Gaiman retained the copyright to the work, he decided to re-release the story in traditional book form. Both versions have been generally favored by critics.
A Fashionable Literacy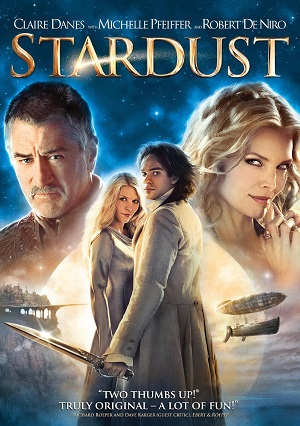 Stardust Movie Poster, via Amazon
Stardust was adapted into a movie in 2007, and stars an ensemble cast of big names, including Michelle Pfeiffer, Sienna Miller, Robert de Niro, Ricky Gervais, and Rupert Everett. Tristran (changed to "Tristan" for the movie) is played by Charlie Cox, and Yvaine is played by Claire Danes. In addition, the movie is narrated by Ian McKellen.
The novel was originally optioned for film adaptation the same year it was published; however, a string of directors deciding to pursue different projects left it dormant until Matthew Vaughn walked away from directing X-Men: The Last Stand in 2005. As a result, the film carries a strong action-adventure tone. The movie was defined as an adventure with magical elements, rather than outright fantasy, and producers were surprised to learn that the film was well-received by test audiences across all demographics.
The film's reviews ran the gamut from praise for the cast to qualms with uneven pacing, but it is generally well-reviewed.
How to Add Stardust to Your Own Wardrobe
By integrating key elements of the novel into your own look, you, too, can have a wardrobe that incorporates the magic of Faerie, even on this side of the Wall!
Beyond the Wall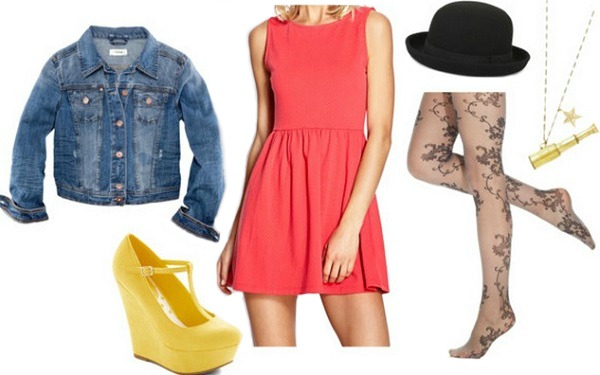 Product Information: Jacket – H&M, Shoes – Modcloth, Dress – Forever 21, Hat – BCBG, Tights – Macys, Necklace – Modcloth.
With a brief adventure at the beginning of the novel stated to be at the time of Queen Victoria's youth and Charles Dickens' serialization of Oliver Twist, the main events of the book take place in the mid-19th century.
However, this is also a universe that explicitly has ties to the land of fantasy – the town's inhabitants go across the Wall every nine years to exchange with magic merchants, and the land beyond is something, well, straight out of a fairy tale. This juxtaposition of time period and fantasy elements makes for an interesting combination of grounded history and imaginative possibility, embodied in the rationally-living but ambitiously-minded character of Tristran Thorn.
Integrate Tristran's style into your own ensemble by borrowing some of his own wardrobe staples, while also calling to mind the line between Wall and Faerie that he manages to cross. A rough denim jacket and star-following telescope necklace pay to mind his time spent in Wall, while a bowler hat is directly borrowed from his own look. A crimson dress and canary yellow shoes borrow the colors he wears in Faerie, while pretty patterned tights pay homage to the flora of this fantasy land.
Follow the Star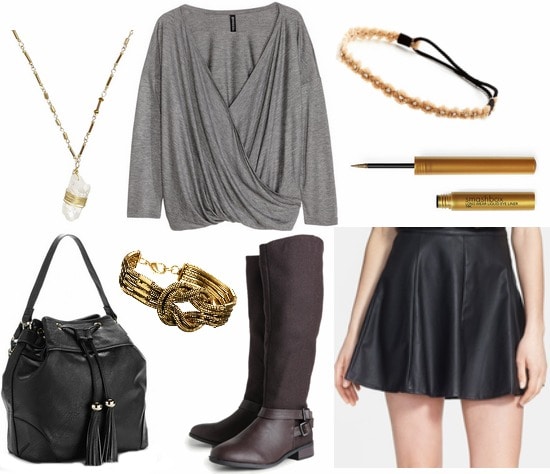 Product Information: Necklace – Asos, Bag – Kohls, Top – H&M, Bracelet – Asos, Boots – Ruche, Headband – Modcloth, Eyeliner – Beauty, Skirt – Nordstrom.
Since the land of Faerie is a dangerous and unexpected one, Tristran already has his journey cut out for him in his pursuit to catch the same star that he saw fall with his love, Victoria. However, he soon learns that there are more foes than he realizes also pursuing the same star, like ancient witches wishing to regain their lost youth and the sons of Stormhold, seeking the star as a declaration of their right to rule the kingdom. Their cunning and treachery leads to death along their journey, and it is only with the intervention of several other Faerie inhabitants that they will be able to return home.
Integrate the fearsome foes of Tristran's Faerie journey into your own look by adopting the style of some of those also pursuing the star. A draped, gray top mirrors the age of the ancient witches, a gold cuff mimics their signature deadly accessory of choice, and a bucket bag is perfect for a long journey (across campus, that is). A pair of sturdy boots and a structured leather mini call to mind the high status of the Stormhold royals, while a crystal necklace is reminiscent of the topaz they're chasing. Gold eyeliner sleekens the look and a golden headband serves as a crowning finish.
Fairytale Flora and Fauna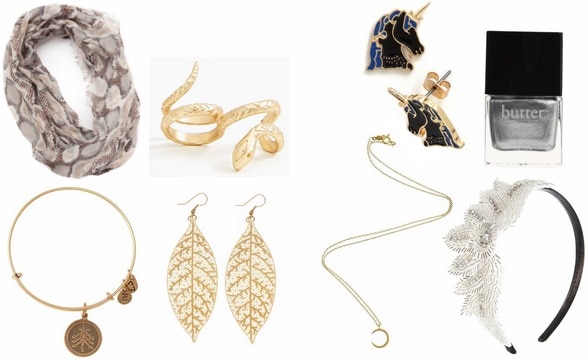 Product Information: Scarf – Mango, Ring – NastyGal, Bangle – Bloomingdales, Earrings – AXParis, Studs – Modcloth, Necklace – Asos, Headband – Asos, Nail polish – Butter London.
In the land of Faerie, magical icons of mythology and fantastical beasts abound, and like the tales of old, not all of these fairytale flora and fauna are as benevolent as the nursery rhymes say. The good – unicorns, tree nymphs, and the stars themselves – are ancient creatures willing to help those in trouble, while the bad – like serewoods and snakes – are more than easily able to start it. Tristran and Yvaine come face-to-face with more than one of these creatures along their quest through Faerie.
Integrate the natural elements of Faerie into your own look by borrowing from both the good and the bad, with accessories that play up the friends and foes of Tristran and Yvaine. A snakeprint scarf and serpent-shaped ring call to mind the ways of the ancient witches, while leafy earrings symbolize the serewood, and the seven swords on the bangle's pendant represent the seven Lords of Stormhold. Unicorn earrings and sleek silver nails pay homage to the unicorn who comes to Yvaine's aid, while a delicate silver headband and a minimalistic moon pendant call to mind its origin.
What Do You Think?
Have you ever read Stardust, or any others of Neil Gaiman's novels? Have you read any other works of fantasy? Did you see the movie? What do you think of the outfits and styling tips? Let me know, in the comments below!