Welcome to the latest edition of Looks from Books, which aims to prove that you can look smart, while still being book-smart, too. Fashion inspiration can be found between the pages of your favorite stories, on well-designed book covers, and in your favorite characters… if you read closely enough.
This week, we're focusing on Jane Eyre, a feminist favorite that made a hero of every plain-faced, witty girl in English class, and inspired more than one clandestine peek into the attic.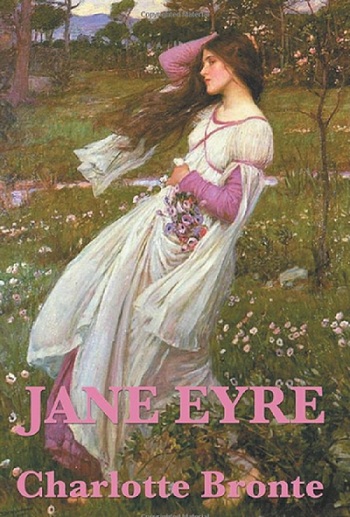 Jane Eyre book cover via Amazon
Inside Cover: A Little Bit of Background
Jane Eyre is a Gothic romance novel, written in 1847 by Charlotte Bronte.
The story explores the personal life and emotional growth of plain, unassuming Jane Eyre, from an abused, precocious orphan, to a witty, yet subdued, new governess at the house of the mysterious Mr. Rochester. The plot thickens when she falls deeply in love with her secretive employer, only to face new struggles.
Jane Eyre was originally published with the subtitle, "An Autobiography," which points to the parallels between Jane's life and Bronte's own. The work is largely based on experience: Charlotte attended a school much like Lowood, where she endured tragedy; she later worked as a teacher, and then pursued a career as a governess. Of course, Charlotte eventually became a writer, and was then able to re-imagine her experiences with an amplified sense of drama.
A Fashionable Literacy
Jane Eyre's most recent film adaptation, directed by Cary Joji Fukanaga, starred Micheal Fassbender as the enigmatic lover Rochester and Mia Wasikowska as our titular heroine, Jane. The costumes adhered strictly to those of the time period, featuring coiled buns, high collars, hoop skirts, and bloomers.
Although the days of hoop skirts are long since passed, we can find aspects of Jane's simple, structured attire in many recent runway trends. Examples include the  androgynous silhouettes and understated feminine influences seen at Celine and Chloe Spring 2013, as well as the dour menswear-inspired suits of Anne Valerie Hash's Pre-Fall 2013 collection. These modern-day trends could easily work in a Gothic feminist heroine's wardrobe.
How to Add Jane to Your Wardrobe
By integrating key themes and motifs from the novel, as well as Bronte's writing style, you can try some of the season's hottest trends and reference the intrepid heroine in your outfit choices, hopefully without enduring the same dramatic events she does.
Contrast in Gender Status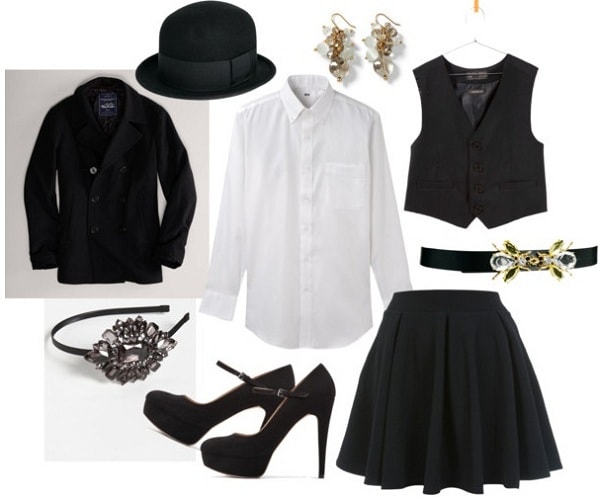 Peacoat – American Eagle, Bowler Hat – ASOS, Headband – Nordstrom, Oxford Shirt – Uniqlo, Mary Jane Heels – Forever 21, Earrings – White House Black Market, Skater Skirt – Miss Selfridge, Embellished Belt – Asos, Vest – Zara.
While Jane Eyre can be viewed through the scope of many social commentaries – including class structure and religious right – the most enduring commentary allied with the novel is that of gender status.
Throughout the book, Jane confronts many men who, in some way, attempt to subjugate her to their authority: First, there is the hypocritical clergyman and Lowood headmaster, Mr. Brocklehurst, followed by the cold, intelligent St. John Rivers. Finally, there is our unlikely hero, Mr. Rochester, whose allure and mystique blind Jane to some horrible truths. Only when Jane is Rochester's equal – financially independent, confident in herself, and fully capable of doing whatever she pleases – is she able to return to him as a partner.
Allude to this contrast by mixing of masculine and feminine styles in your wardrobe. A full skirt, ultra-girly mary-jane platforms, and jewel-embellished accessories give off a traditionally feminine aesthetic. Pair them with a men's cut oxford shirt, peacoat, vest, and bowler hat for a contrasting and balancing, dose of masculinity.
The Color Red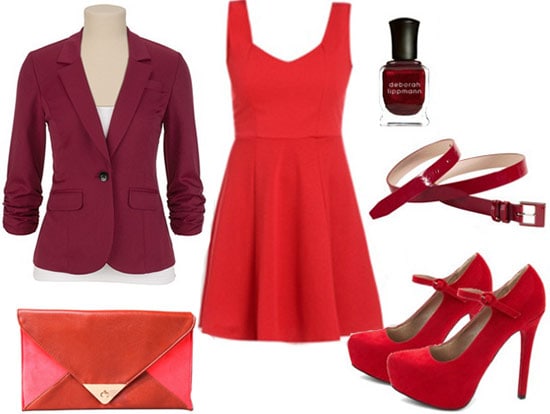 Blazer – Maurice's, Nail polish – Deborah Lippmann, Dress – Wet Seal, Mary Jane Shoes – Charlotte Russe, Belt – Cole Haan, Clutch – Akira.
One specific motif of interest within Jane Eyre is the color red. This motif is displayed in such features as the trauma in the Red Room; the color of Grace Poole's hair; the cloak of "Mother Bunches," the gypsy who tells Rochester's guests their fortunes; and, of course, in the fires set by Grace's phantom-like ward, Bertha. Bronte uses the sharp contrast between the novel's bleak surroundings and these bold pops of red to indicate specific turning points or areas of interest in the story, as well as danger and concealment.
Reference this motif while trying the head-to-toe monochrome trend by styling your outfit around shades of red. However, avoid going overboard by mixing shades and textures within your attire. Pair a dark burgundy blazer with a bold red dress, then get started accessorizing. Extras like suede Mary Jane heels, a patent leather belt, and chunky glitter nail polish give multi-layered monochrome a mark of distinction.
Contrast of Plain Vs. Beautiful
Houndstooth Coat – Target, Striped Shirt – Oasis, Studded Loafers – Charlotte Russe, Lace Skirt – Chicwish, Polka Dot Scarf – Mango, Leopard Belt – Forever 21, Chevron Tights – Gap
Thesubjective nature of what is plain vs. what is beautiful takes center stage in both the romance and writing style of Jane Eyre.
Throughout the novel, Jane's appearance is repeatedly described as plain and unremarkable. However, Rochester sees her active wit and lively spirit, and more than once remarks upon her "ethereal" and "other-worldly" beauty. Similarly, the settings Bronte describes – stone walls, endless moors, dark and concealed pathways – may be dreary and bleak, but the elaborate and vivid prose she employs while doing so grants them an unnatural allure.
Reference this unique mindset, as well as the mixed-prints trend, by styling minimalist and muted silhouettes with conflicting patterns, emphasizing that simple can also be interesting. To mix prints like a pro, base your look around one large-printed piece, like a striped shirt, and one subtly-printed piece, like a lace skirt, both in neutral tones. For outerwear, a houndstooth coat adds a small print for contrast, and accessories add more opportunities for integrating the trend.
What do you think?
Have you ever read Jane Eyre? If so, was it for class? What do you think of the Gothic Romance genre? What did you think of Jane herself? Did you see the most recent movie? Do you like the outfits? Let me know in the comments below!