Welcome to the latest edition of Looks from Books, which aims to prove that you can look smart, while still being book-smart, too. Fashion inspiration can be found between the pages of your favorite stories, on well-designed book covers, and in your favorite characters… if you read closely enough.
We're deep into the school year now, and just as the leaves have completely fled the trees, my dollar bills have similarly vacated my wallet (thanks, irresistible holiday Starbucks menu). Instead of buying new material, I've been taking a closer look at some of the more neglected volumes on my bookshelf; hence, the resurfacing of a Dickensian classic, Great Expectations!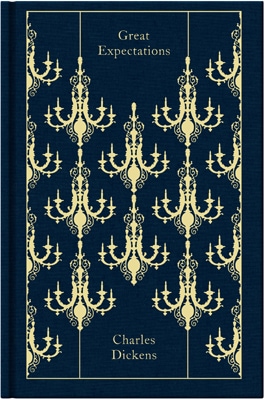 Great Expectations cover via Amazon
Inside Cover
Great Expectations, a classic British novel by recognized masterpiece author Charles Dickens, was published in 1861.
The novel follows the life of Pip: an orphan raised by his domineering sister to be an apprentice to his blacksmith uncle. However, an unexpected benefactor gifts Pip a large sum of money, and sends him to London to be educated as a gentleman, therefore leading him to have "great expectations" about what is to become of his life.
The story's intrigue is offered by the mysterious figure of Pip's childhood trauma, a convict named Magwitch, as well as the housebound, tragic figure of Ms. Havisham, and her beautiful ward, Estella.
This was Dickens' thirteenth novel, and although it received mixed reviews upon its release, it was lauded by its famous author as having been his best work.
A Fashionable Literacy
The most recent adaptation of Great Expectations was released in 2012, and totes several big-name stars, like Jeremy Irvine as Pip, Holliday Grainger as Estella, Ralph Fiennes as Magwitch, and Robbie Coltrane as Mr. Jaggers. The real standout of the set was Helena Bonham-Carter, who, at forty-five years old, was the youngest women on record to tackle the emotionally demanding role of Ms. Havisham.
Beatrix Aruna Pasztor, costume designer for the film, had previously worked on movies ranging from modern (1997's Good Will Hunting) to period pieces (2004's Vanity Fair), and she wanted her style direction for Great Expectations to be a mix between the two: 19th century sensibility, but contemporary style.
In fact, the iconic wedding dress of Ms. Havisham, was inspired by the "Oyster" dress from the Spring/Summer 2013 Alexander McQueen collection. (Fun Fact: Bonham-Carter fell in love with the dress during filming, and even went as far as asking if she could keep it.)
How to Add Pip to Your Wardrobe
By integrating key elements from the novel into your own looks, you, too, can have "great expectations" for high style, even on a budget a little more limited than Estella's.
Across the Social Divide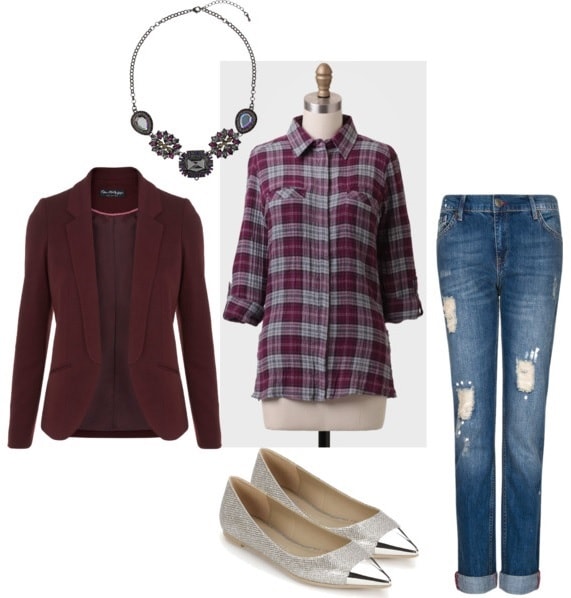 Product Information: Jacket – Miss Selfridge, Necklace – Dorothy Perkins, Shirt – Ruche, Jeans – Mango, Shoes – Kohls.
Pip is initially made aware of his social inferiority after his first visit to Ms. Havisham's and meeting Estella, who mocks everything from his coarse hands to the thickness of his boots, which inspires Pip's drive to improve his situation in life. This isn't the first time Dickens broached the topic of inequality in a work: Oliver Twist and AChristmas Carol demonstrate Dickens' ties to the plight of the lower ranks.
The dynamics of social movement, from rags to riches – along with Pip's inflated aspirations and almost-unattainable goals – make Great Expectations, as a work, unique.
Inspired by Pip's sharp consciousness of the social strata, as well as Dickens' historical recognition of the lower classes, this look is all about mixing high and low pieces. Work-inspired basics like a plaid shirt and boyfriend jeans ground the look, while elevated accessories like a sharp blazer, a statement necklace, and sleek pointed-toe flats bring this look up to Estella's level.
Battle of the Sexes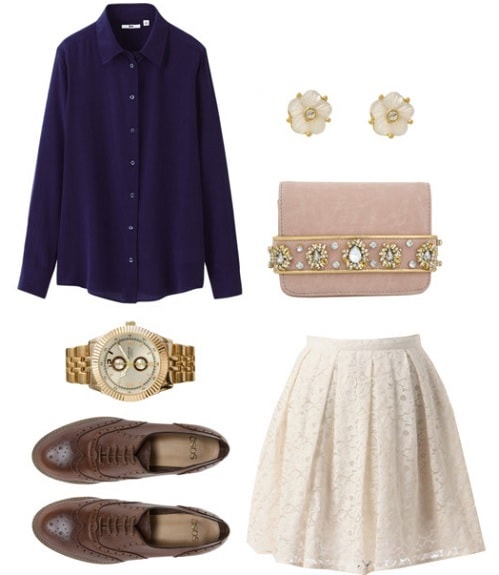 Product Information: Blouse – Uniqlo, Watch – Nordstrom, Oxfords – Asos, Earrings – Lord & Taylor, Clutch – Miss Selfridge, Skirt – Ruche.
The humorous, dramatic, and widely differentiated cast of characters that Dickens brings together in Great Expectations is a mark of the boundless creativity of its author. However, one of the main sources of conflict in the novel – the romantic turmoil of the relationship between Pip and Estella – is a tale as old as time itself. The harshness of their relationship is only flamed by Havisham, rejected by a fiance in her youth, who essentially breeds Estella to do wrong by men and break as many hearts as possible.
Fueled by the sharp contrasts between Pip and Estella, this outfit is all about playing up the gentleman and the lady in equal shares. For this look, bring together functional work-wear pieces, like the button-up blouse, menswear watch, and chunky oxford shoes, with delicate and ornamental pieces, such asa lace skirt, embellished clutch, and floral earrings.
Ms. Havisham's Dressing Table
Product Information: Earrings – Modcloth, Comb – Charming Charlie, Pins – Nordstrom, Cameo – Amazon, Brooch – Betsey Johnson, Scarf – Hollister.
One of the most eerie and iconic elements of the novel is, naturally, the enigmatic figure of Ms. Havisham, the jilted bride who halts time for herself at the minute of her fiance's betrayal by stopping all of the clocks in the house at exactly twenty minutes to nine.
An enormous amount of detail goes into describing the elaborate state of the bride's rooms, and the symbolic intonations of lavish grandeur that Dickens deliberately infused into the work even make it into the residence's name itself: Satis House, with the word "satis" meaning "enough," as the workers who built the house thought that its inhabitants could want nothing more in life.
Inspired by the mysterious and dilapidated figure of Ms. Havisham, these accessories could have been pulled from the very dressing table of the lady herself. A cameo pin and a lovebirds brooch evince happier times in her life, while hair pins and a hair comb were also used as gifts to decorate her proud ward, Estella. Clock earrings reference the stopping of time in her house, while a lace infinity scarf references the wedding dress that Ms. Havisham never took off.
What Do You Think?
Have you ever read Great Expectations, or similarly-minded 19th century English novels? Have you had it assigned for an English or Literature class? What did you think of the novel and the elements at play? Did you see the movie? What do you think of the outfits and styling tips? Let me know, in the comments below!