Welcome to the latest edition of Looks from Books, which aims to prove that you can look smart, while still being book-smart, too. Fashion inspiration can be found between the pages of your favorite stories, on well-designed book covers, and in your favorite characters… if you read closely enough.
This week, we're taking inspiration from a novella eclipsed by the greater work of its author, whose status as one of the literary greats is once again promoted by a recent documentary on his life. Let's talk about J.D. Salinger's Franny and Zooey!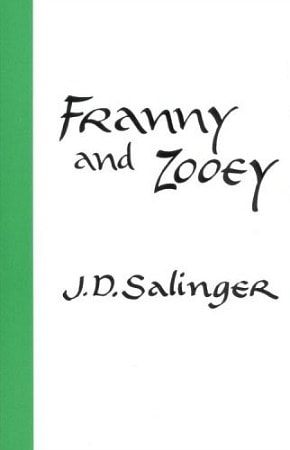 Cover via Amazon
Inside Cover
Franny and Zooey isn't really a novella so much as a pairing of a short story, titled "Franny," and a novella in its own right, titled Zooey. Both were written by notable author J. D. Salinger, of Catcher in the Rye fame, and both originally appeared in installments in The New Yorker – the former in 1955, and the latter, two years later – before being published together in novel form in 1961.
Both members of the Glass family – a frequent fixture of Salinger's writing – Franny is an ambitious and impressionable college student, while Zooey is her brilliant and hardened older brother. After a mental breakdown compounded with a religious obsession renders Franny sick, and others sick with worry for her, Zooey attempts to strike some sense into his sister with only the kind of brotherly compassion and commiseration that he can bestow.
A Fashionable Literacy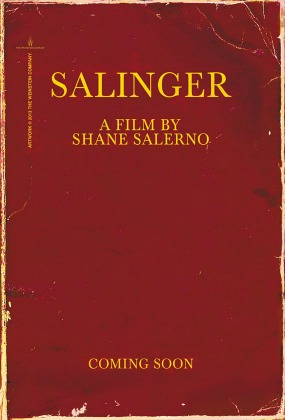 Movie poster for the documentary Salinger via IMDB
J.D. Salinger was an enigmatic and secretive author well-known for his seclusion and withdrawal from society, even though fans of his books still clamored for more of his work. Despite the fact that he stopped publishing his writing long before his death, he actually kept producing more material until the very end of his life, leaving all of his work in storage, and his rights to his already published material entrusted to his wife and family. This was because he vowed to never let anyone mishandle his stories while he was still alive.
This rejection of cultural norms by such a celebrated author became fodder for a documentary released this past fall titled Salinger. The film explored the mystery and mythology of the writer's disappearance from the elite literary social scene to which he belonged, and has been markedly criticized for capitalizing on invasion of the author's privacy. However, its conflict produced another interesting debate into the rights of the private, and the "rights" of the public, in pursuing celebrities, especially atypical tabloid subjects, like writers.
How to Add Franny and Zooey to Your Own Wardrobe
By integrating key elements from the novella into your own wardrobe, you, too, can take inspiration from the brief but impactful stories of Franny and Zooey!
Franny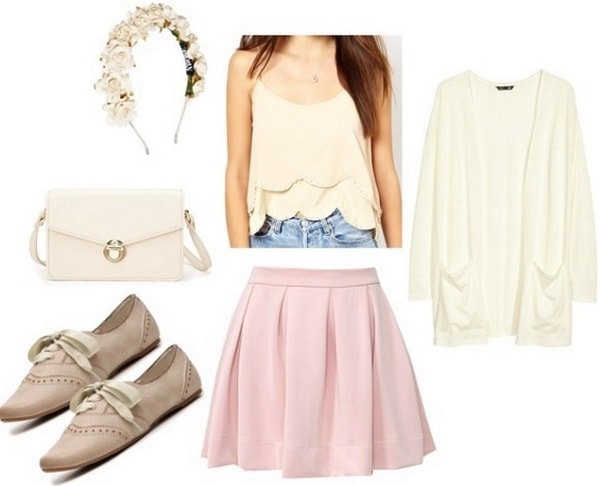 Product Information: Headband – Asos, Purse – Forever 21, Shoes – DSW, Top – Asos, Skirt – NastyGal, Cardigan – H&M.
Franny Glass is a beautiful and intelligent collegiate charmer who is picked up from the train station for a holiday at home by her boyfriend. Little do we know that Franny is no longer quite as put-together as she appears… or that the book she hastily stows back into her purse is bringing major change in the way she thinks about the inauthentic nature of her surroundings. A dreaming idealist who thinks she's found the path to spiritual enlightenment, Franny is the perfect match of old-school style and new-school thinking.
Combine Franny's bohemian spirit with a retro femininity reminiscent of the 1950s, for a look that combines a collegiate flair with a free-spirit flow. A structured bag, feminine oxfords, and a pink full skirt bring in vintage style, while a floral headband, oversized cardigan, and scalloped-hem tank mix in a more modern, artistic vibe.
Zooey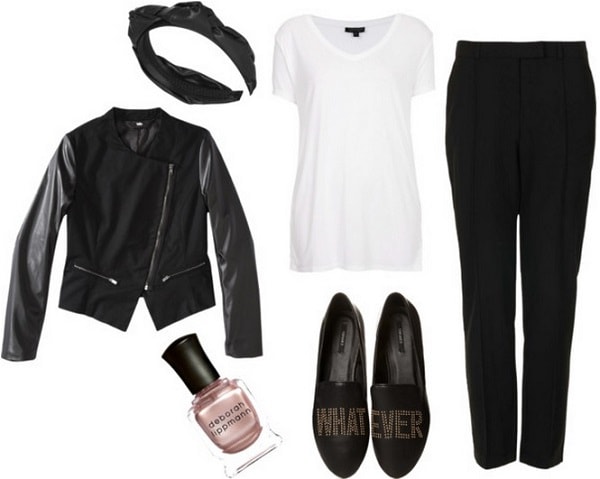 Product Information: Headband – Topshop, Jacket – Target, Nail polish – Deborah Lippmann, Shirt – Topshop, Shoes – Forever 21, Pants – Topshop.
Zooey has never been afraid to give his opinion, and not in delicate terms, either. This burgeoning actor is as intelligent and artistic as his younger sister, but has twice the tenacity. Despite being a compassionate family member, he is left dark and brooding after the suicide of his older brother, and is harsher on his family because of it. The biting wit and sarcastic quips of the rising star contrast with his casual and unfinished nature, a conflicted punk to rival his brother-in-literature Holden Caulfield.
Integrate Zooey's sharp, smart commentary and careworn spirit into a true cool kid's uniform, full of undone, messy silhouettes and sleek pieces, shaded with a darker hint of apathy and harshness. A structured jacket and cigarette pants ground the look in high style, while a tee shirt and knotty headband give the look an unstudied edge. A slick of shimmery nail polish shines up the look, while smoking loafers leave a message.
The Pilgrim's Path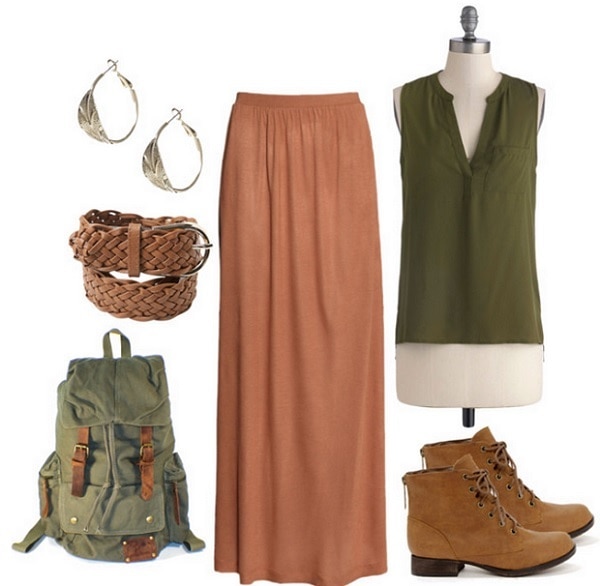 Product Information: Earrings – Asos, Belt – Wet Seal, Backpack – Amazon, Skirt – H&M, Top – Modcloth, Boots – Lulus.
The novel that Franny becomes so enamored with is one that exists in the real world as well: The Way of the Pilgrim, a piece of nineteenth-century Russian literature that details the story of a man who seeks out the secret to constant prayer. While Franny is quick to spurn the selfishness of the world around her for this ancient religious movement, Zooey is equally quick to call her out on her own hypocritical nature. Eventually, she understands that the pilgrim's journey was less about the answer itself, but his motivation for pursuing it.
Integrate the story's message of exploration and passion into an outfit that's perfect for a trek of your own... swapping out a cross-country path for one that criss-crosses your own campus, instead! A maxi skirt, basic blouse, and braided belt ground the look in earth tones and un-fussy silhouettes, while a rucksack and lace-up boots prep you for your own path. Leaf earrings give the look a bit of shine. (Do it for the Fat Lady!)
What Do You Think?
Have you ever read Franny and Zooey, or Catcher in the Rye? Did you see Salinger? What do you think of the author's reclusive life? What do you think of the outfits and styling tips? Let me know, in the comments below!