Welcome to the latest edition of Looks from Books, which aims to prove that you can look smart, while still being book-smart, too. Fashion inspiration can be found between the pages of your favorite stories, on well-designed book covers, and in your favorite characters… if you read closely enough.
The weather has been unbelievably sunny and gorgeous up here in Seattle recently. In fact, it reminded me of one sunny summer afternoon, where an excursion down a river for a picnic led to a story that has remained popular for over 100 years and counting… here's Lewis Carroll's Alice's Adventures in Wonderland!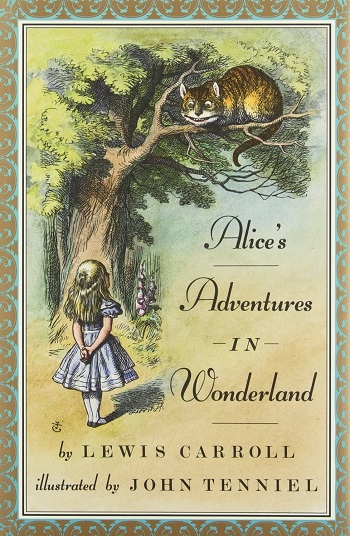 Book Cover via Amazon
Inside Cover
Alice in Wonderland is a work of classic children's literature, published by Charles Lutwidge Dodgson, under the pseudonym of Lewis Carroll, in 1865.
The story follows a little girl named Alice who wanders away from her elder sister to follow a white rabbit in a waistcoat, and falls down a rabbit hole into a mysterious new land. She finds herself unable to get home, and is completely confused by the fantasy world she has come to visit. Full of anthropomorphic creatures, some very contrary royalty, and a jury decidedly not in her favor, Alice winds her way through this confusing Wonderland, only to awaken beneath the tree where she and her sister sat reading.
Charles Dodgson was a British writer, mathematician, logician, and photographer, who originally wrote the story for his young friend Alice Liddell, as well as her sisters Edith and Lorina. While Dodgson would eventually have a severe falling out with the family – of unknown certified origin to historians – references to the three girls, as well as other people they knew at Oxford, populate the book and its sequel.
A Fashionable Literacy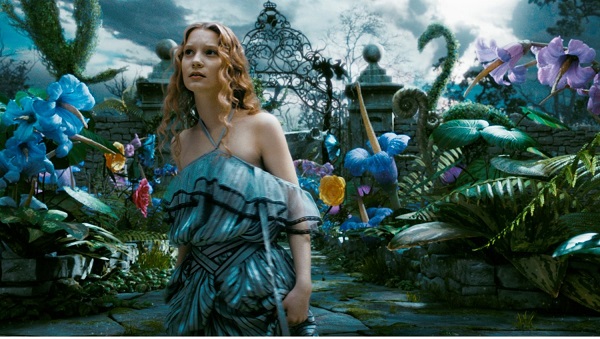 A screenshot from the 2010 Tim Burton film
Alice in Wonderland is widely recorded as the third most-often published work in the entire world, behind The Bible and the collective works of William Shakespeare. The book was incredibly popular upon its release, and even inspired a sequel, Through the Looking-Glass, and What Alice Found There, which was published in 1871.
It has been adapted into film, television, comic books, live performance, works of art, and more. The Disney 1951 animated film – which included elements of both Alice in Wonderland and its sequel – is one of the most well-known versions of the story, and has inspired variations of its own, as well as two Disneyland attractions based around the stories. (The movie even inspired a College Fashion post!)
The most popular recent iteration of the classic tale was also made by Disney. 2010's Alice in Wonderland is a live-action film that details what happened after Alice grew up and returned to Wonderland as a young women. Directed by Tim Burton and starring Mia Wasikowska, Johnny Depp, and Helena Bonham Carter, the film is heavily stylized around Burton's iconic dark and twisted fantasy technique. (It inspired a CF post of its own, too!)
How to Add Alice to Your Wardrobe
By integrating key elements from the narrative into your own outfits, you, too, can take a trip to Wonderland… no rabbit hole required!
A Different Point of View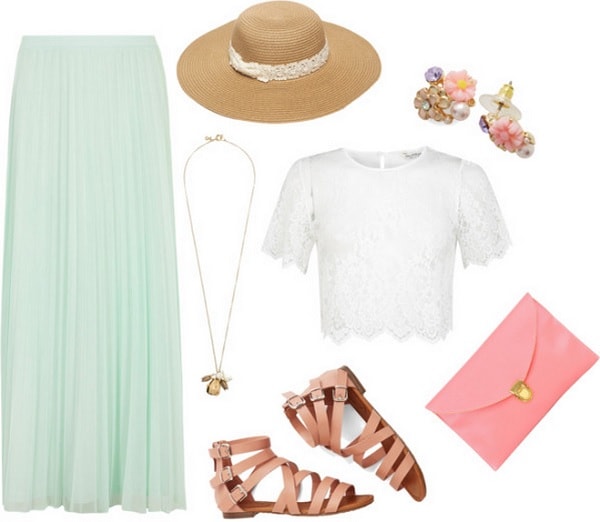 Product Information: Skirt – Dorothy Perkins, Hat – Wet Seal, Earrings – Modcloth, Top – Miss Selfridge, Clutch – Amazon, Shoes – Modcloth, Necklace – J.Crew.
Alice's trip through Wonderland is a transformative experience for the young girl, in more ways than one. Between "eat me"s and "drink me"s, tiny doors and towering tables, Alice finds herself having to adapt to all kinds of different viewpoints throughout her journey… particularly from points of view both tall and small!
Integrate these height differences within your own look by utilizing pieces that have undergone some size variation of their own. A crop top, pendant necklace, stud earrings, and short strappy sandals all demonstrate the mini perspective, while a flowing maxi skirt, a wide brimmed hat, and a jumbo envelope clutch make a big impression.
For the Children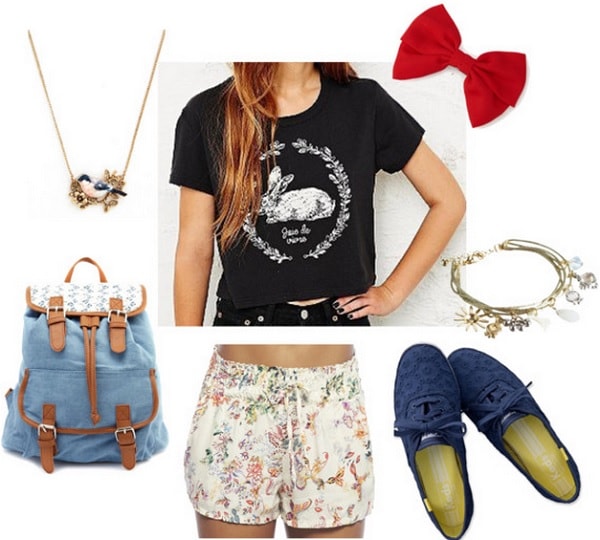 Product Information: Necklace – Modcloth, Shirt – Urban Outfitters, Bow – Forever 21, Bracelet – ASOS, Shoes – Hollister, Shorts – Wet Seal, Backpack – Charlotte Russe.
Charles Dodgson originally wrote Alice in Wonderland for a very particular Alice, who had asked him to tell her a story while on a boating trip with her sisters in 1862. Similarly, his inspiration for actually publishing the work was at the behest of the children of his friend George MacDonald. Therefore, the fantastical world through which Alice journeys is suitably populated with things that would attract a child's attention, like white rabbits, talking flowers, and all sorts of whimsical nonsense!
Utilize this kid-friendly approach in your own look by integrating similarly kid-friendly pieces that hearken back to Wonderland itself. A white rabbit tee and a delicate bird necklace pay homage to some of the fauna of the fantasy world, while a flower charm bracelet and floral-decked shorts take care of the flora. A delicate backpack and eyelet sneakers are perfectly prim accessories for outrunning the Queen of Hearts, while a big bow tops off the ensemble.
Victorian Variations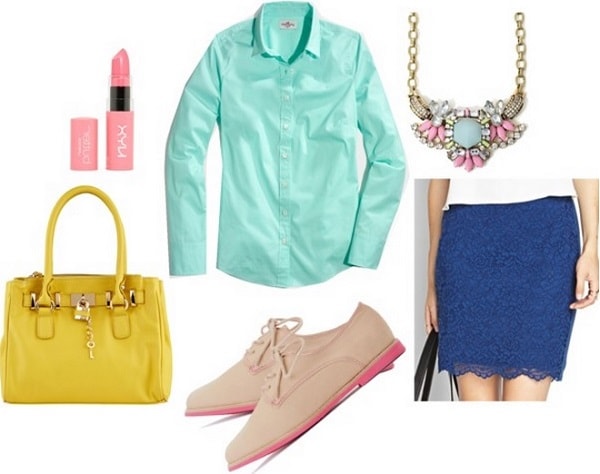 Product Information: Lipstick – NYX, Shirt –J.Crew, Necklace – Charming Charlie, Skirt – Forever 21, Shoes – Splendid, Bag – Aldo.
Next year marks the official 150th anniversary of Alice in Wonderland's publication, and yet, the story is as well-loved as it was around the time it came out. Published during the Victorian period, people have been subverting the standard forms of this book for well over 100 years. By taking on a classic and making it fresh, interesting, or, in Alice's case, often very, very weird, each generation finds a new way to bring the tale to life, oftentimes reinterpreting its Victorian sensibilities for something a little more twisted.
Feature this status of reinvention by putting a new, colorful spin on old, proper closet standbys. A prim button-down takes on new life in a cheerful mint, while a top-handle bag gets a shock of yellow. An ultra-femme lace skirt and glittery statement necklace take on new hues as well, while staid suede oxfords add an accent of pink. Finish the look with a sweet watermelon-hued lipstick.
What Do You Think?
Have you ever read Alice in Wonderland, or any book based off of the Wonderland story? Have you seen any Alice in Wonderland movies, like the one made by Tim Burton? What do you think of these classic characters and adventures, and how they've lasted through so much literary tradition? What do you think of the outfits and styling tips? Let me know, in the comments below!